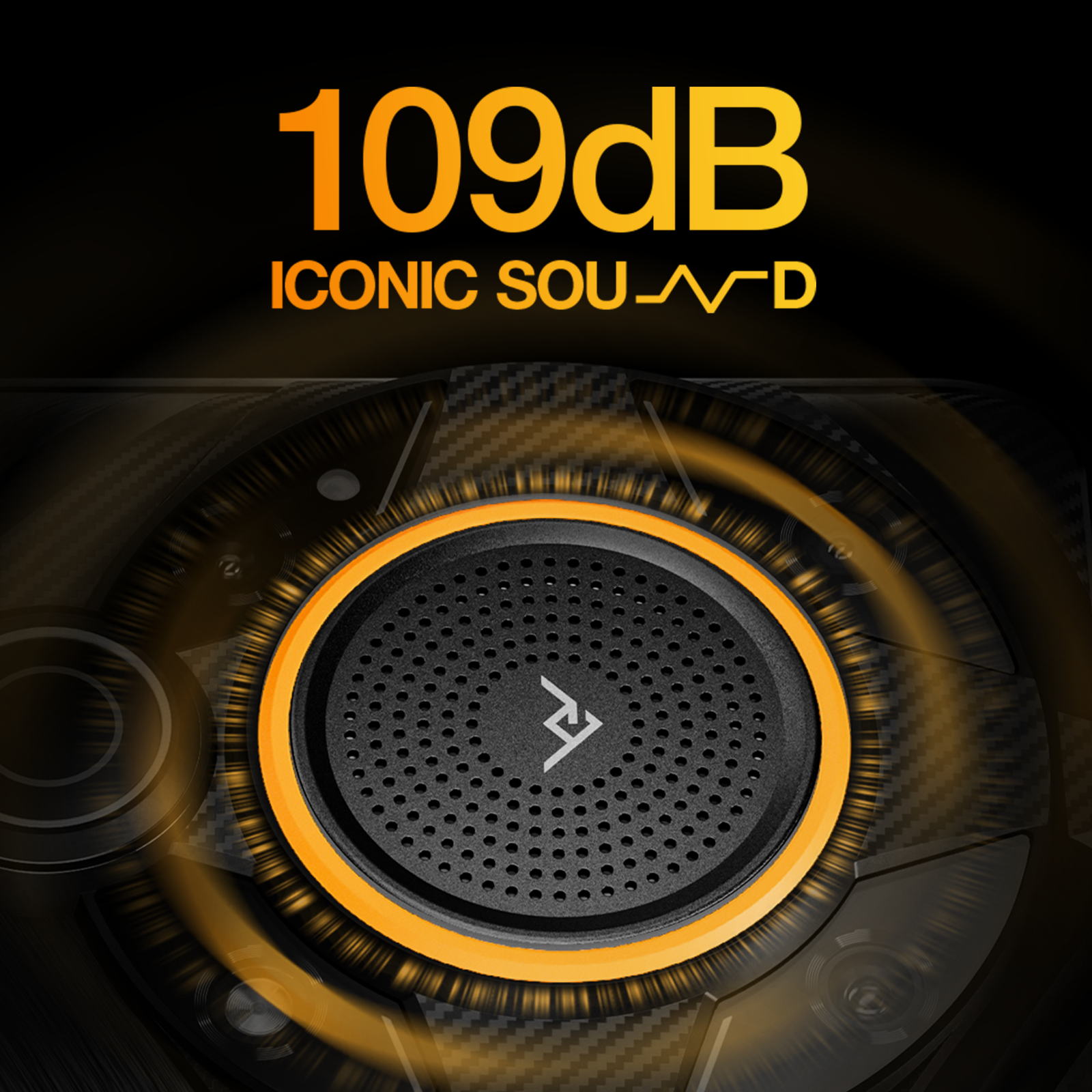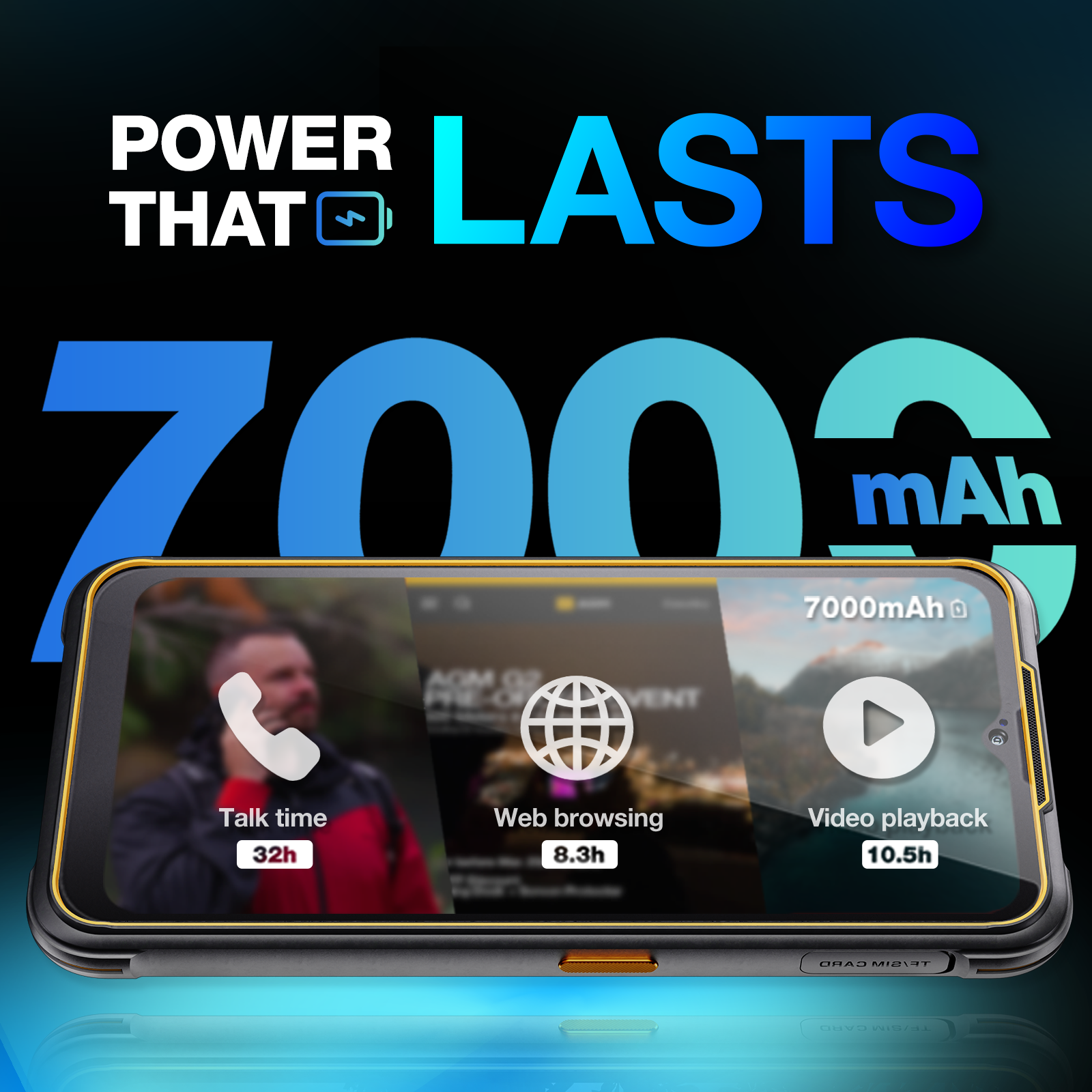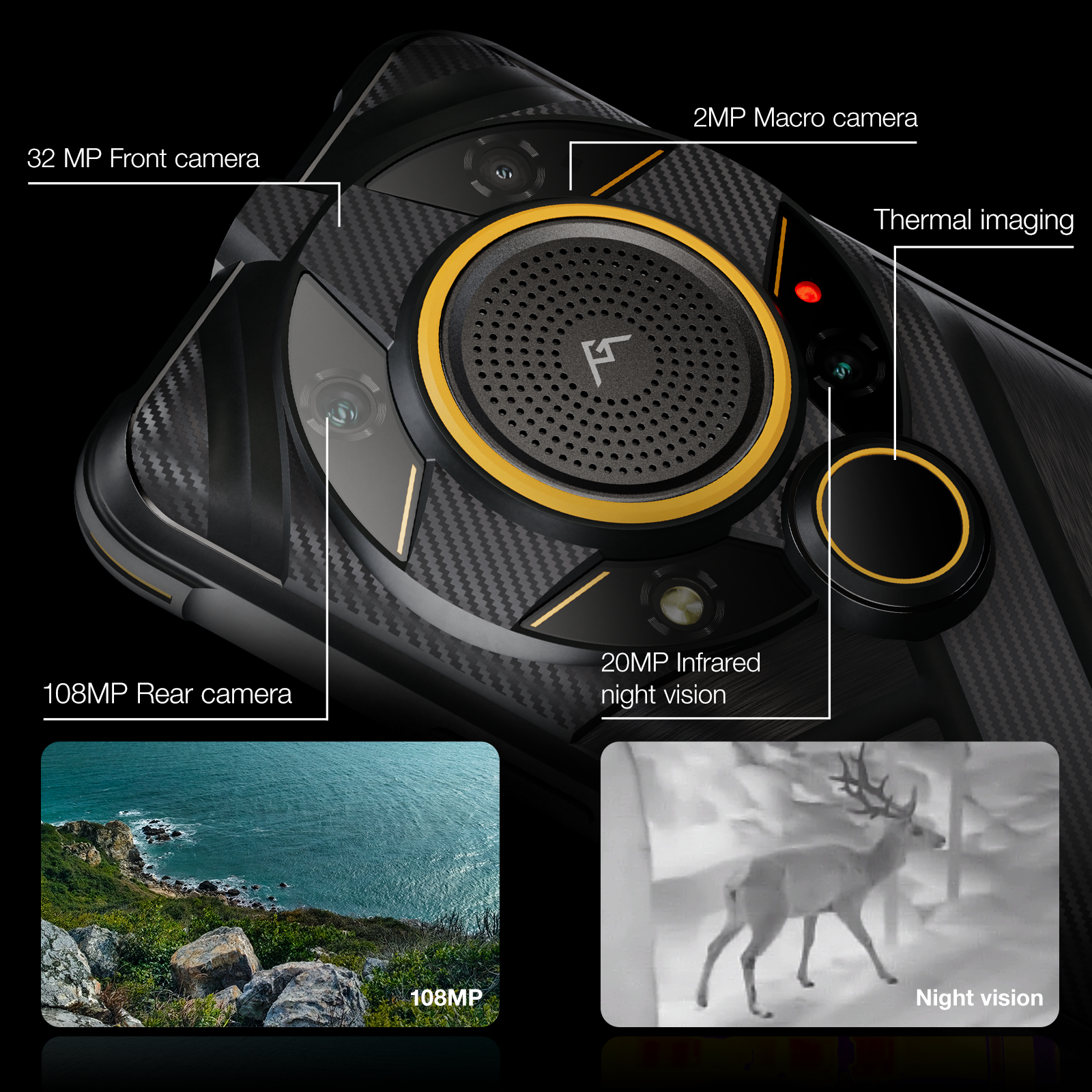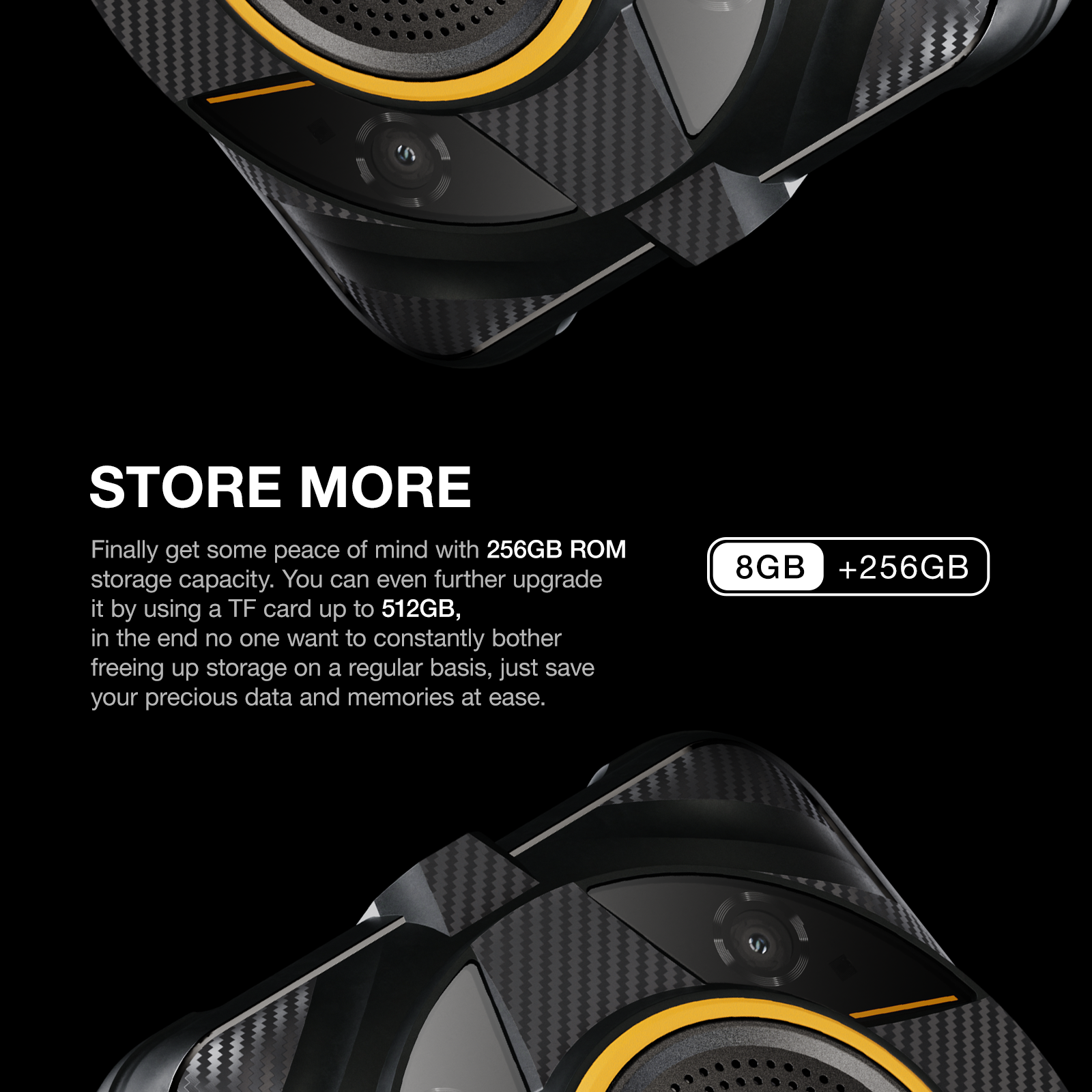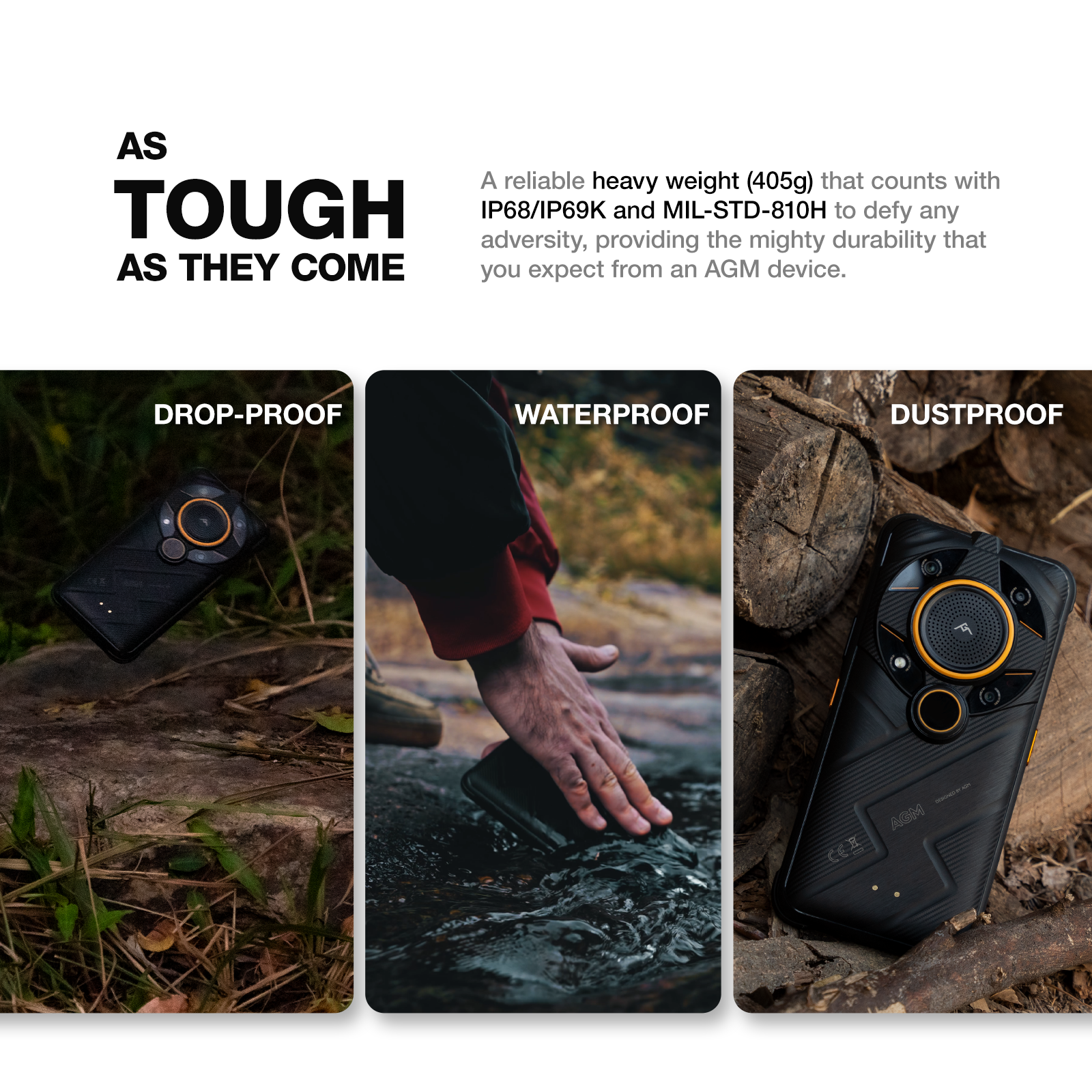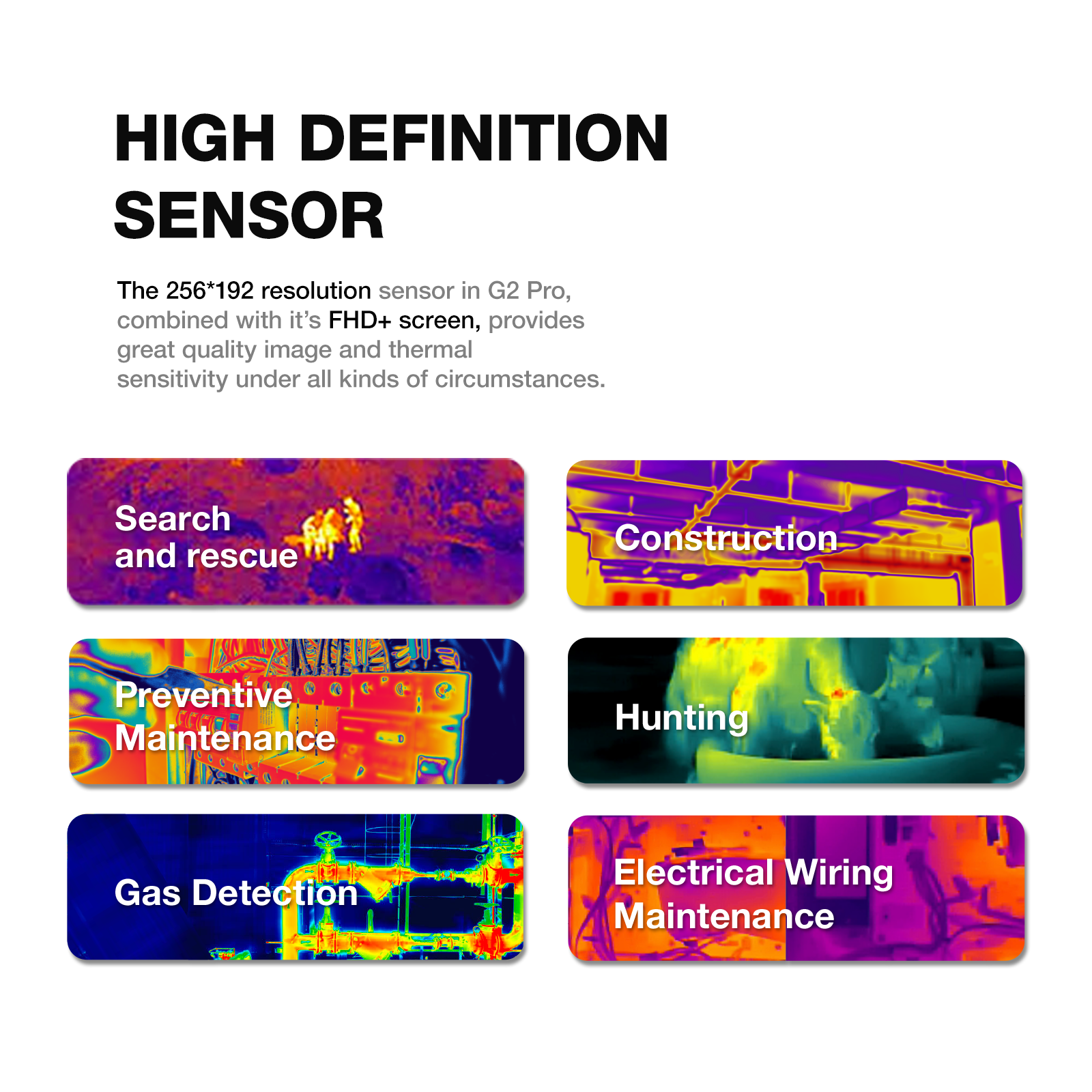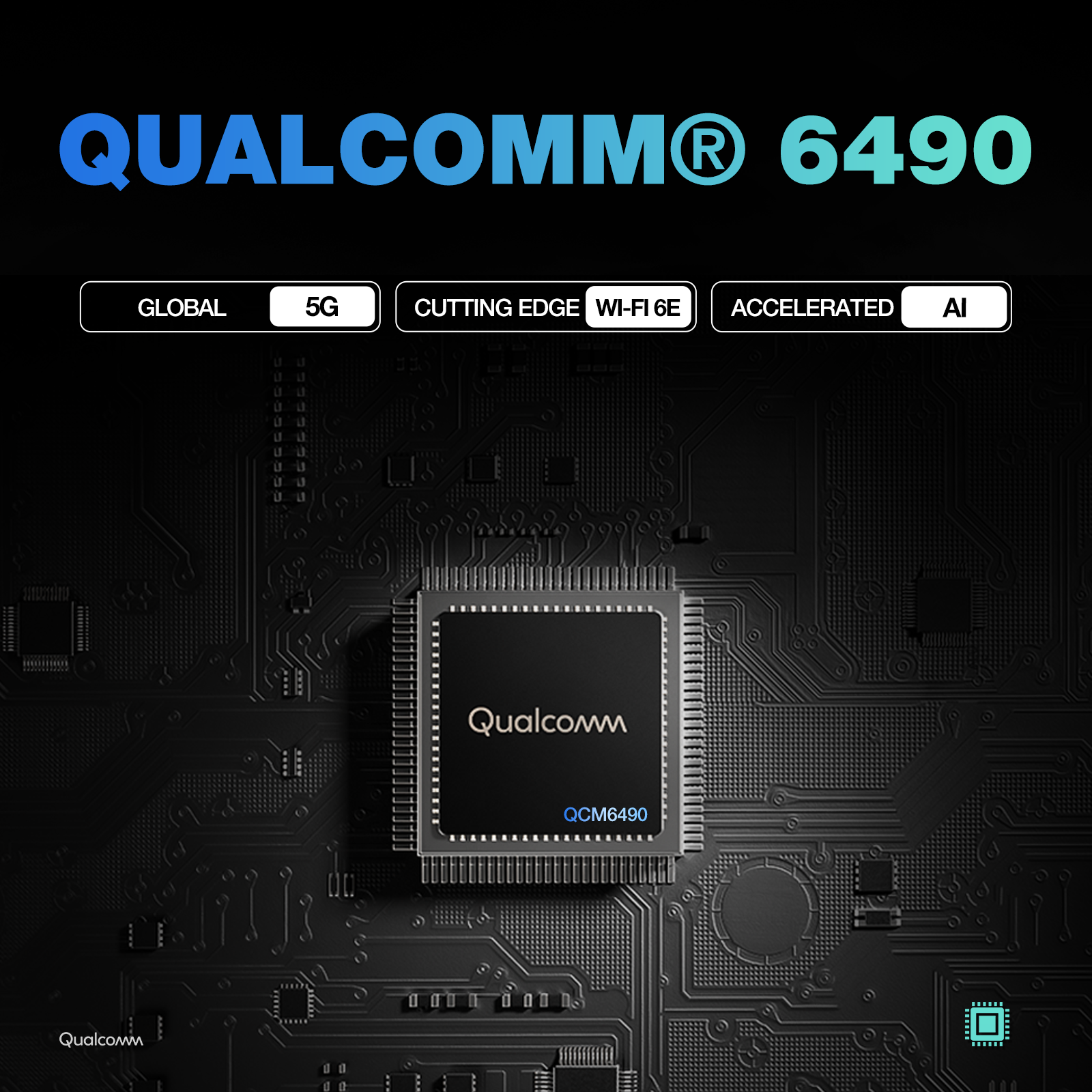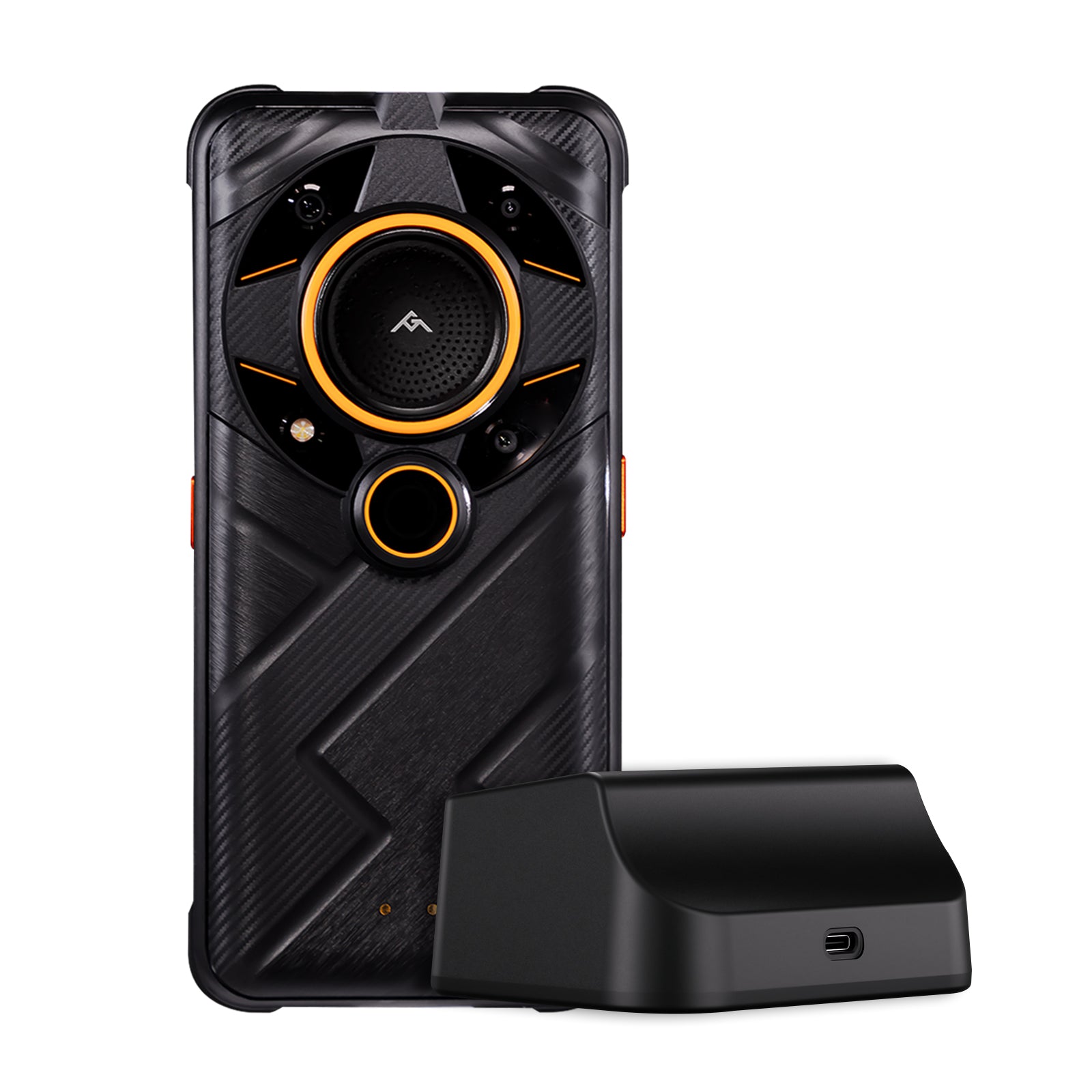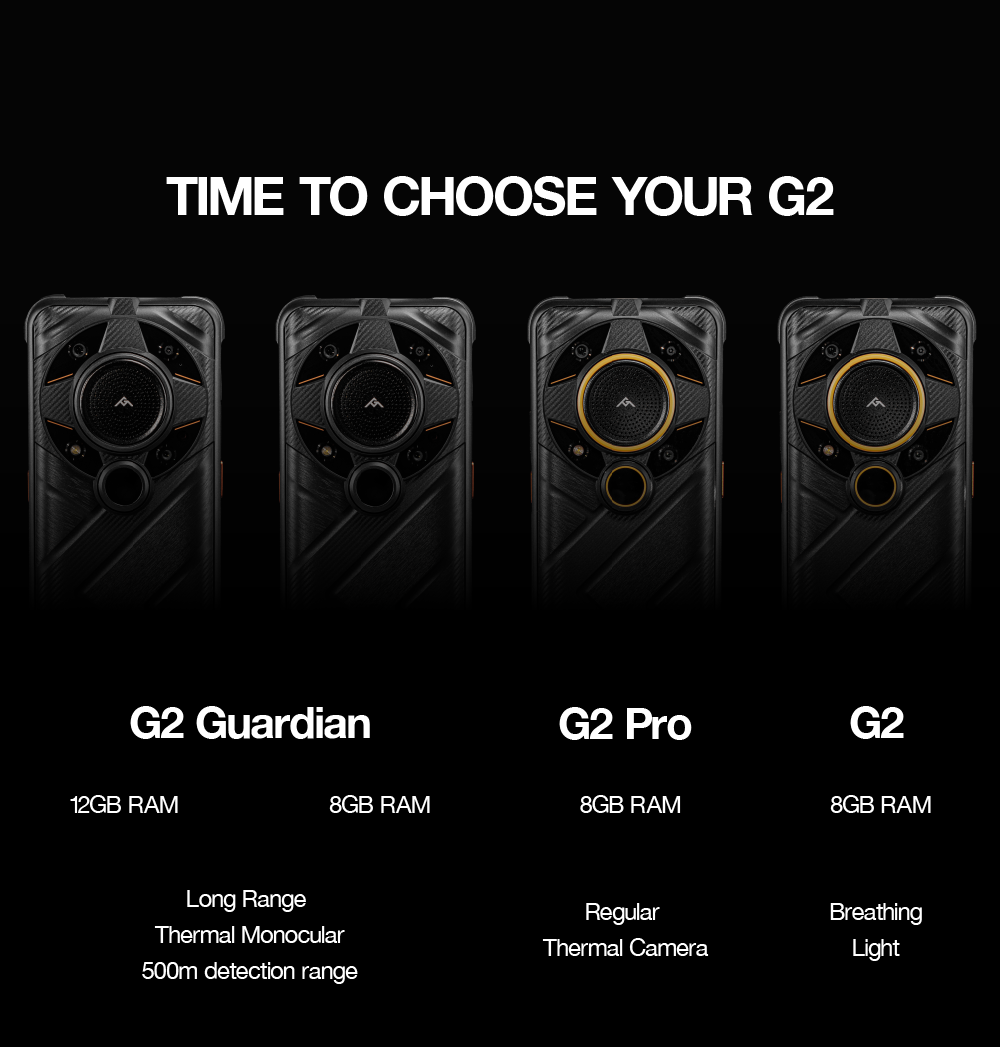 AGM G2 Pro | 5G Unlocked Rugged Smartphone | Top Thermal Camera | Powerful Chipset | 108MP Rear Camera | Android 12
* Qualcomm QCM6490
* Thermal Camera Resolution: 256 x 192 Refresh Rate: 25 FPS
* 6.58' FHD+ 120Hz Display
* 108MP Rear Camera
* 7000 mAh Battery
* Waterproof, shock and dust proof. Certified IP68/IP69K/MIL-STD-810H
* 109dB Loud Speaker
* Android 12


*Official Launch Event, Get 10% off (code: AGMGD) and Get an accessory bundle for free worth $199!
Charging Dock, AGM Earbuds, AGM Crossbody Bag, Screen Protector & Car/Bike Mount for Free🎁
Model:
AGM G2 PRO (8GB+256GB)
Accessories:
Without Charging Dock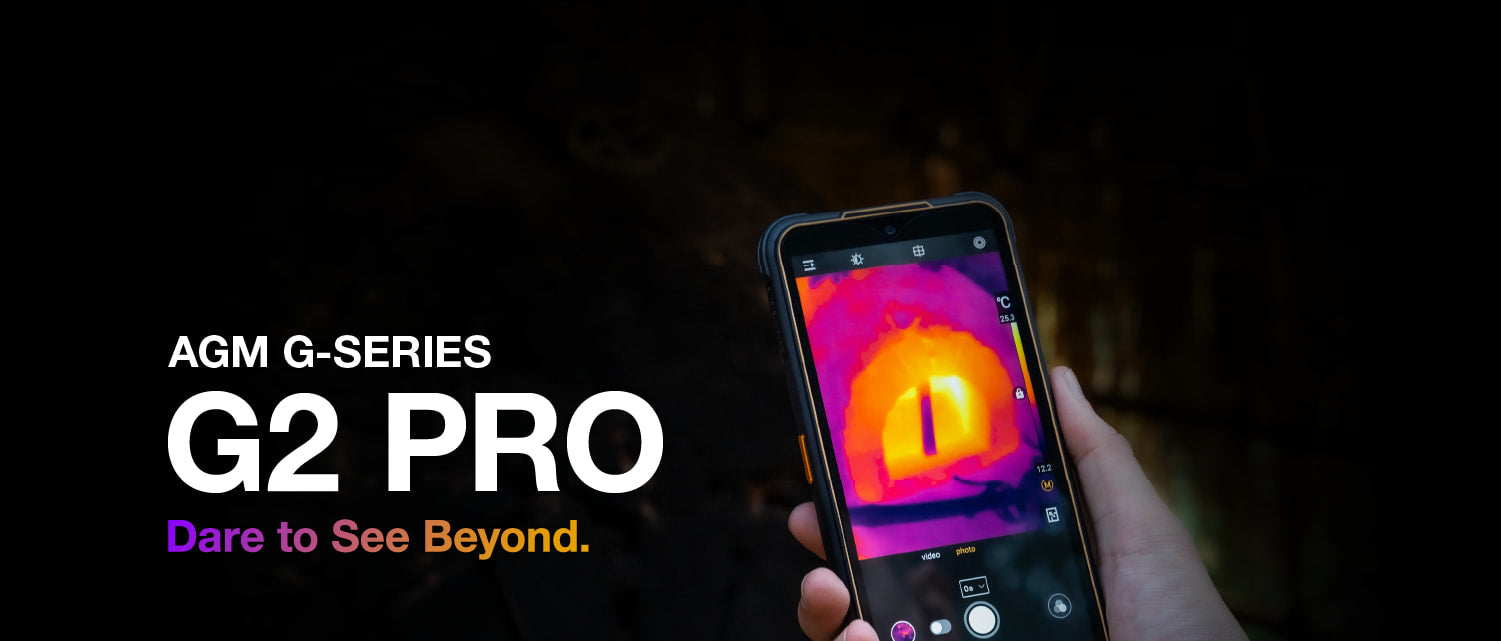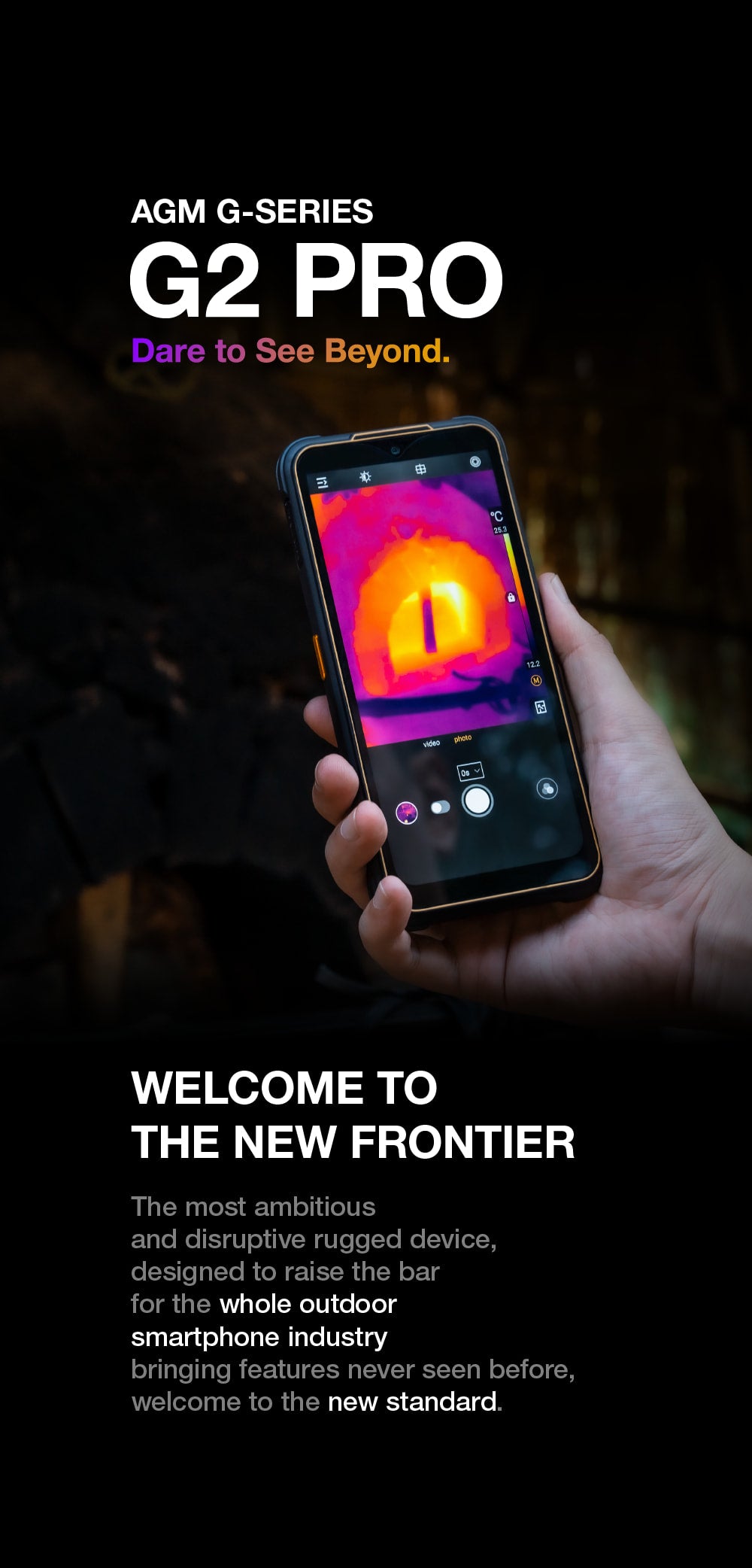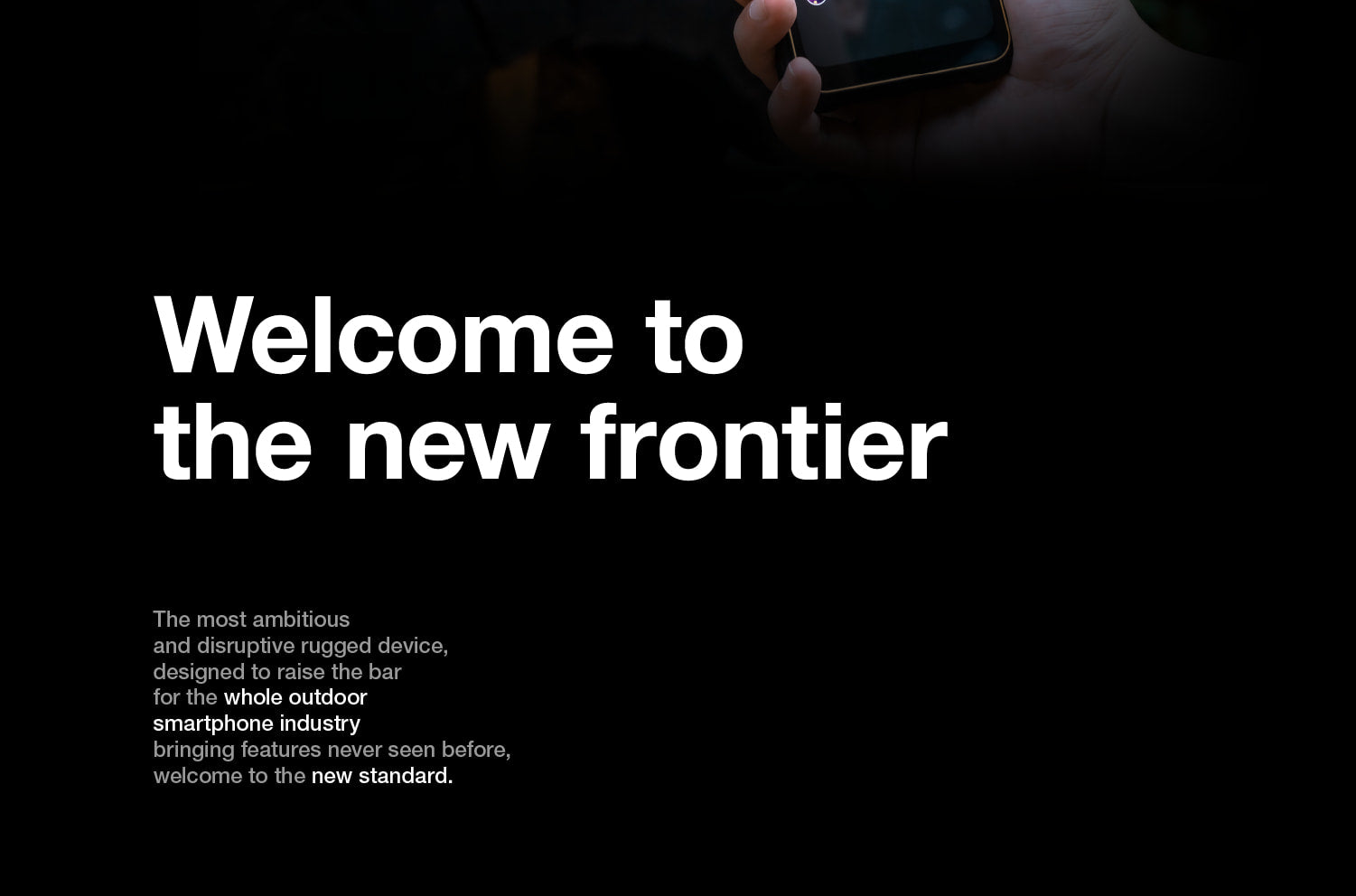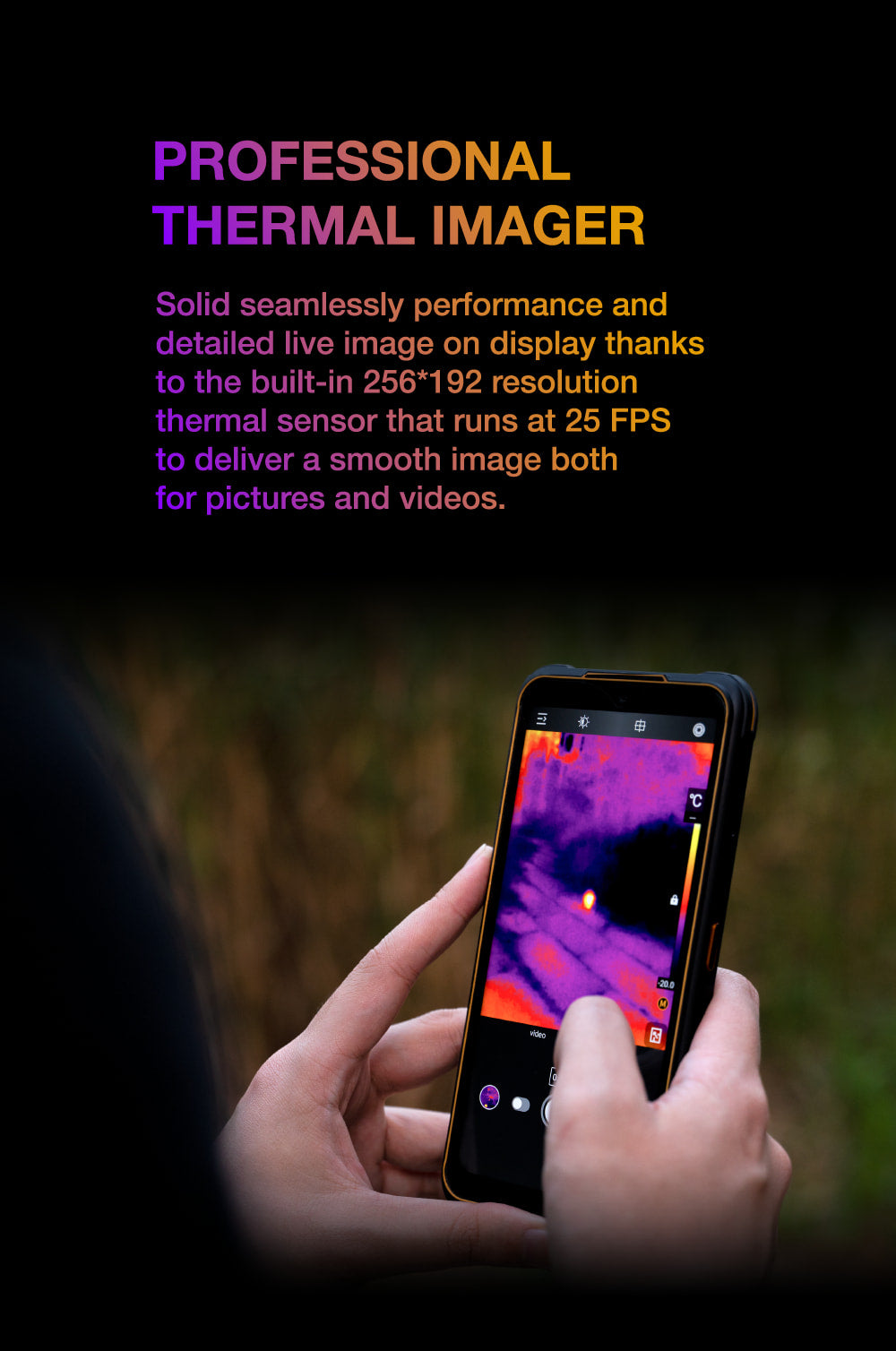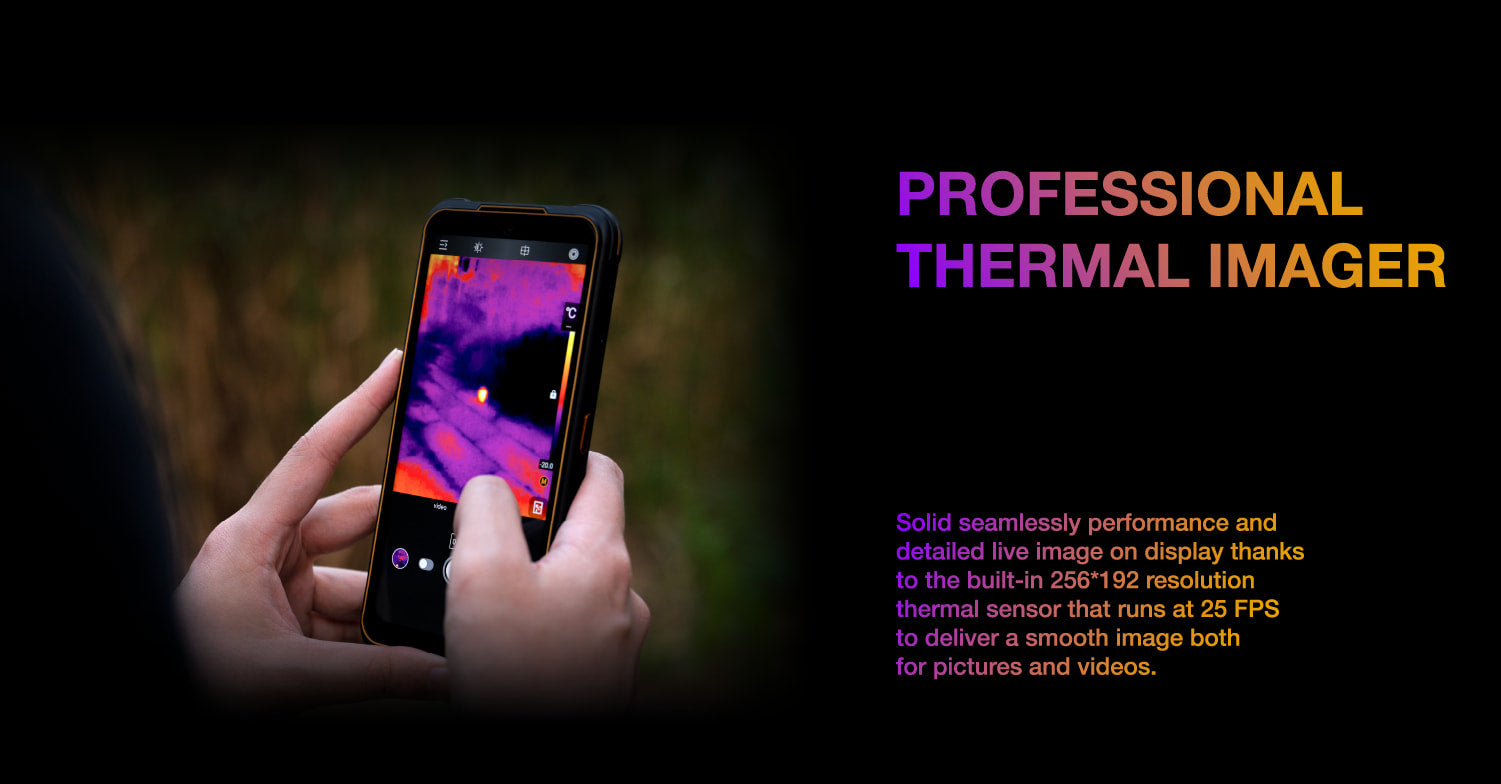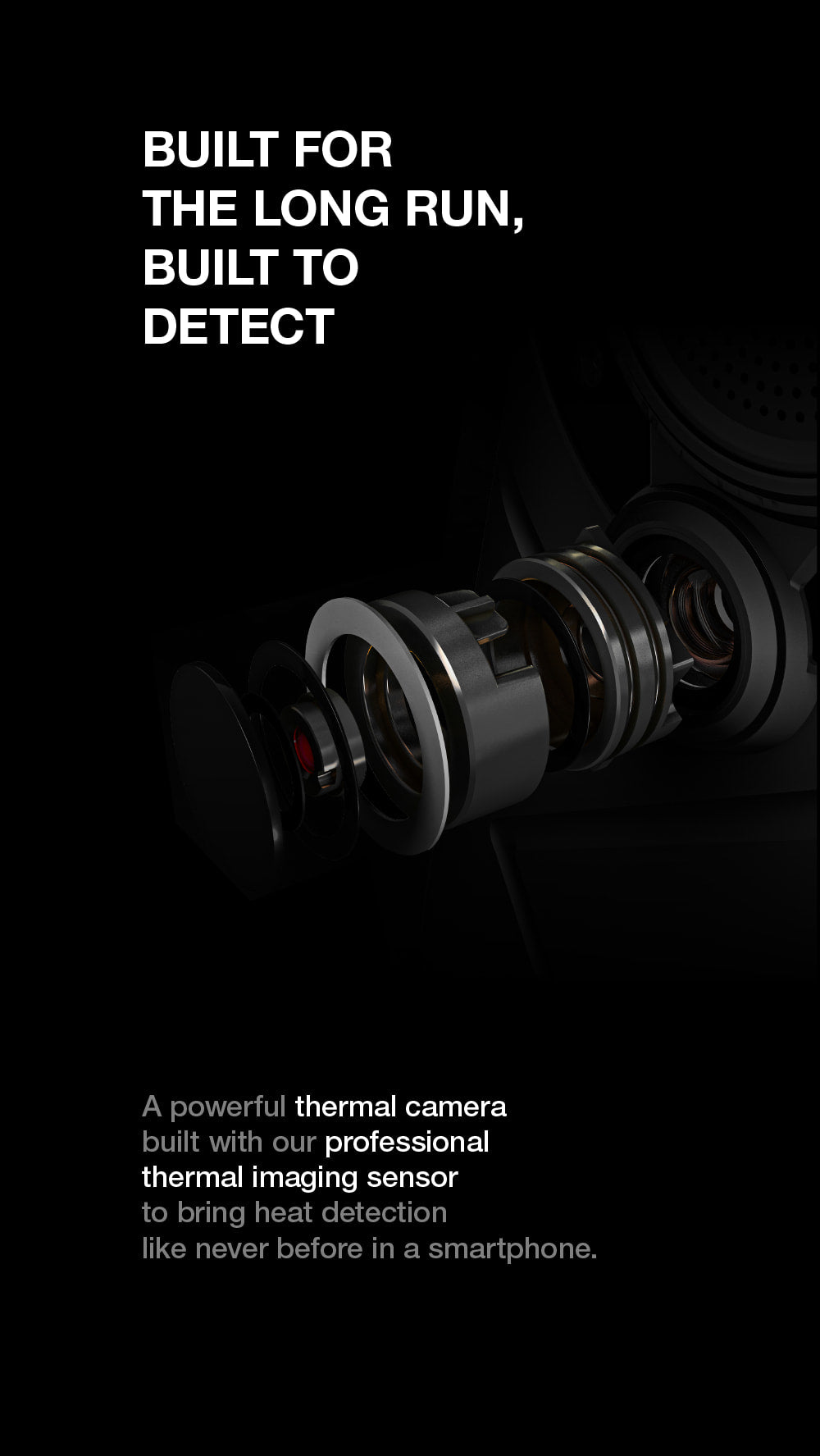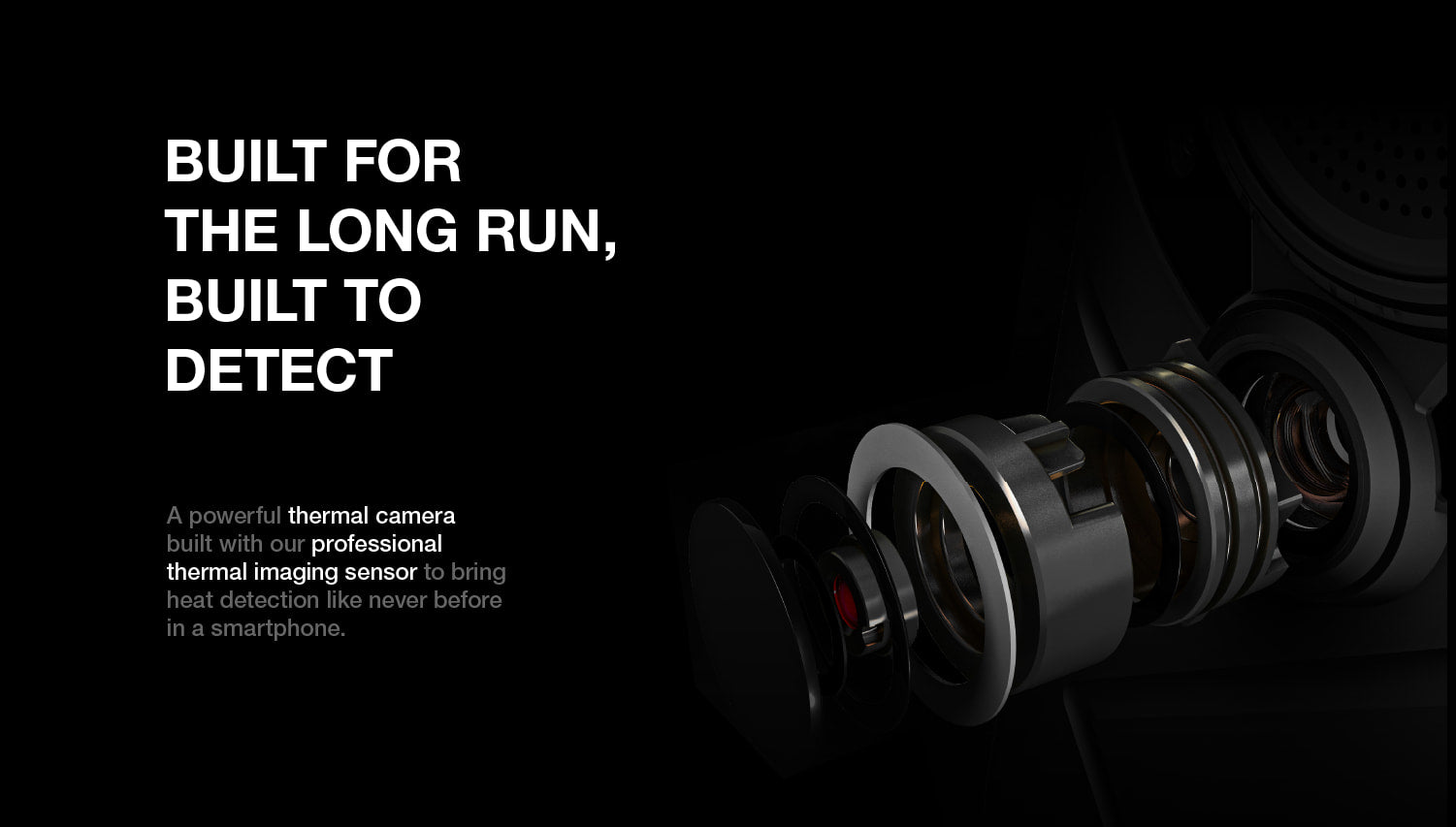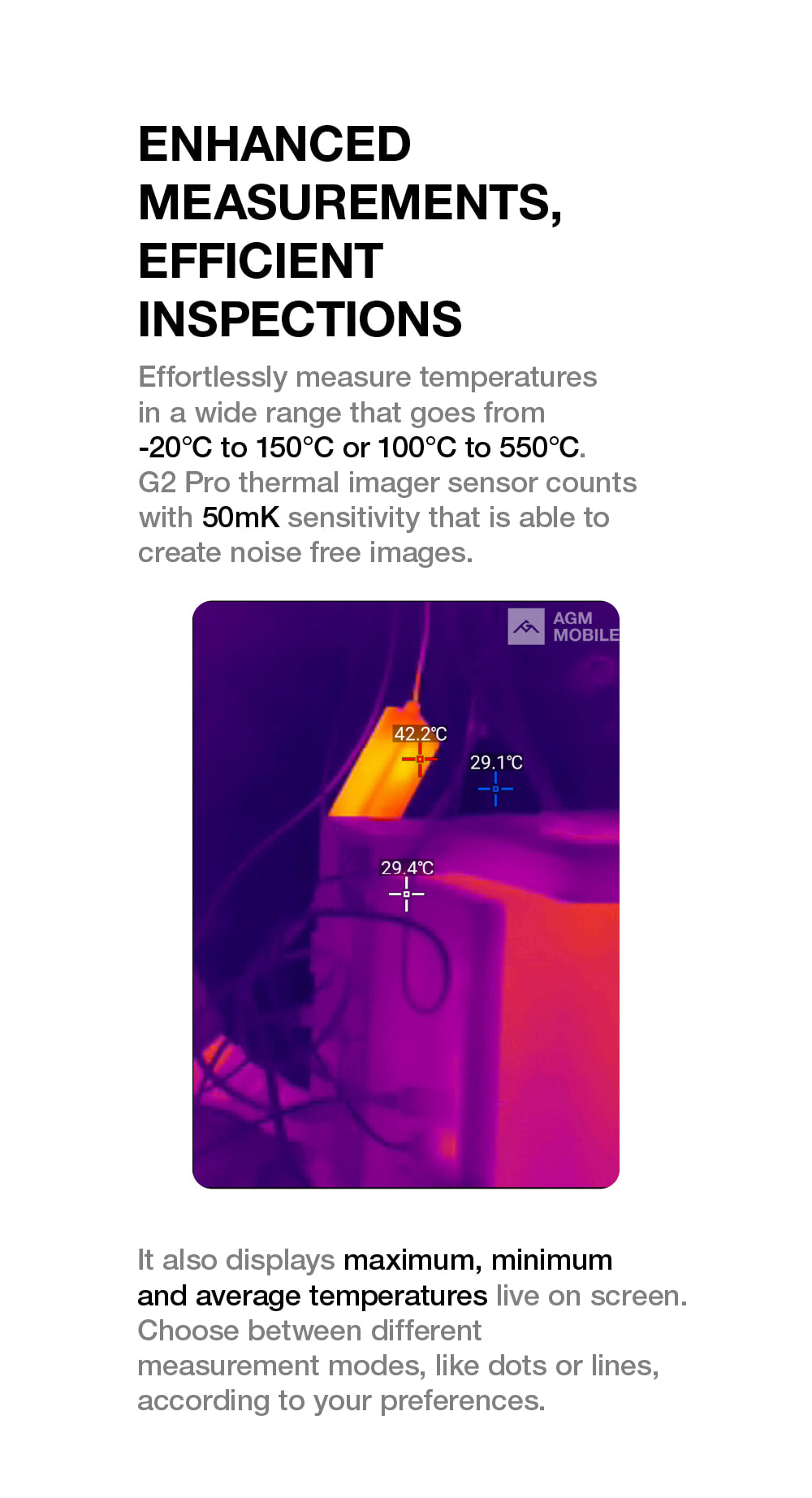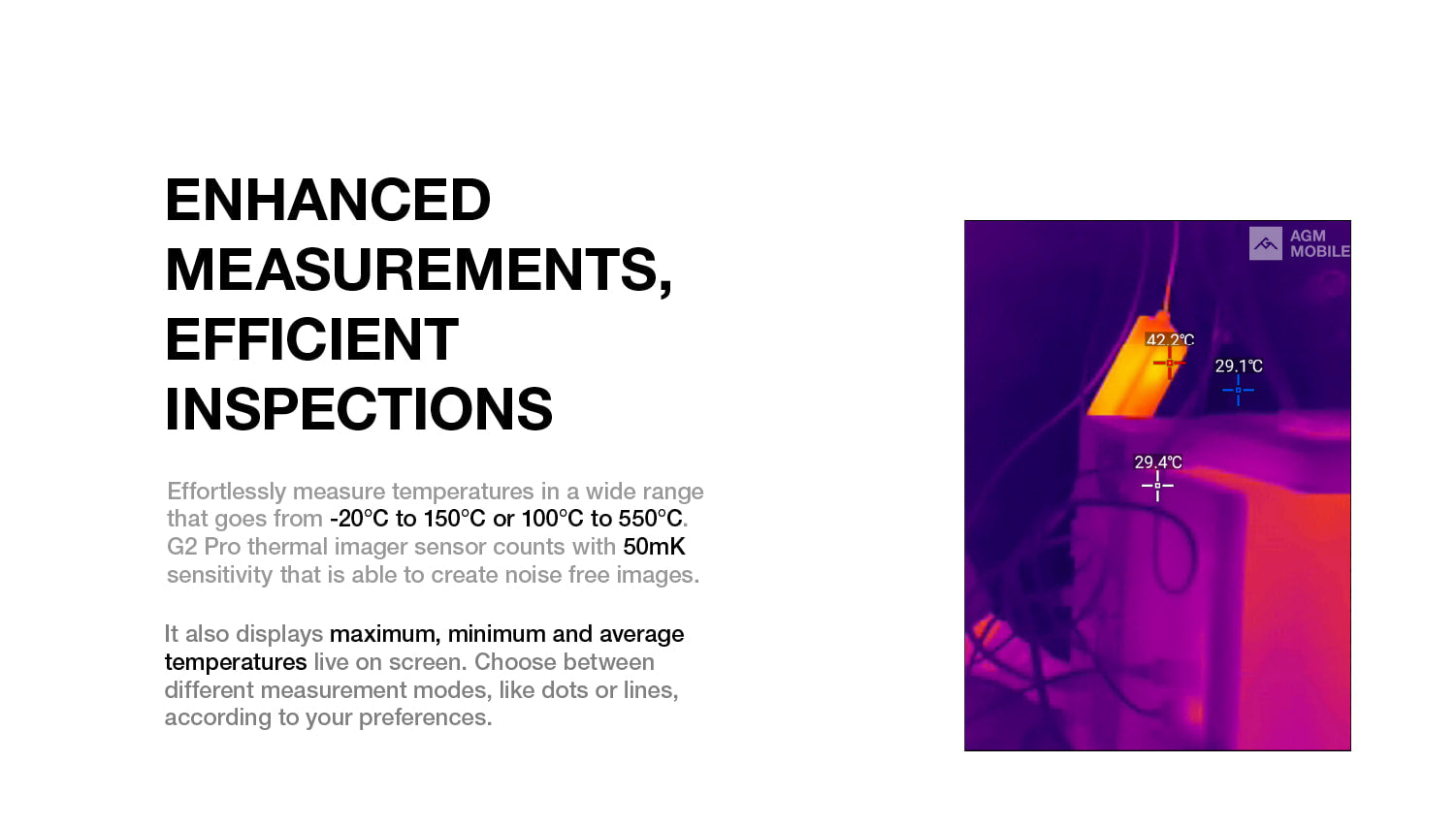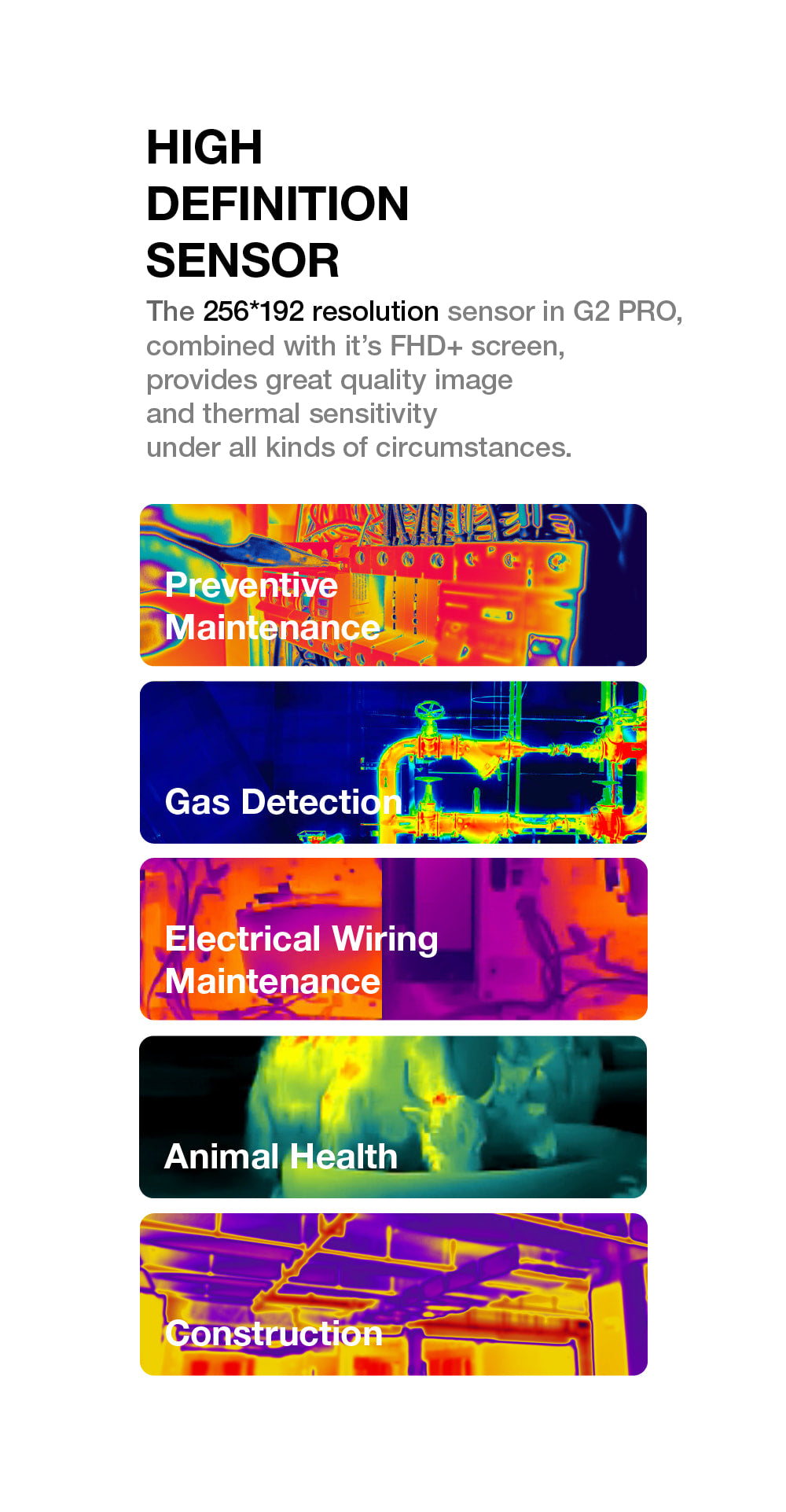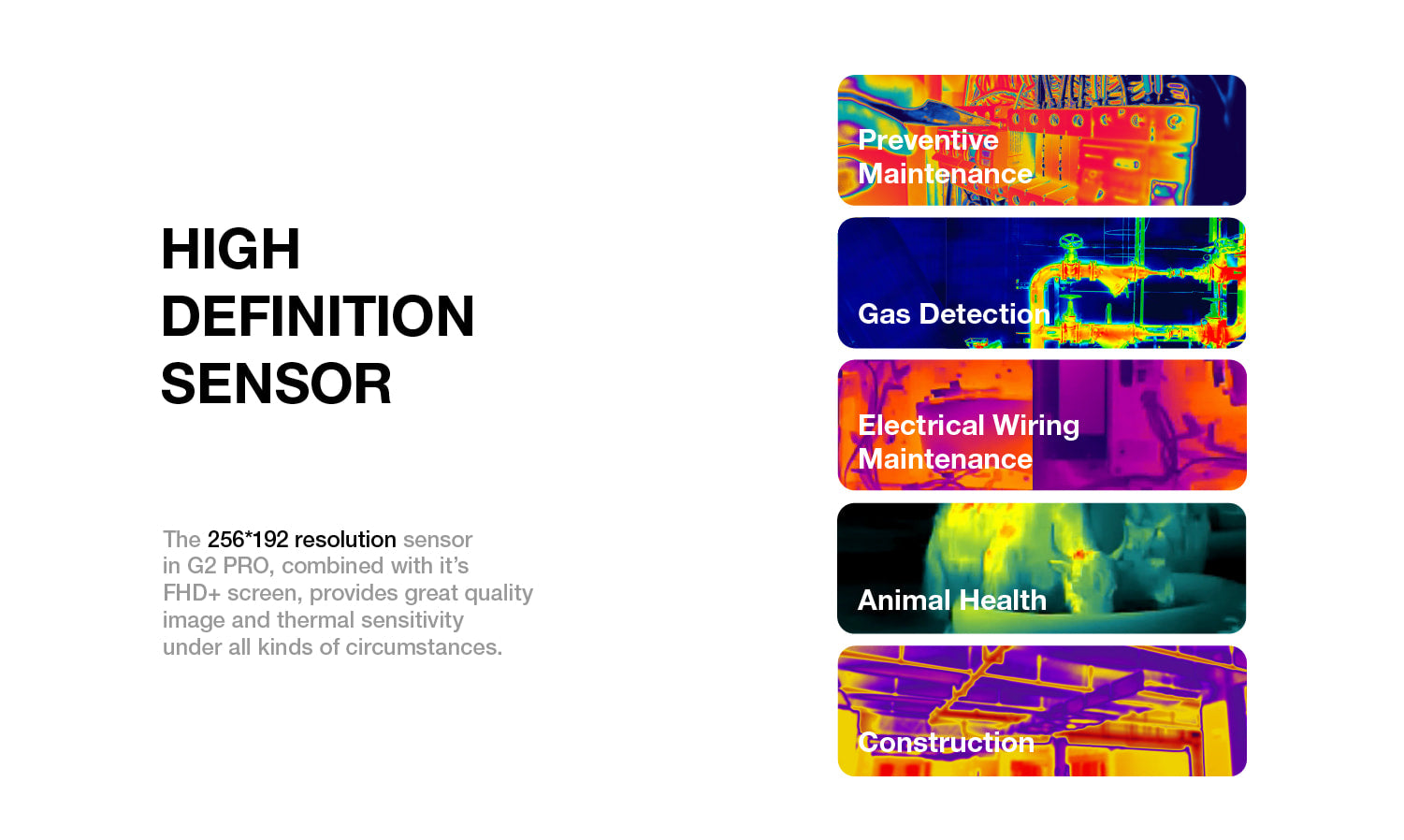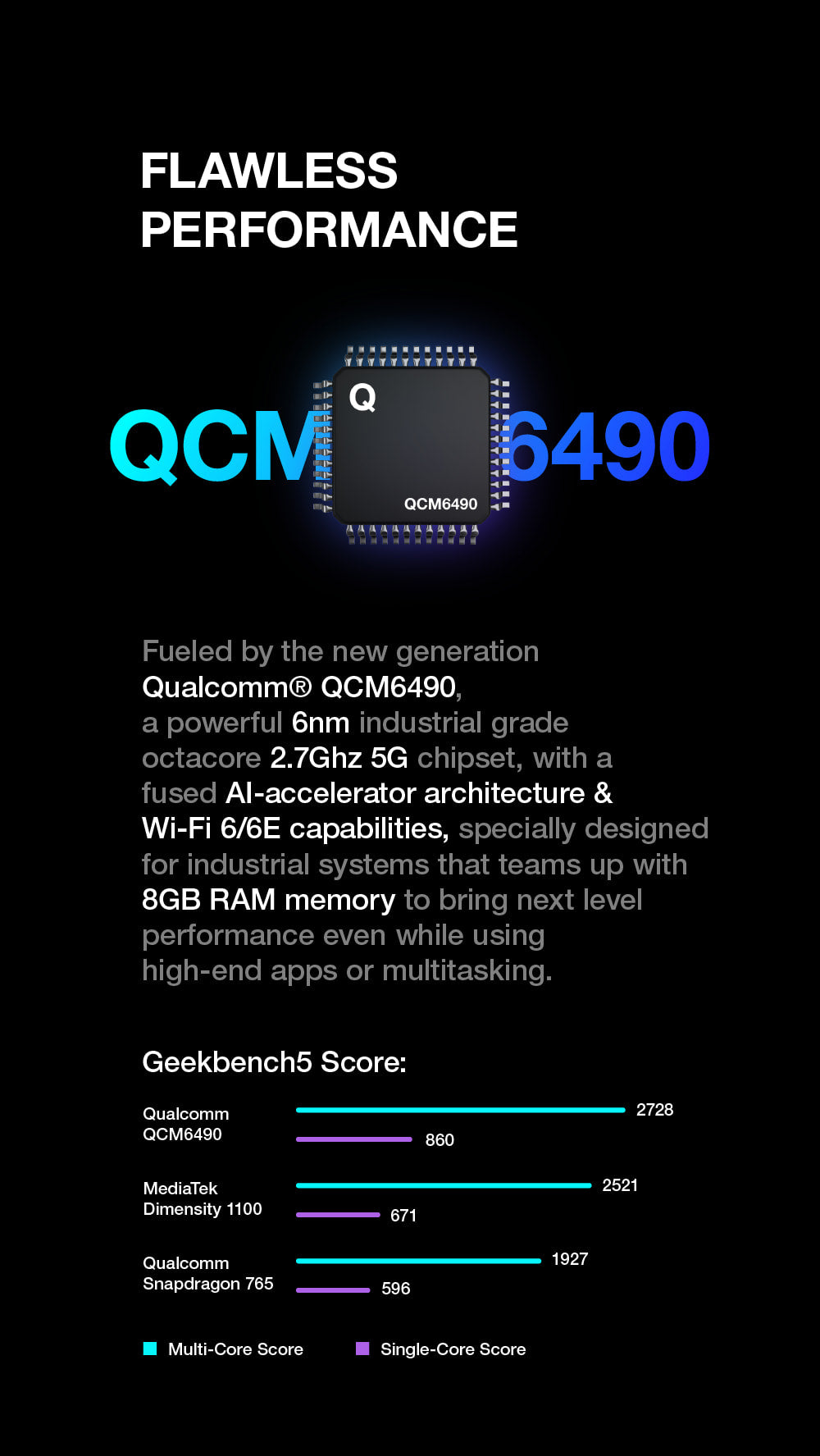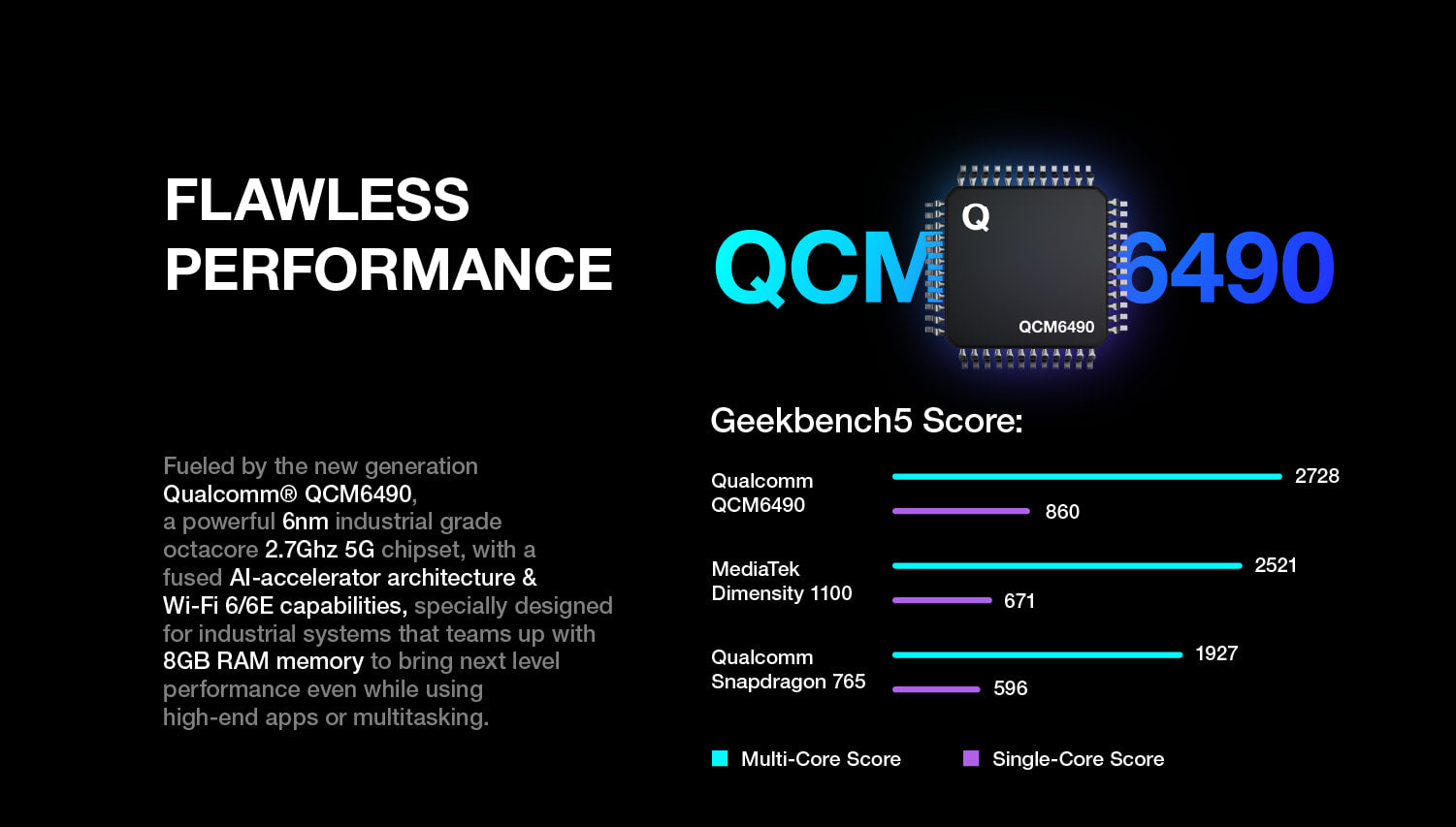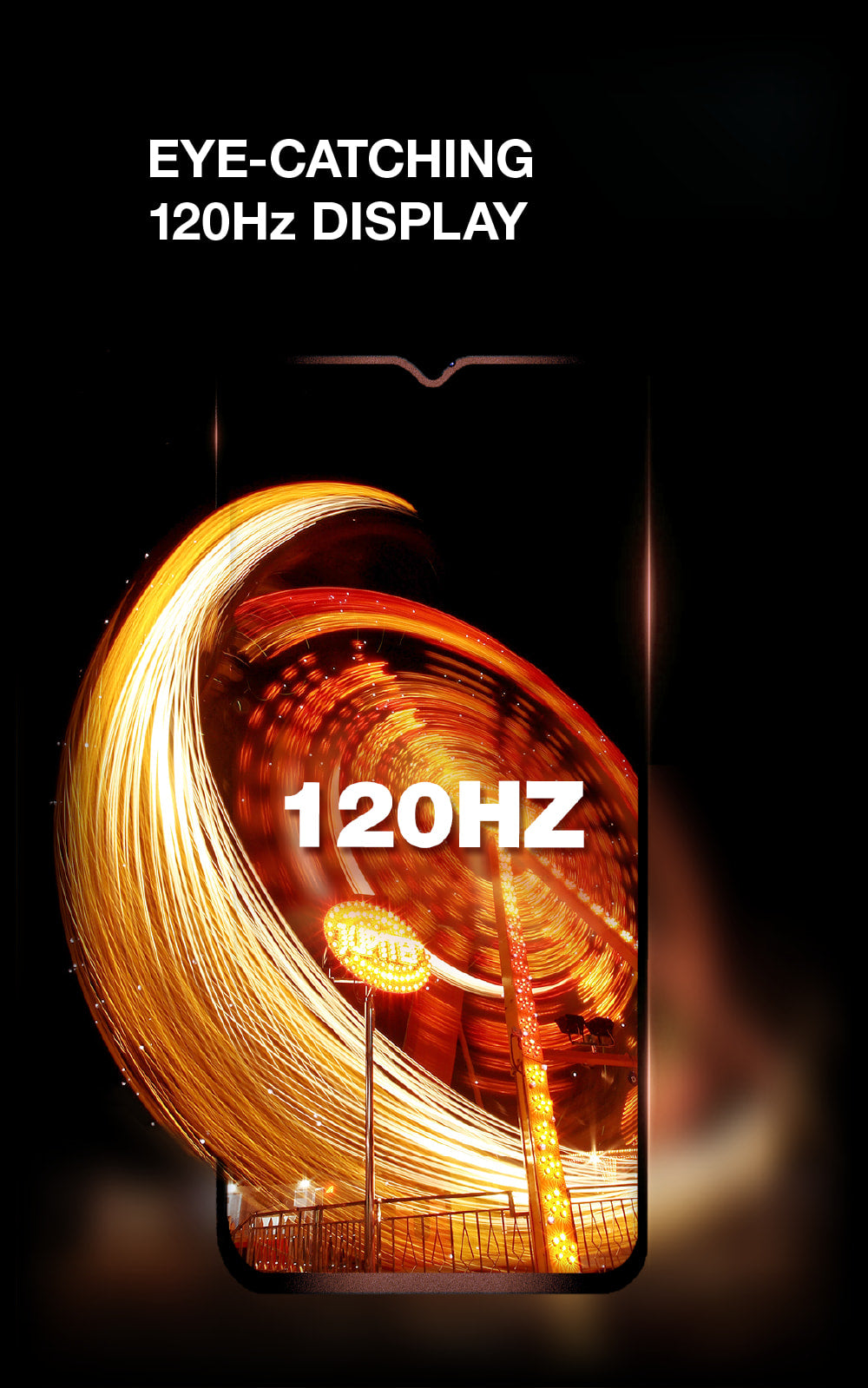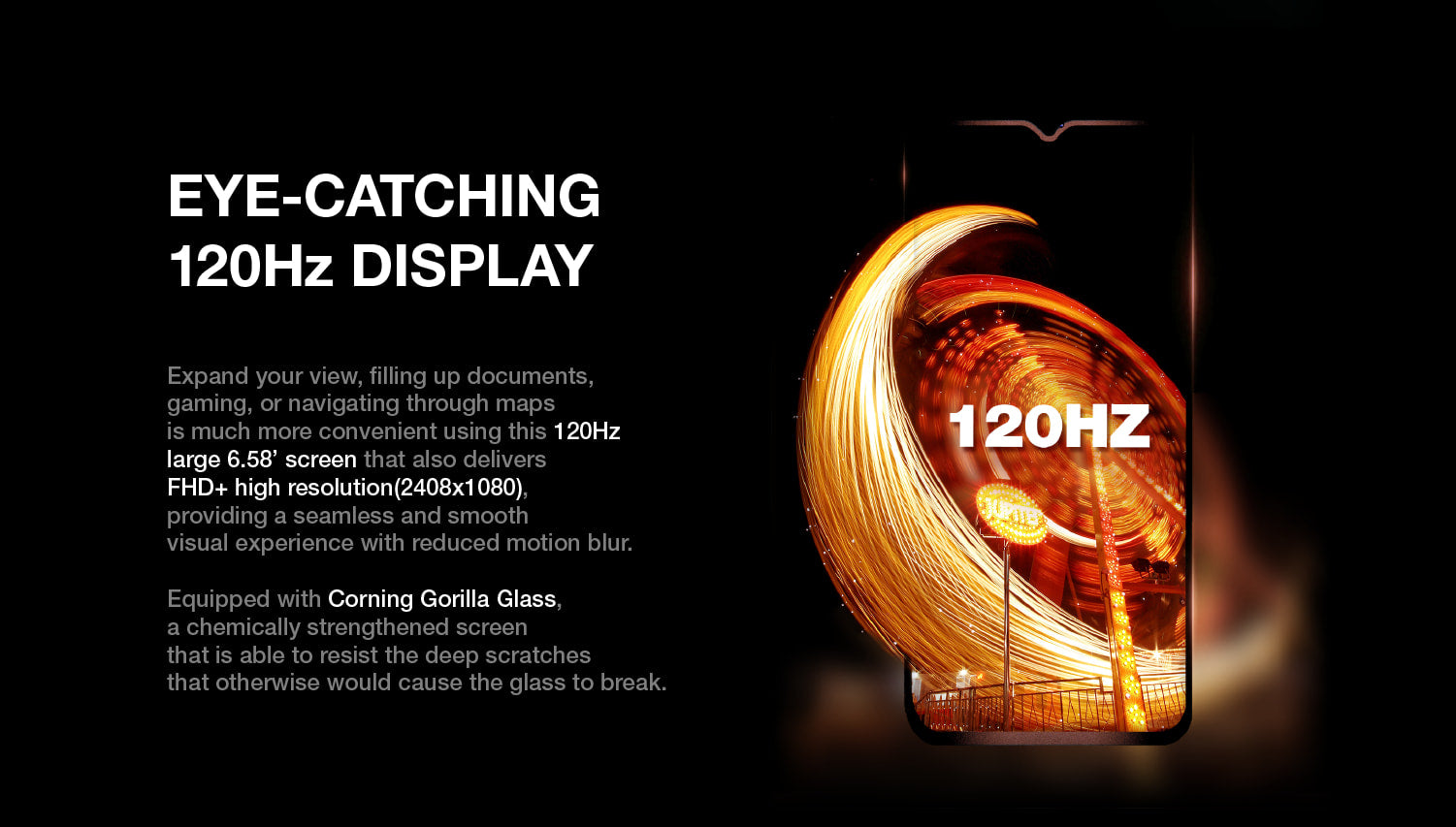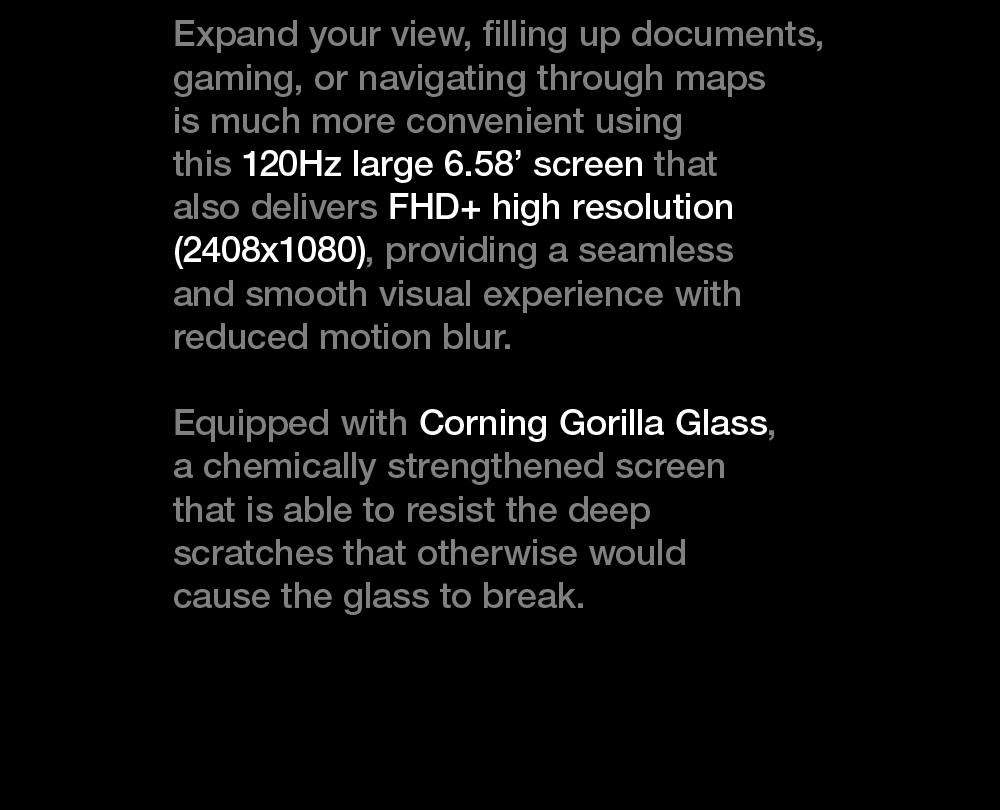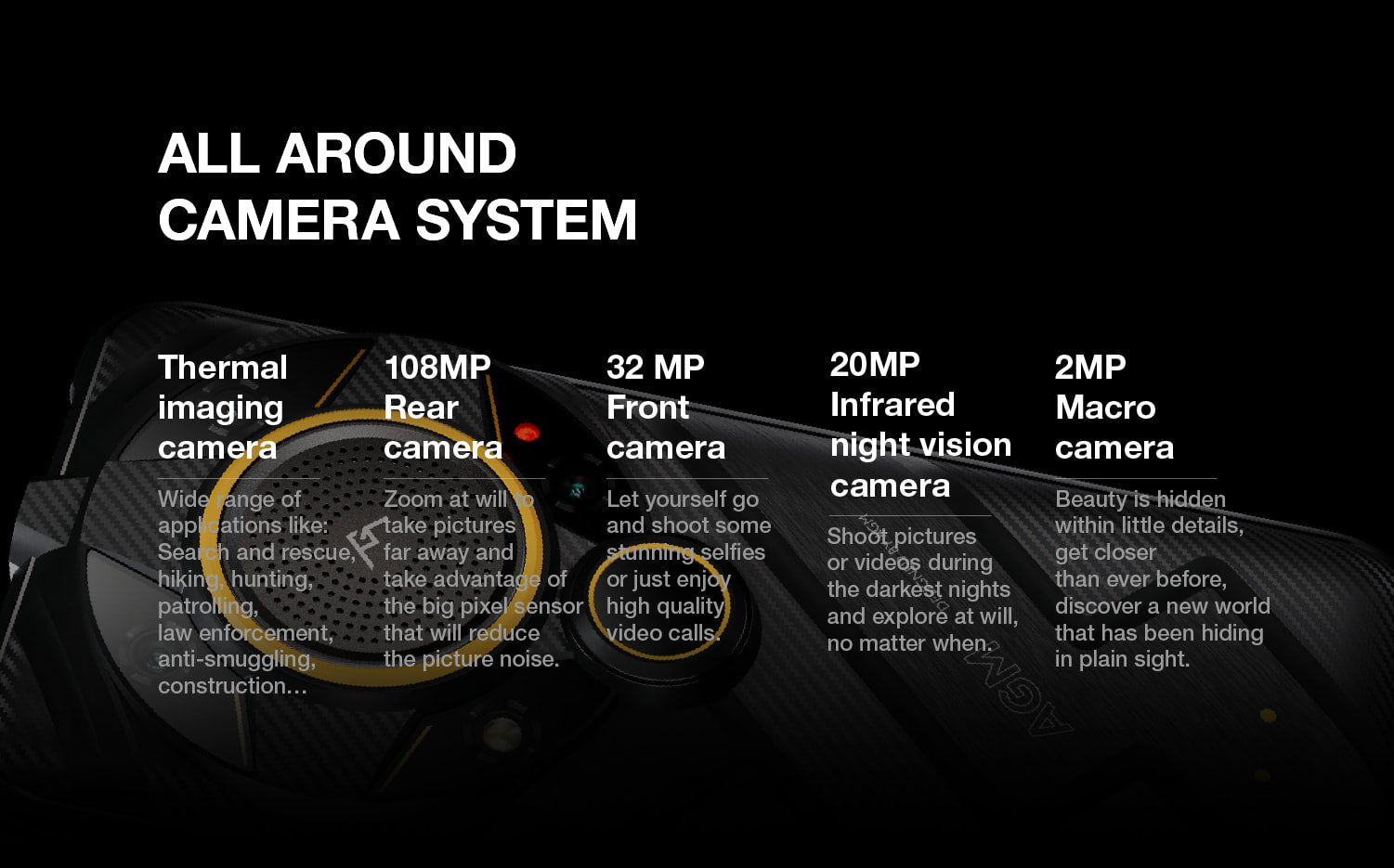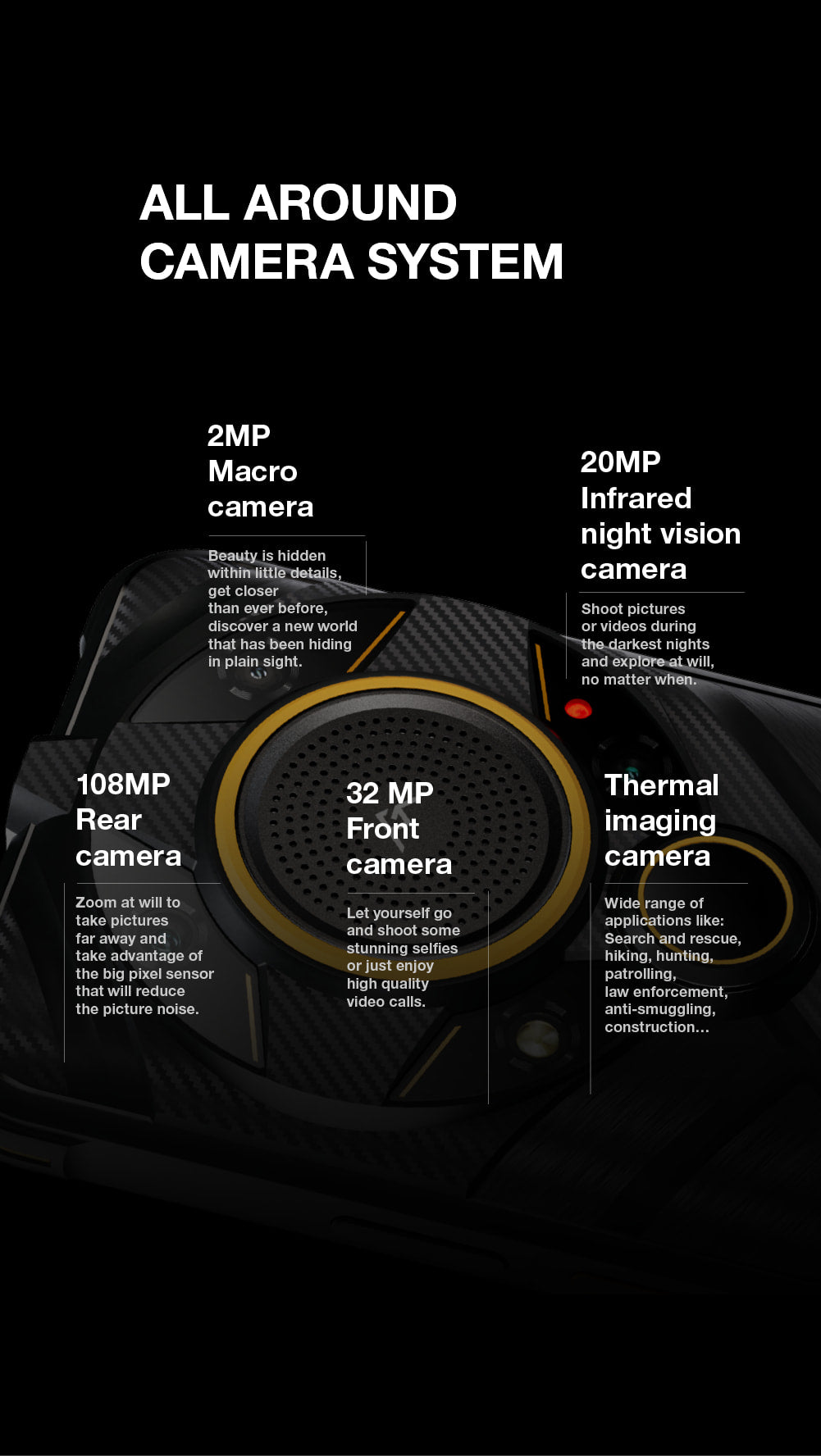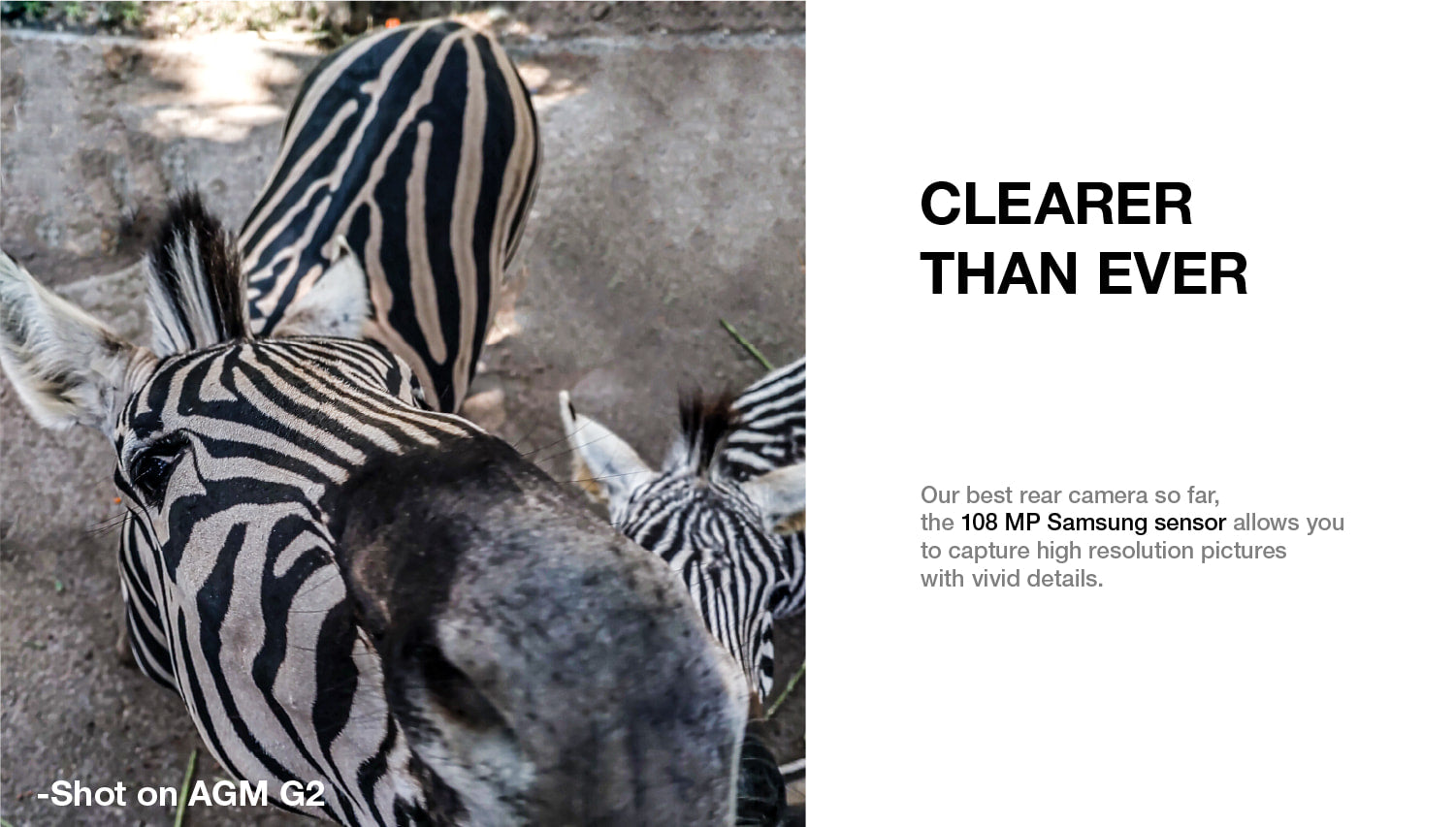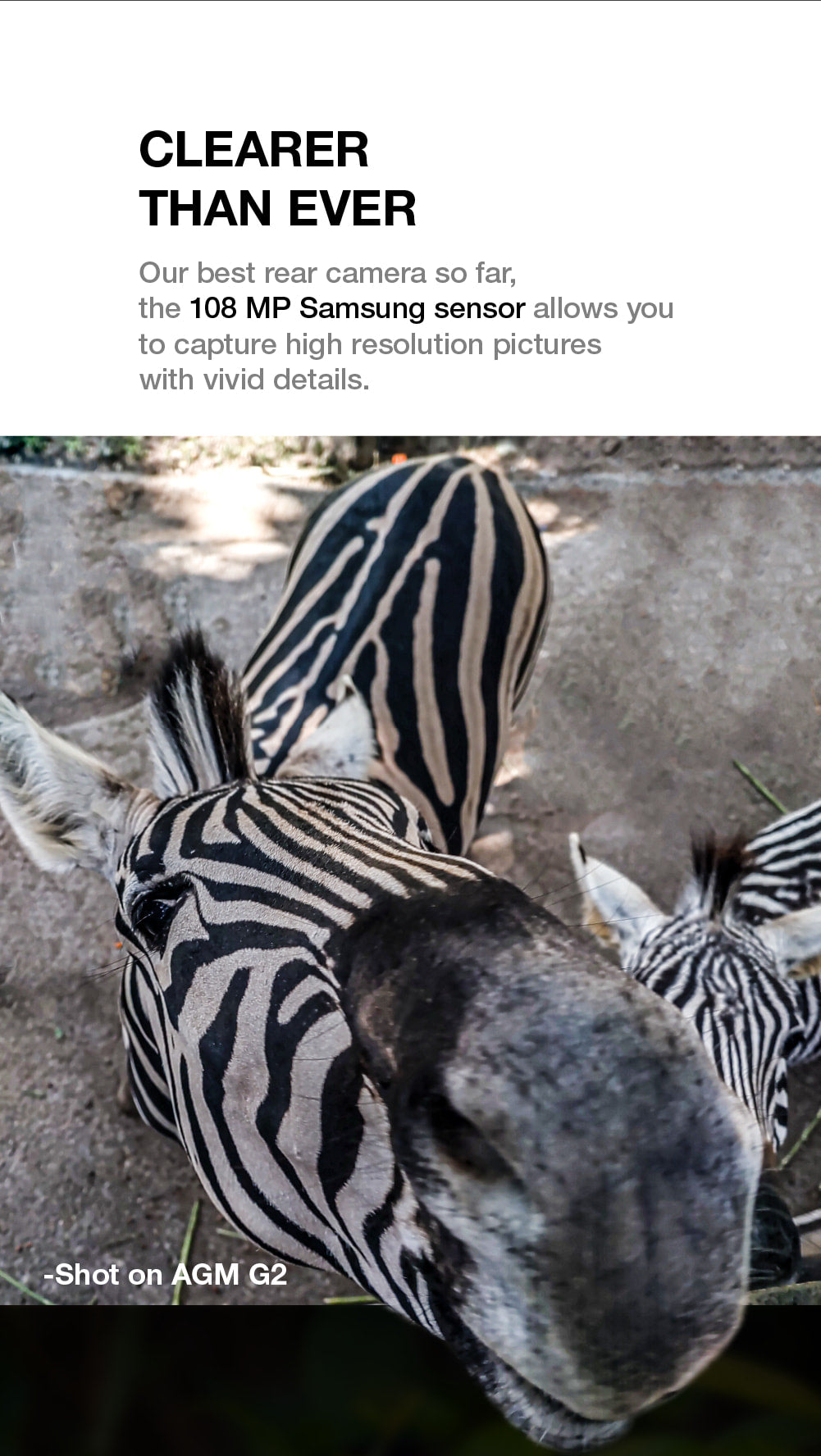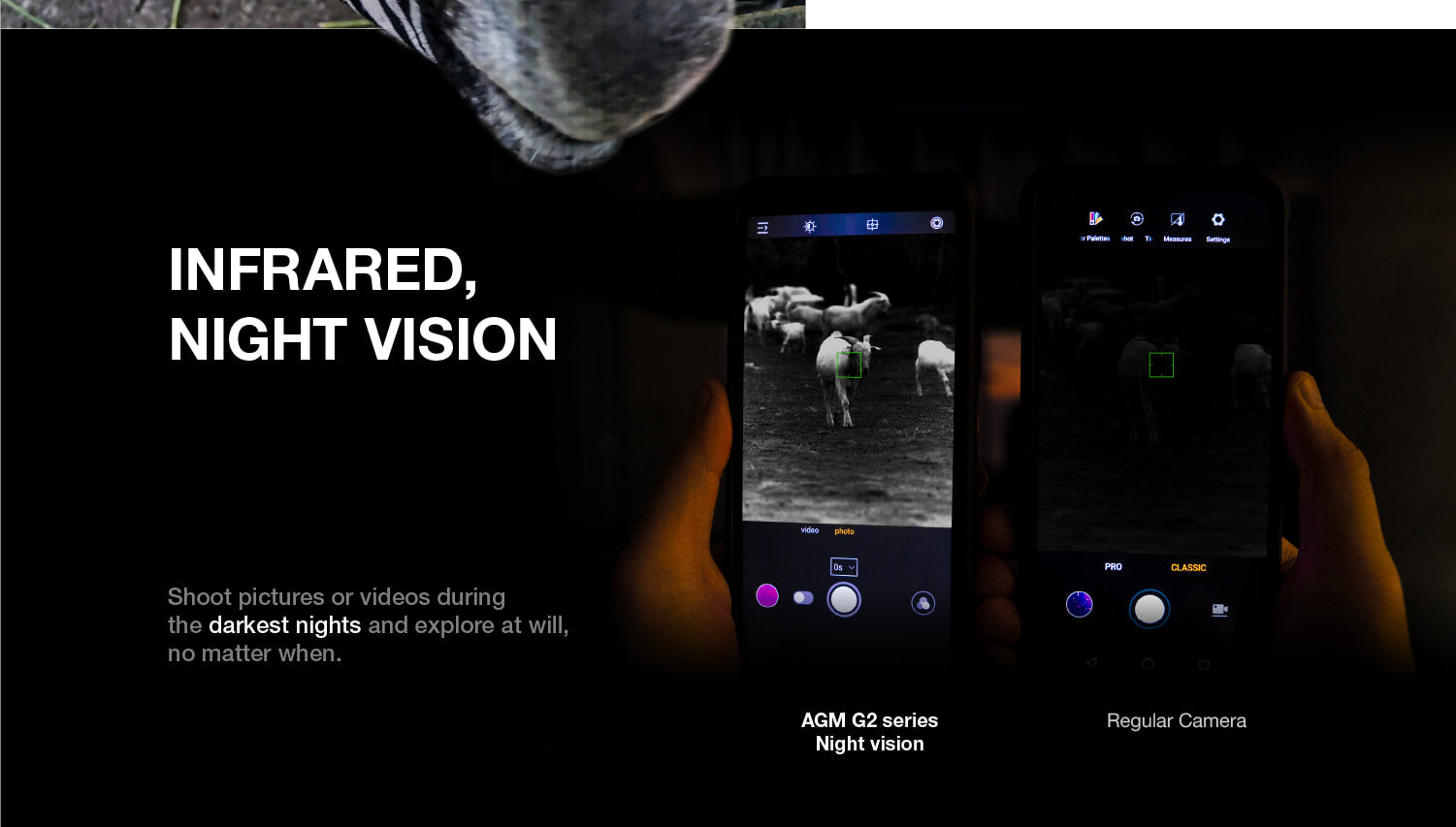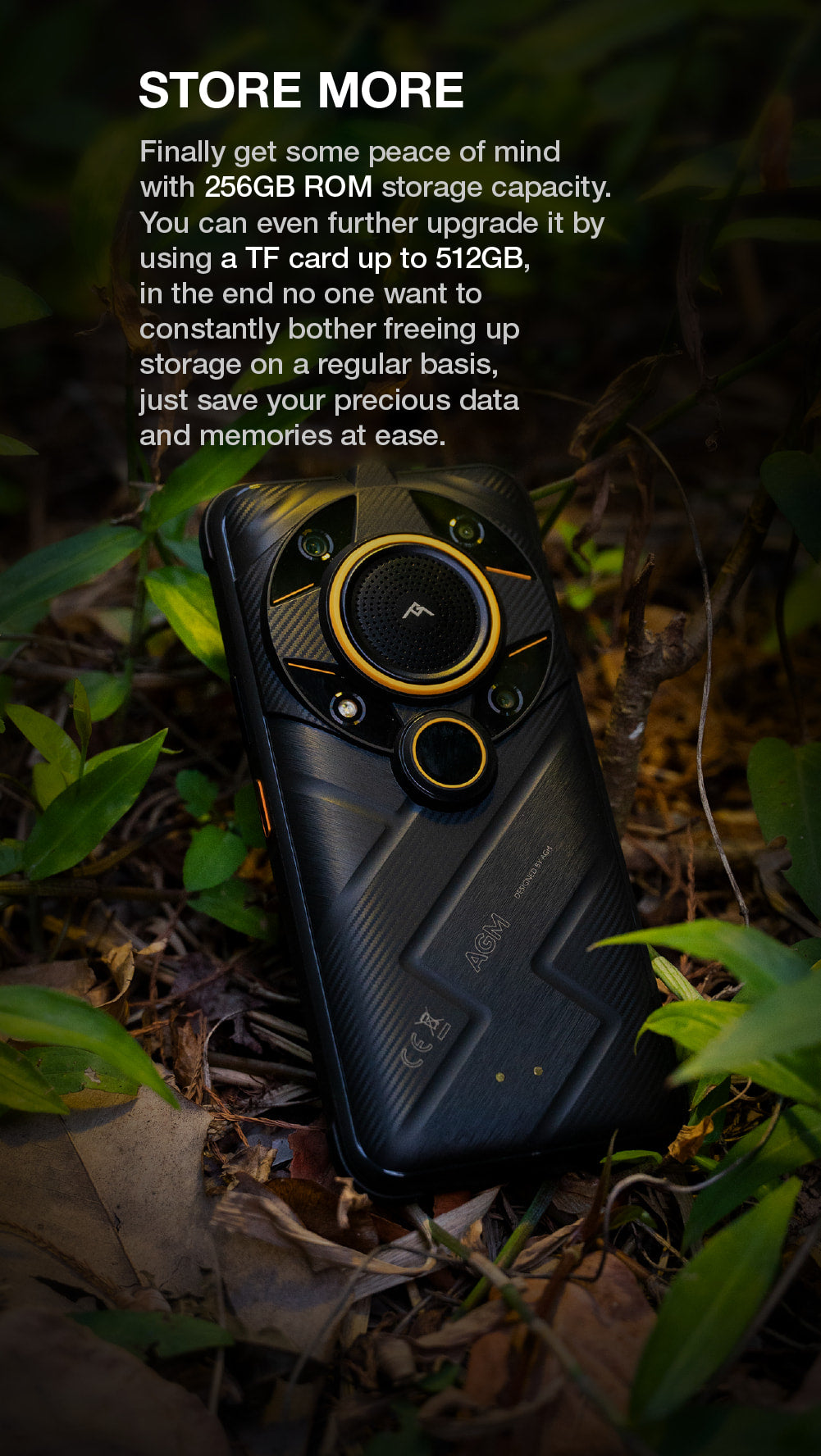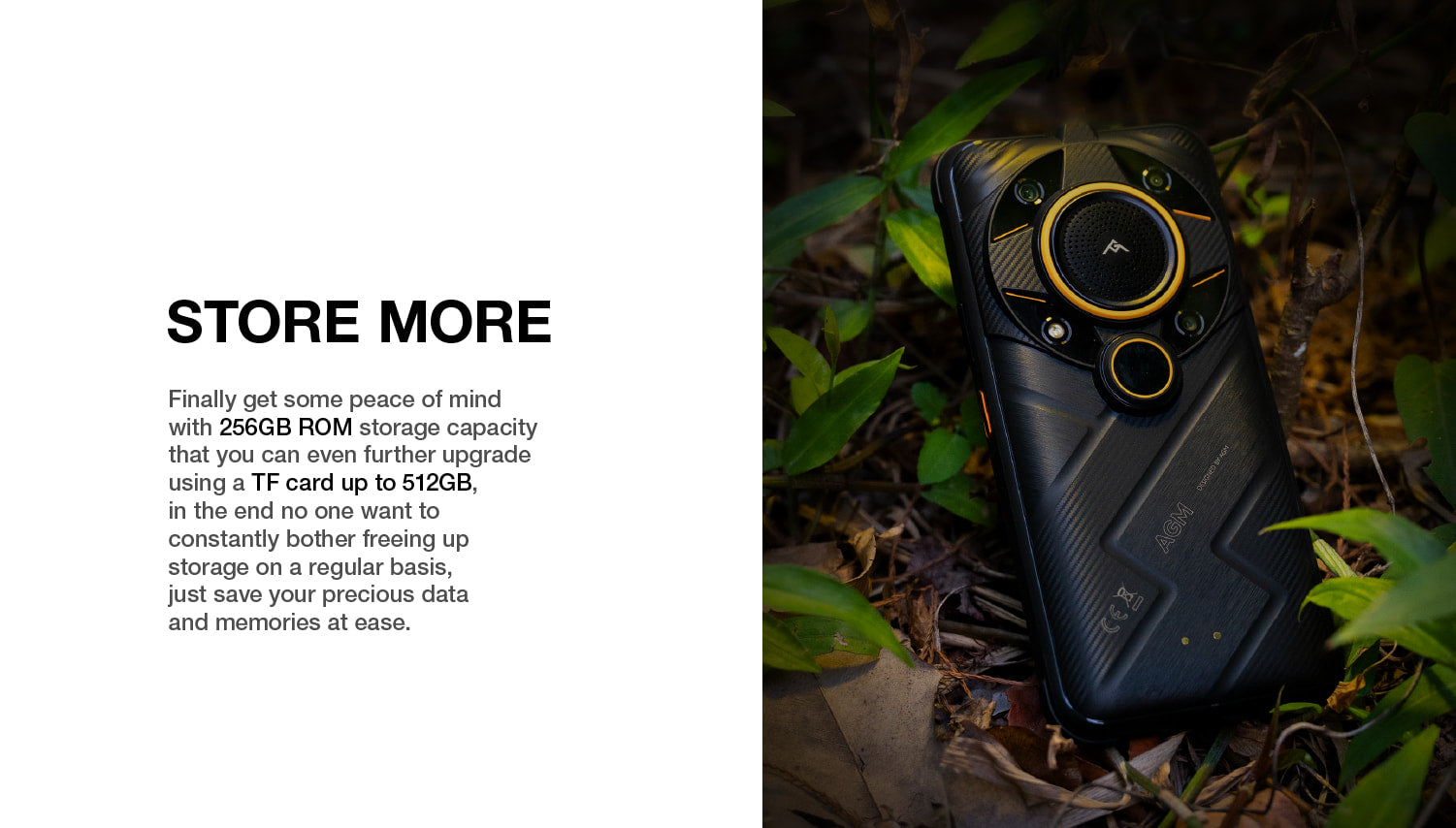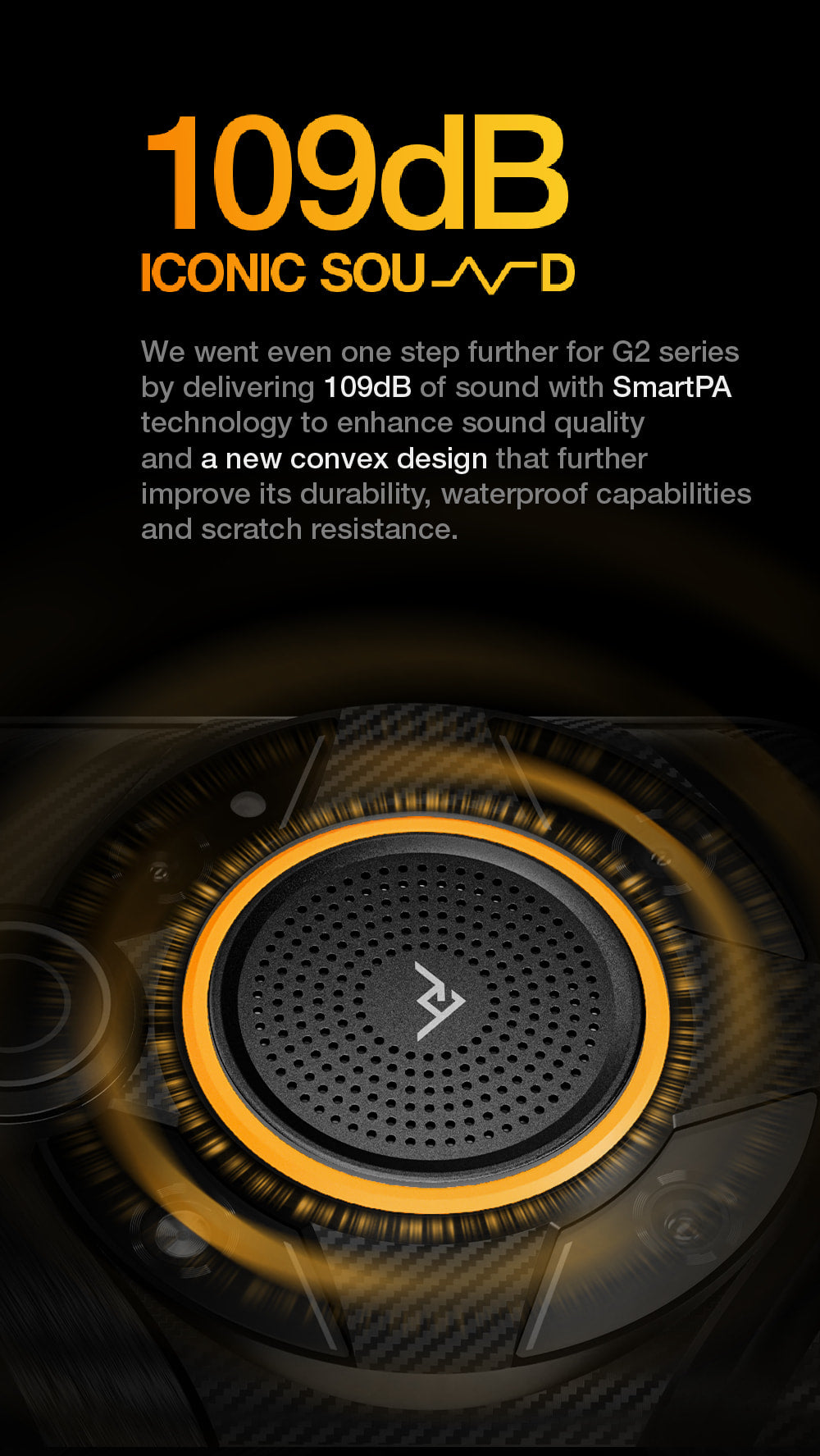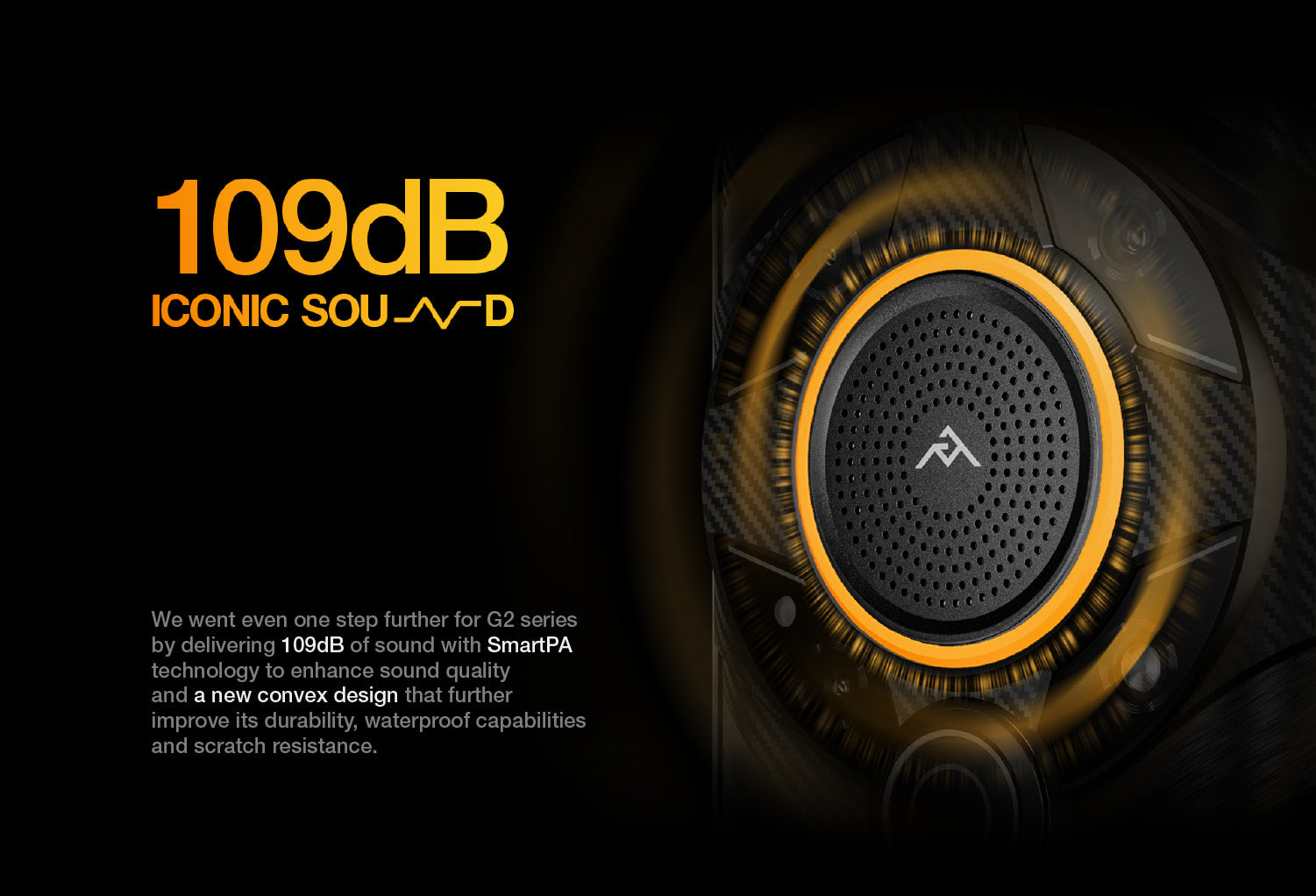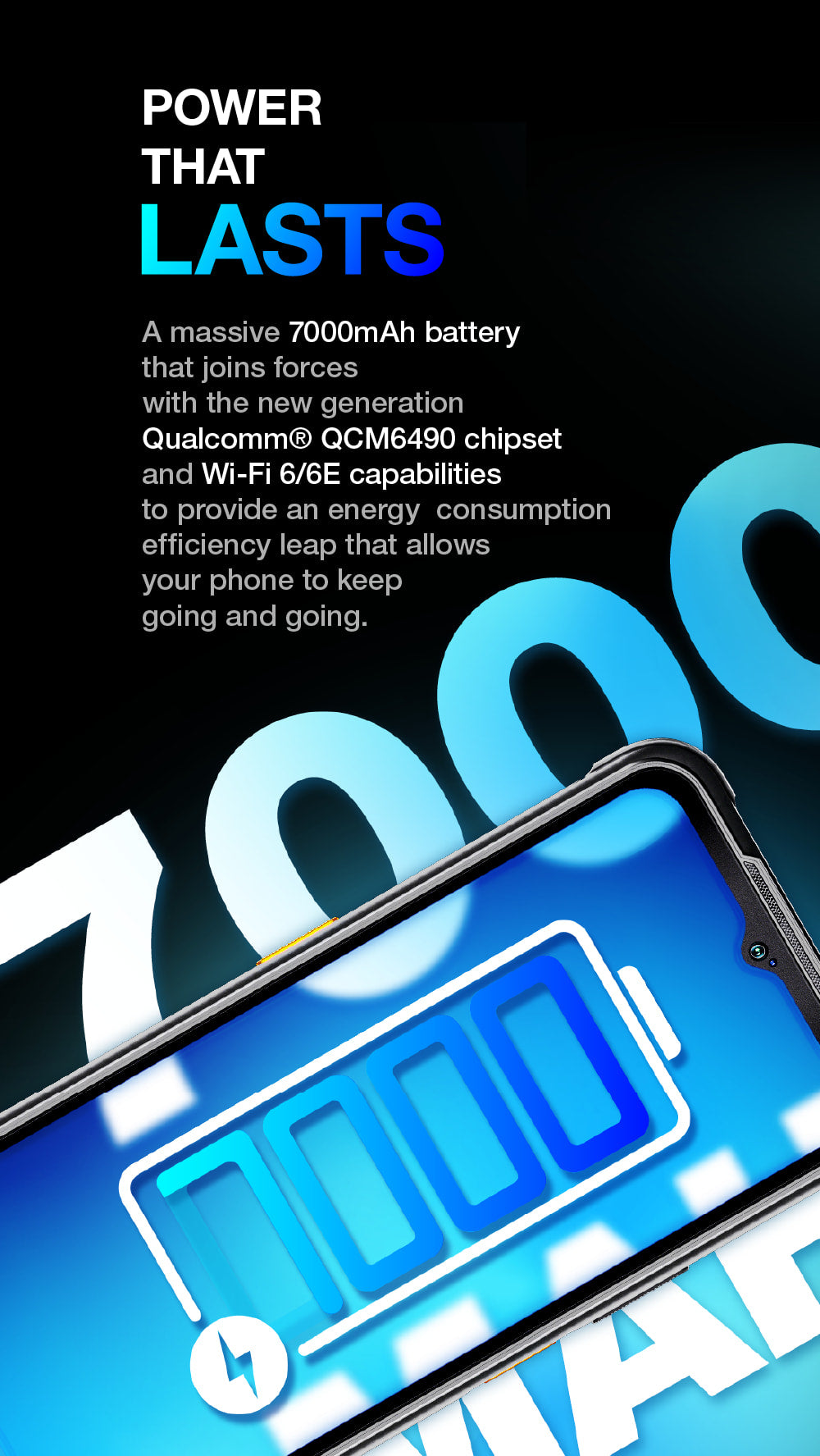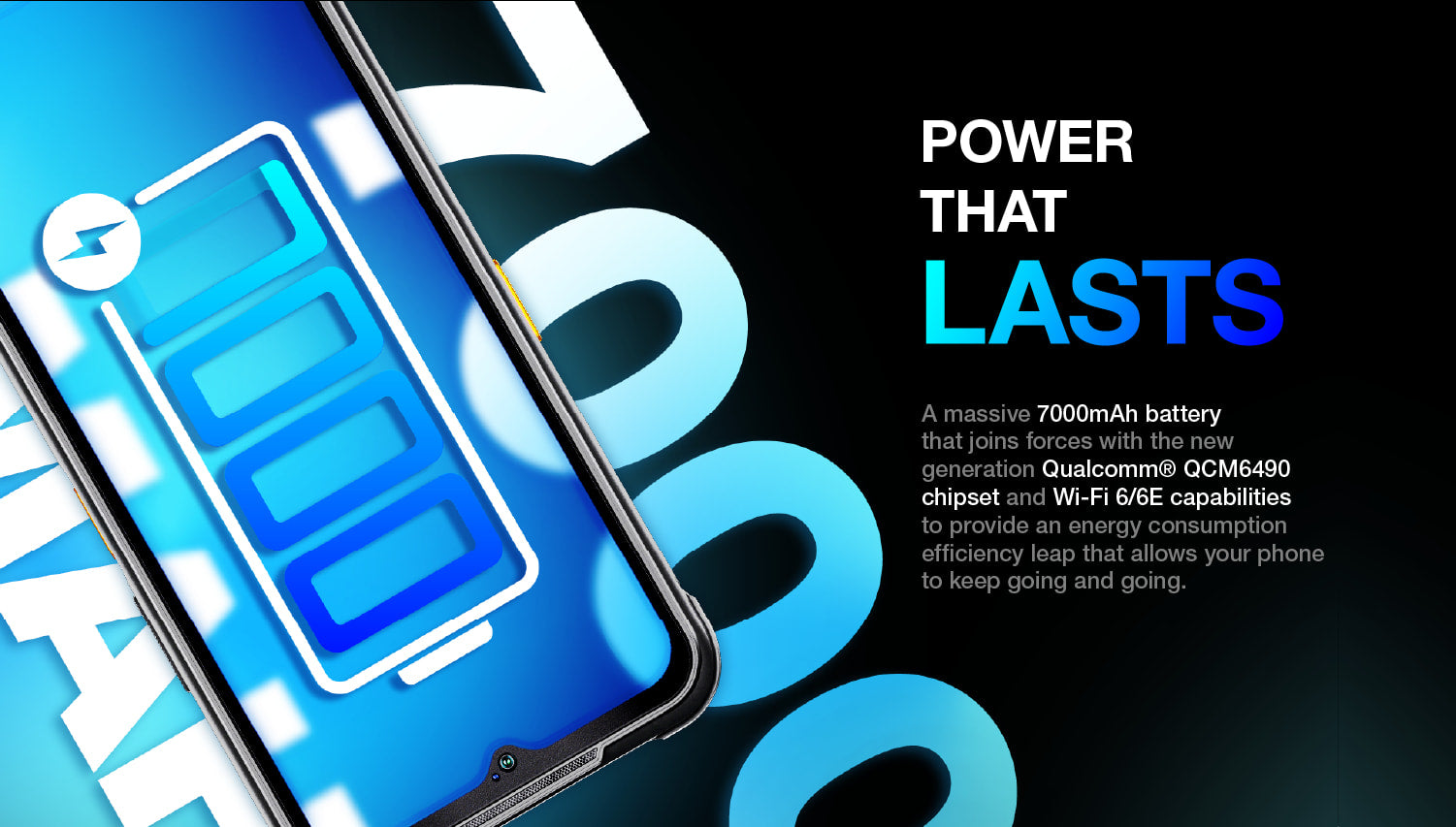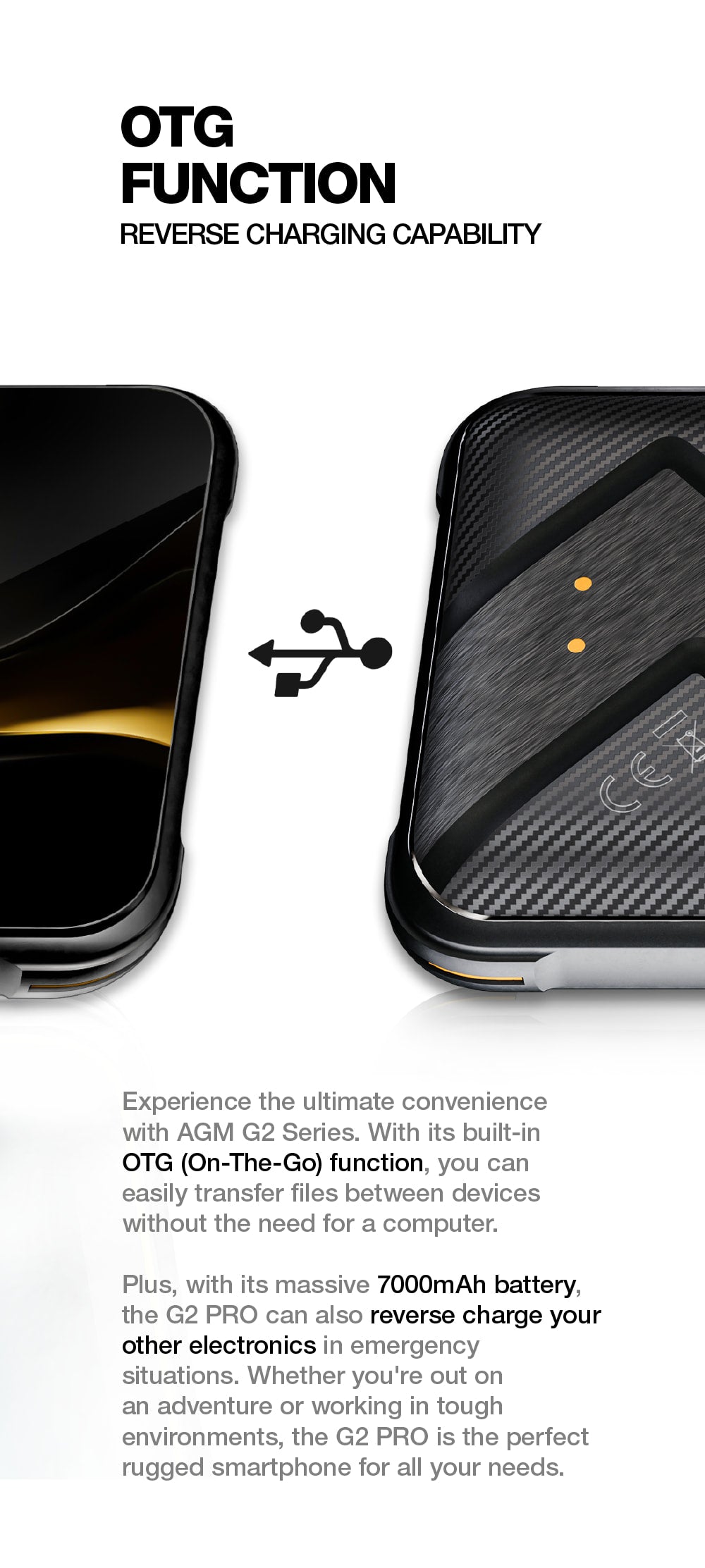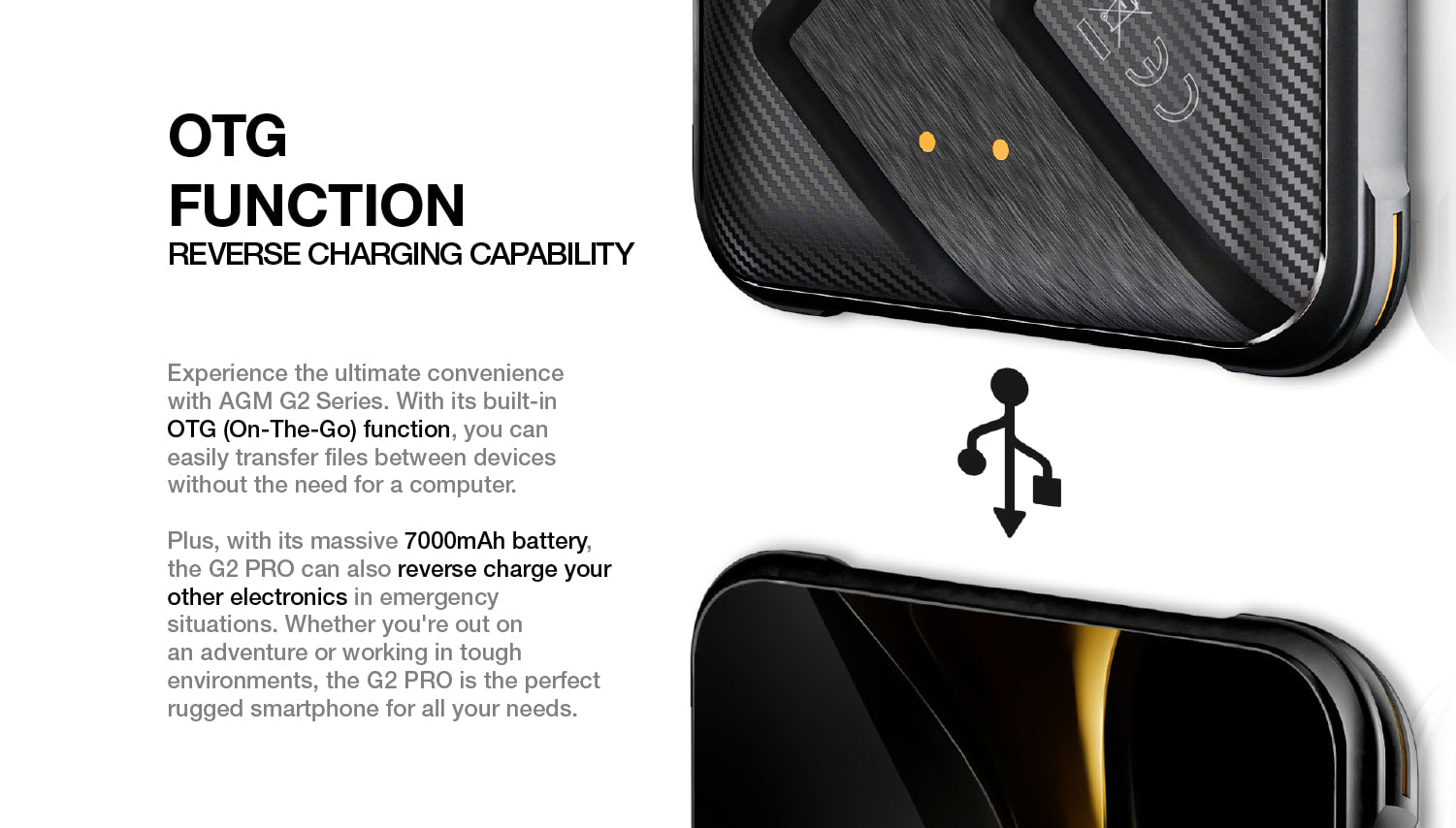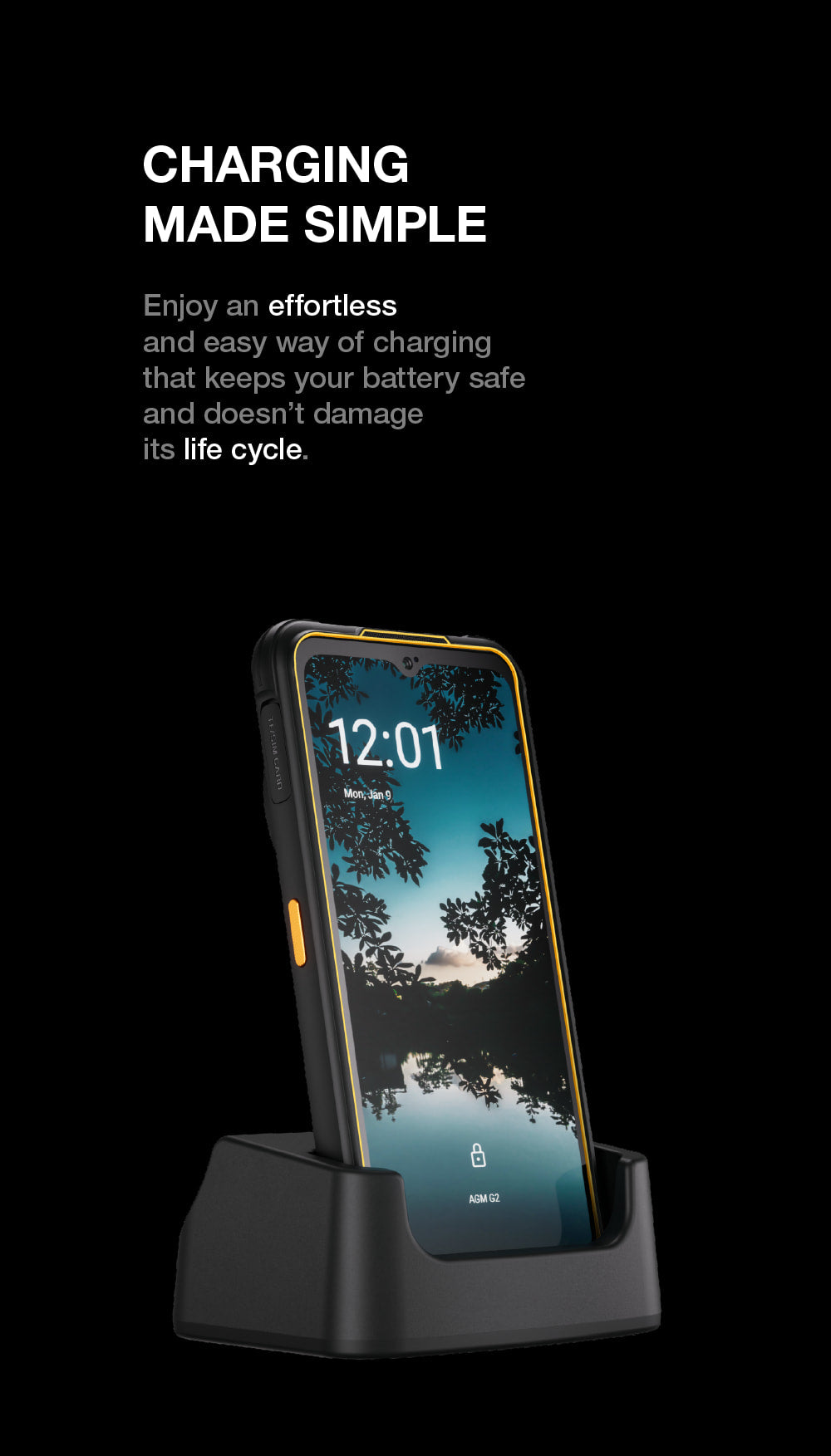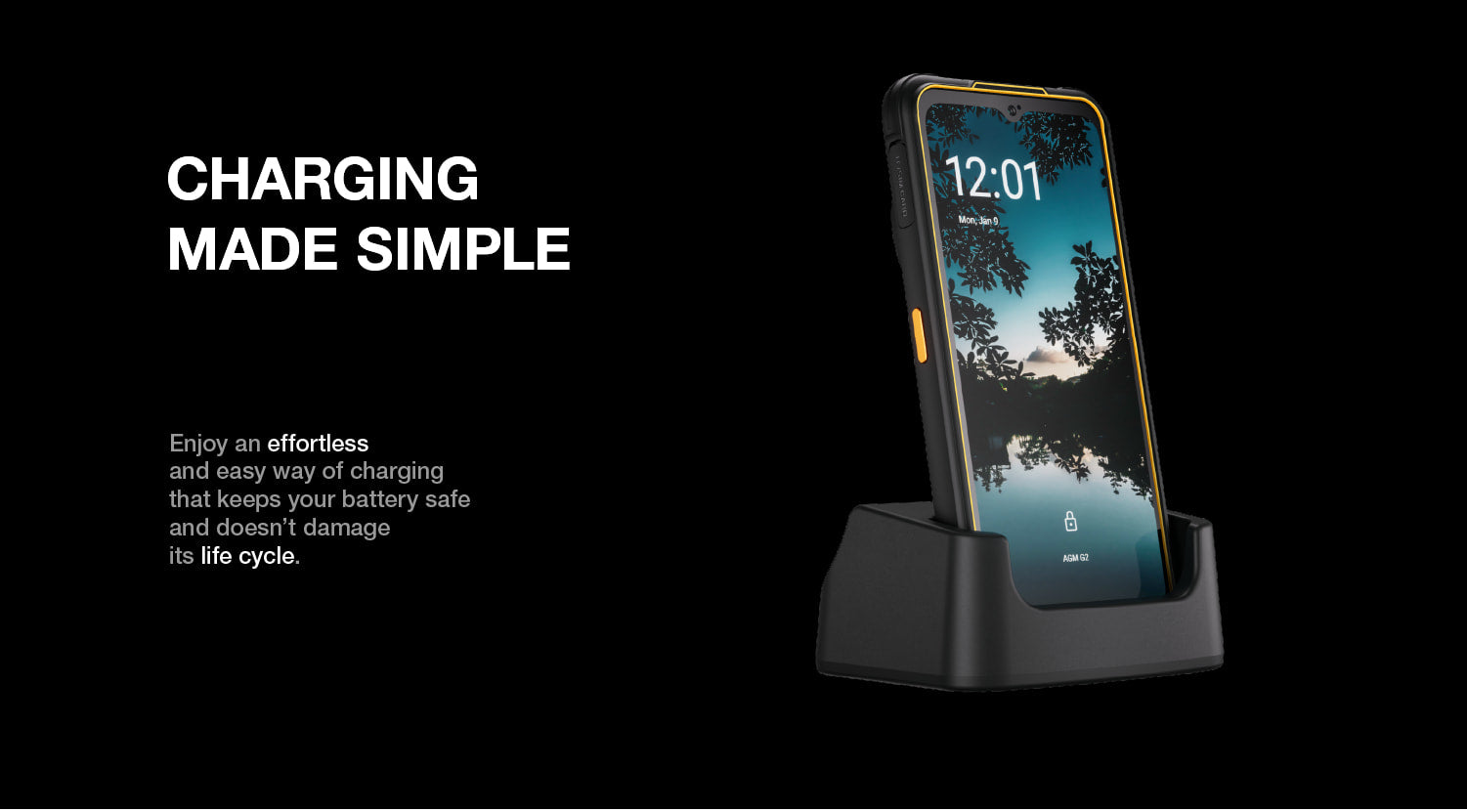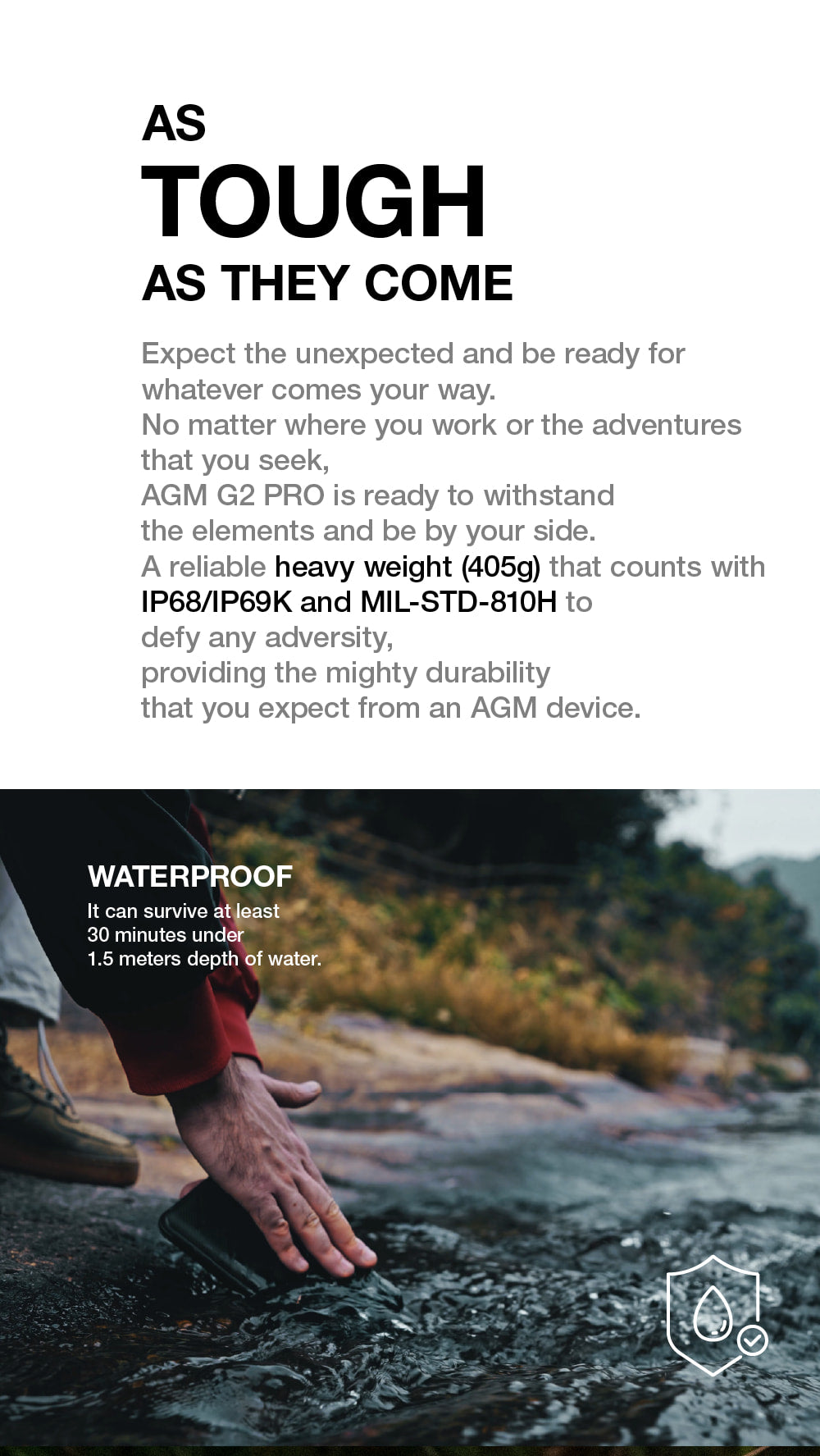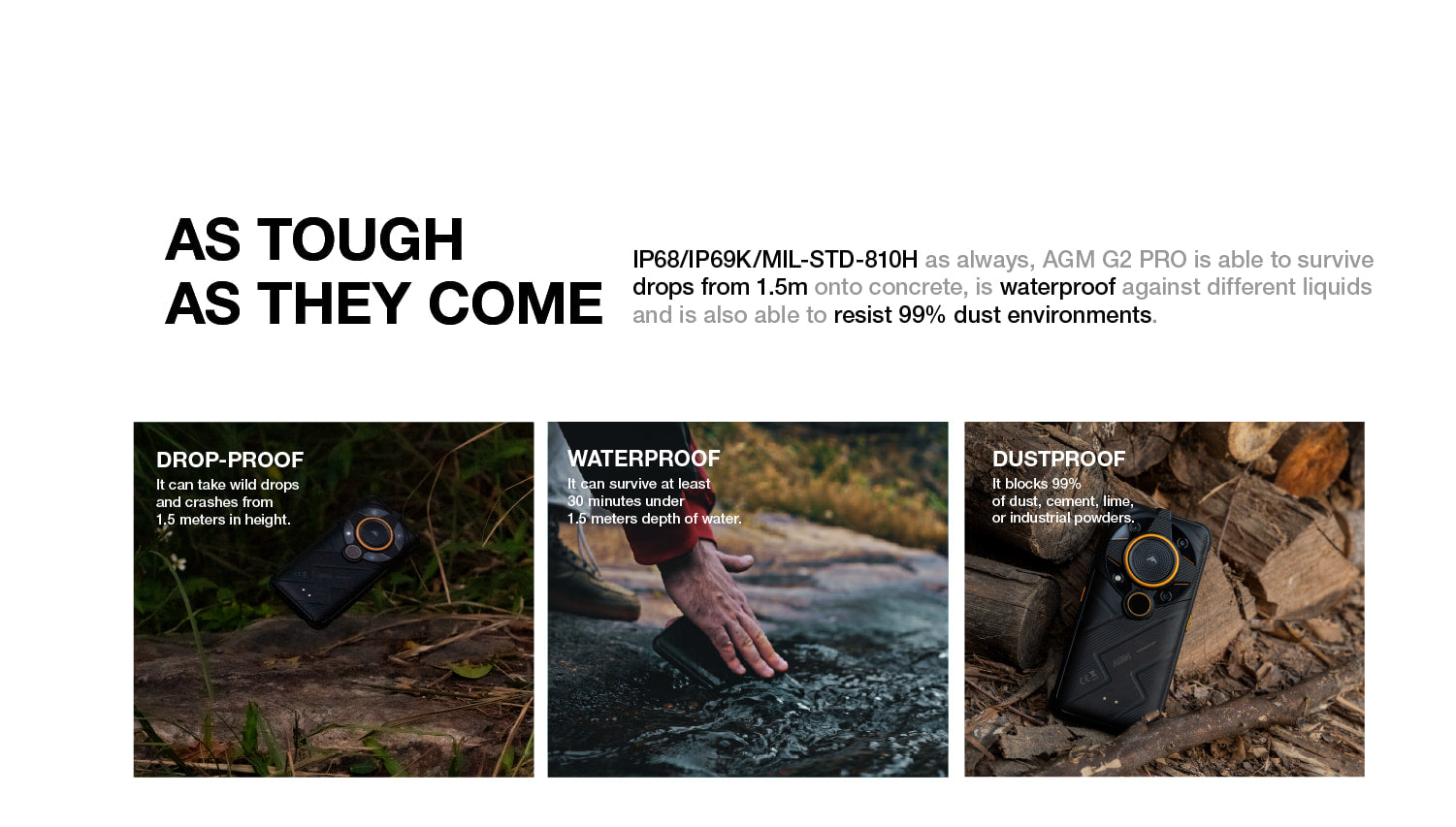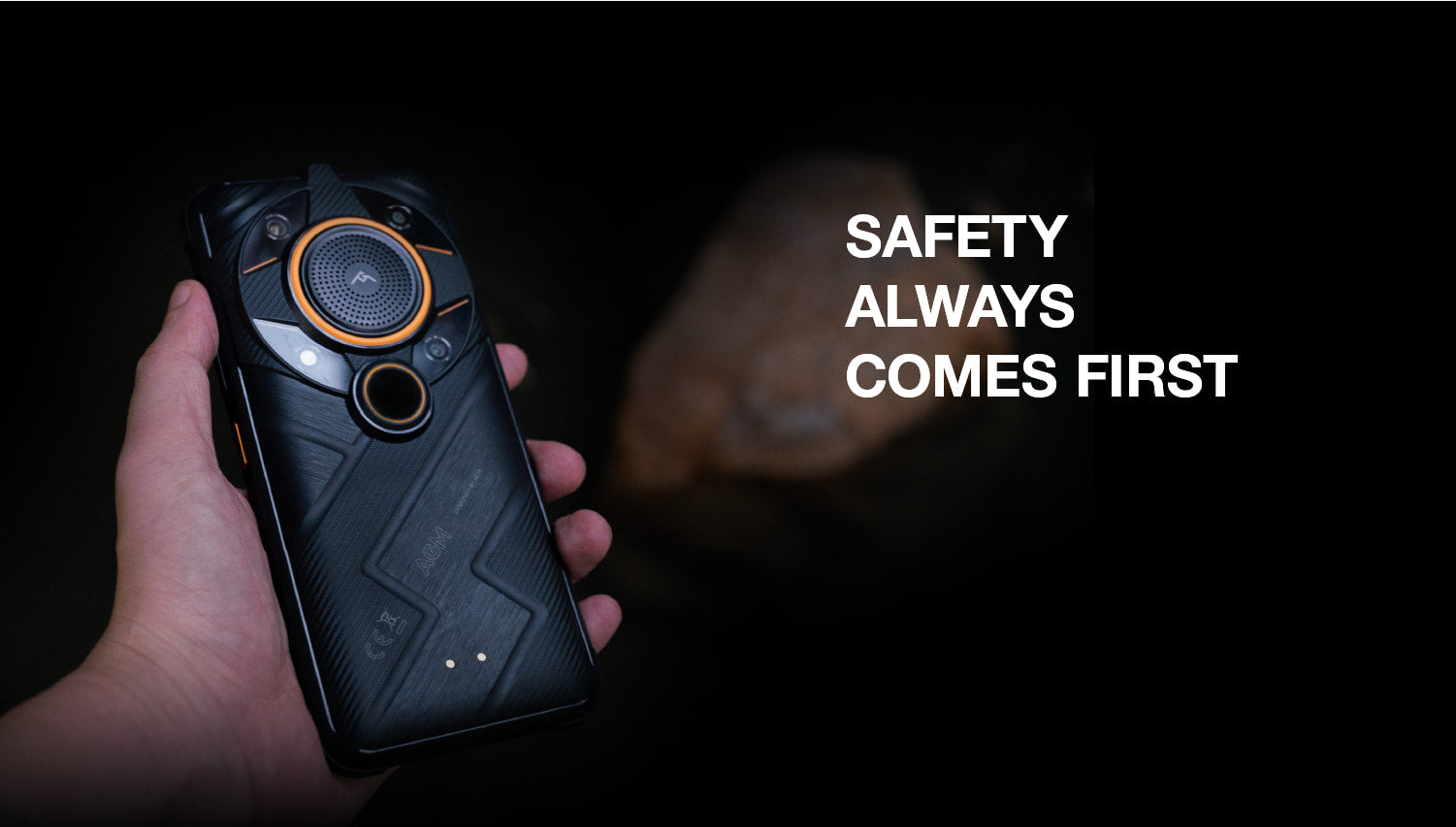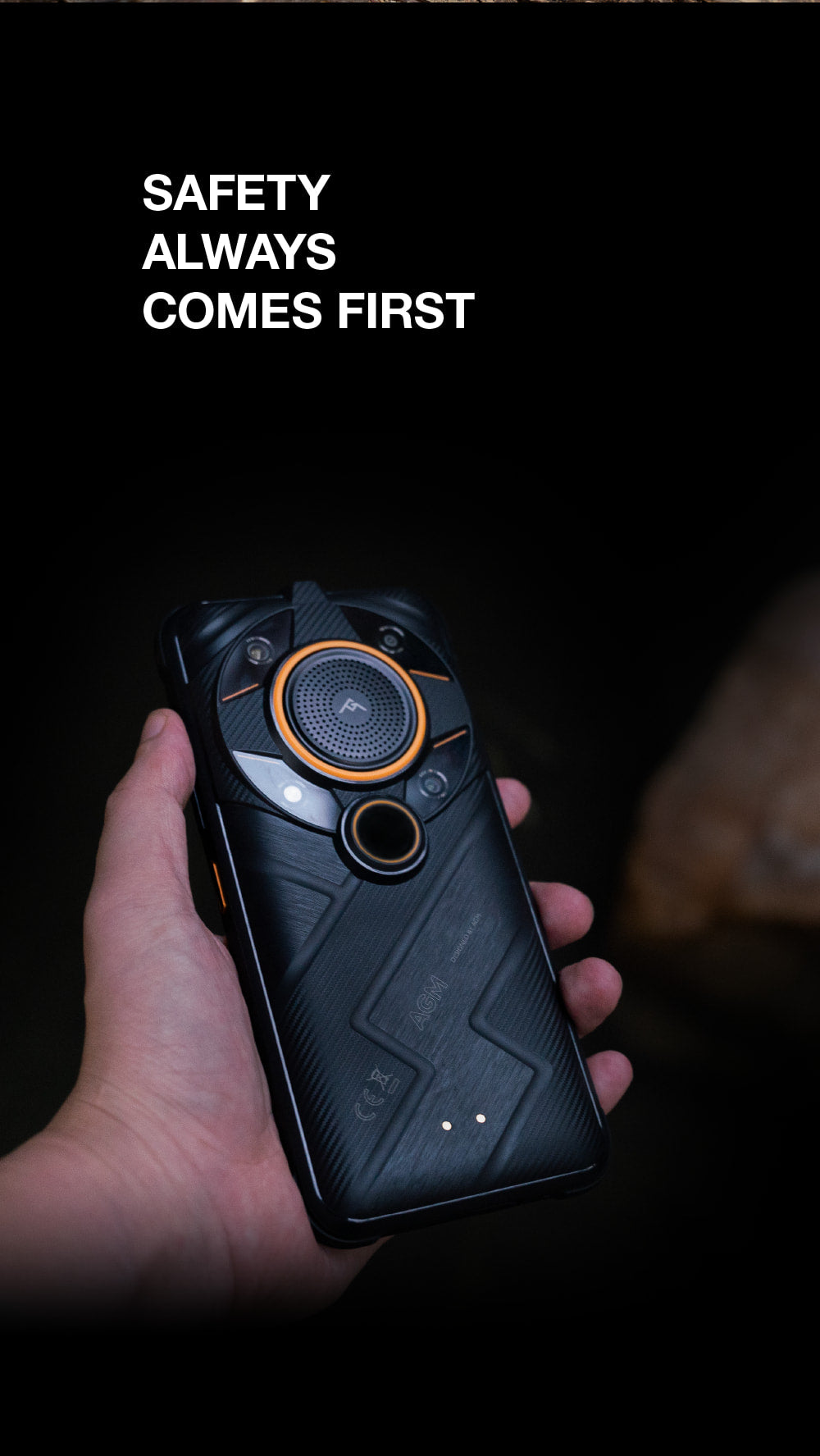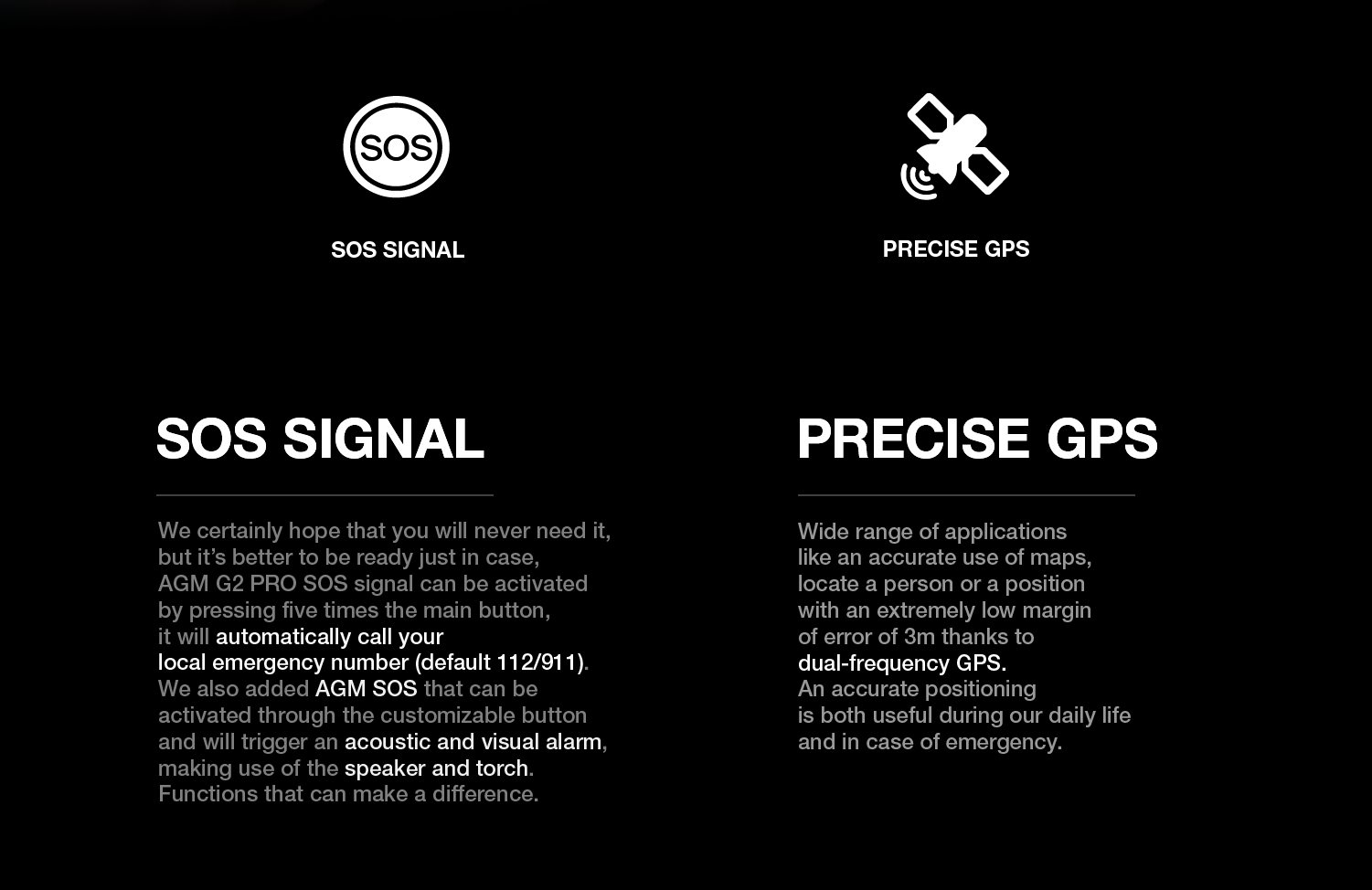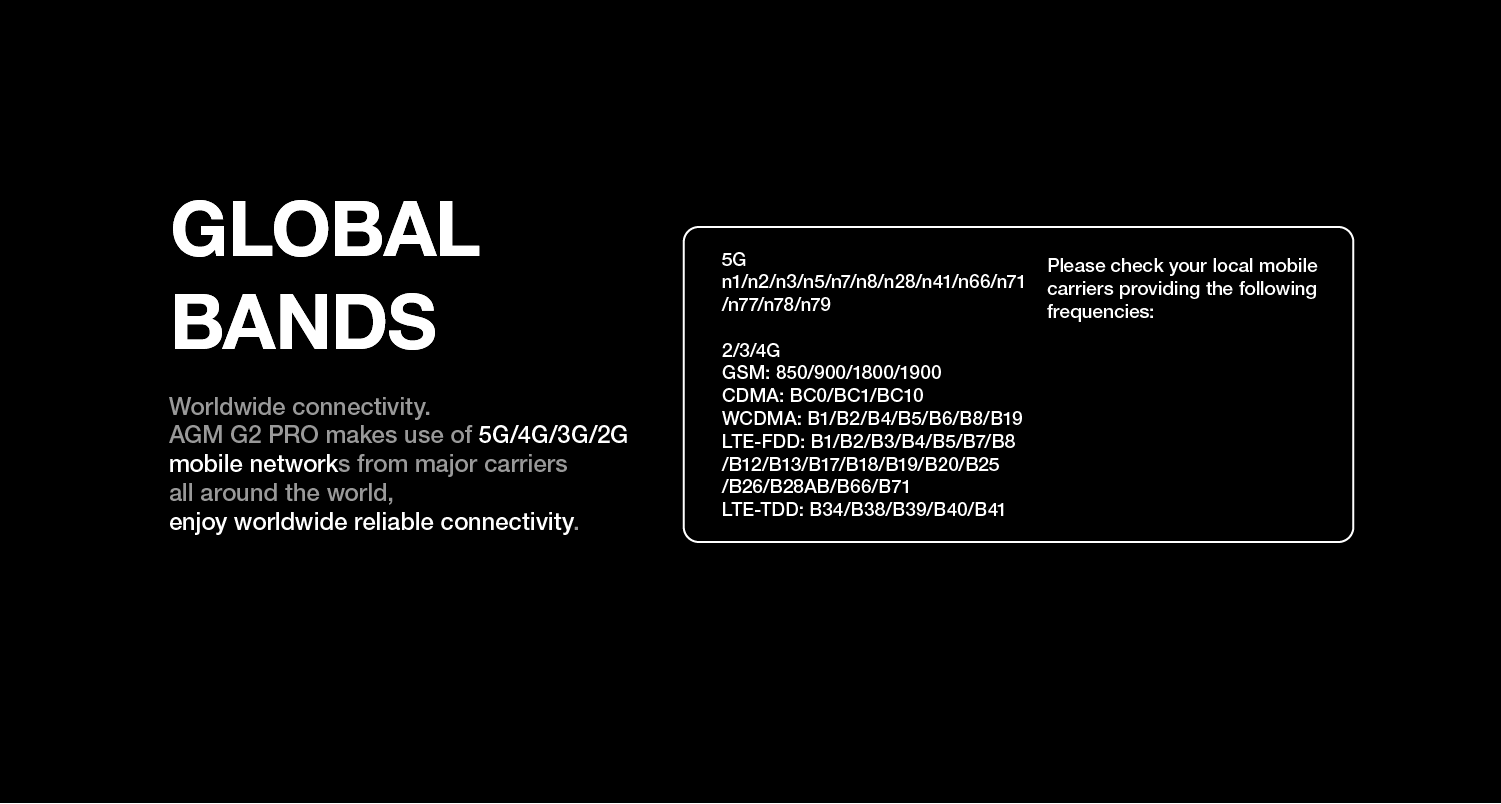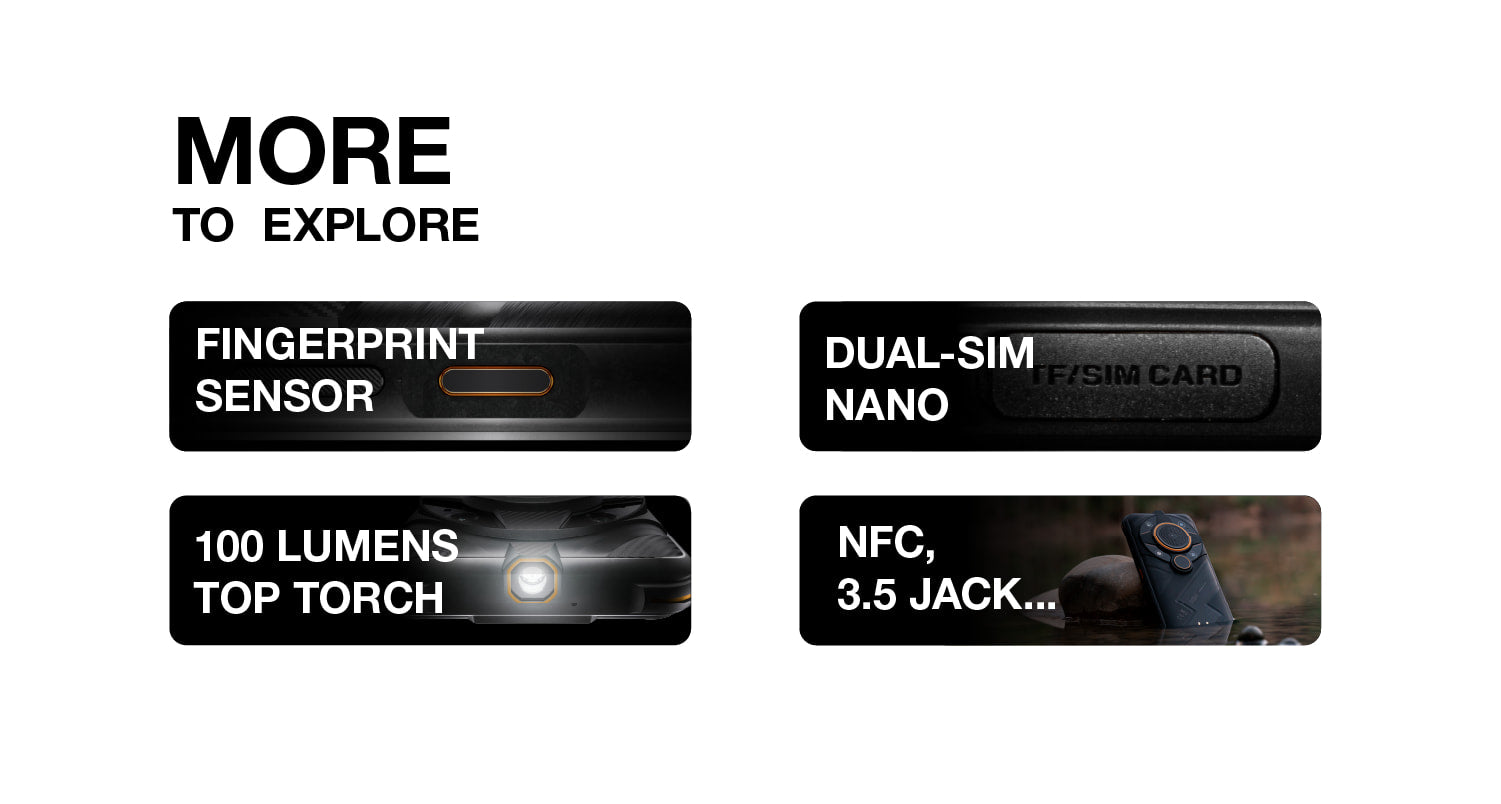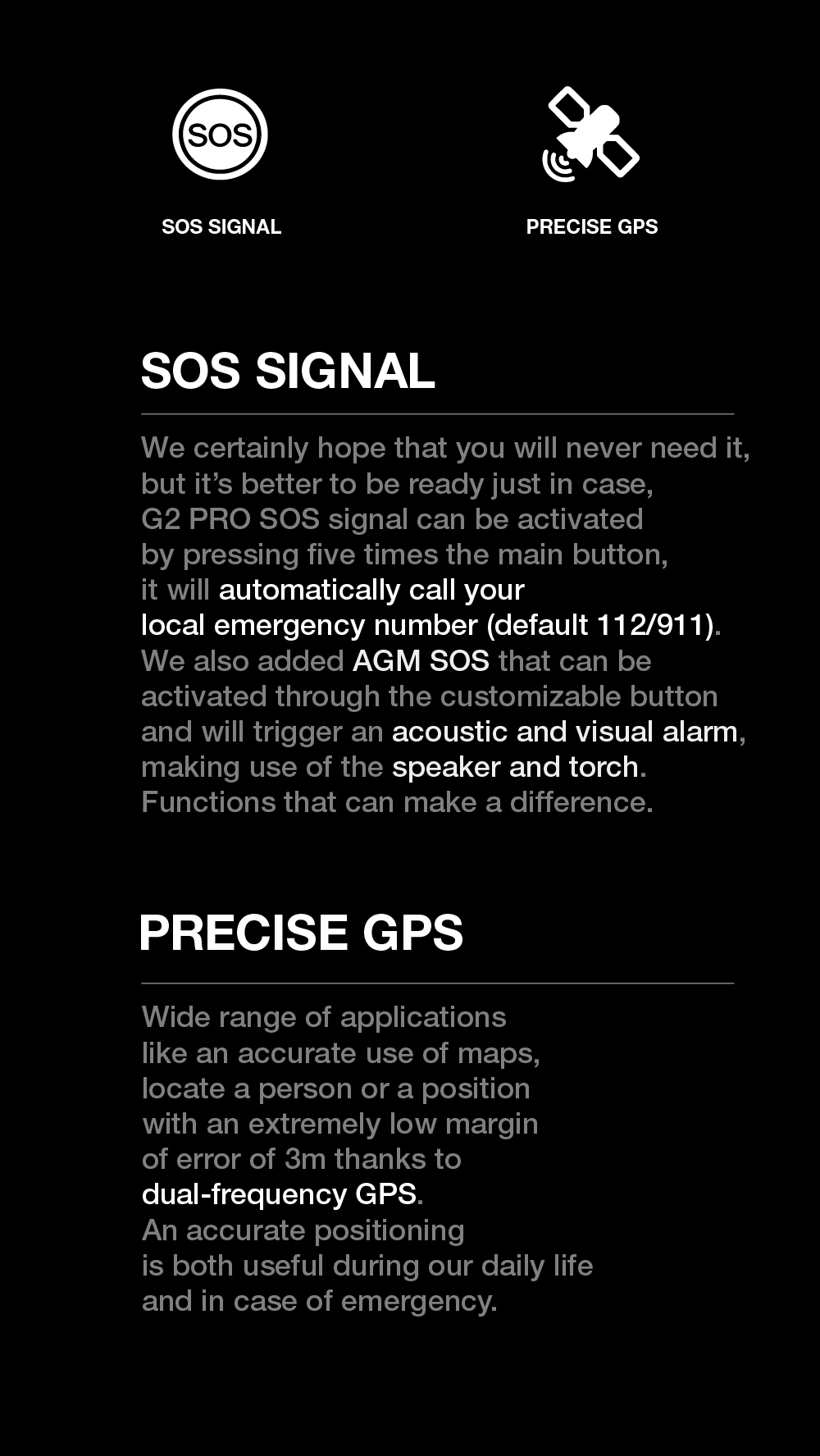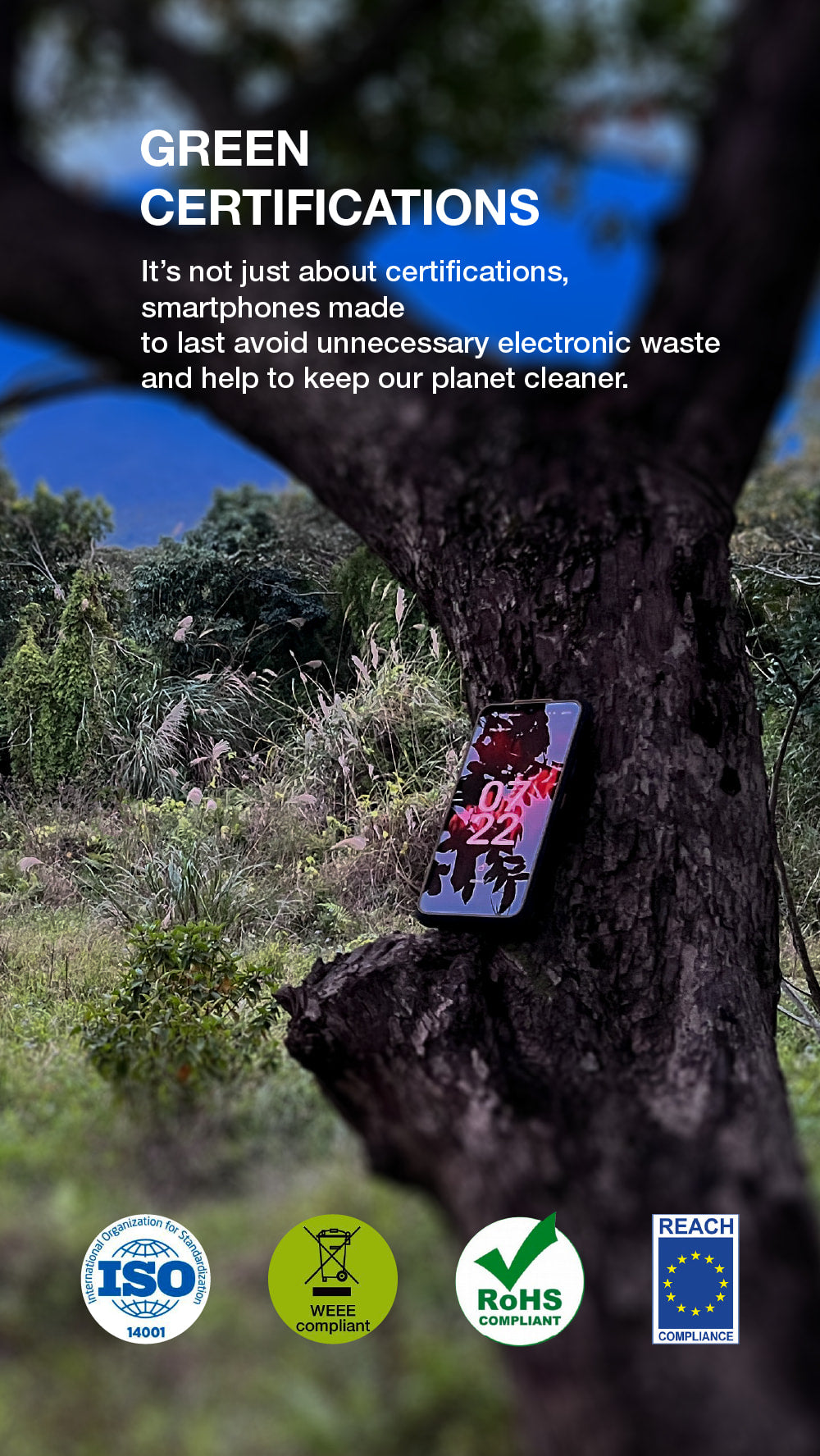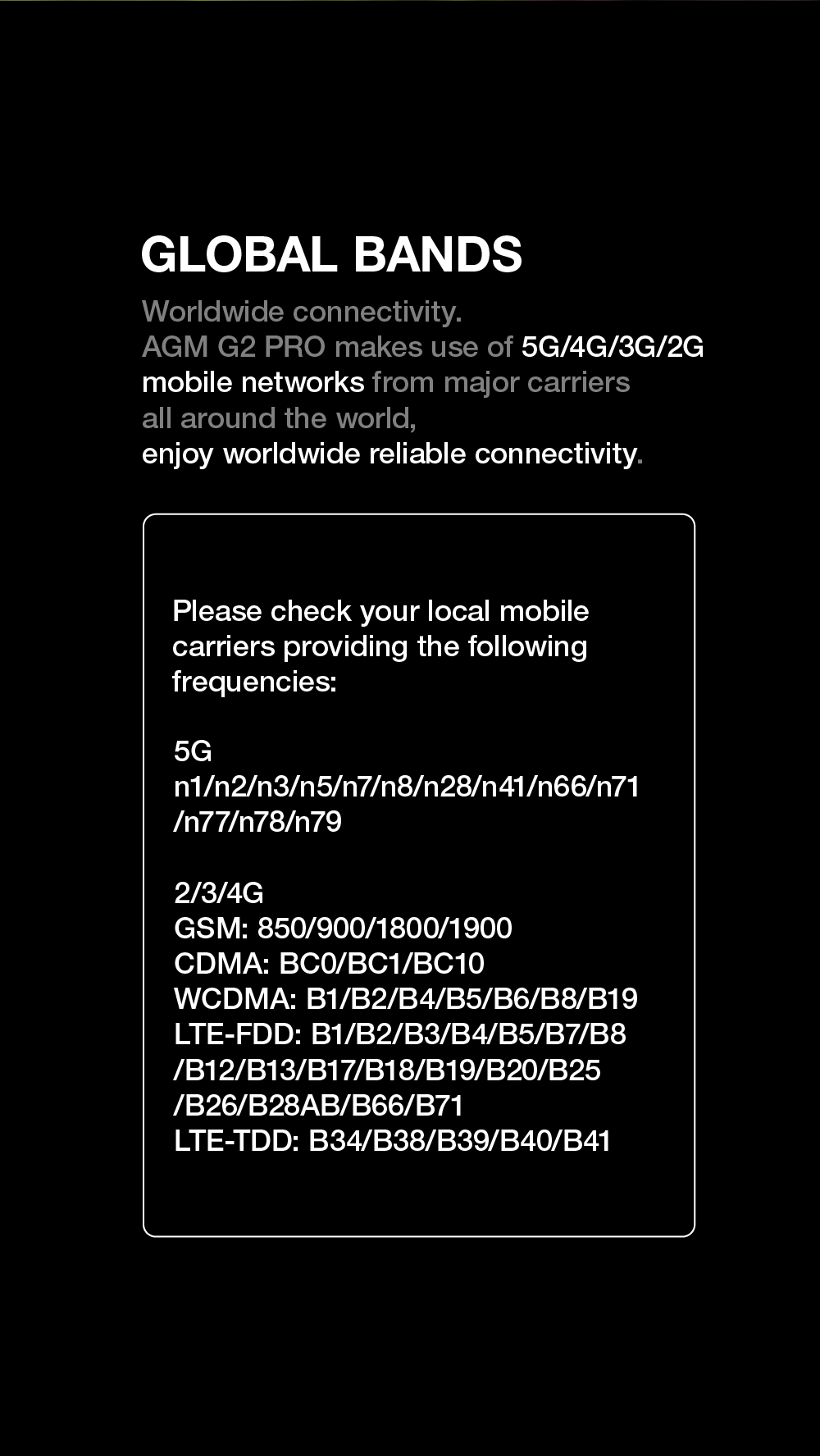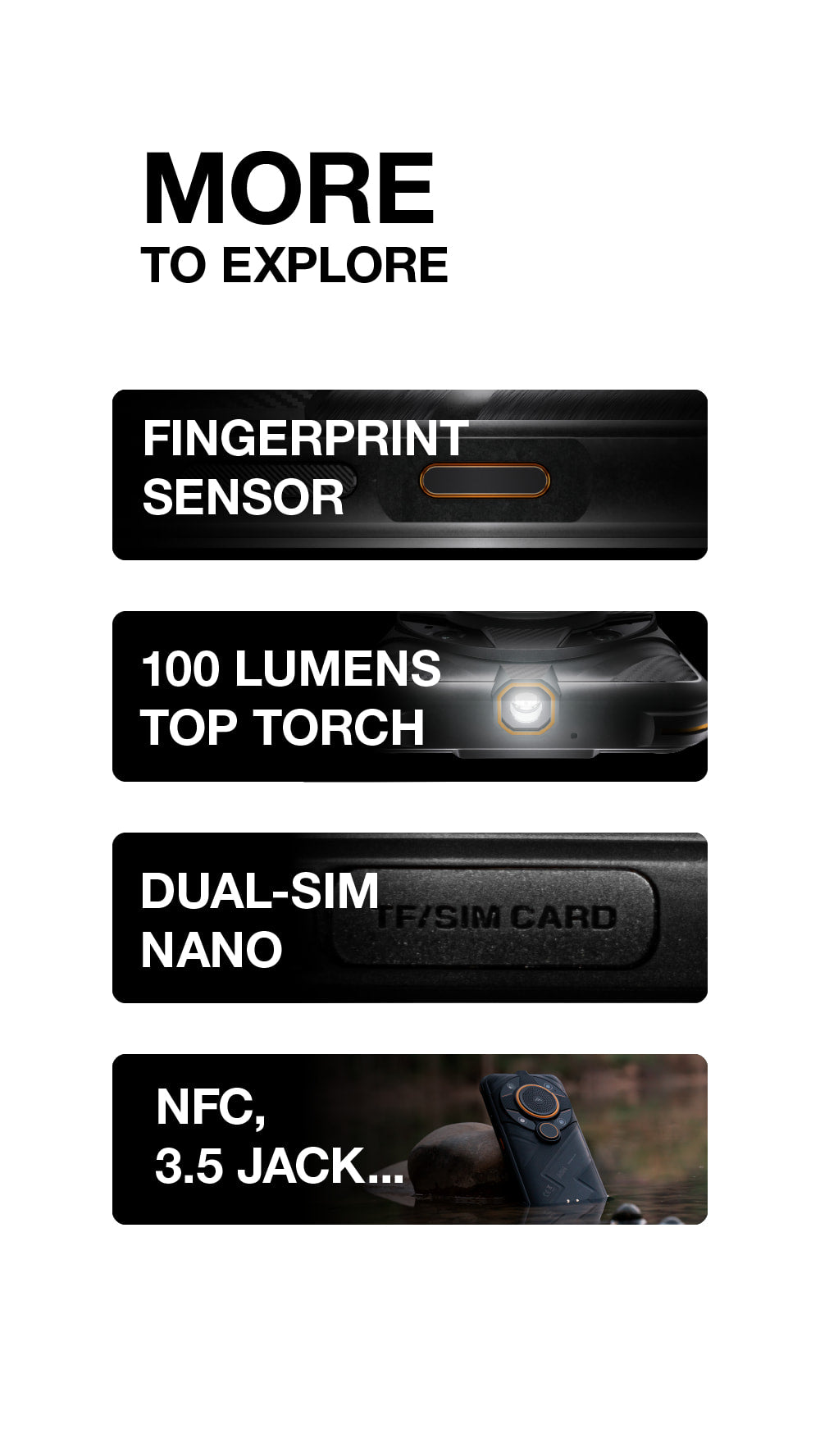 Sensor
Infrared resolution:256 X 192 @12μm WLP
Operating wavelength band: 8 ~ 14 μm
NETD:<50mk@F1.0
Lens
Focal length: 3.2mm F1.1
Angle of view: 56°±1°
Shutter Built-in: shutter
Interface
Interface type: USB
Configuration interface: Serial port
Connector: 40PIN BTB
Input voltage: 3.3V±0.3V
Power supply
Input voltage: 3.3V±0.3V
Typical power consumption: <700mW
Connector: <350mA
Output data
Data Format: Temperature Matrix (USB)
Frame Rate: 25FPS
Industrial Temperature Measurement
Temperature Measurement Accuracy: ±2℃ or ±2%
Temperature Measurement Range: -20℃~550℃(-20~150℃ / 100~550℃Dual automatic temperature control)
Temperature Measurement Distance: 0.5-2.5m
Reliability
Operating Temperature: -20℃ - 60℃
Low Temperature Storage Temperature: -40℃
High Temperature Storage Temperature: +85℃
Relative Humidity: 5%-85%
2/3/4G
Band
GSM: 850,900,1800,1900 CDMA:BC0, BC1, BC10 WCDMA: B1,B2,B4,B5,B6,B8,B19 LTE-FDD: B1,B2,B3,B4,B5,B7,B8,B12,B13,B17,B18,B19,B20,B25,B26,B28AB,B66、B71 LTE-TDD: B34 B38 B39 B40 B41
MIMO: 4*4
DL:cat18 MAX 1.2Gbps(DL 256QAM) UL:cat18 MAX 200Mbps(UL 256QAM)
5G
Band
n1, n2, n3, n5, n7, n8, n28, n41, n66,n71, n77, n78,n79
NSA: Support, Option 3x/3a
SA:Support, Option 2
MIMO:n1/n2/n3/n7/n66/n77/n78/n79 Four Downstream, Single Upstream, n41 Four Downstream, Dual Upstream
SRS:SA SRS: n41:2T4R,n77/n78/n79:1T4R
NSA SRS:n41/n77/n78/n79 1T4R
HPUE:n41/n78/N79 Total Power 26dBm
Sim mode
Dual Sim Requirements:Support
Sim Switch:Support
Voice
WCDMA WB:Support
VOLTE:Support
VONR:Support
Size:177.5mm*85.3mm*25.3mm
Weight:405g
AI button:Support
Operation System: Android S
Chipset: Qualcomm QCM6490
CPU: Kryo 670
GPU: Anreno 643
Card Slots:Two out of three
SIM Card Hot Swap:Support
Capacity: UFS2.2, 8G+256G & 12G+256G
Expandable Storage (TF Card):Support , 512G
Size: 6.58'
Resolution: FHD+
Refreshing Rate: 120HZ
Pixels
108MP Rear Camera
20MP Infrared night vision Camera
2MP Macro Camera
256*192 Thermal Camera (10mm lens)
Flashlight:Support
Top Torch Modular: Support
Light Sensor: Support
Distance sensor:Support
Gravity Acceleration Sensor:Support
Geomagnetic sensor:Support
Fingerprint recognition sensor:Support, on side-key
Gyro sensor:Support
Interface Type:TYPE-C,waterproof 3.0
OTG Function:Support
DP:Support
headphone jack
Type:3.5mm
MIC:Dual-mic
PA:3.5W Speaker
Stereo:Not Support
Motor:Support
Speaker Effect:Default algorithm
Headphone Effect:No
Speaker:AGM Iconic Speaker
Direction:Back
WLAN
WLAN agreement:802.11a/b/g/n/ac/ax
Satellite positioning:GPS, GLONASS, Compass navigation system
Dual Frequency Positioning:Support
Bluetooth:V5.2
NFC:Support
Wireless charging:Support, 10W
Charging dock:Support, contact form, mutually exclusive with Type-C charging
Touch key category:virtual
Front and rear camera working status indicators:Support
capacity:7000mAh
installation method:built-in
Fast Charging:Support, 18W
Dock Charging:Support
Operating temperature:-20°C~60°C
Degree of protection:IP68/IP69K/810H
1.【What kind of glass is the screen? 】

It's listed as tough like Diamond. But what kind is it?It is made of fiberglass, very tough, no destroy drop from 1.5m high.

2.【I don't think you understood my question. i know the frame is tough fiberglass. but i was speaking of the front clear screen. is it gorilla glass?】

Yes,it is.

3.【What's this smartphone's CPU?】

AGM G2 PRO smartphone adopt the Qualcomm QCM6490 5G for unbeatable flexibility and accessibility.

4.【Does it support wifi 2.4, 5.0 & 6e?】

Yes, it supports 802.11a/b/g/n/ac/ax-ready.

5.【What is the cold resistant battery?】

The battery capacity is 7000mAh, it can stay connected for a day without worrying about shutdown under -27°C.

6.【Does it support the GPS?】

Yes. It supports Dual-Channel positioning, always double check your location, reducing the error into 3 meters.

7.【Is this google's stock andriod 12? will i be able to update as it's available by google? such as security updates or new andriod versions?】

Yes. It is google's stock andriod 12, very safe. But you can not update a new android version.

8.【How about the storage?】

It has 8GB RAM + 256GB ROM, expandable up to 512GB via microSD (not included).

9.【Is it compatible with charging dock?】

Yes.You need to buy the dock separately.

10.【Does this smartphone support the wireless charger?】

Yes. We supports wireless charging.

11.【Is the speaker loud enough?】

It equips with a biggest 33mm 3.5W 109dB speaker,louder than the house alarm.

12.【Does this phone is compatible with metro pcs?】

No, this phone is not compatible with Metro PCs.

13.【What's the night vision camera?】

It has a camera system with 108MP camera + 20MP infrared night +32MP front + 2MP macro camera.

【How can i be sure that AGM phone are really waterproof,dustproof and shockproof?】

All AGM phones comply with the IP68 standard which ensures resistance to dust and liquids, for temporary or prolonged periods depending on the terminal and under normal use as recommended by the manufacturer. All of our models have undergone strenuous waterproof and resistance tests to comply with these standards as well as the MIL-STD-810H standard. In addition we have also developed our own standard called OEPT (Outdoor Environments Performance Test) to further protect the devices.

【How long is AGM phone guaranteed for?】

All AGM devices are guaranteed for one year.

【Where can I buy AGM Phone?】

AGM Phone can be purchased through this Website Store, AliExpress Store, Amazon Store etc.

【How to check if the network frequencies is compatible in my country?】

1.Check which network standard and which frequency bands your phone supports
2.Search your local network operator via Google browser to learn more about the latest local network standard and the frequency bands; Click here to check (just for reference):http://maps.mobileworldlive.com
3. If there is a frequency bands which your phone supports matched with the local frequency bands, you can use the phone in your country

【How to use OTA to update Android system?】

Find the app "update" or "System update". It will show that your system is up-to-date after update package installed.

【How if my phone is always too hot?】

It is normal that the smartphone device gets hot when playing videos or games on it or charging it, however, you can reduce the hot by following actions:
1.Turn off the function and apps seldom used such as Wi-Fi, GPS etc.;
2.Turn down the brightness of the screen;
3. Turn off the apps running in the background periodically and clear cache periodically to keep enough running space all the time;
4. Uninstall abnormal apps with bugs which may cause much heat during running;
5. Do not use phone during charging unless necessary.

【How to get aftersales warranty?】

AGM provides authorized aftersales warranty in Europe and Russia.
If you are outside Europe and Russia, please check with the dealer where you buy for service.

【Can i use this phone in my country?】

We add a link to show you how to check the phone, whether it can be used in your country.
1. All our smartphone is unlocked for worldwide use, but please check if your local area network is compatible with our AGM phones, You can check this link: Willmyphonework.net Or " Maps.mobileworldlive.com " To see the network frequency for your country,
Please confirm with your carriers or suppliers before purchasing this product.
2. Most of the two sim mobile phones have only one sim slot supporting 3G WCDMA / 4G network.

【I didn't get my parcel, how to do?】

1.No logistic information for a long time: We will send you tracking number after we sending items, if the losgistic information updated normally, hope you can don't worry about it and just wait more days.If you didn't get the parcel more than 90 days, we will refund you full money.If parcel shows delivery, we do not accept refunding request anymore.You may also need to pay customs tax.
2.Parcel was returned by customs office: If it was hold by customs office, hope you can go there to make clearance as soon as possible, we will try our best to help you to get the parcel from customs,we do not refund if parcel returned caused by buyer reasons.