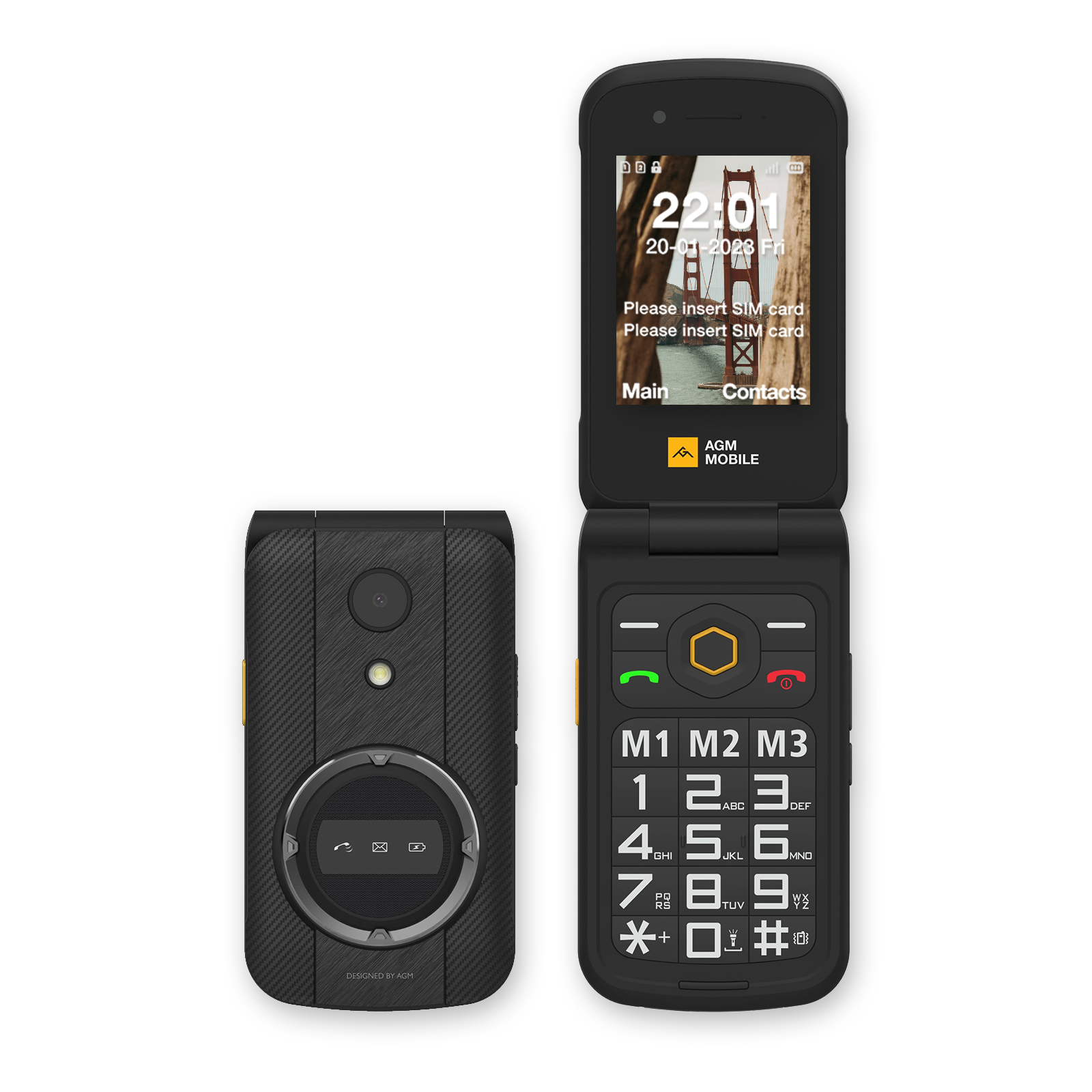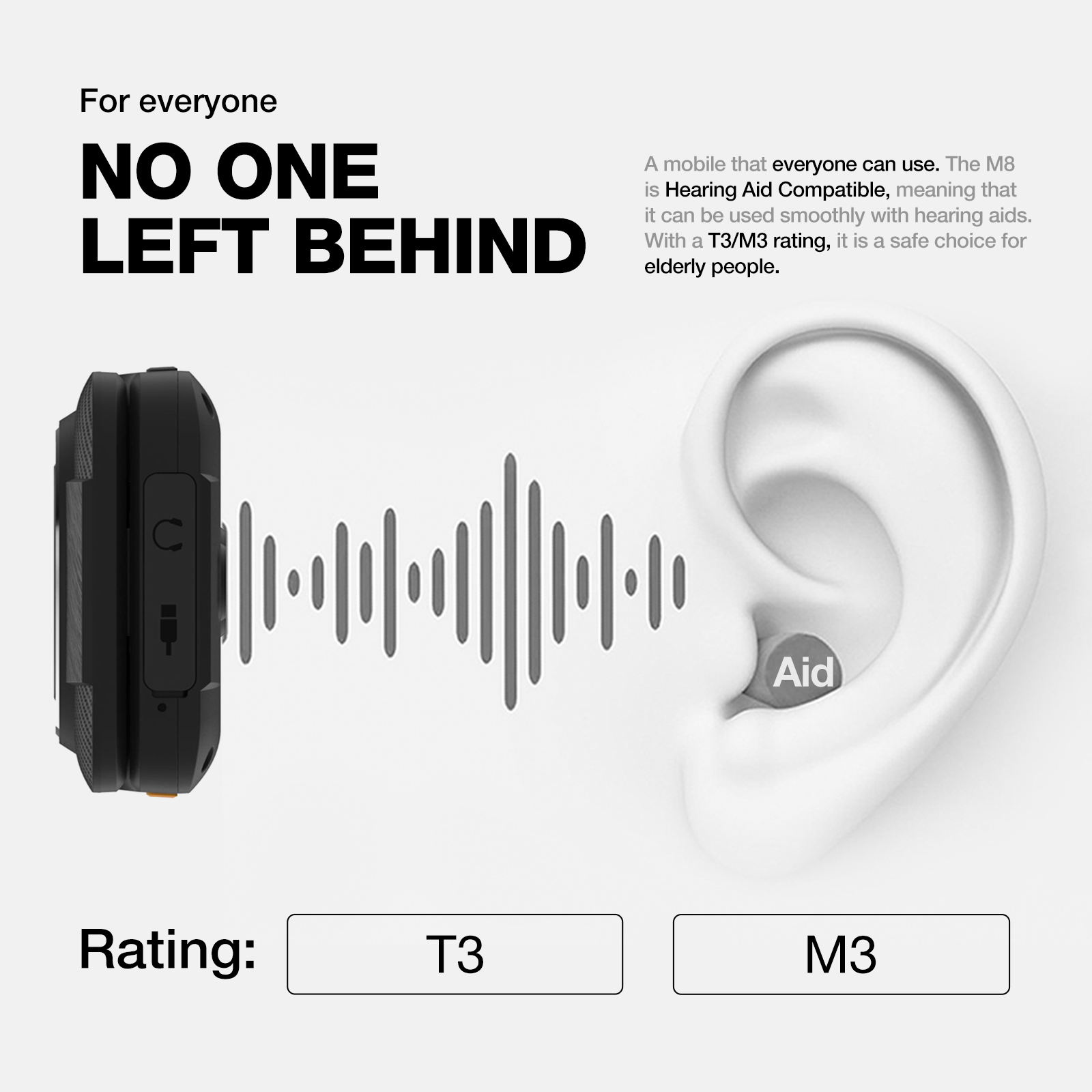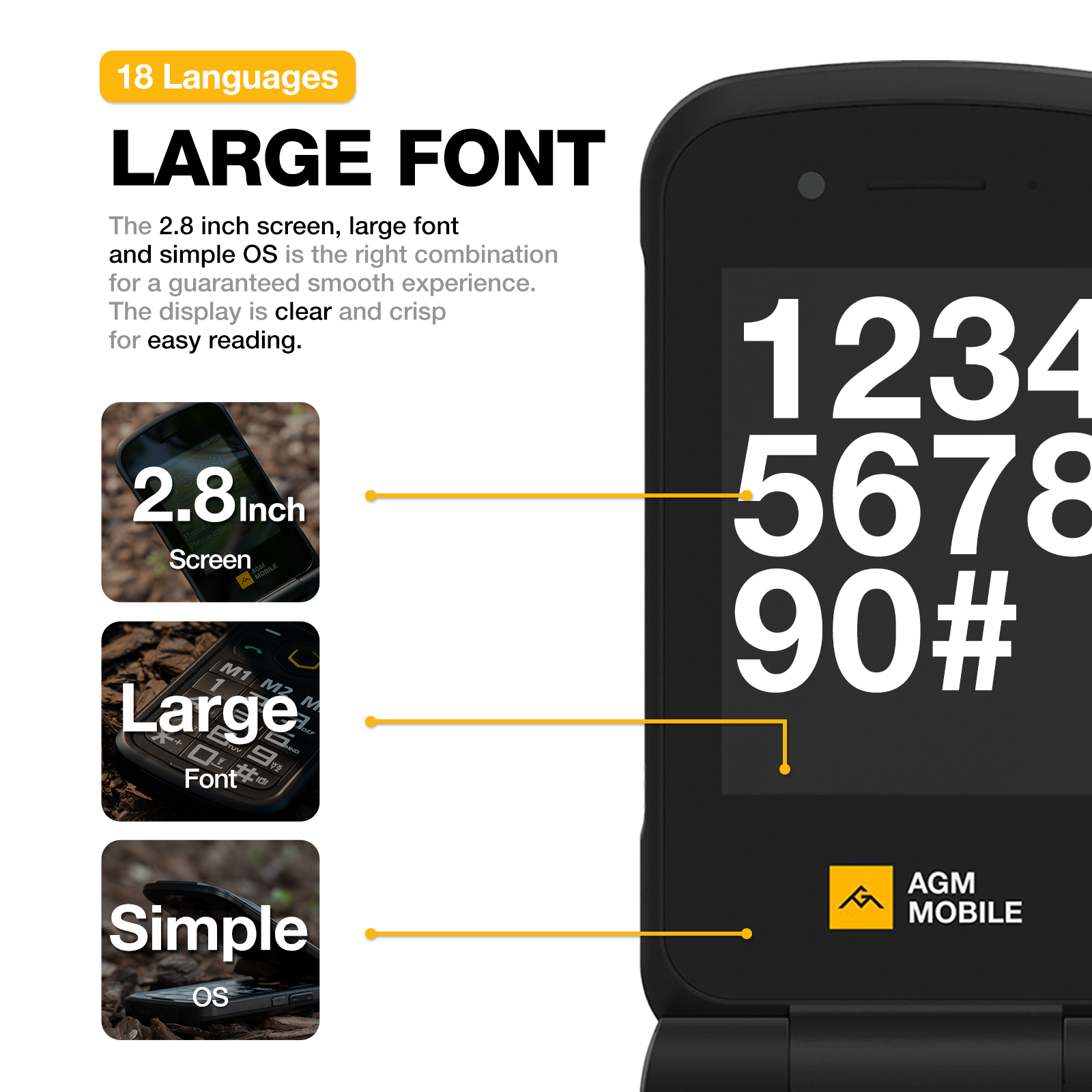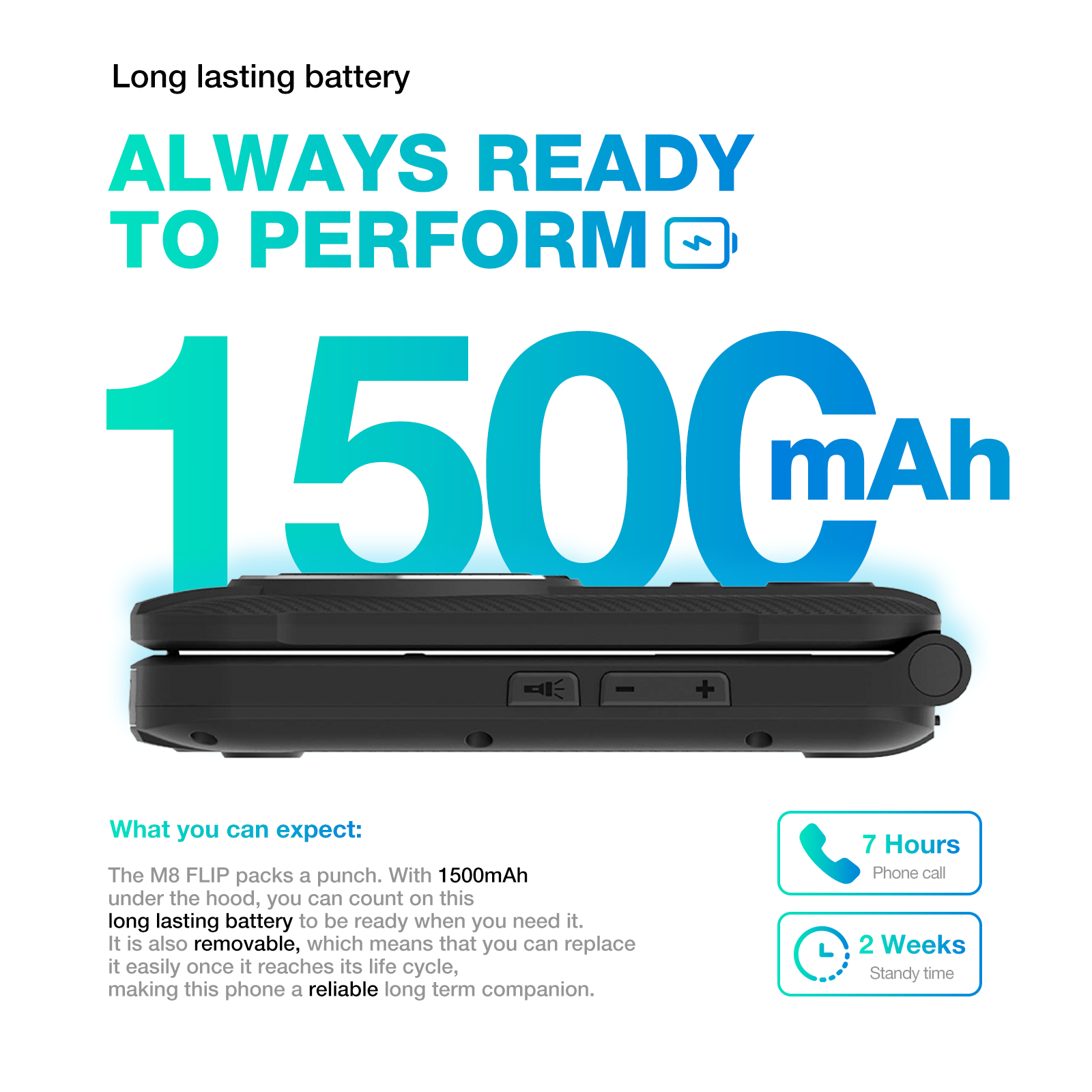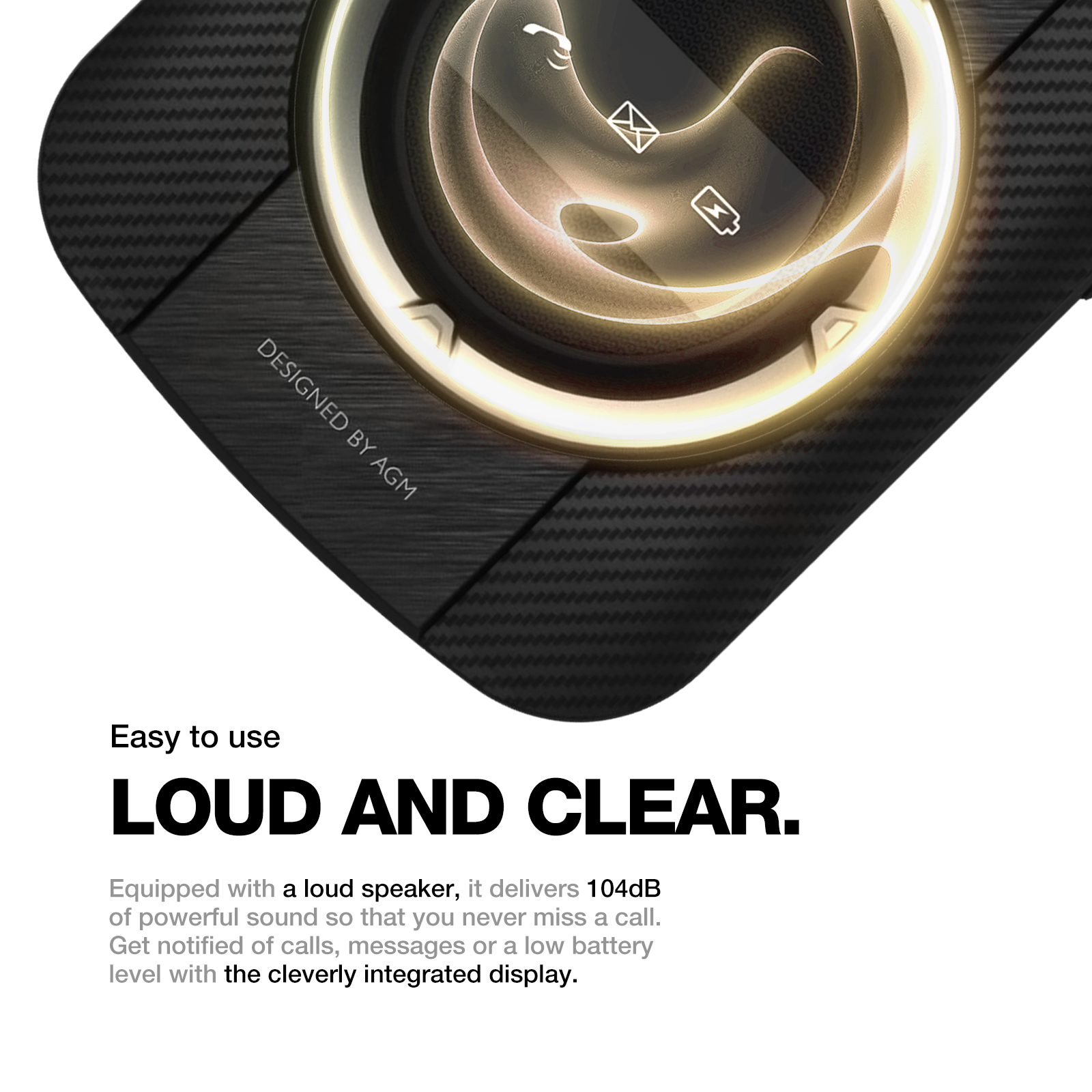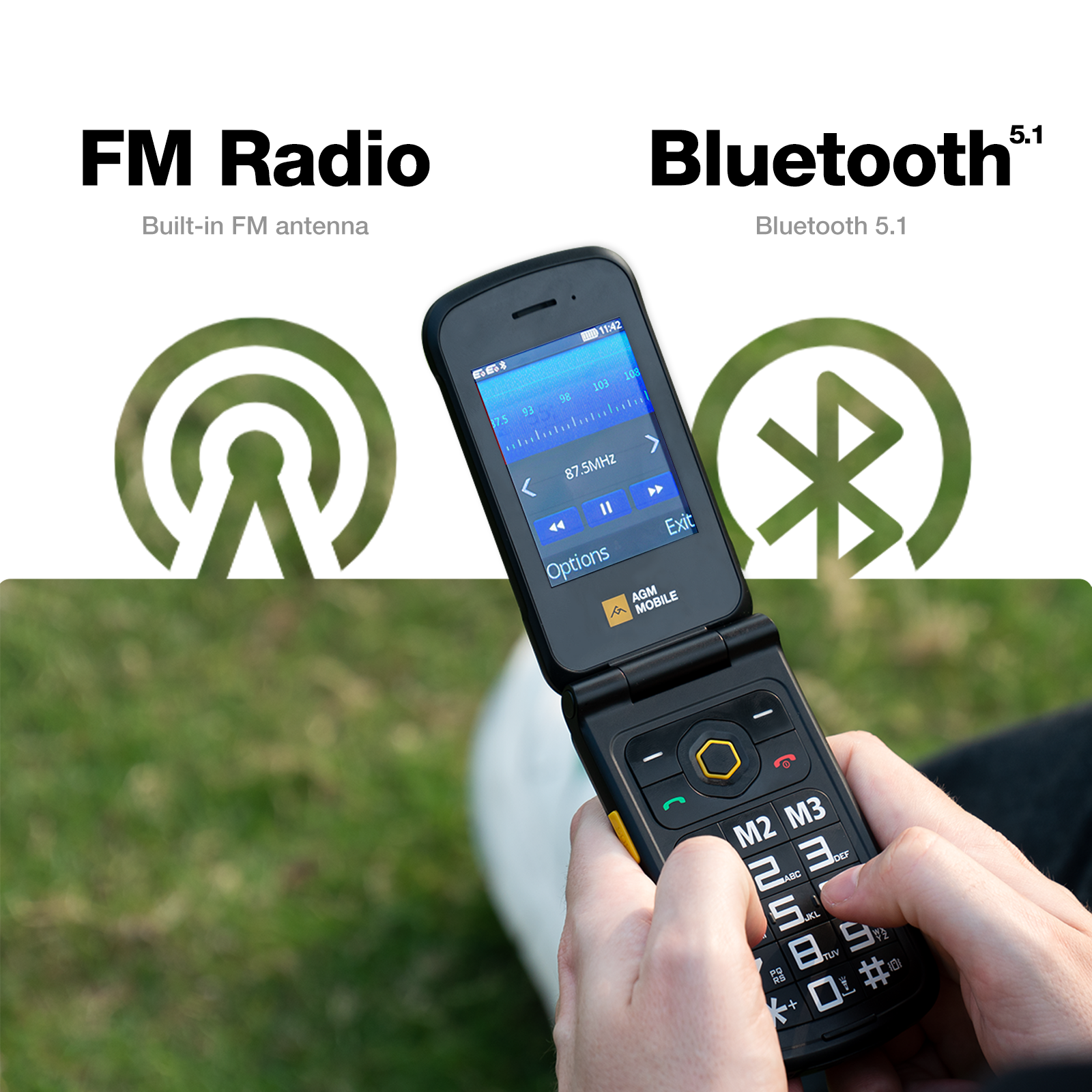 AGM M8 FLIP | 4G Rugged Flip Phone | SOS Side Key | One Click Call | Powerful Speaker | Big Battery | US Warehouse
*Rugged (IP68/IP69k/MIL-STD-810G)
*Hearing Aid Compatible
*SOS Side Key
*Fast Dialing
*1500mAh Battery Removable
*Powerful speaker 104db
*Big Keypad
*Double SIM

*Official launch event, Get 10% off (The code:AGMM8FLIP) and Get a Charging Dock for Free🎁
Accessories:
Without Charging Dock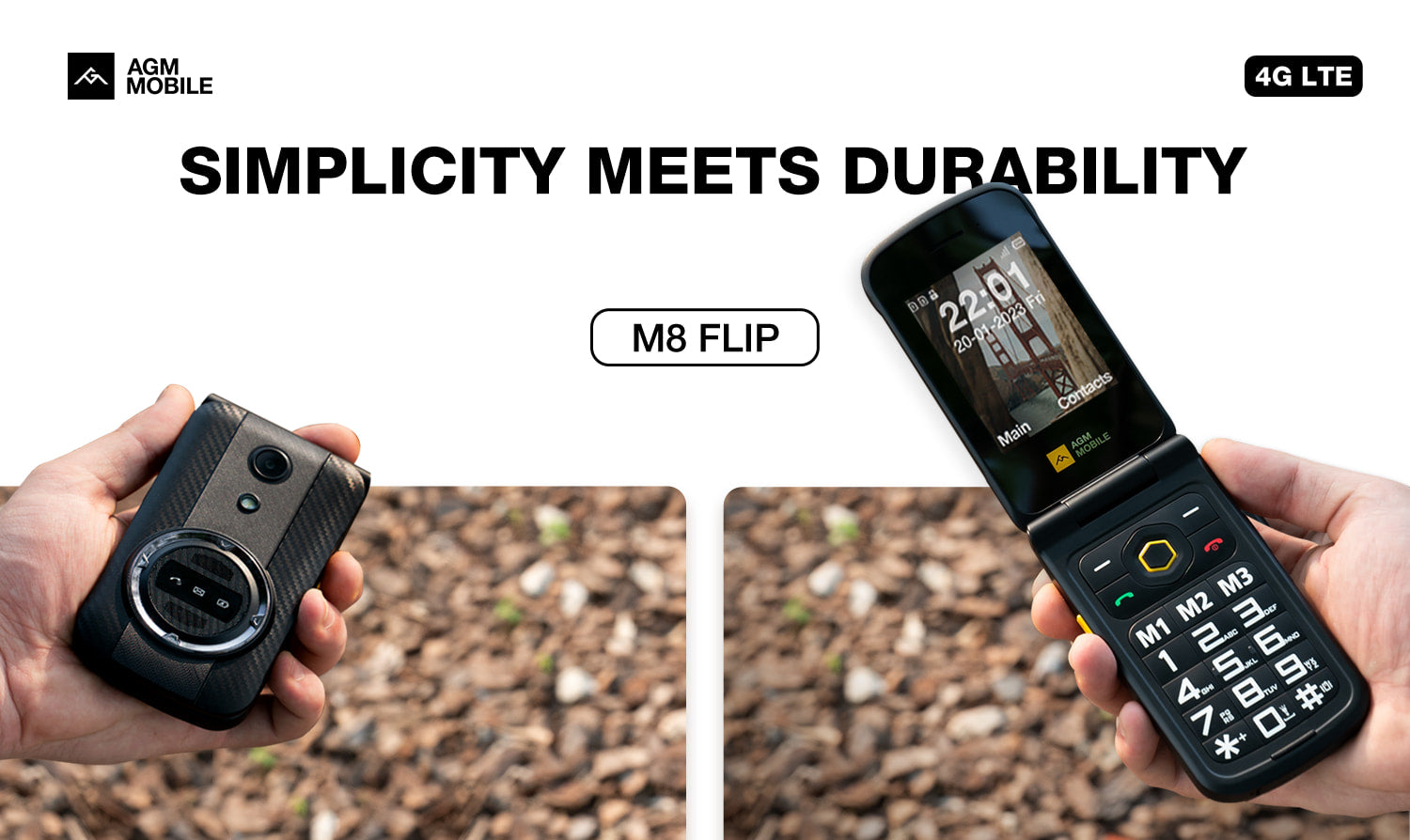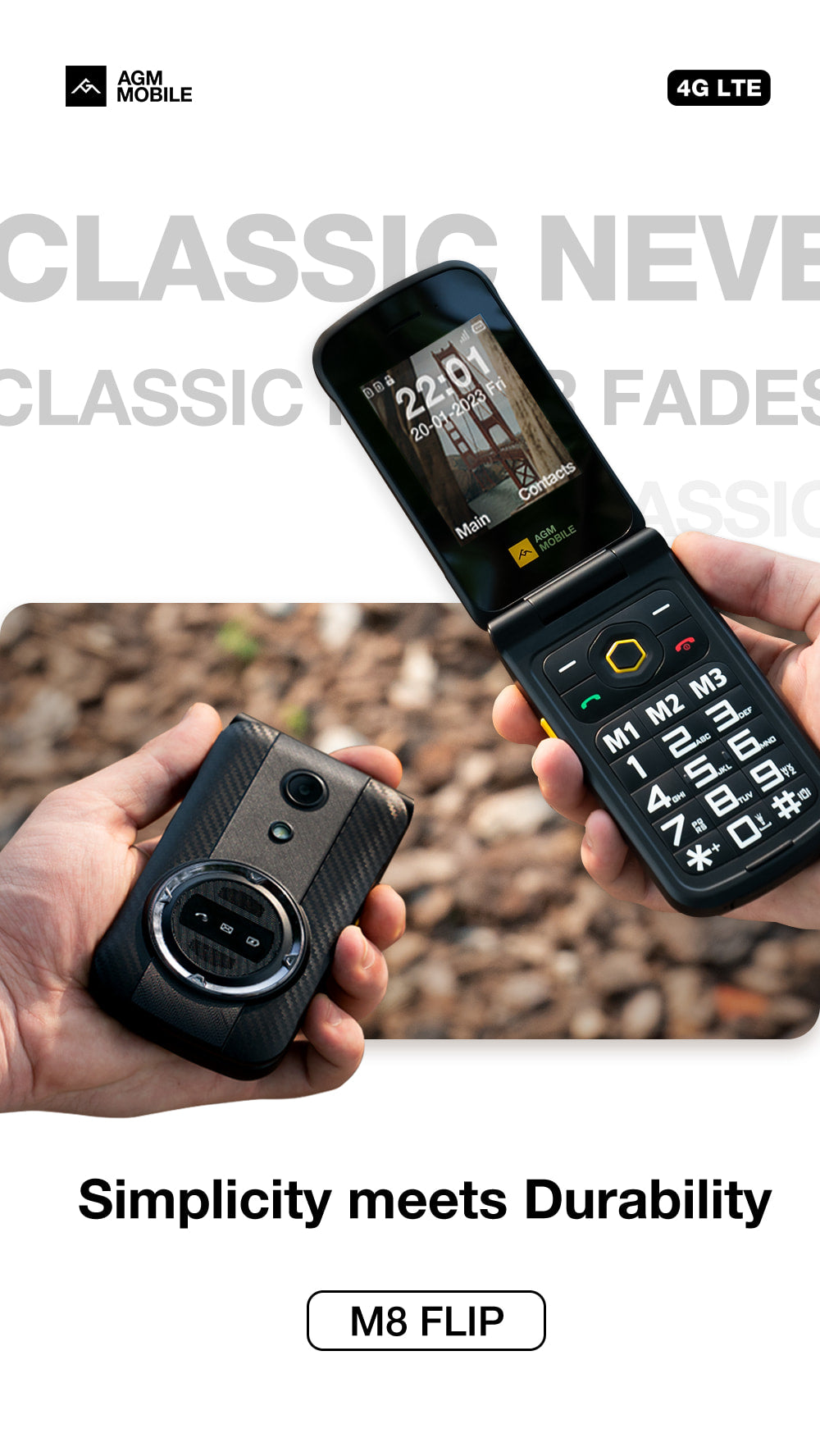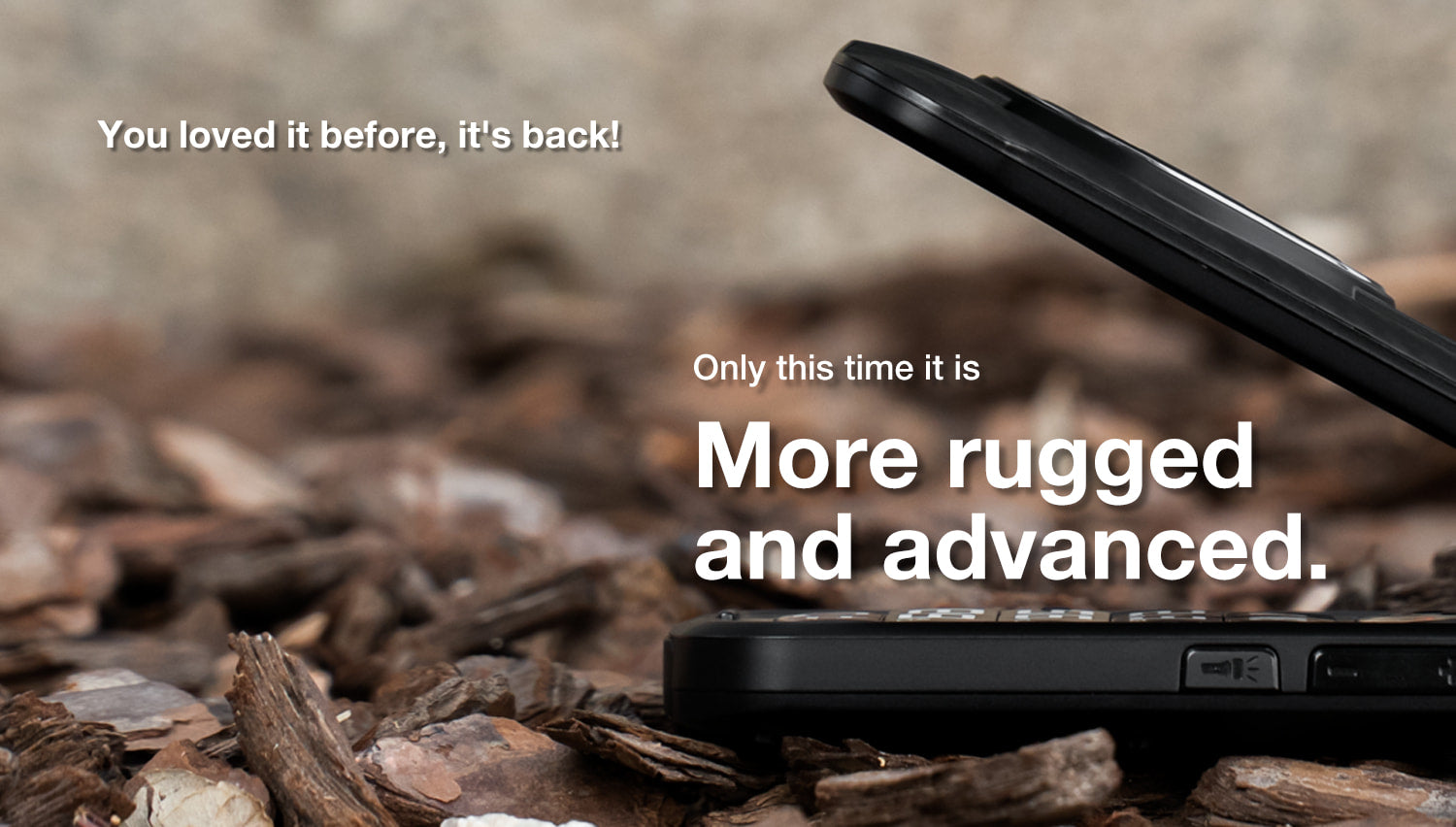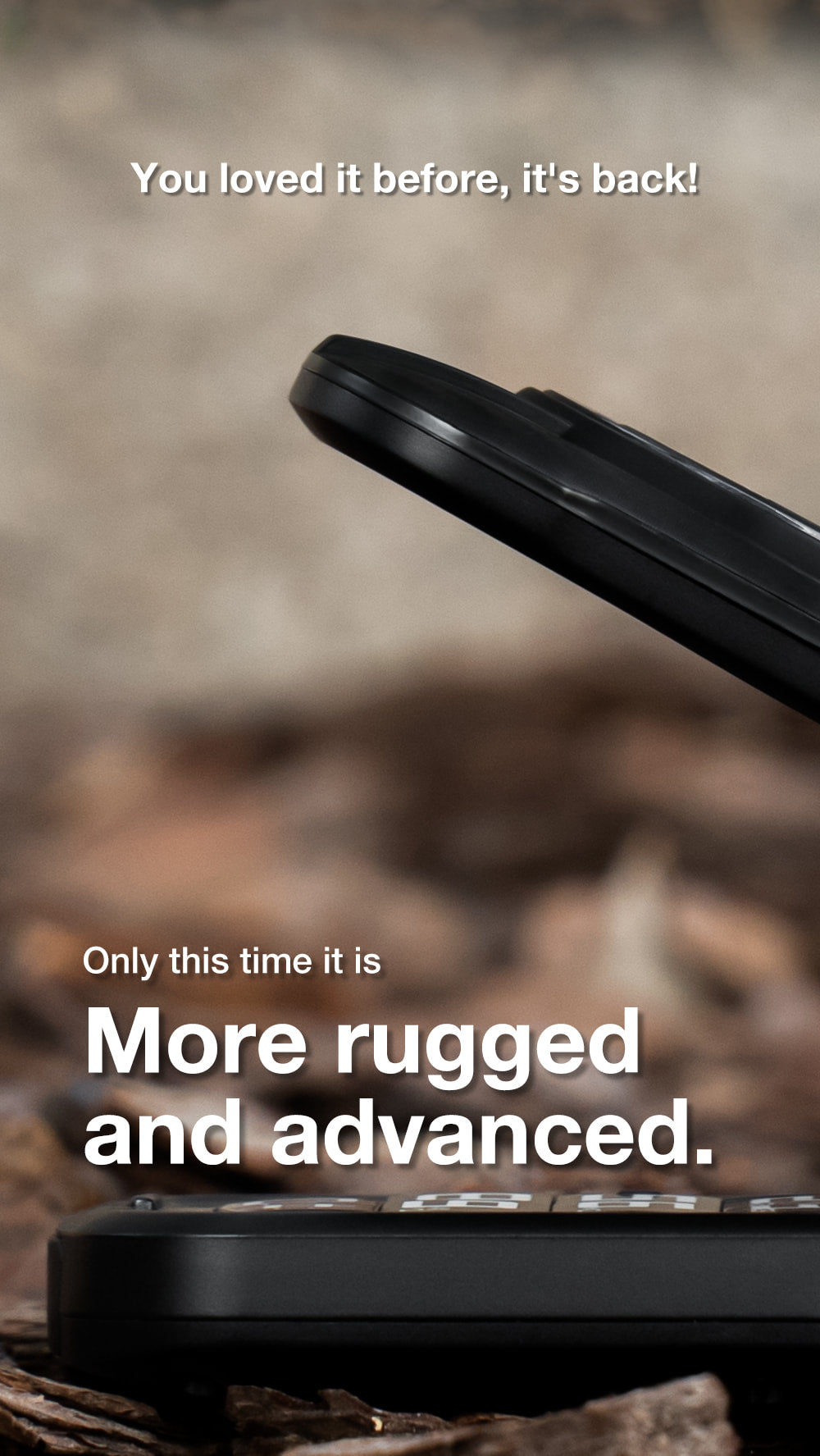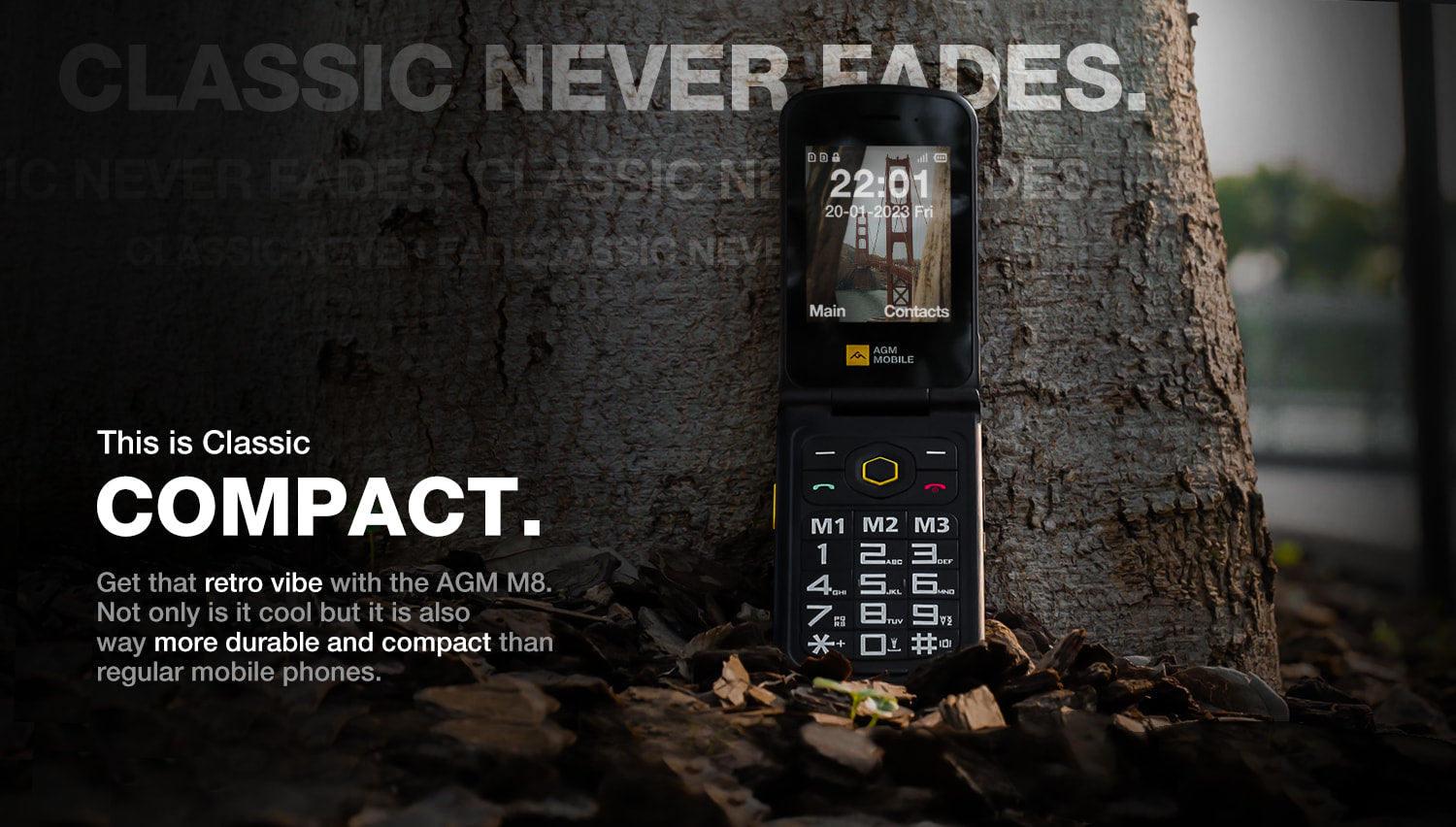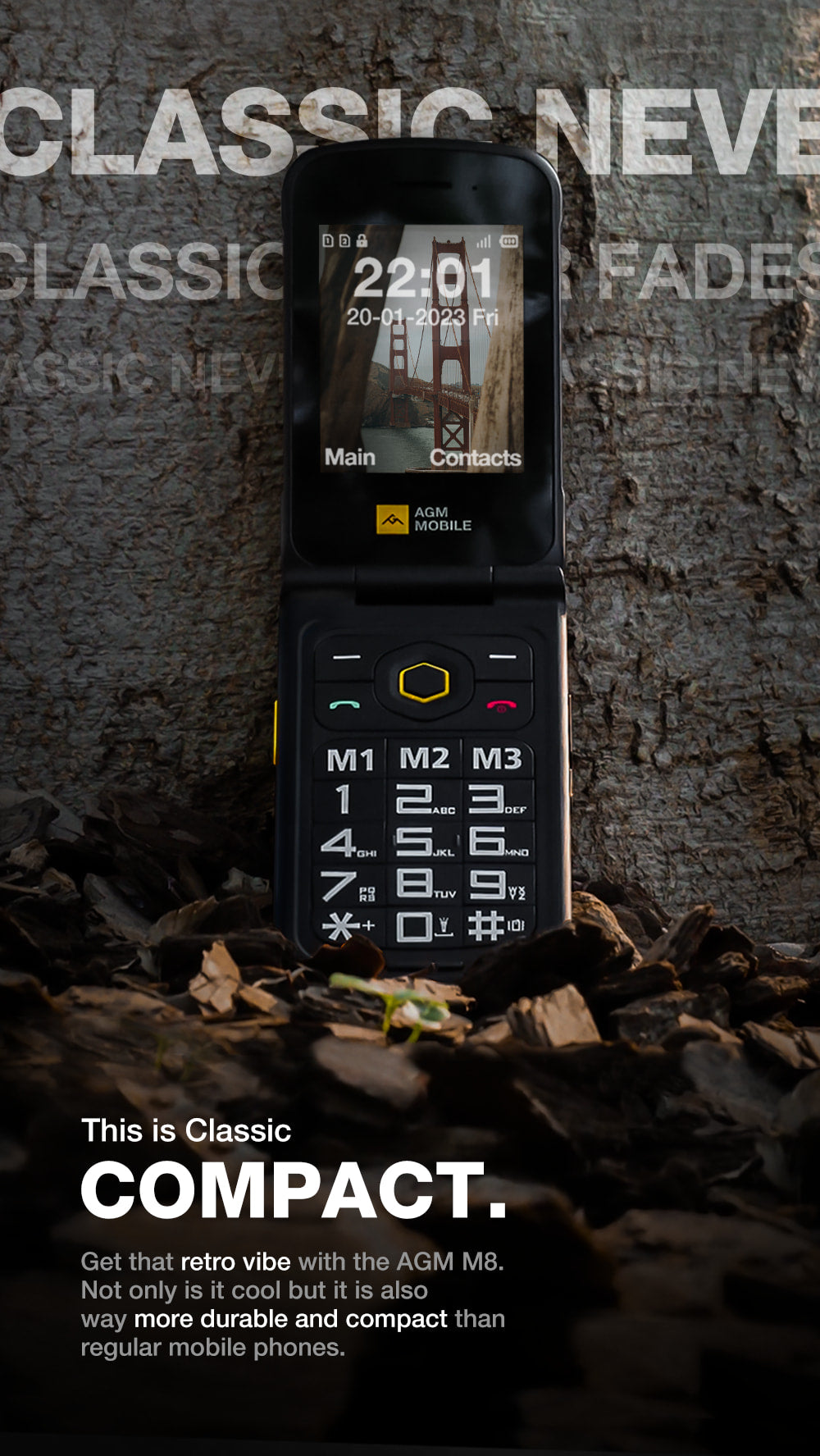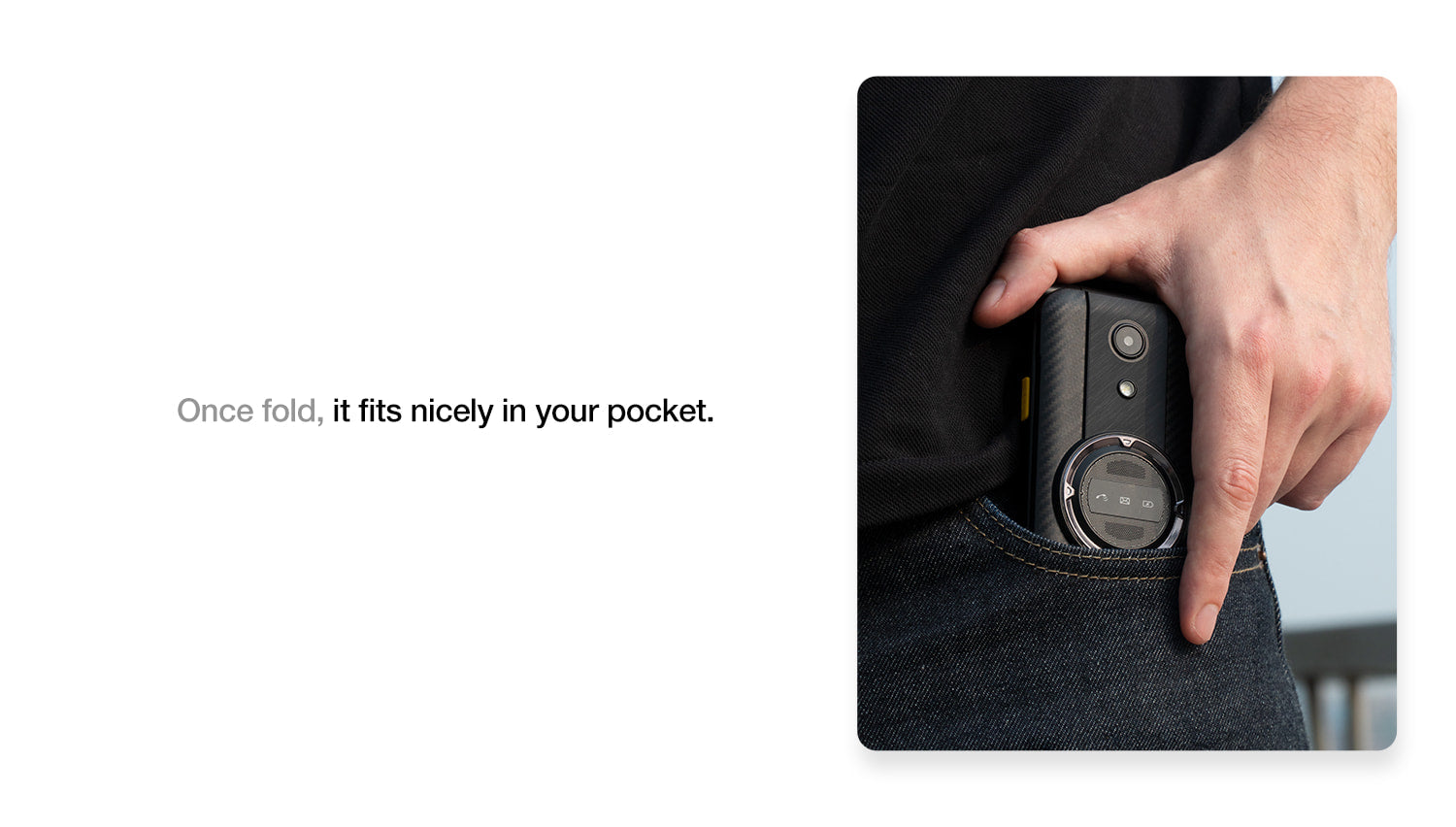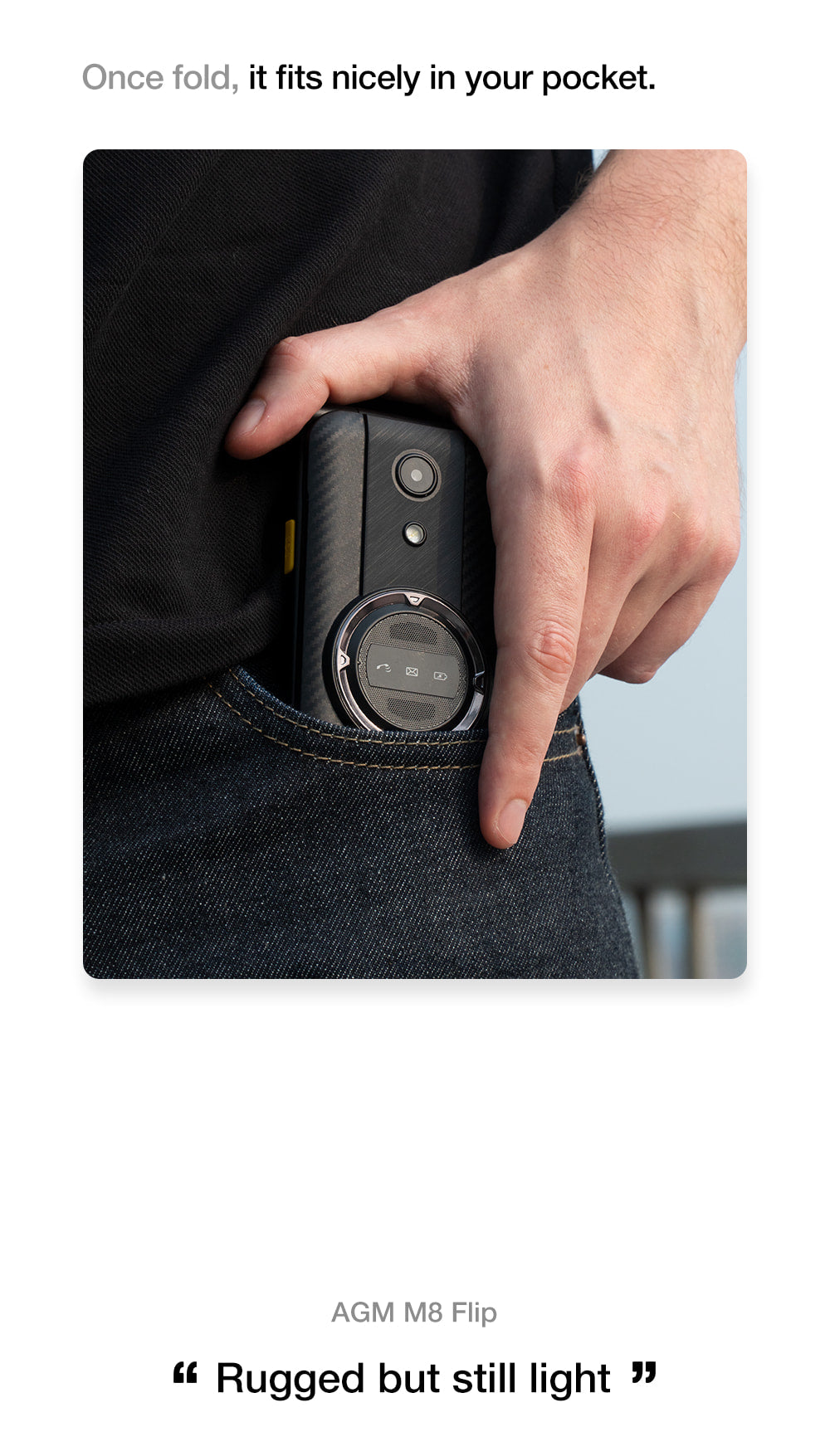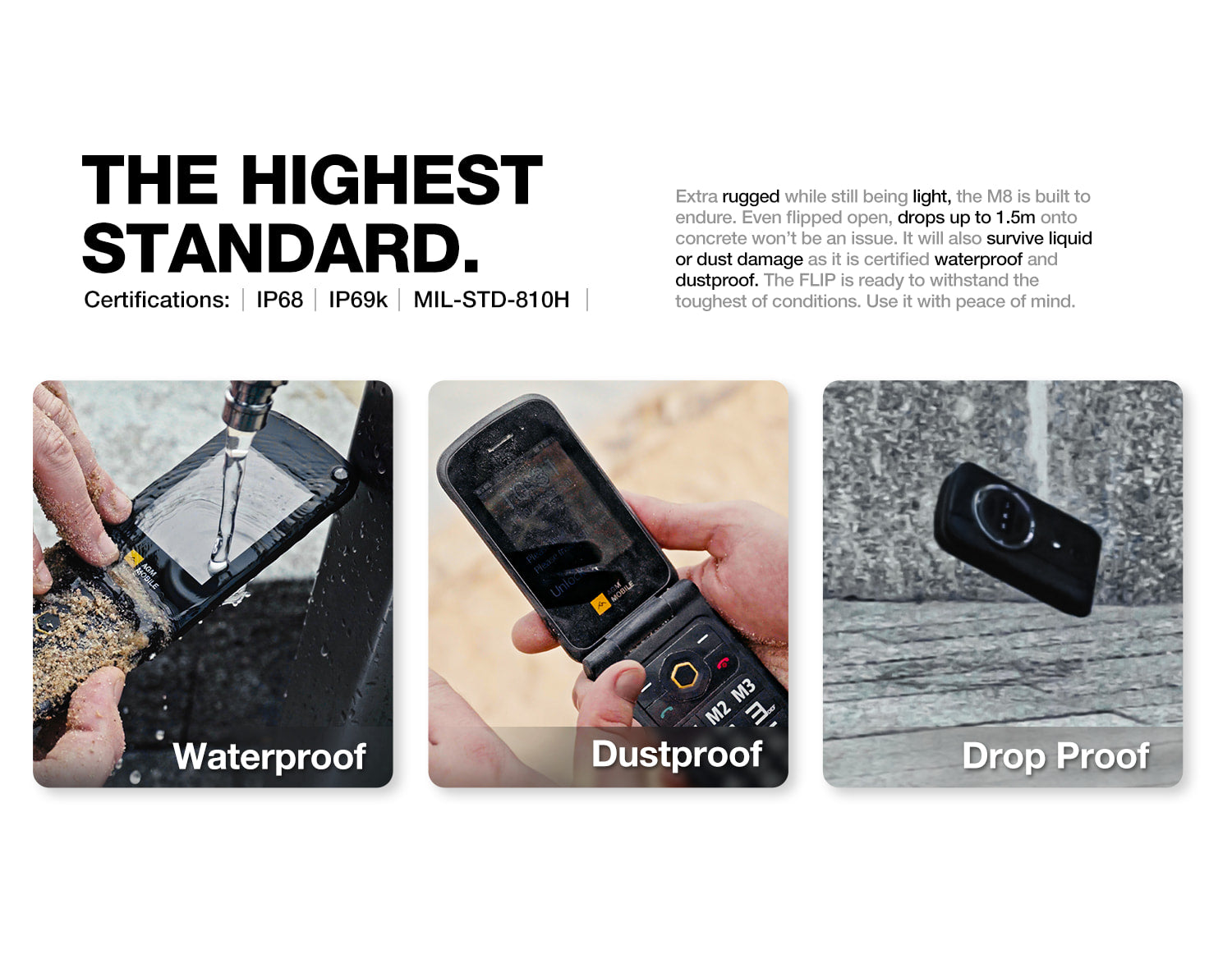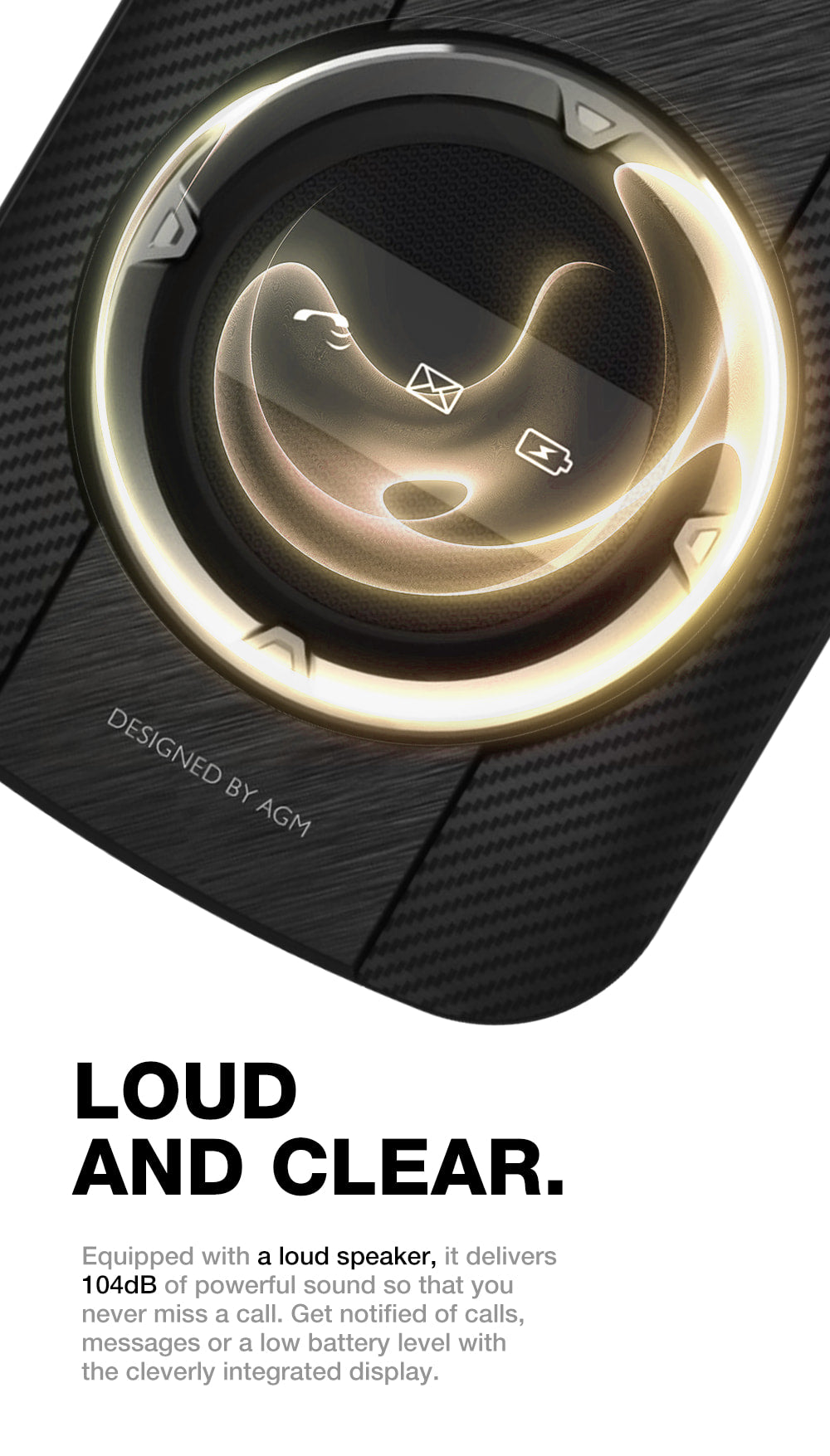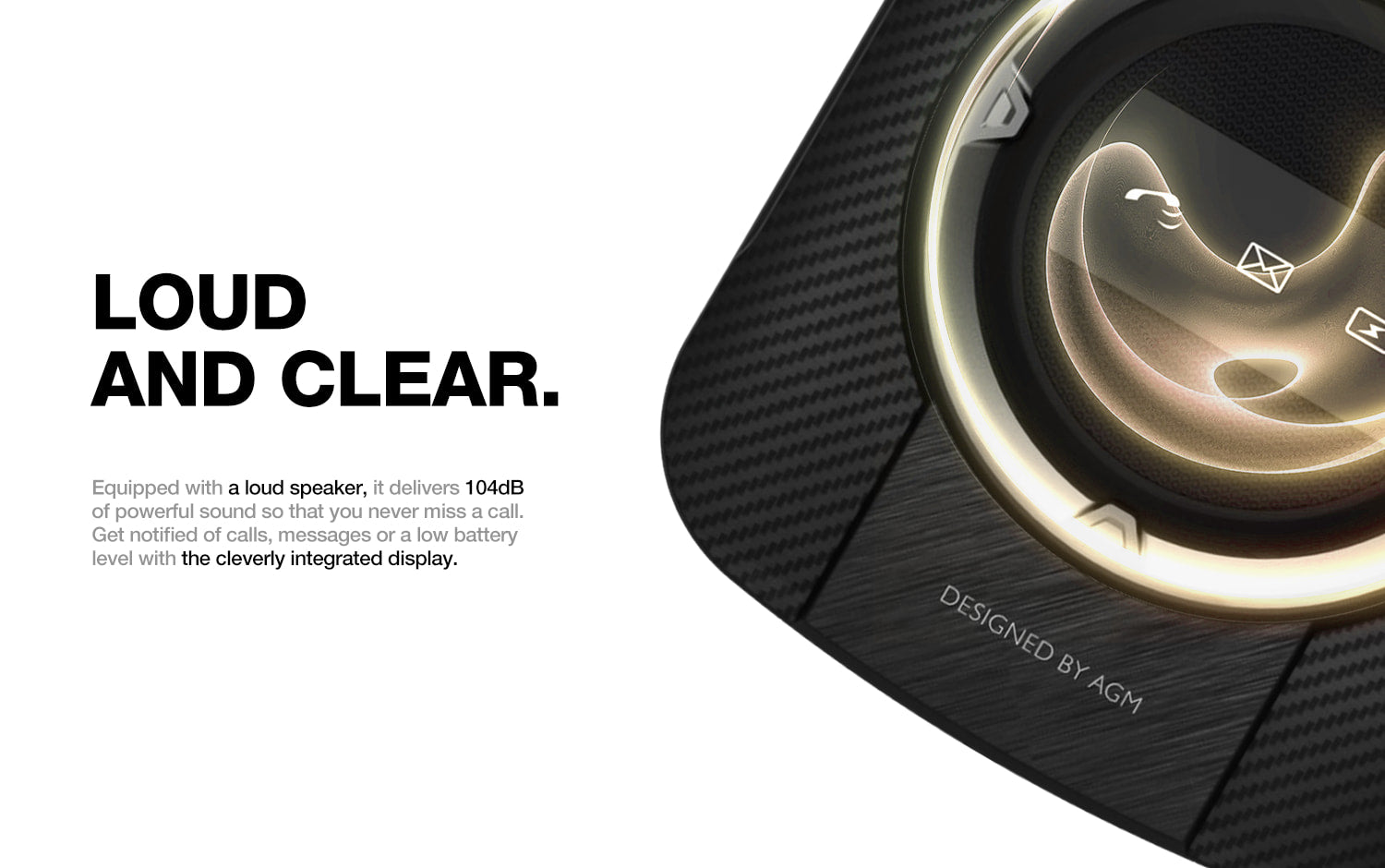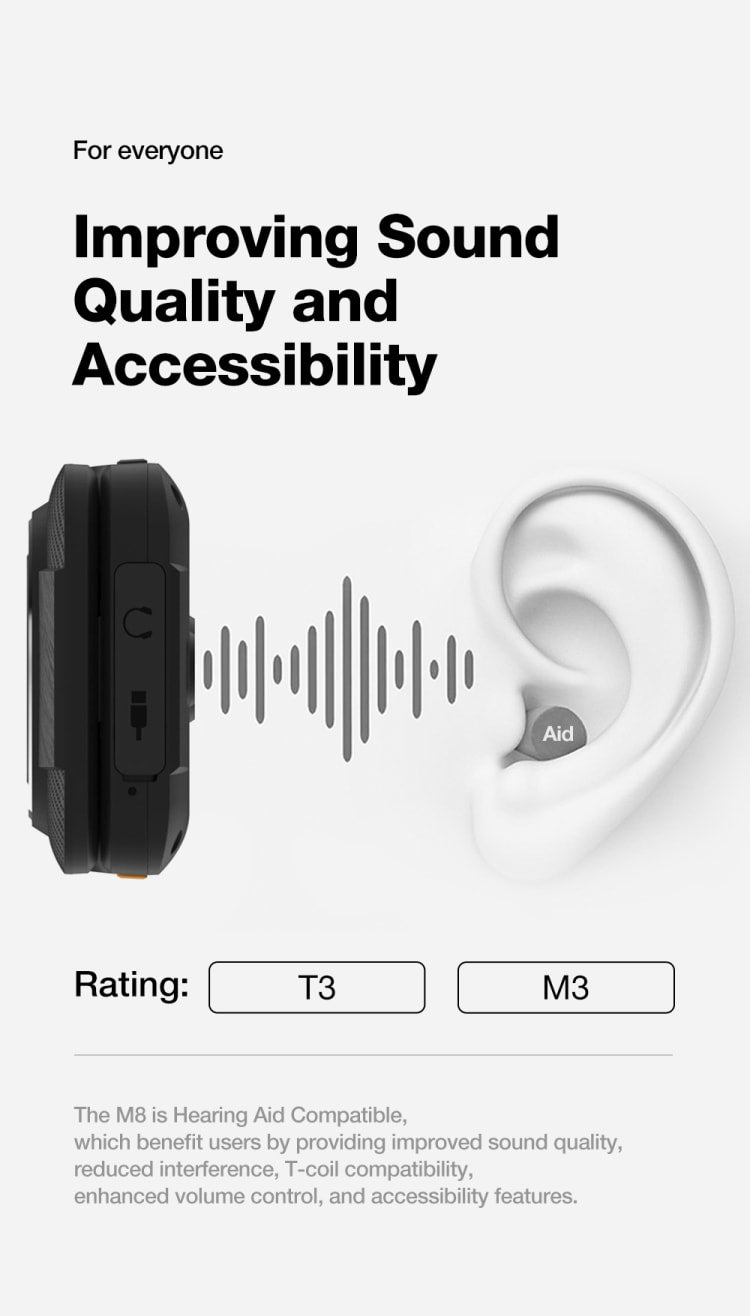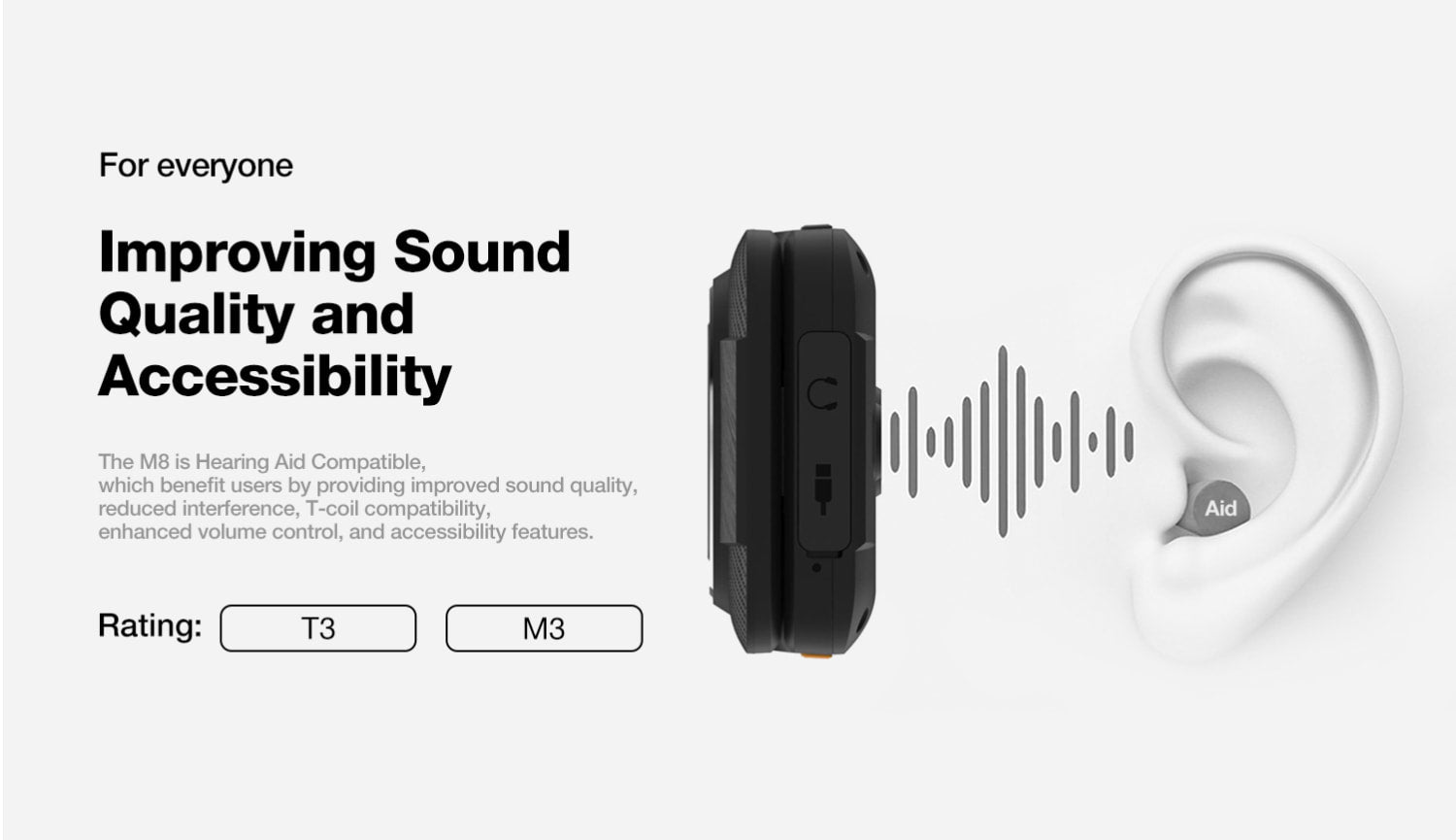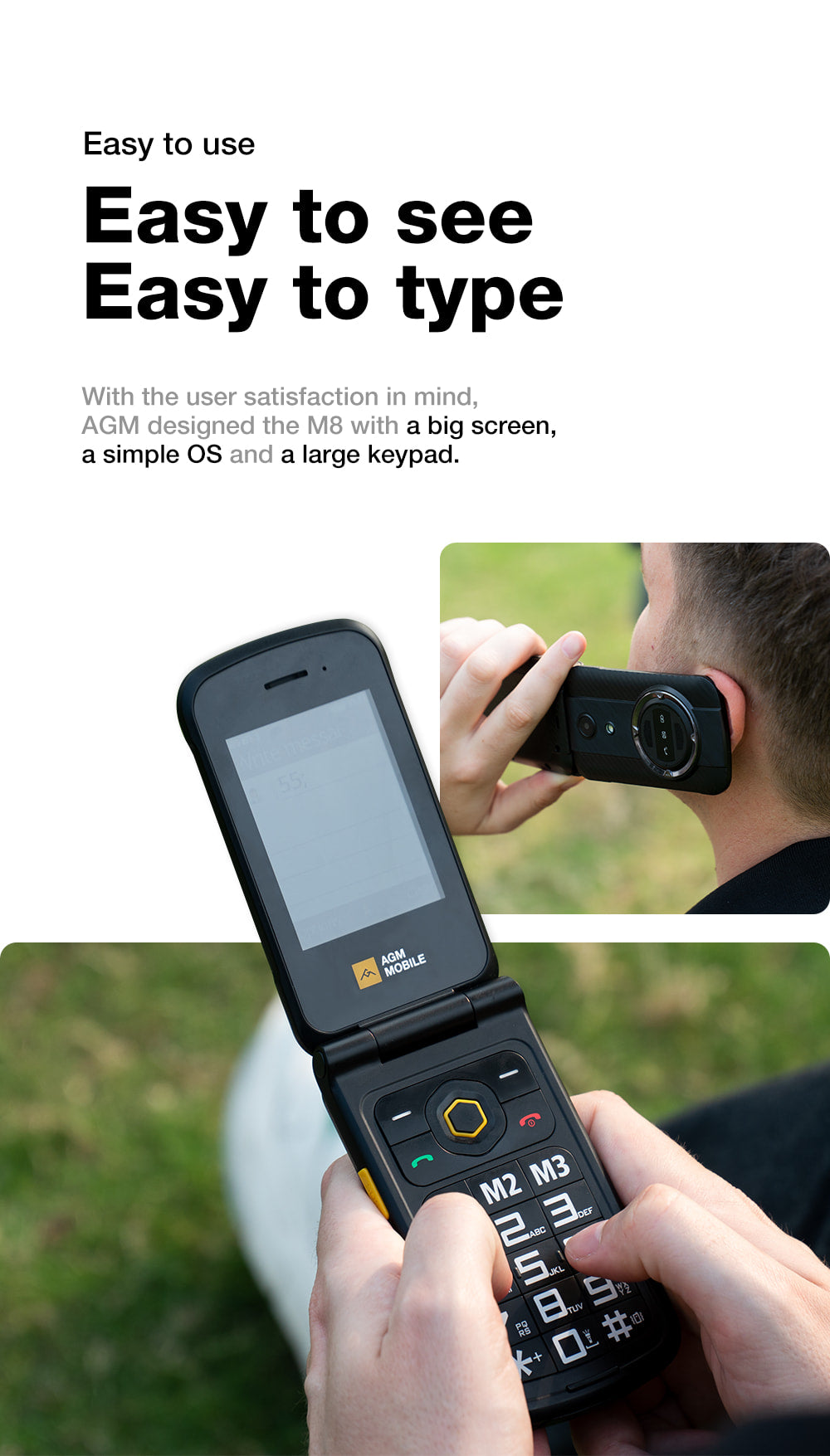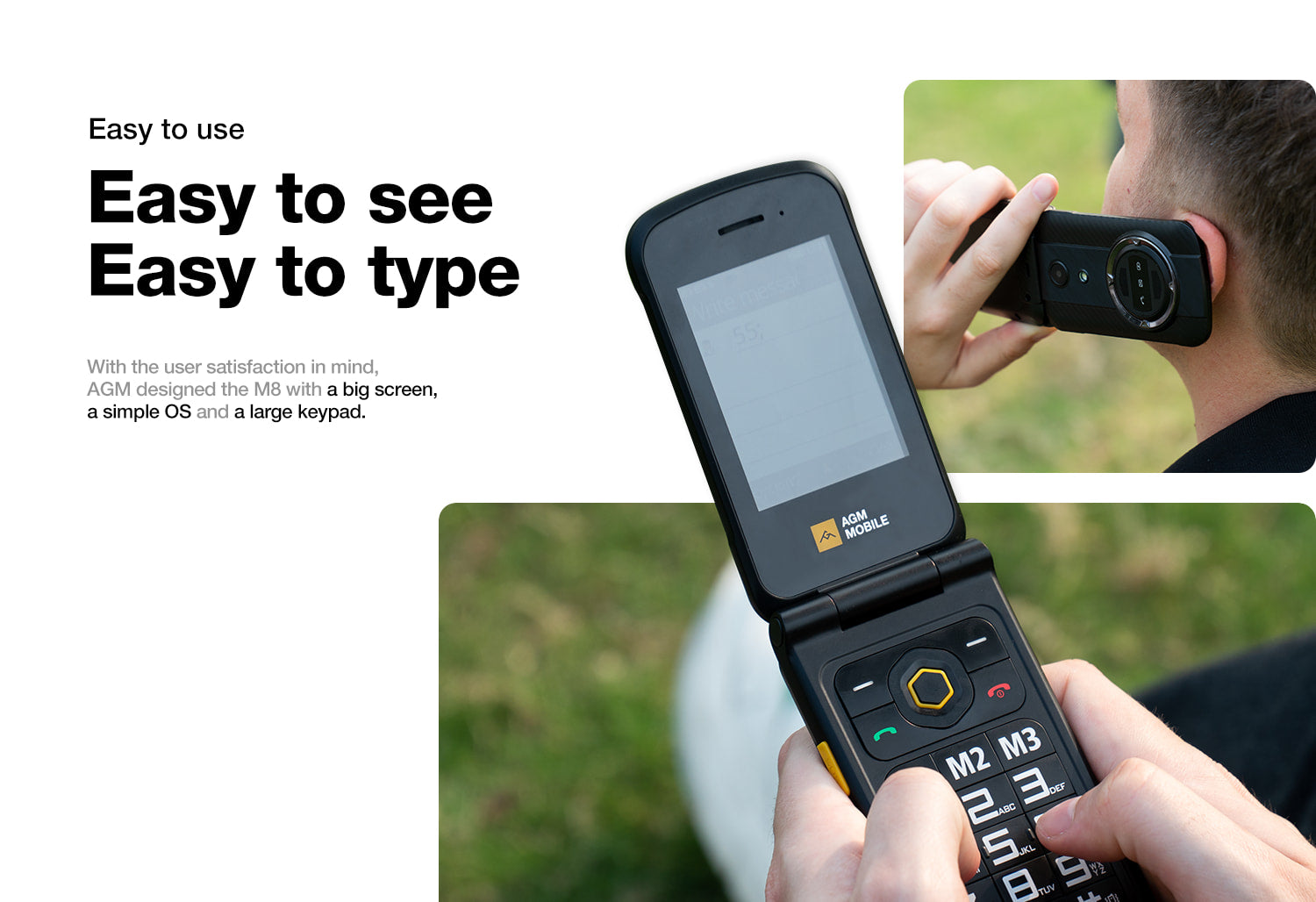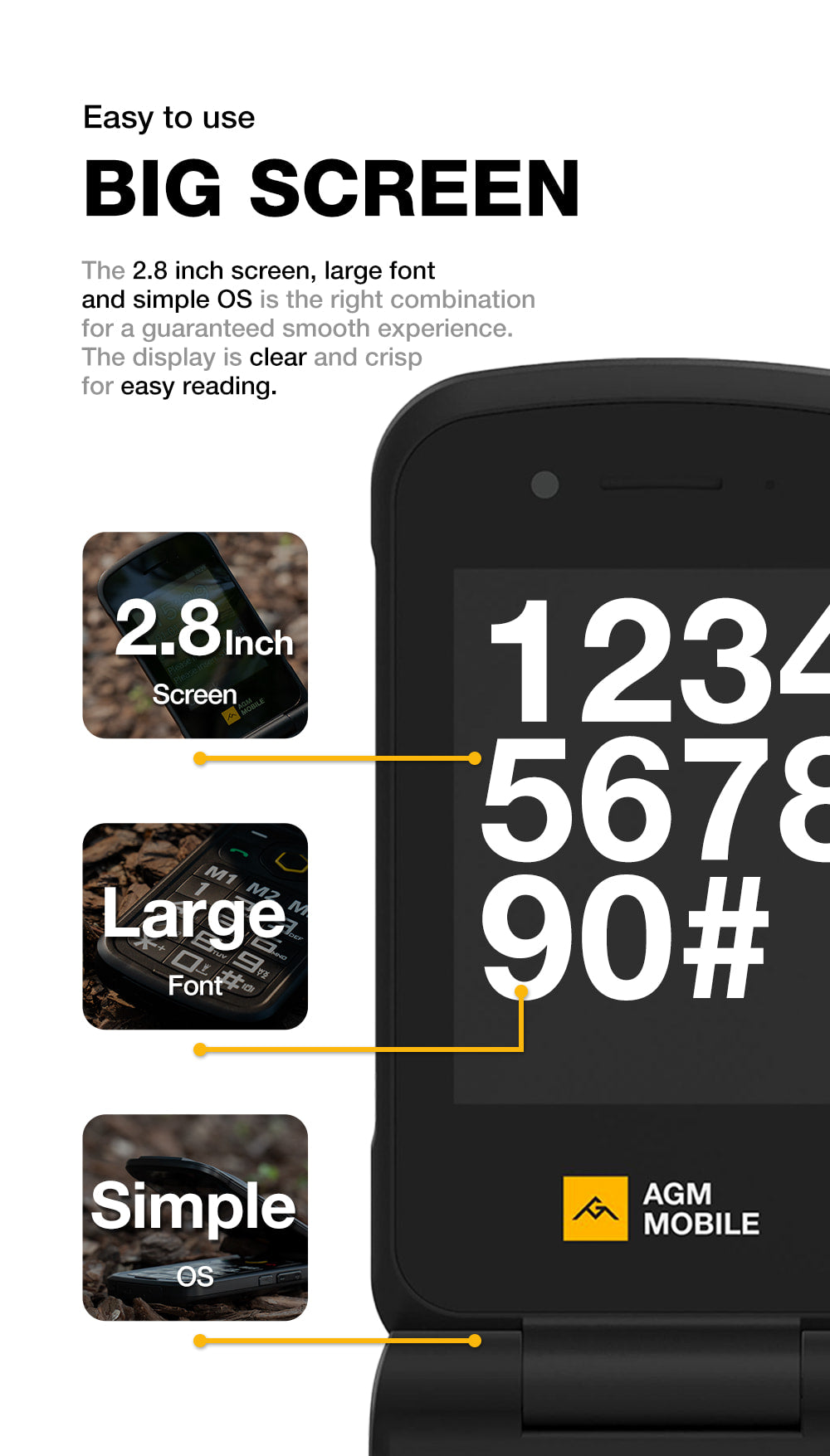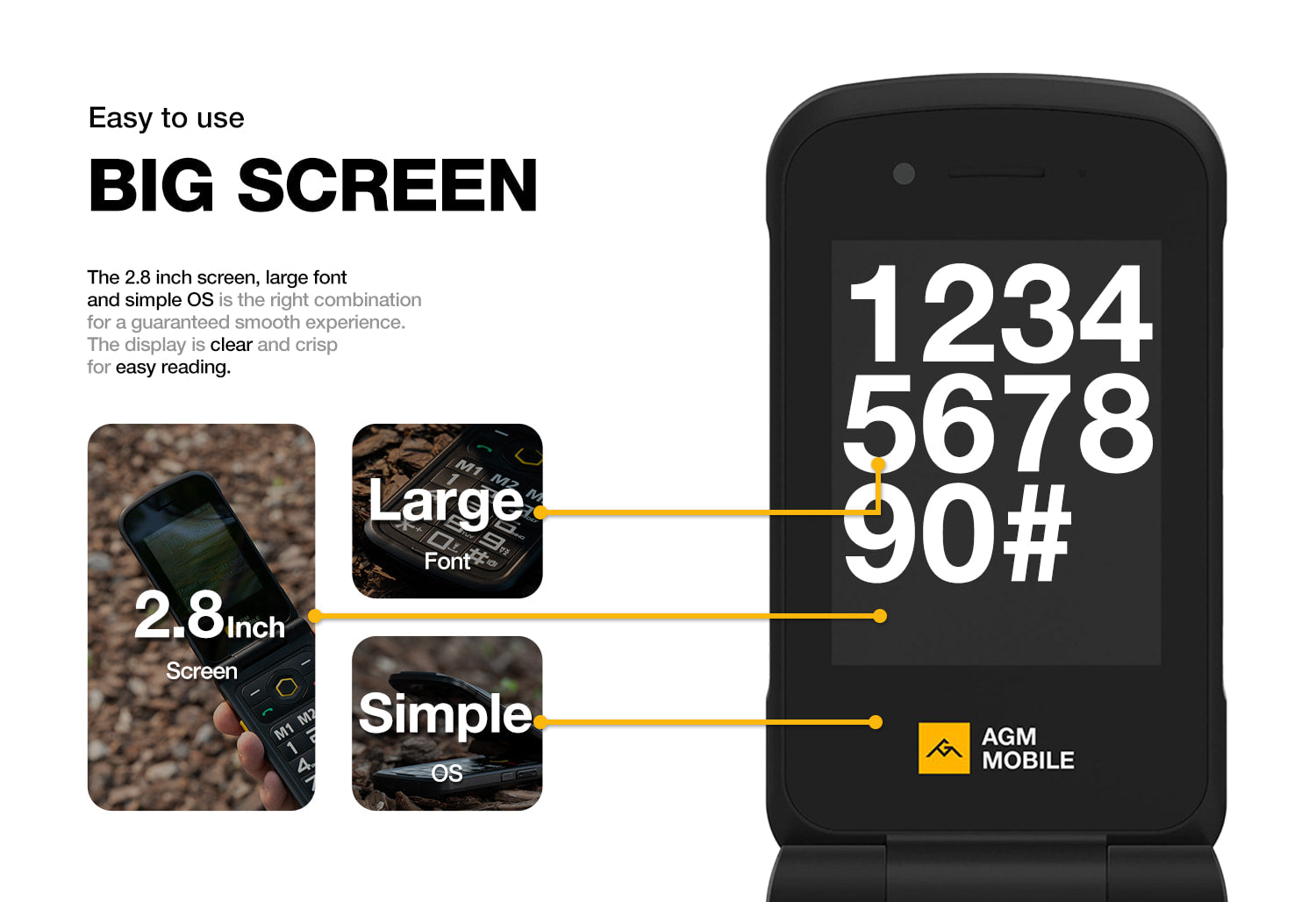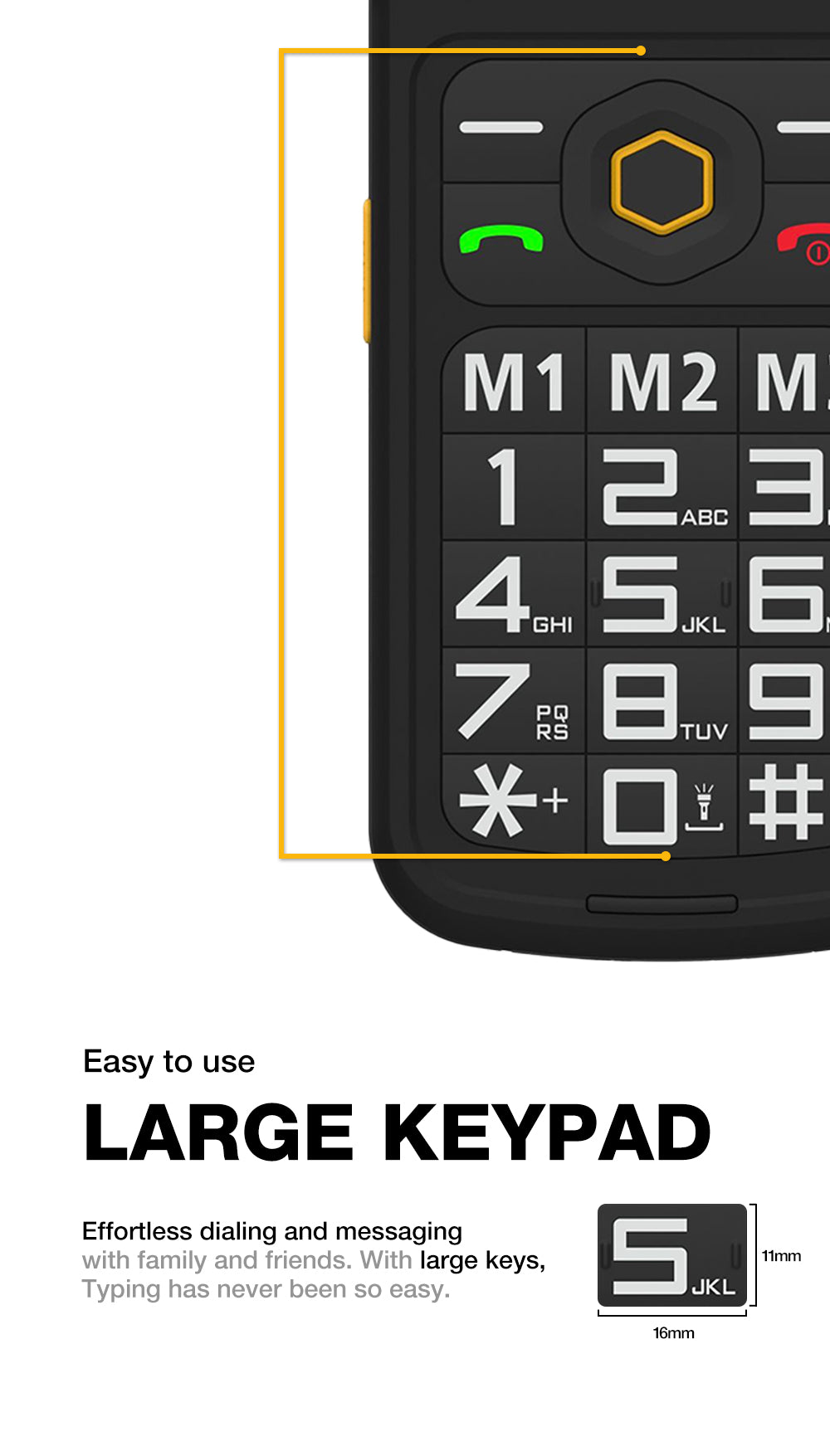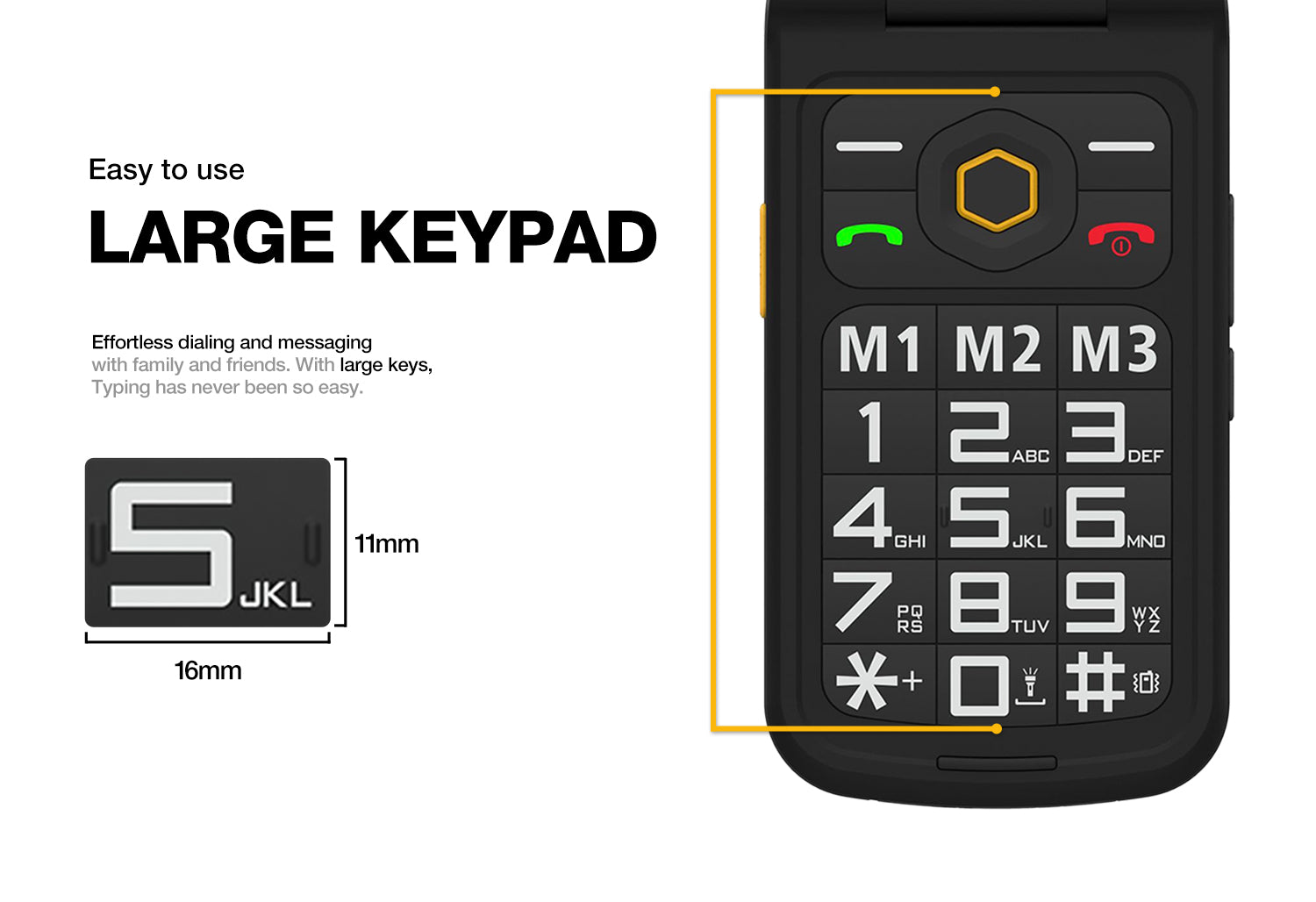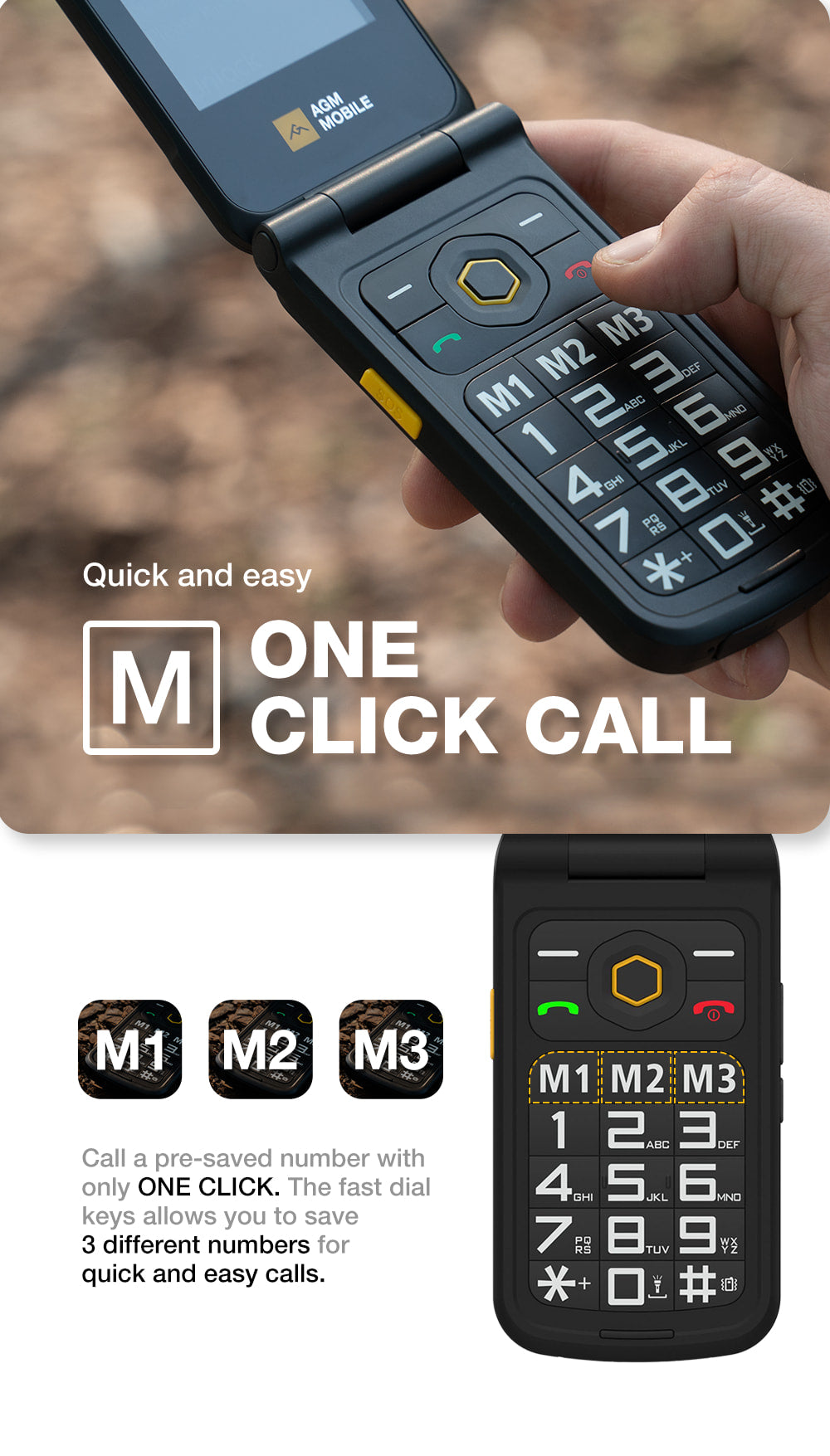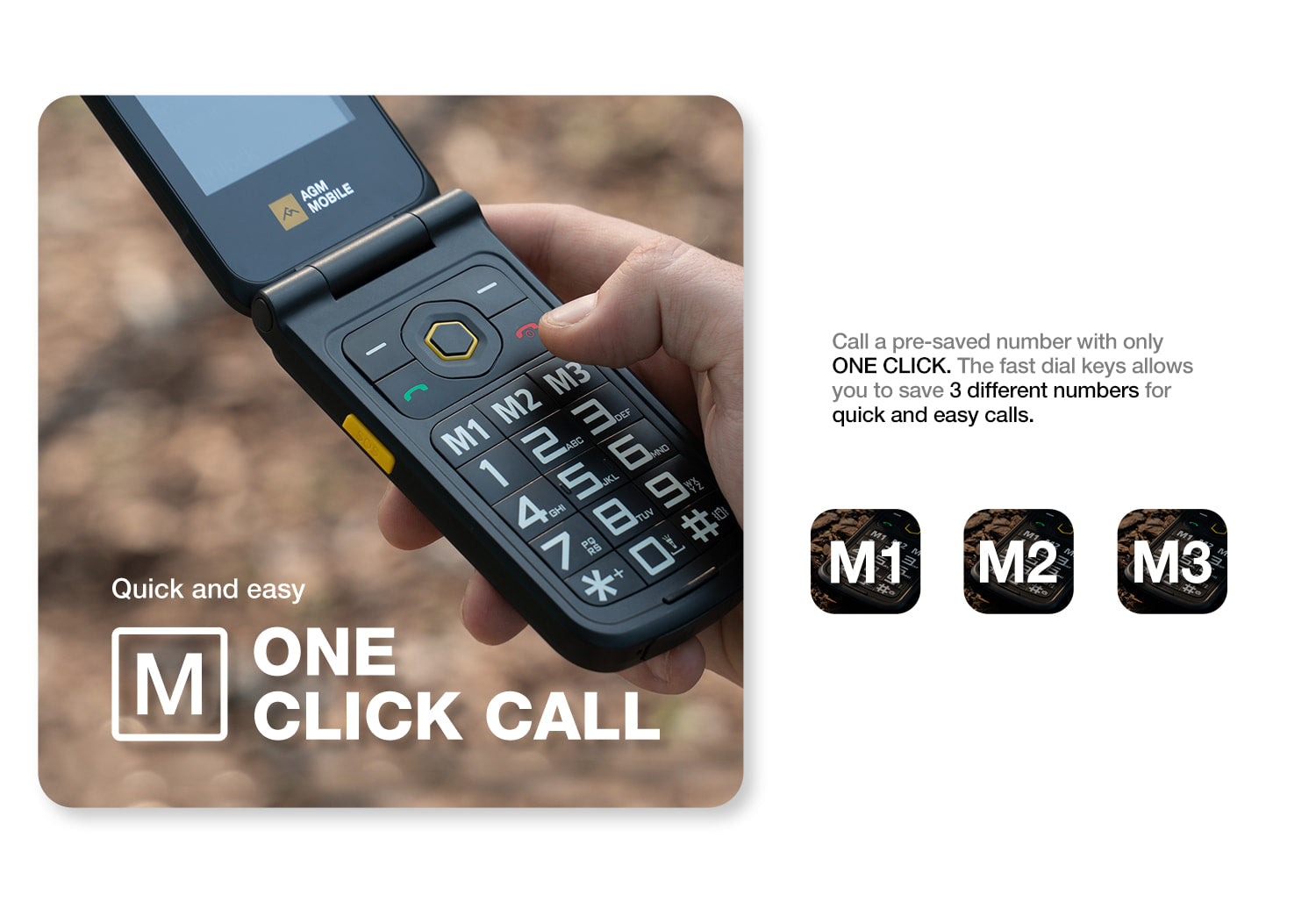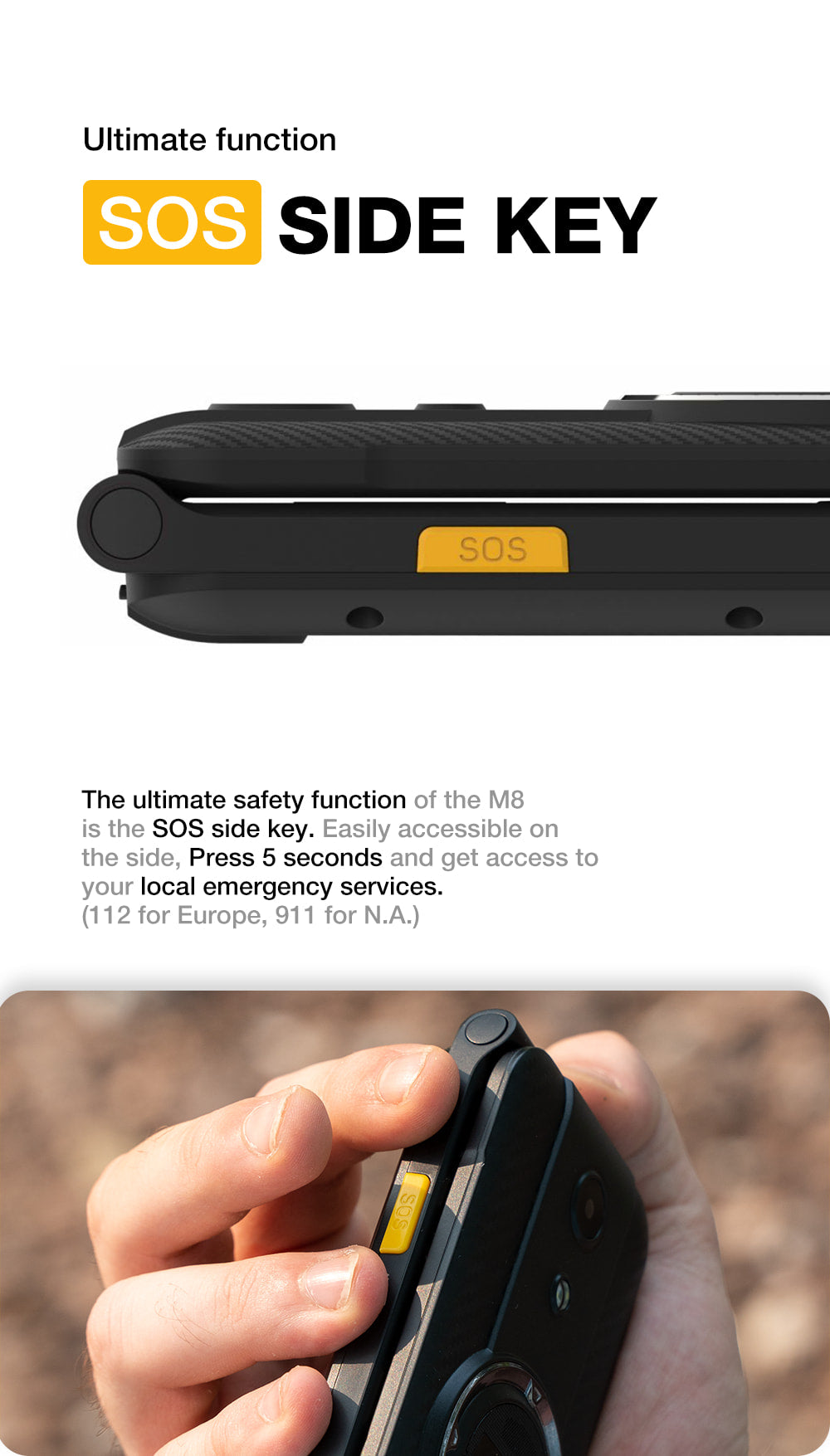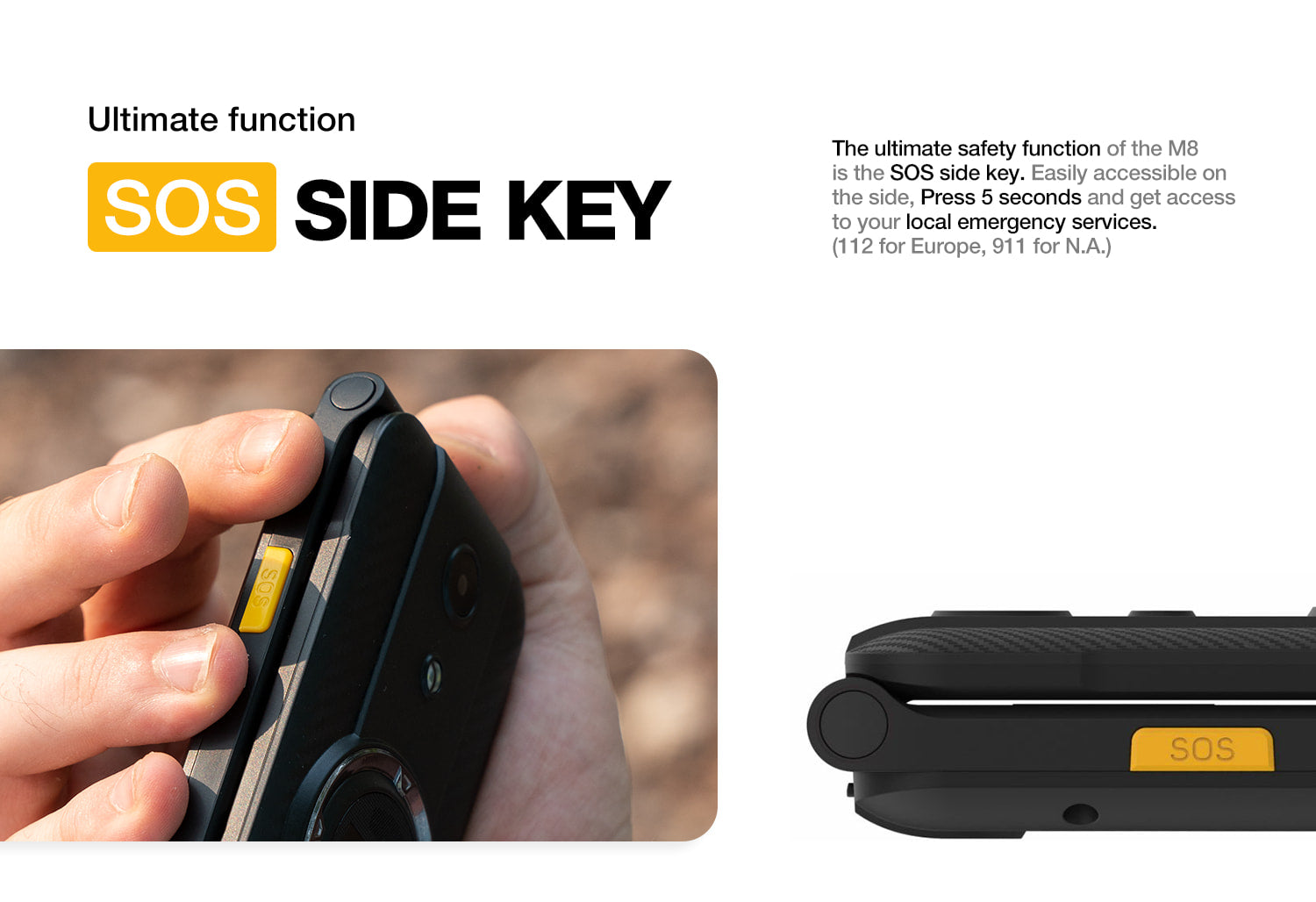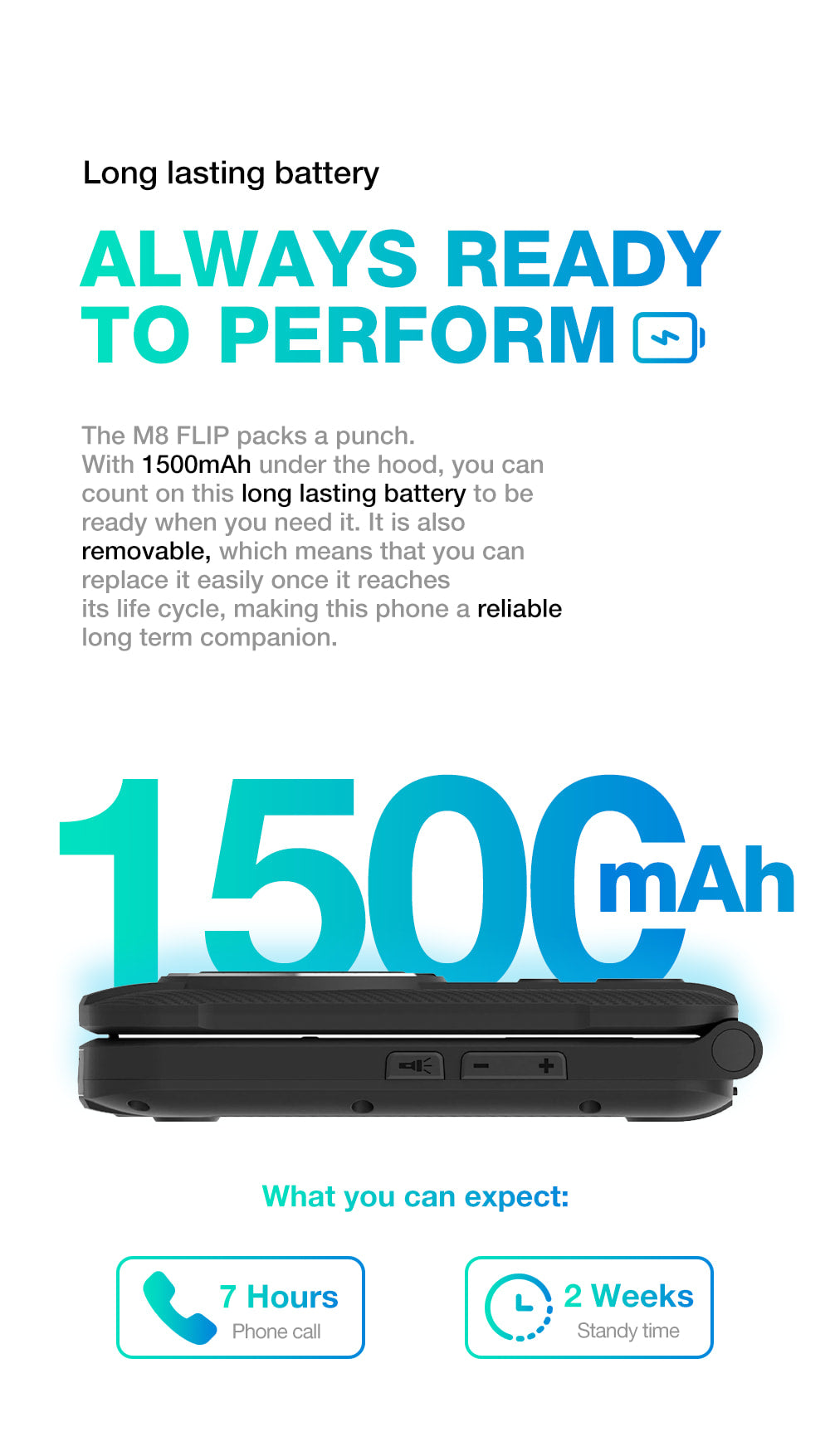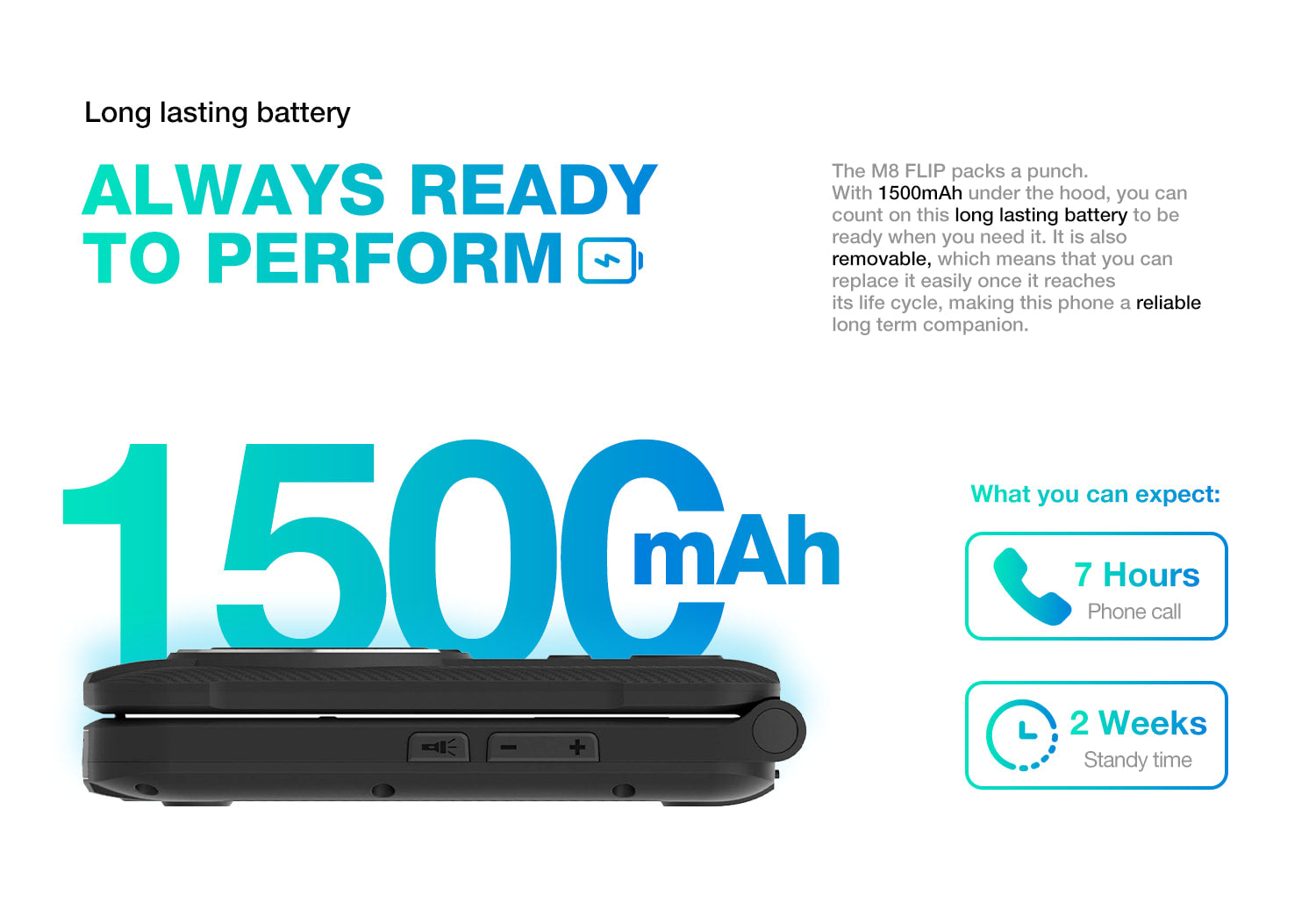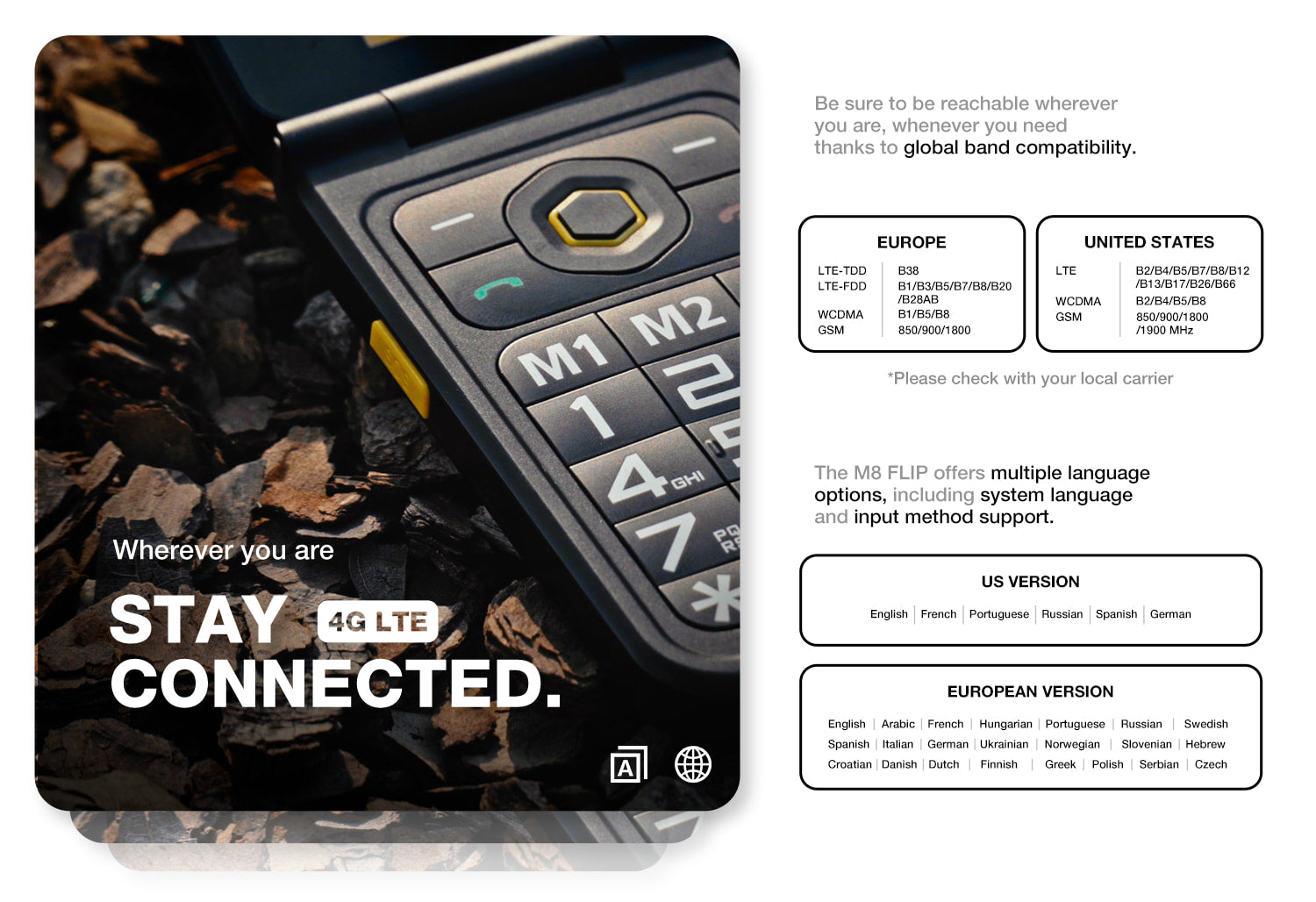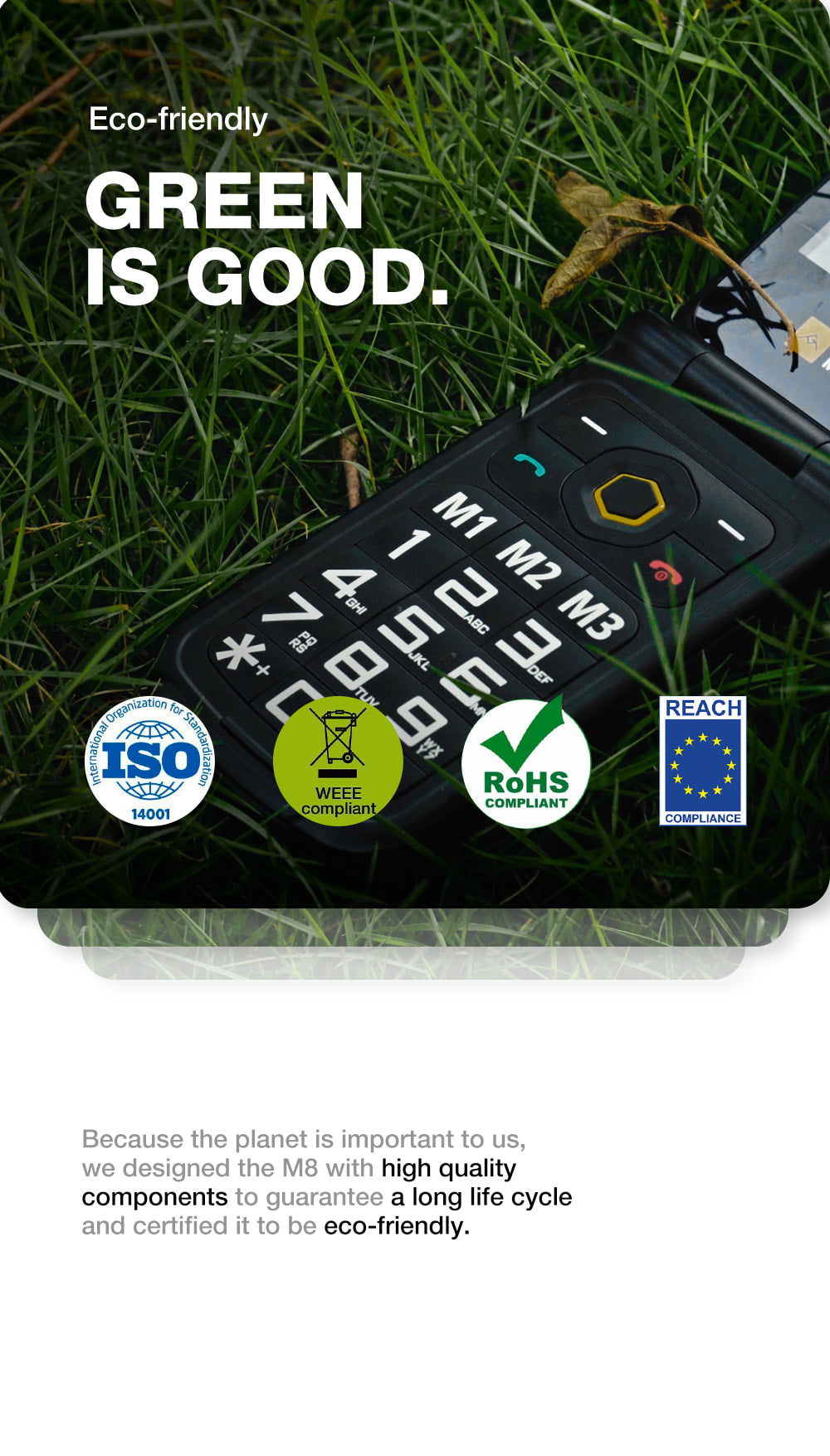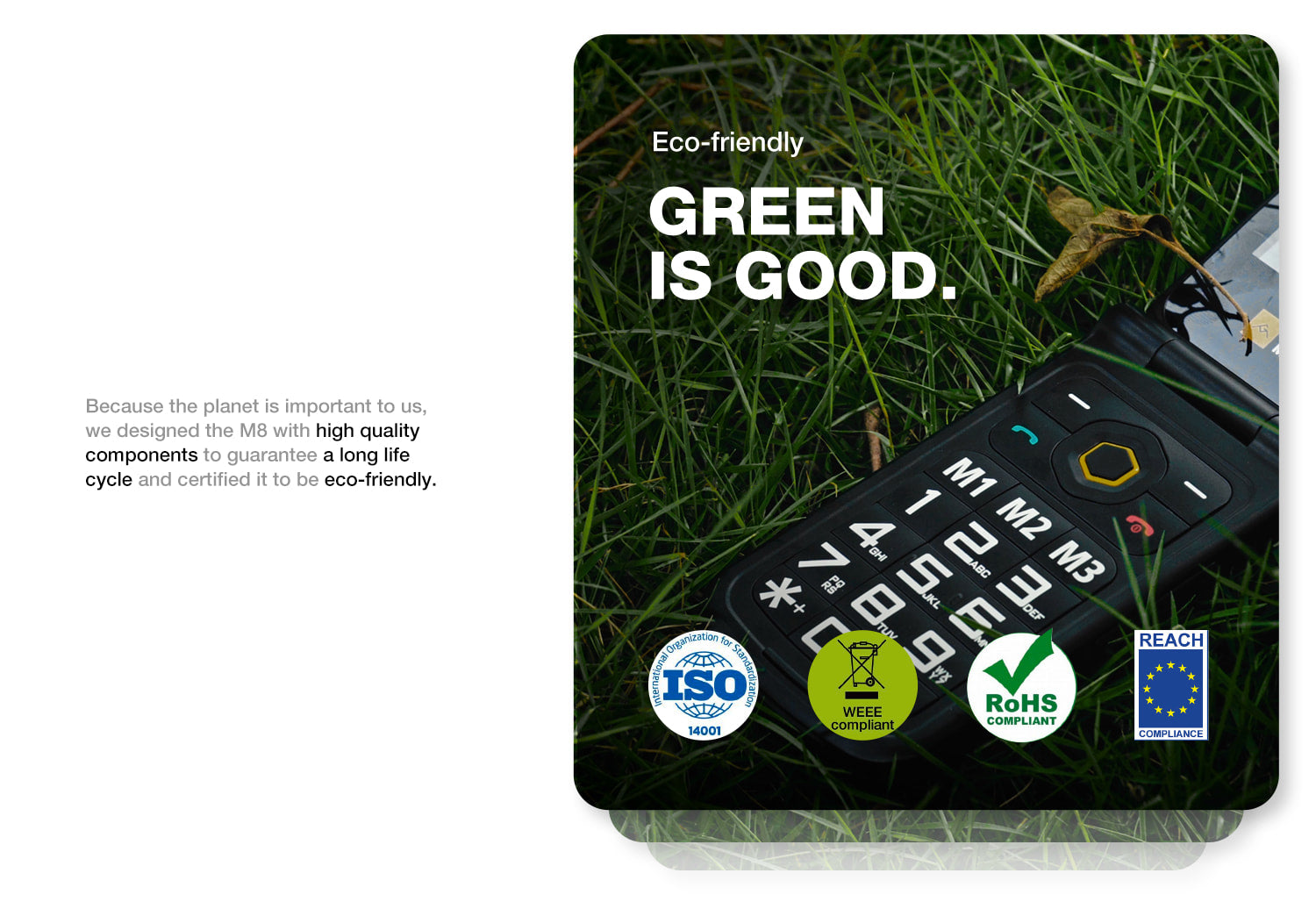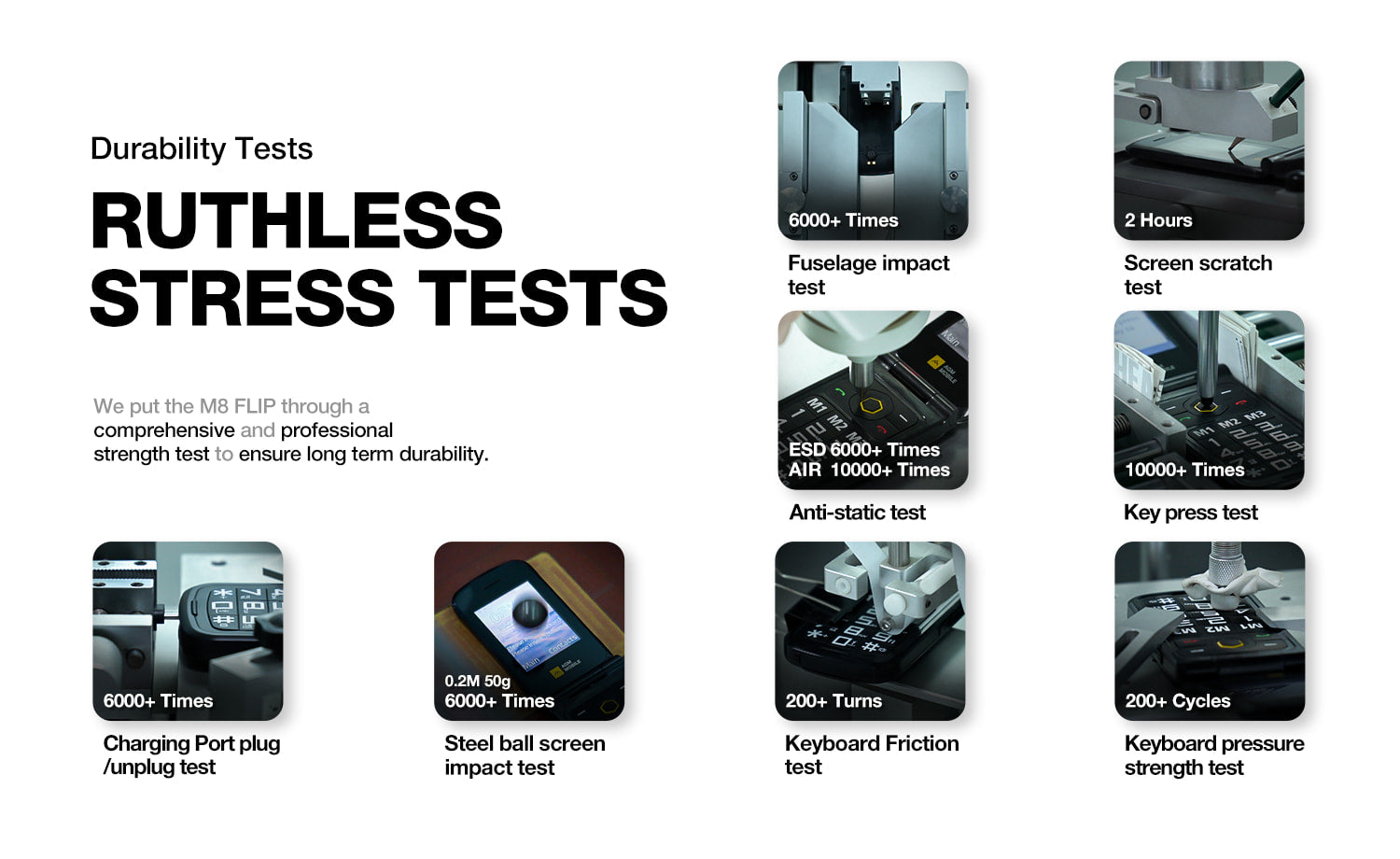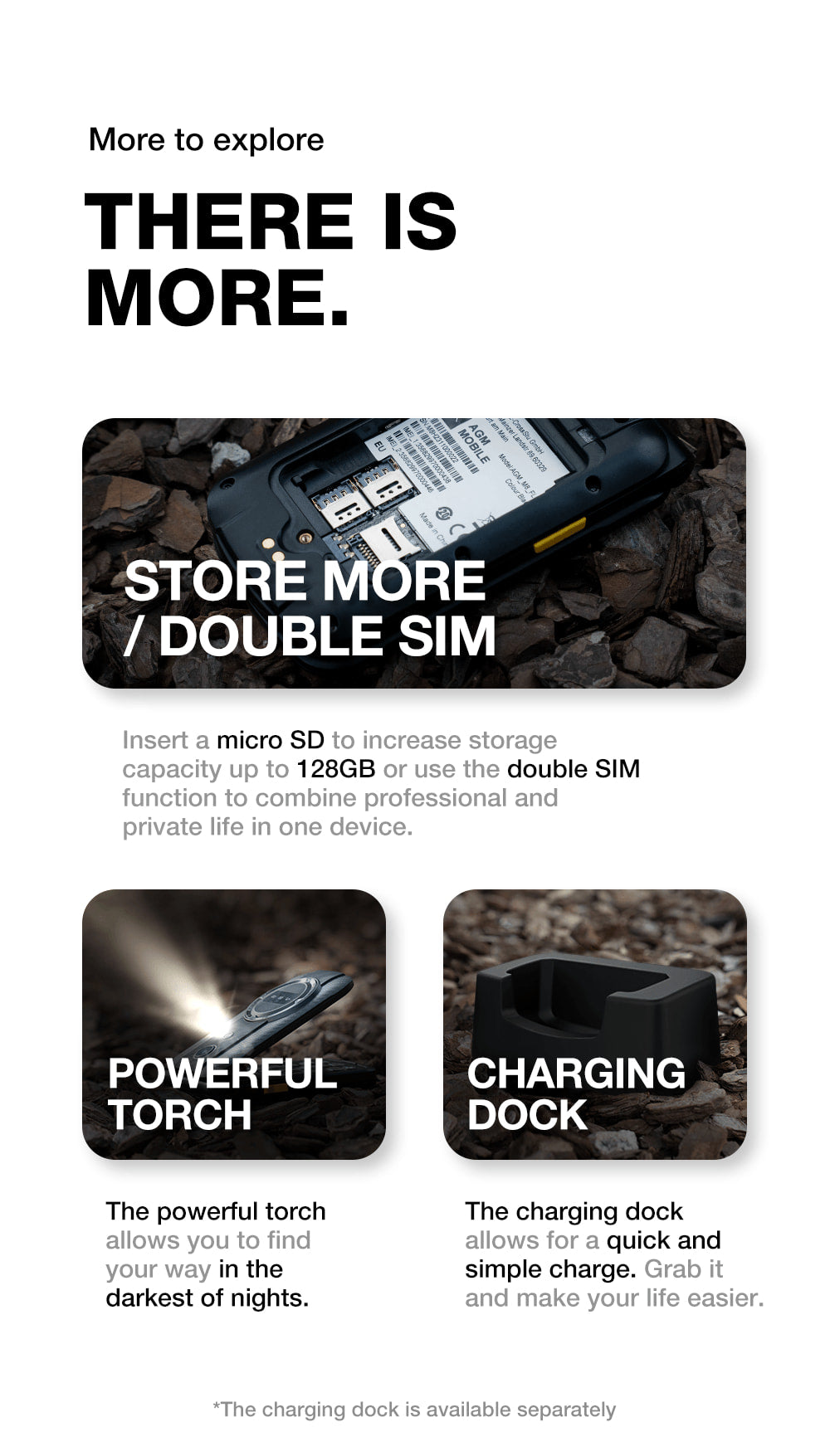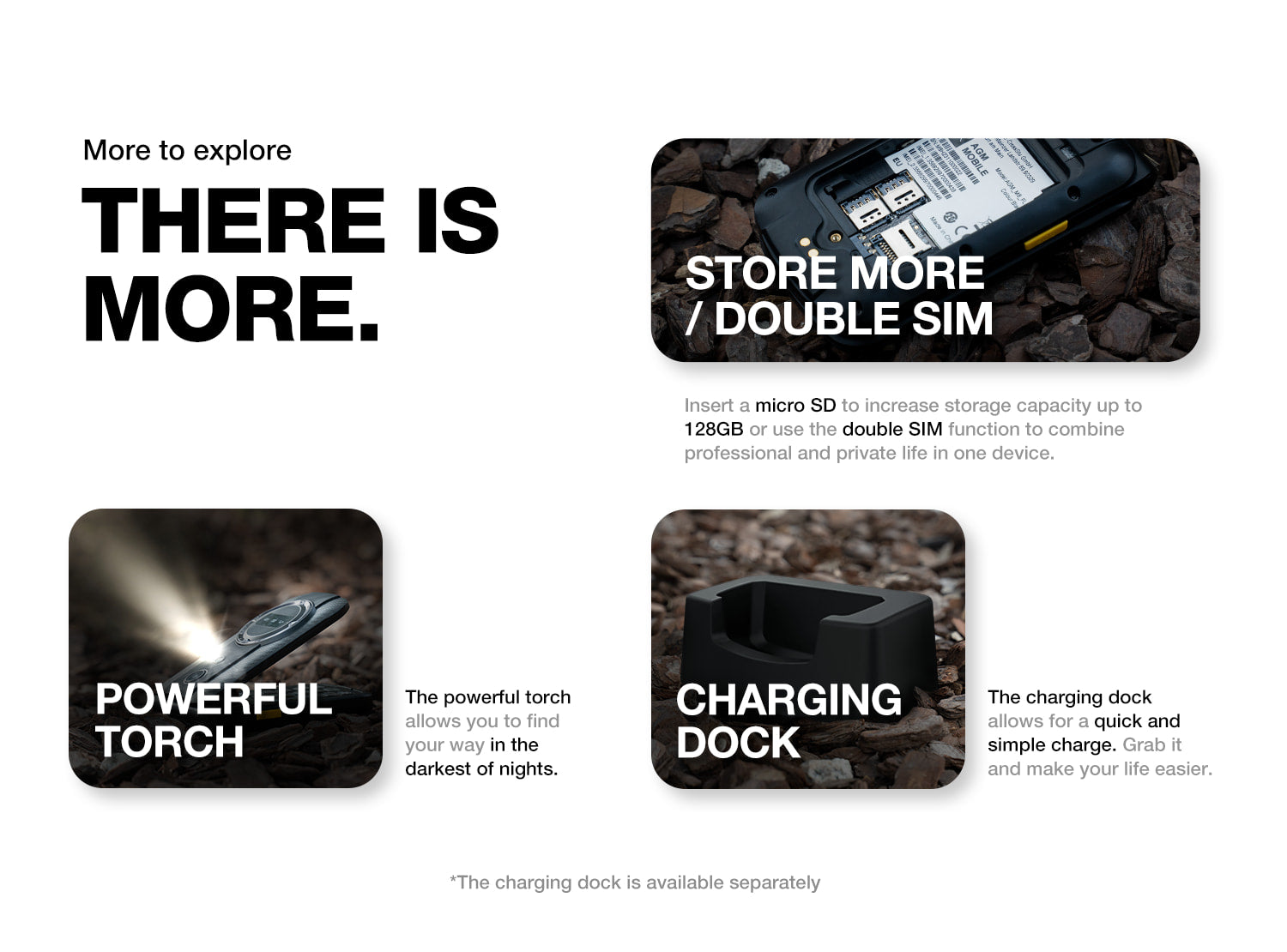 Certification requirements
CE/FCC/Canada IC/Reach/WEEE
European frequency bands:
GSM :850/900/1800 WCDMA:B1/B5/B8 LTE-FDD : B1/B3/B5/B7/B8/B20/B28AB LTE-TDD : B38
American frequency bands:
GSM :850/900/1800/1900 MHz WCDMA:B2/B4/B5/B8 LTE:B2/B4/B5/B7/B8/B12/B13/B17/B26/B66
Dimensions and appearance
Size :115.3mm * 62.3mm * 22.8mm(max 25.4mm)
Screen size: 2.8 Inch
Weight (including battery)
Dual sim slot + sd card slot
Expandable storage (microSD card)
USB2.0 Type-C
Earphone Jack:Yes
Support Micro SD card up to 128GB
Kepad: 21keys layout(European and American version & Russian Vesion)
Side Key: Torch on/off/SOS
waterproof speaker(Φ35mm), with PA
Language
Americal Bands
English, Français, Deutsch, Português, Español, Русский
European Bands
English, Français, Deutsch, Italiano, Español, Nederlands, Dansk, Svenska, Suomi, język polski, Русский, Português
Phone Record: Support
SMS: Support
MMS: Support(Depend on local network, may not be available in some countries)
IP68/IP69K/MIL-STD-810H
FCC/CE/ROHS
AGM M8 FLIP
Power Adapter
Type-C Cable
Manual Book
Warranty Card
1.【What operating system does this use?】


I'm trying to avoid all things Google.our operating system is not Google, just Mocor (RTOS) for feature phone. No app will bother you.


2.【Is this a gsm phone?】

Yes. This is a gsm phone.


3.【Why new Phone doesn't turn on but battery is charged?】

Please take out the battery from the phone, it has a stick on it. Please remove it then use the battery.


4.【Does it have a charging dock?】


Yes, it comes with a desk charging dock for a convenient charge.


5.【Why new Phone doesn't turn on but battery is charged?】


I did remove the tab covering contacts.Please long press the power button (the red phone call) to turn on, have a try again. If it still doesn't work, you may get a defective one.


6.【Does the agm m8 work with tello in the united states?】


Actually it does, Tello uses T-Mobile's GSM signals so it works just fine


7.【Is this phone good for my kid to use without access to the internet or facebook etc?】


It does have an internet browser. I bought it for my special needs son thinking it does not have a browser, but after receiving the phone I realized it does have internet. I was disappointed.


8.【Will I receive calls in Mexico?】


Yes. You can receive calls from Mexico.


9.【Does it have an internet browser?】


You answered another question yes, but website says no.I make apologized for that. Then I will find it and cancel the mistake ansewer. We make sure that we have no internet browsers. It is good for elder and kids, no app, no browser, no wifi.


10.【If it has no Wi-fi, can I get text messages?】


Yes. Text messaging works over the cellular data network. It doesn't require wifi.


【How can i be sure that AGM phone are really waterproof,dustproof and shockproof?】

All AGM phones comply with the IP68 standard which ensures resistance to dust and liquids, for temporary or prolonged periods depending on the terminal and under normal use as recommended by the manufacturer. All of our models have undergone strenuous waterproof and resistance tests to comply with these standards as well as the MIL-STD-810H standard. In addition we have also developed our own standard called OEPT (Outdoor Environments Performance Test) to further protect the devices.

【How long is AGM phone guaranteed for?】

All AGM devices are guaranteed for one year.

【Where can I buy AGM Phone?】

AGM Phone can be purchased through this Website Store, AliExpress Store, Amazon Store etc.

【How to check if the network frequencies is compatible in my country?】
1.Check which network standard and which frequency bands your phone supports
2.Search your local network operator via Google browser to learn more about the latest local network standard and the frequency bands; Click here to check (just for reference):http://maps.mobileworldlive.com
3. If there is a frequency bands which your phone supports matched with the local frequency bands, you can use the phone in your country

【How to use OTA to update Android system?】

Find the app "update" or "System update". It will show that your system is up-to-date after update package installed.

【How if my phone is always too hot?】

It is normal that the smartphone device gets hot when playing videos or games on it or charging it, however, you can reduce the hot by following actions:
1.Turn off the function and apps seldom used such as Wi-Fi, GPS etc.;
2.Turn down the brightness of the screen;
3. Turn off the apps running in the background periodically and clear cache periodically to keep enough running space all the time;
4. Uninstall abnormal apps with bugs which may cause much heat during running;
5. Do not use phone during charging unless necessary.

【How to get aftersales warranty?】

AGM provides authorized aftersales warranty in Europe and Russia.
If you are outside Europe and Russia, please check with the dealer where you buy for service.

【Can i use this phone in my country?】

We add a link to show you how to check the phone, whether it can be used in your country.
1. All our smartphone is unlocked for worldwide use, but please check if your local area network is compatible with our AGM phones, You can check this link: Willmyphonework.net Or " Maps.mobileworldlive.com " To see the network frequency for your country,
Please confirm with your carriers or suppliers before purchasing this product.
2. Most of the two sim mobile phones have only one sim slot supporting 3G WCDMA / 4G network.

【I didn't get my parcel, how to do?】

1.No logistic information for a long time: We will send you tracking number after we sending items, if the losgistic information updated normally, hope you can don't worry about it and just wait more days.If you didn't get the parcel more than 90 days, we will refund you full money.If parcel shows delivery, we do not accept refunding request anymore.You may also need to pay customs tax.
2.Parcel was returned by customs office: If it was hold by customs office, hope you can go there to make clearance as soon as possible, we will try our best to help you to get the parcel from customs,we do not refund if parcel returned caused by buyer reasons.