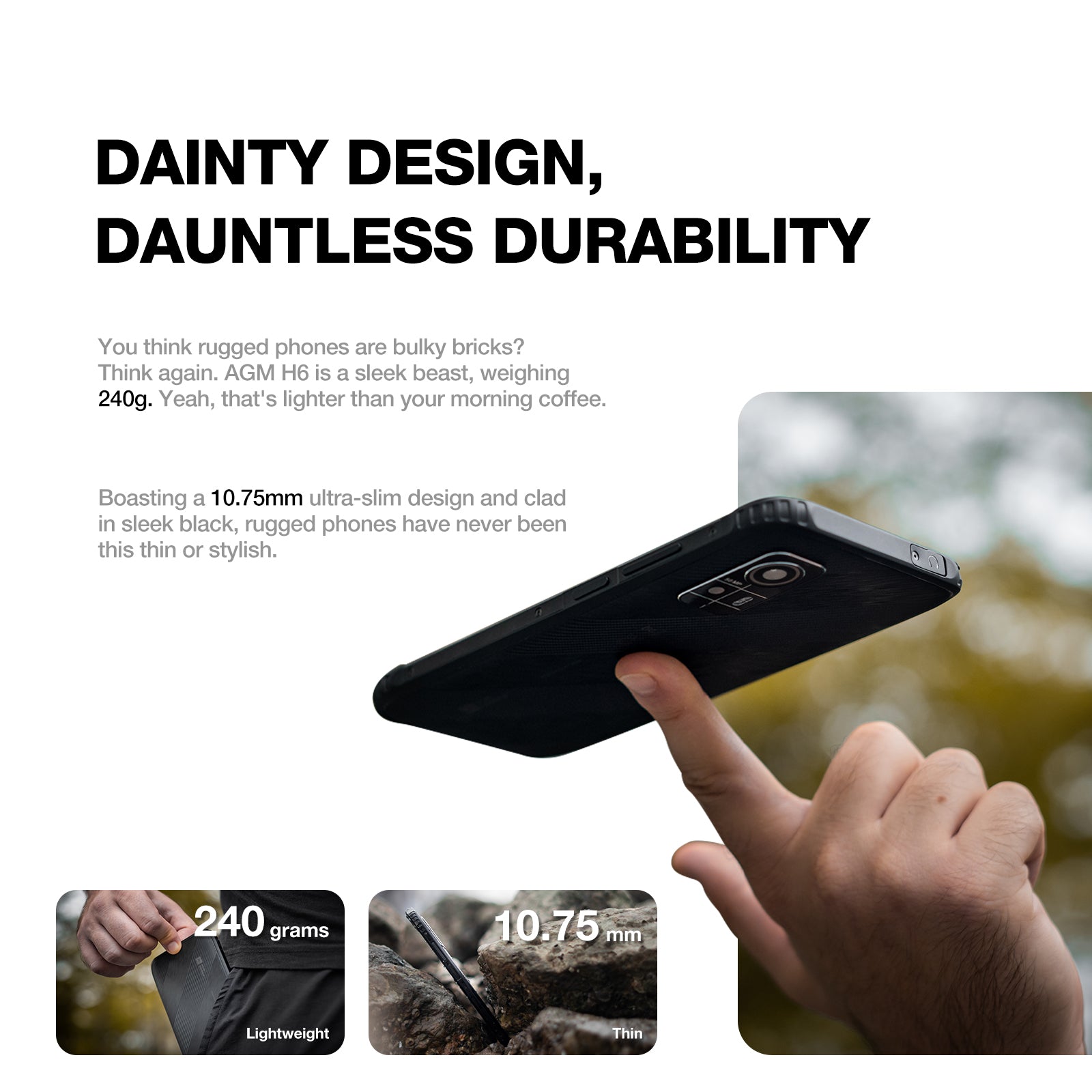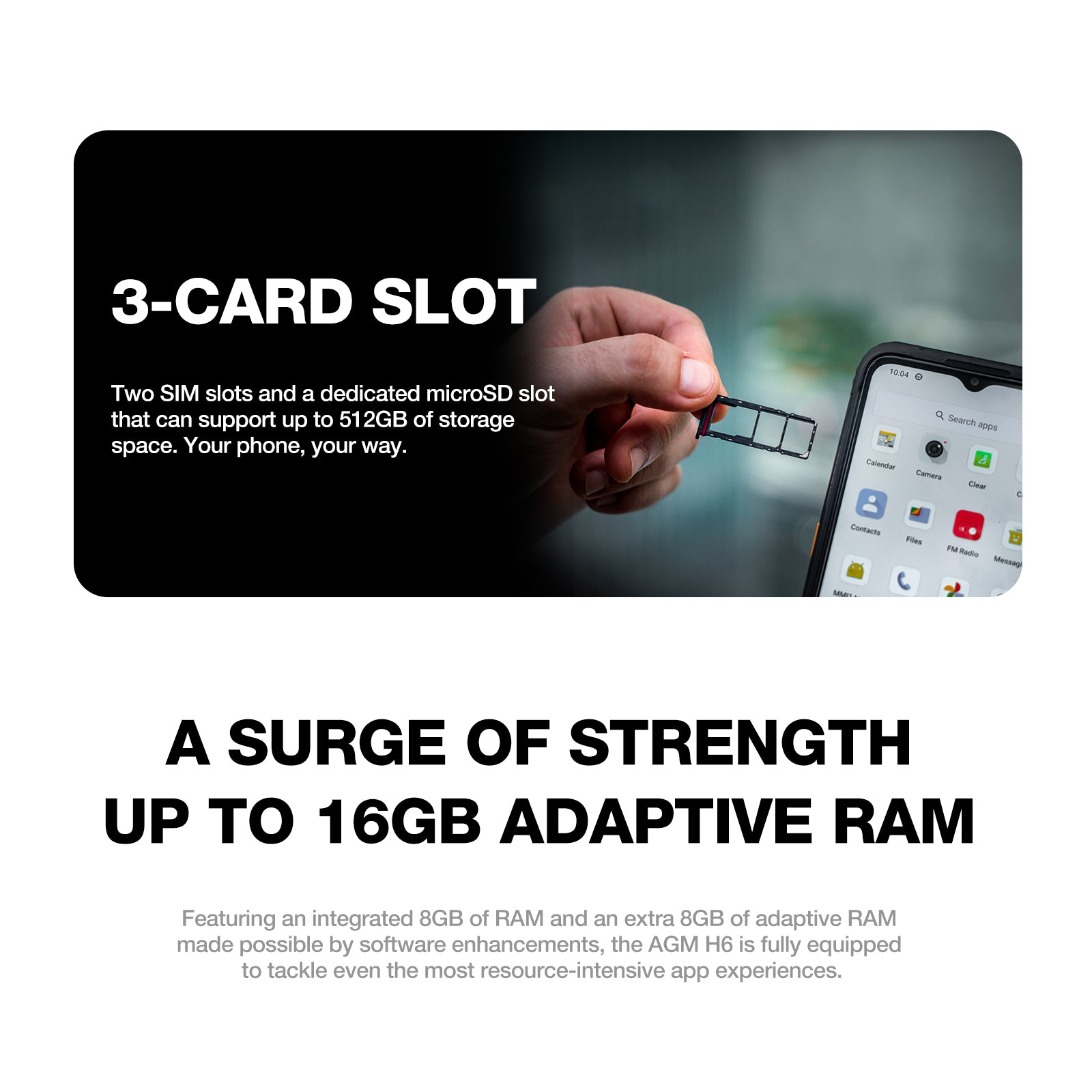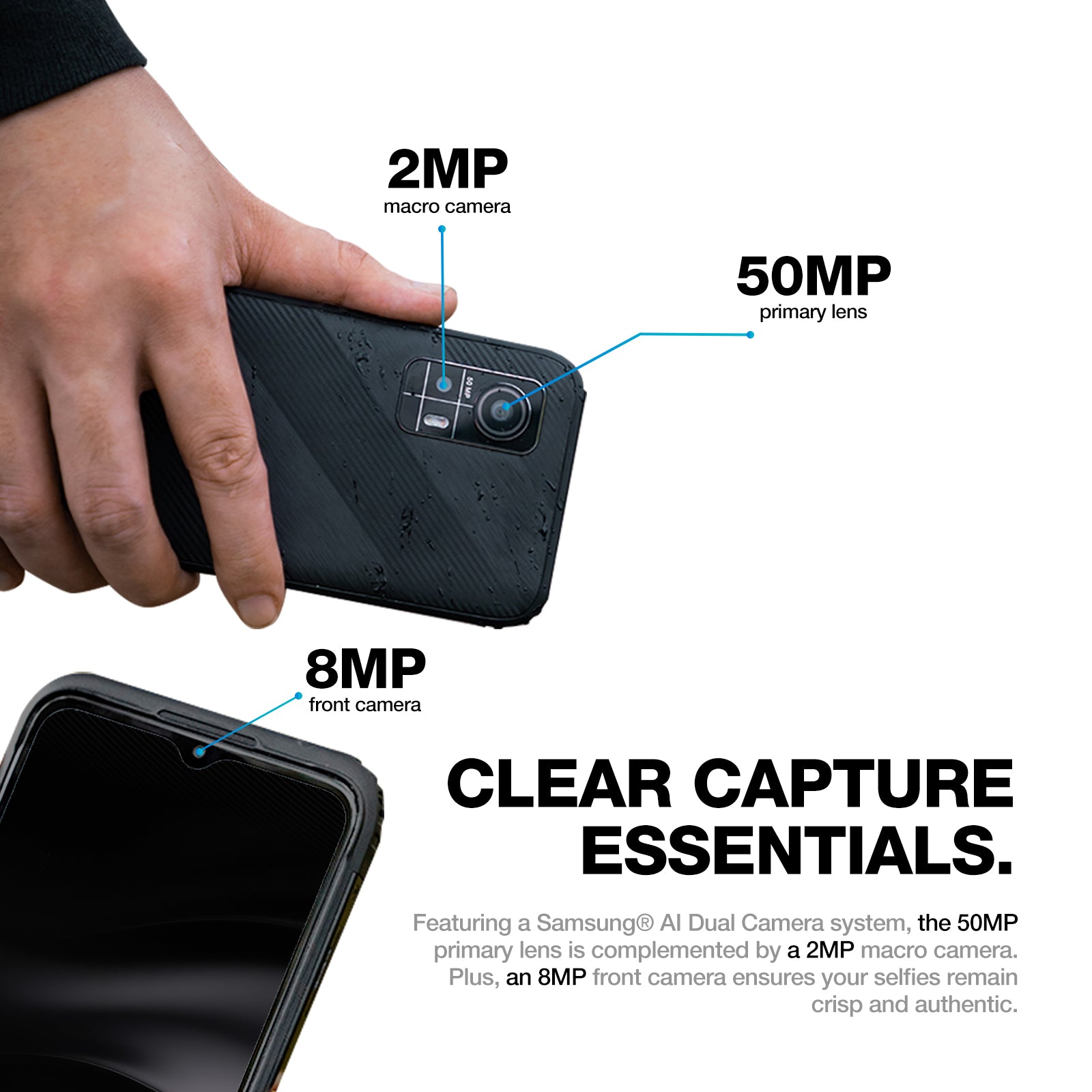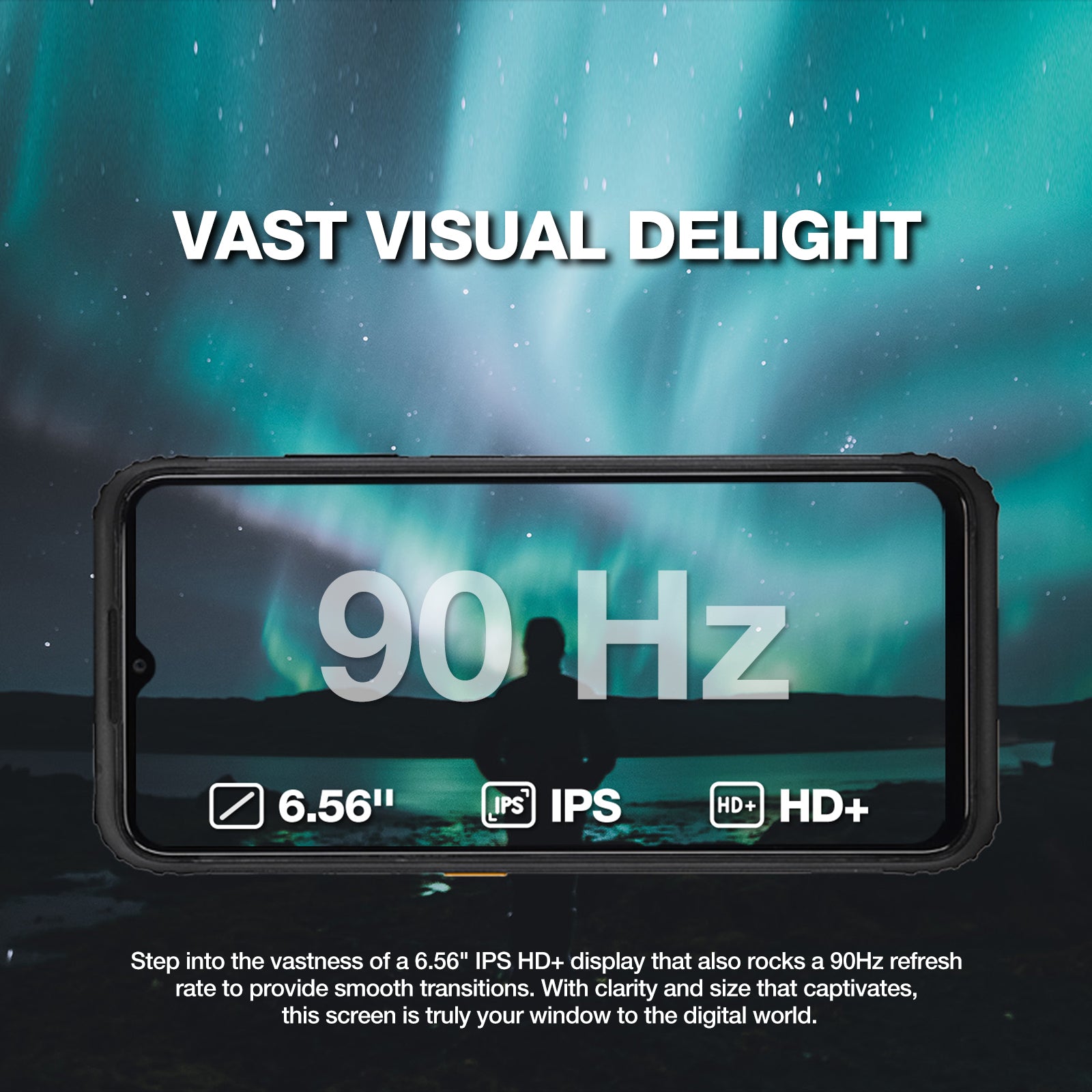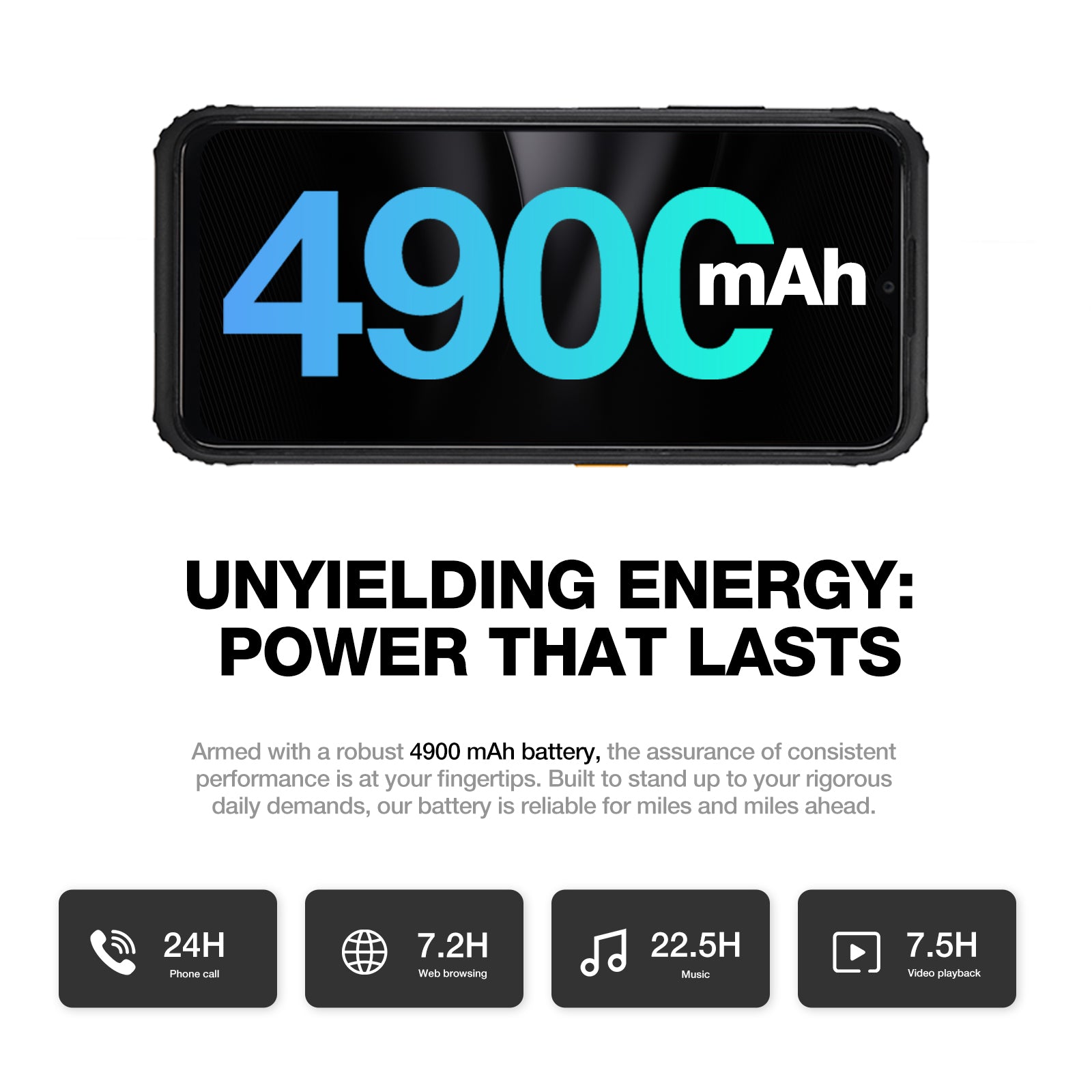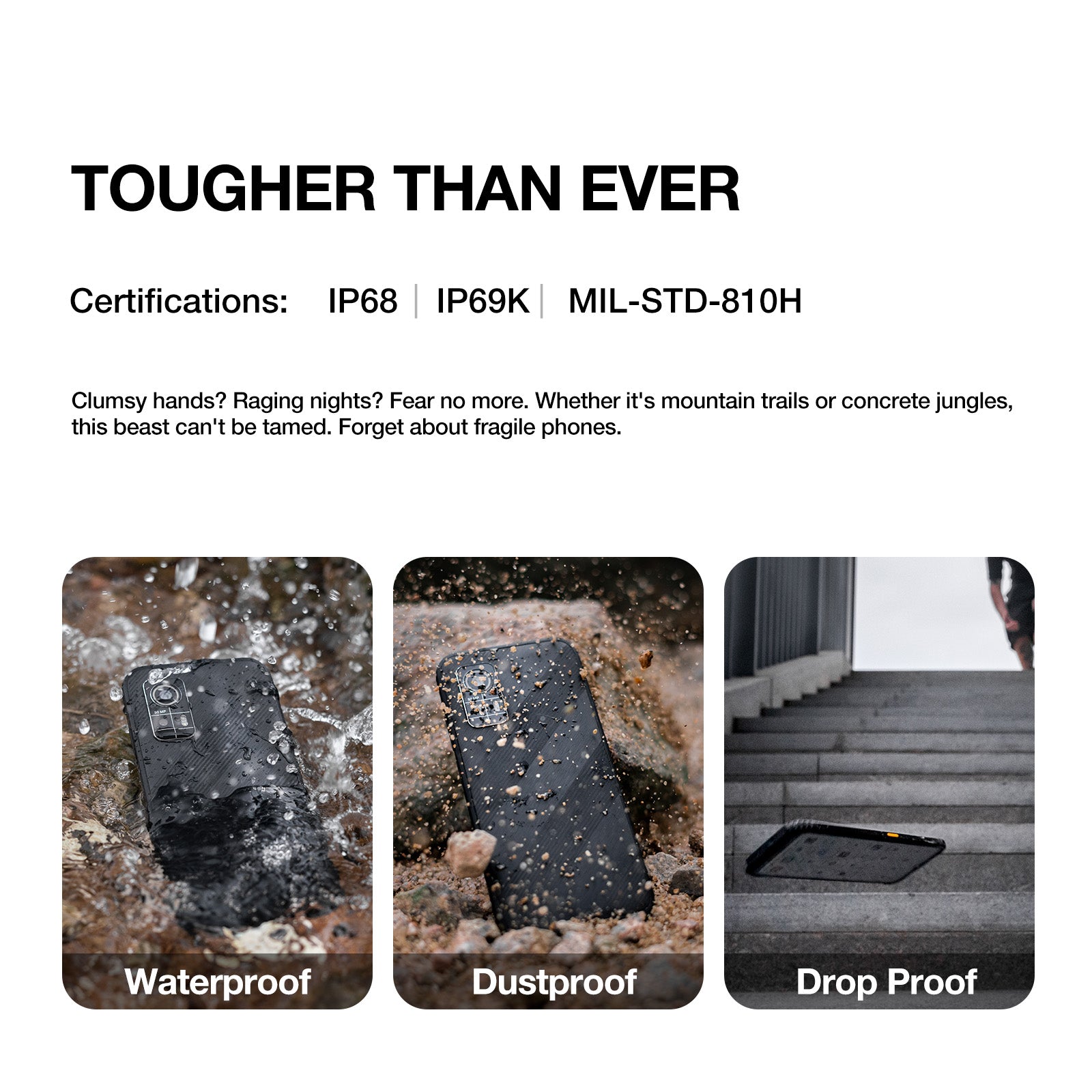 Pre-sale Order | AGM H6 | Ultra-Thin | Rugged | 6.56-inch 90Hz Display | 16GB RAM (8+8) + 256GB ROM | Android 13
📏Thin and Light at Just 10.75mm and 240g
💪Certified with IP68/IP69K/MIL-STD-810H
🚀Powerful 16GB RAM (8+8) + 256GB ROM
📷Captivating 50MP Dual AI Camera
📱Equipped with Android 13 & 📲 NFC

*Pre-sale Order, Get 25% off (code: AGMH6)
*Delivered on October 25th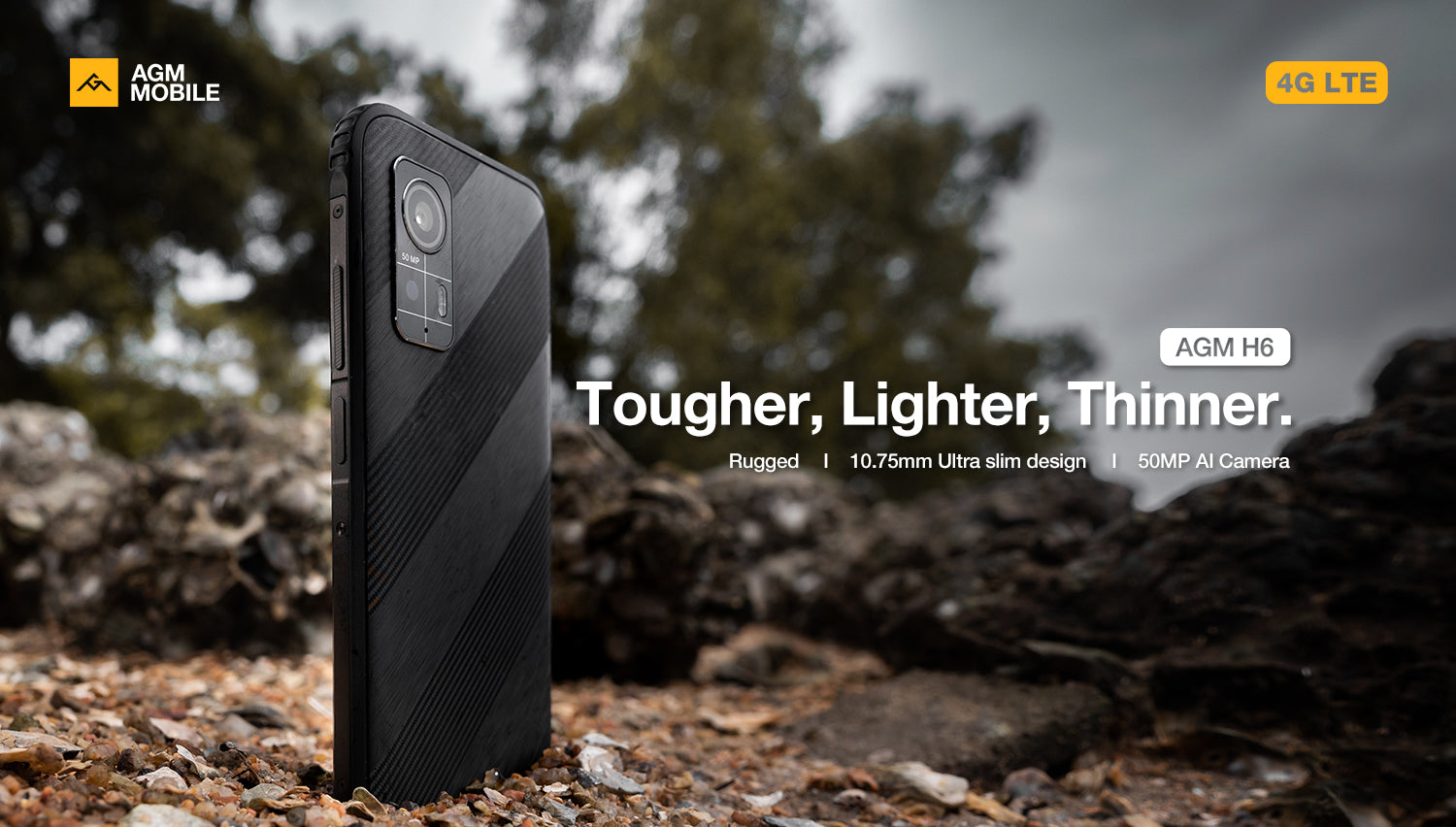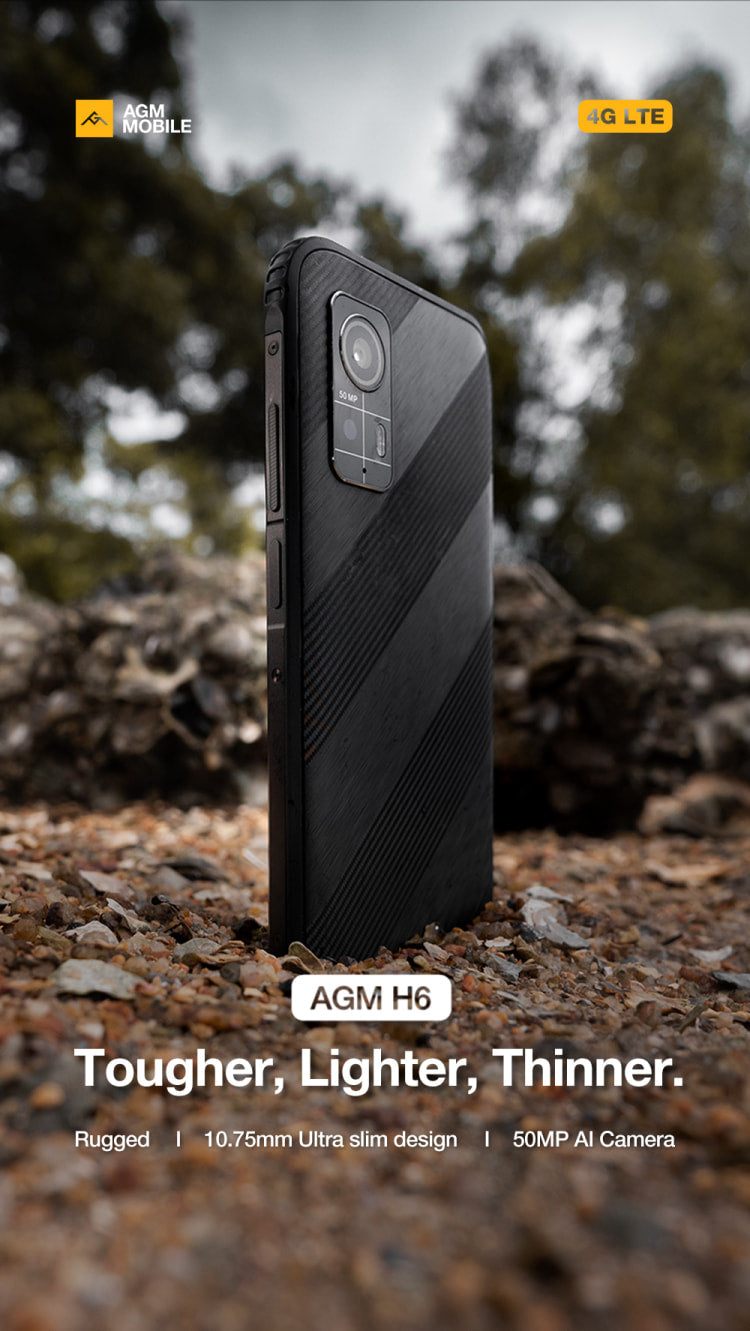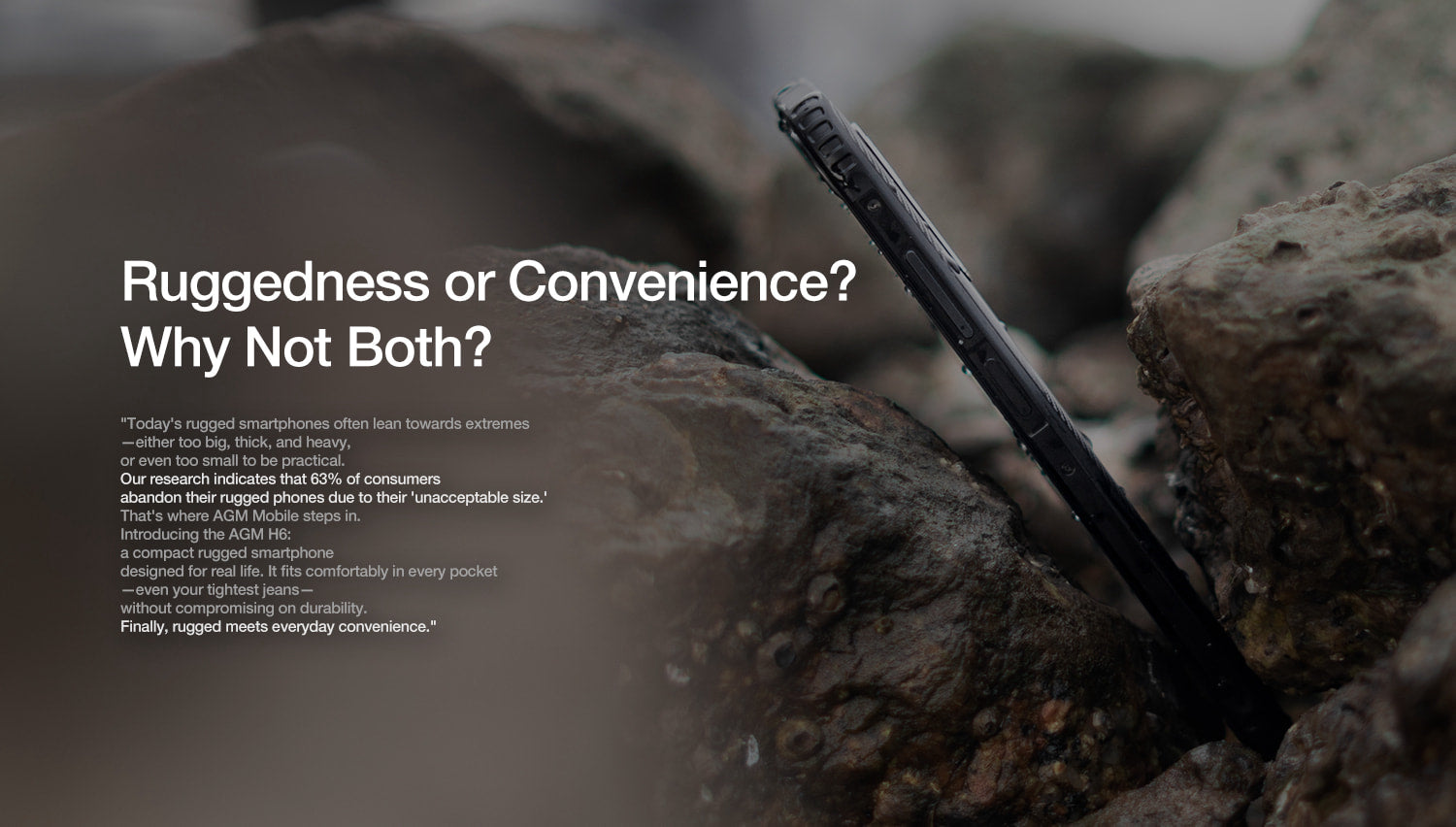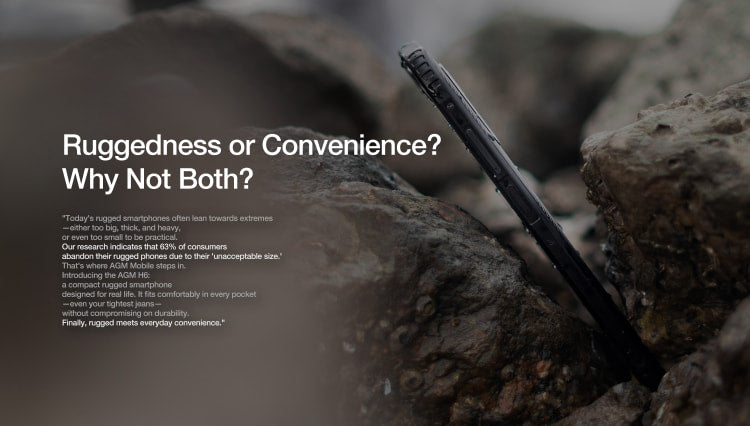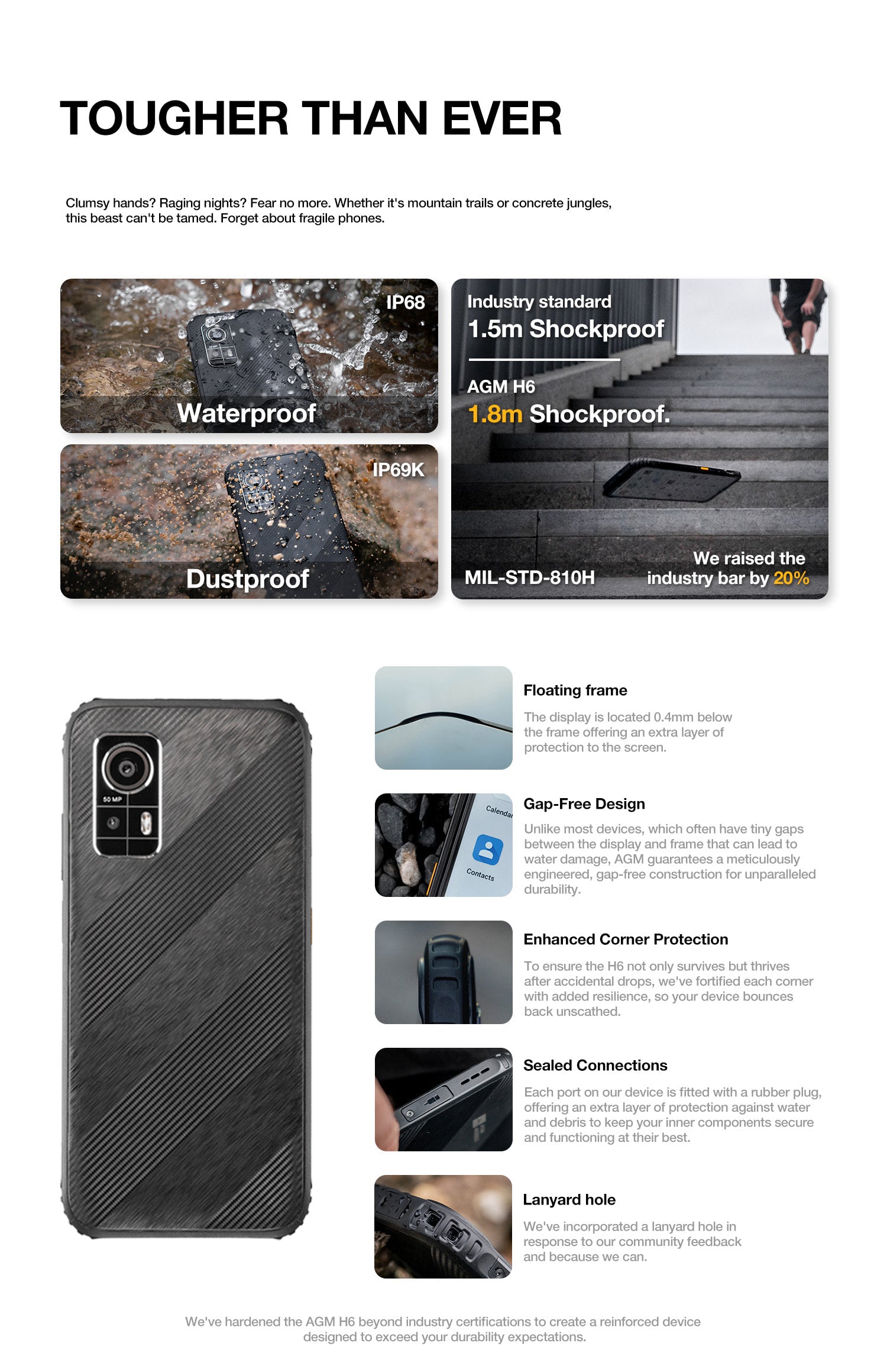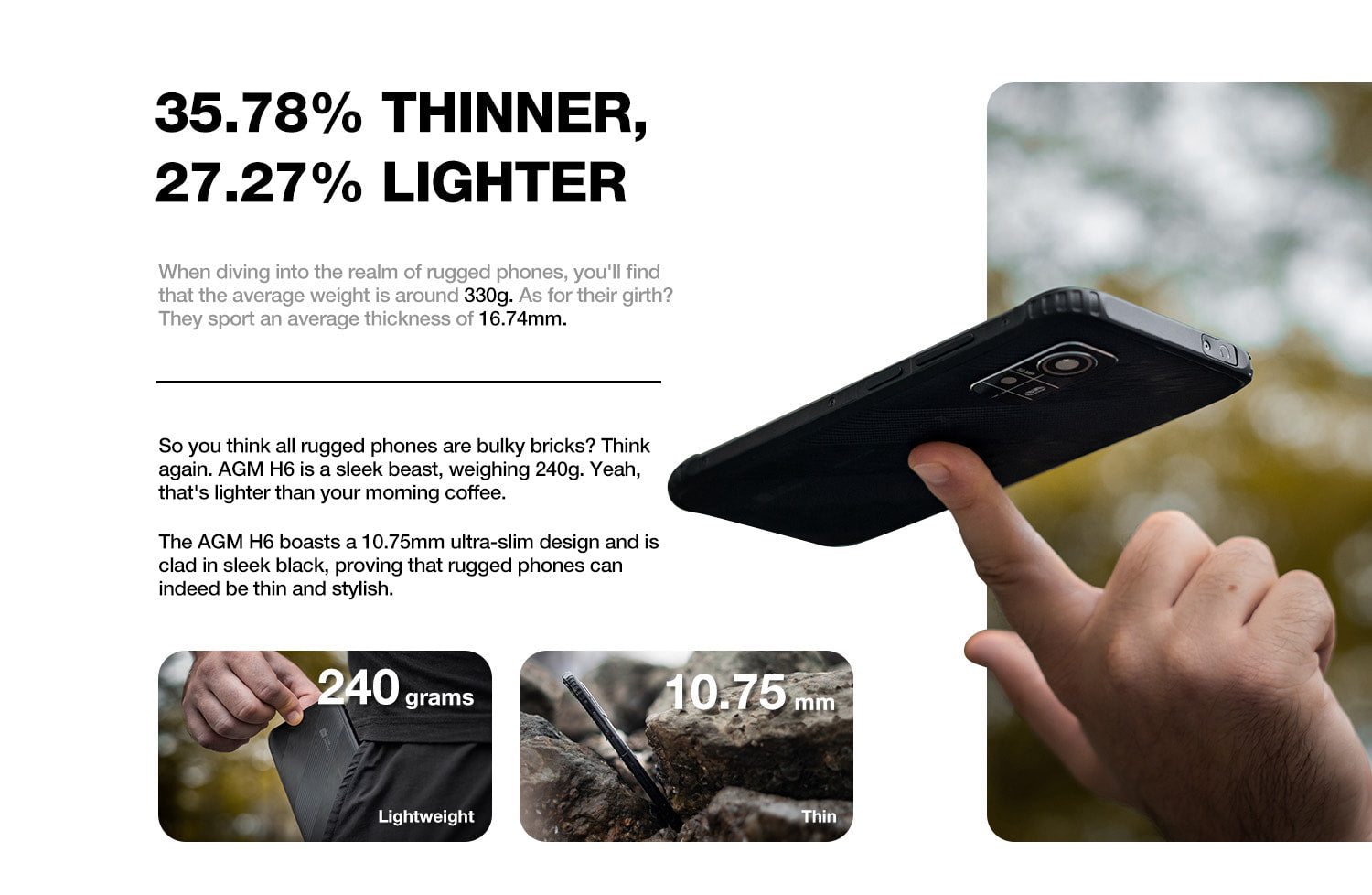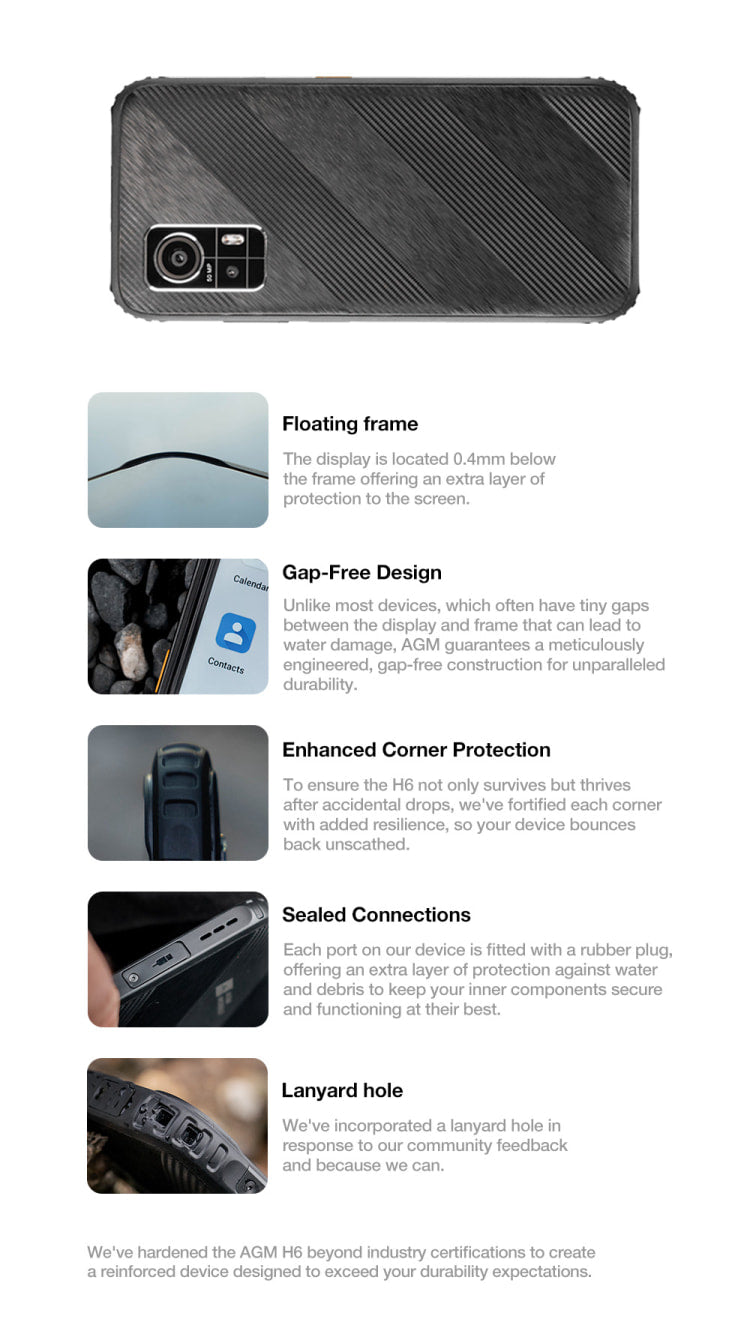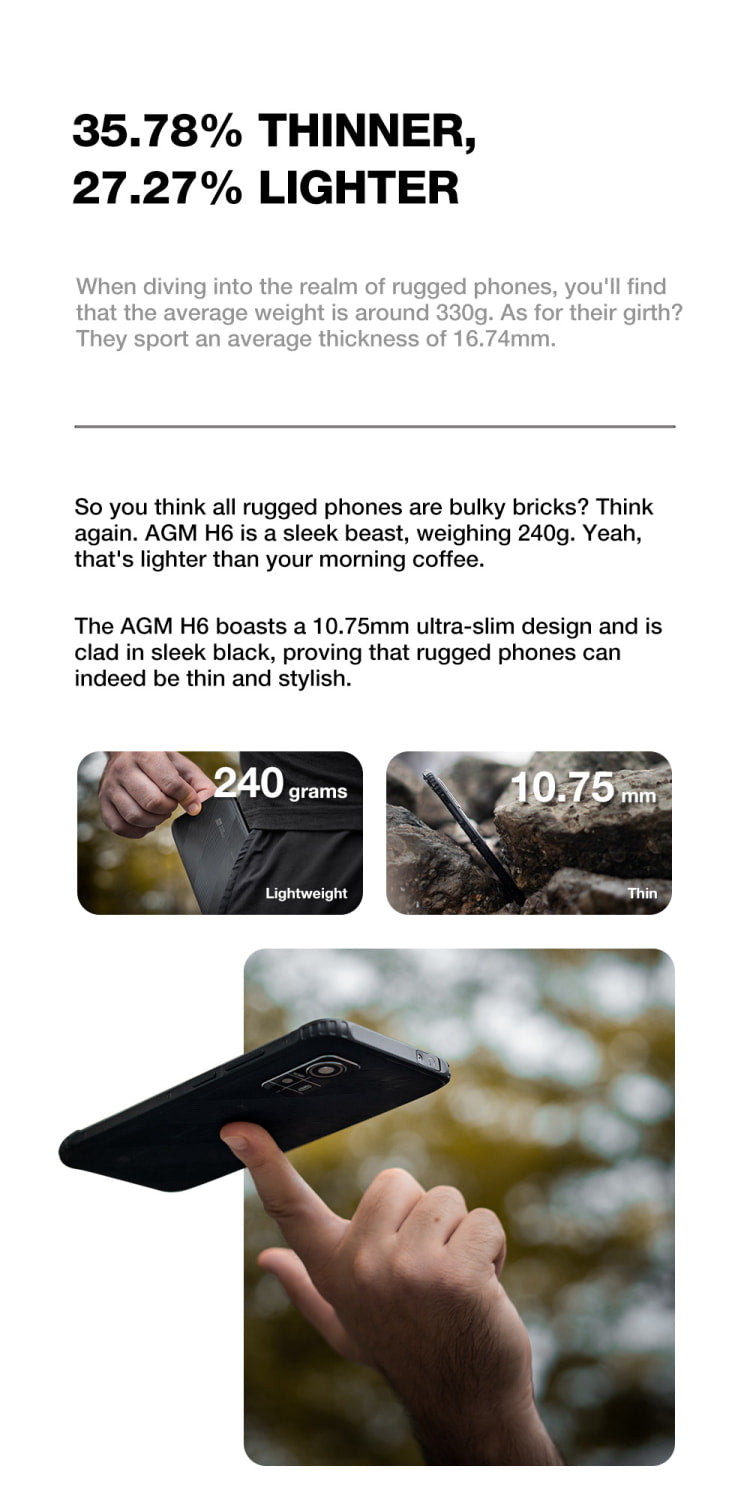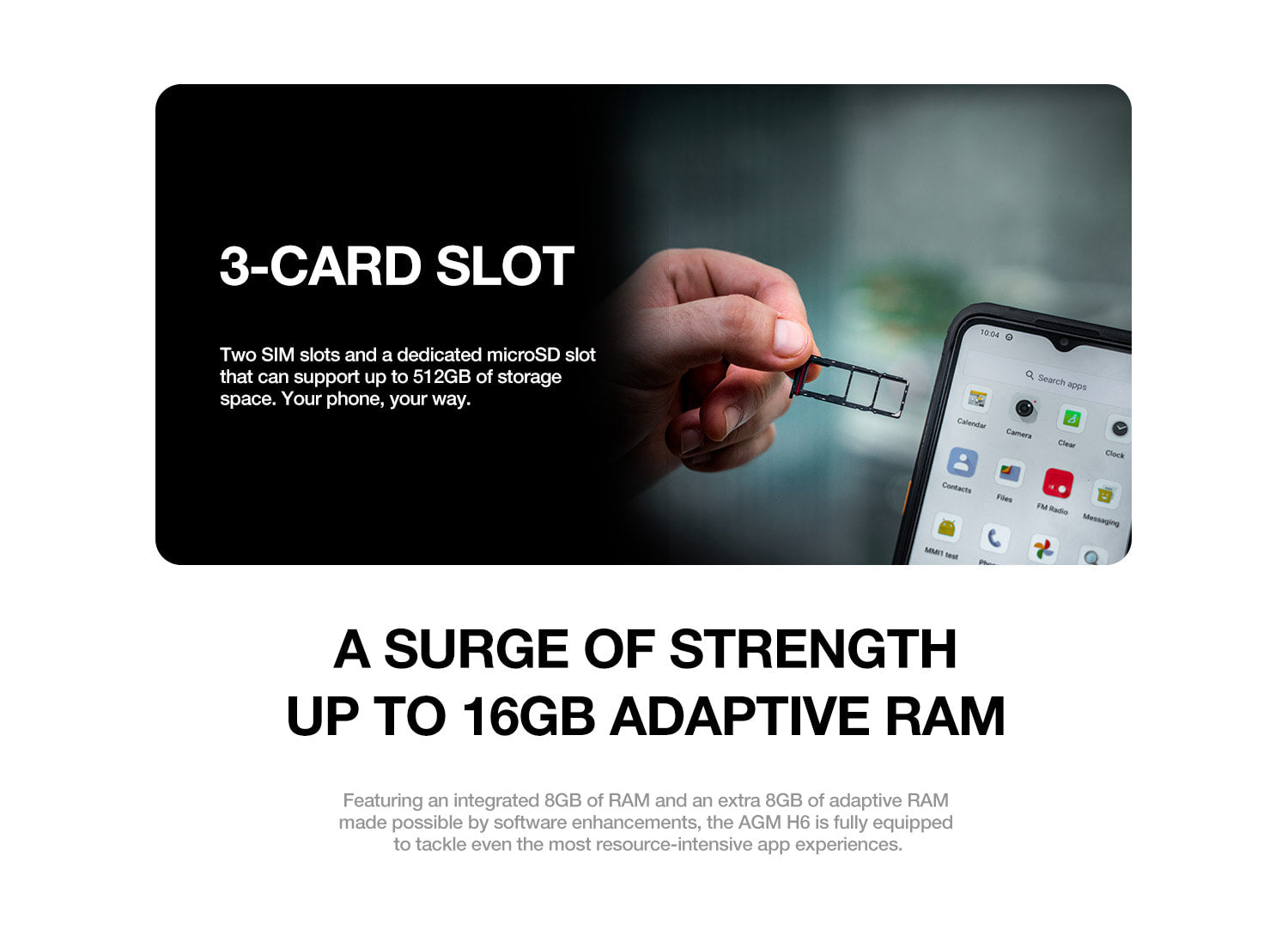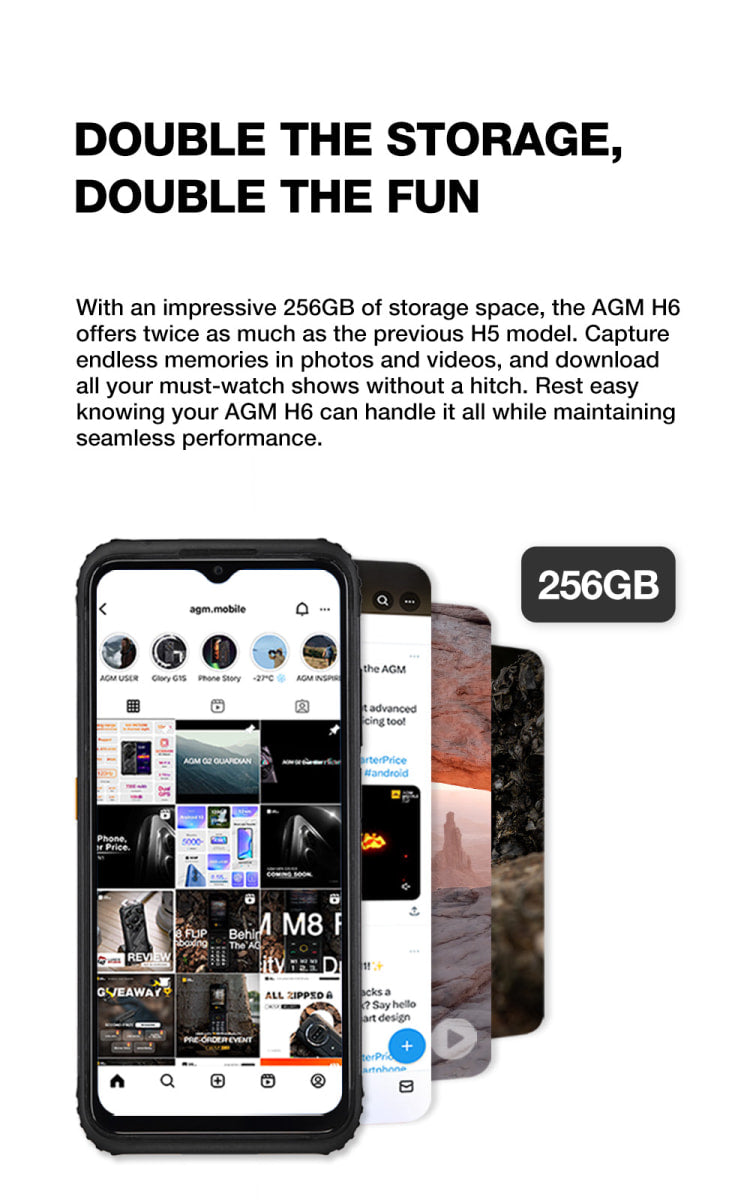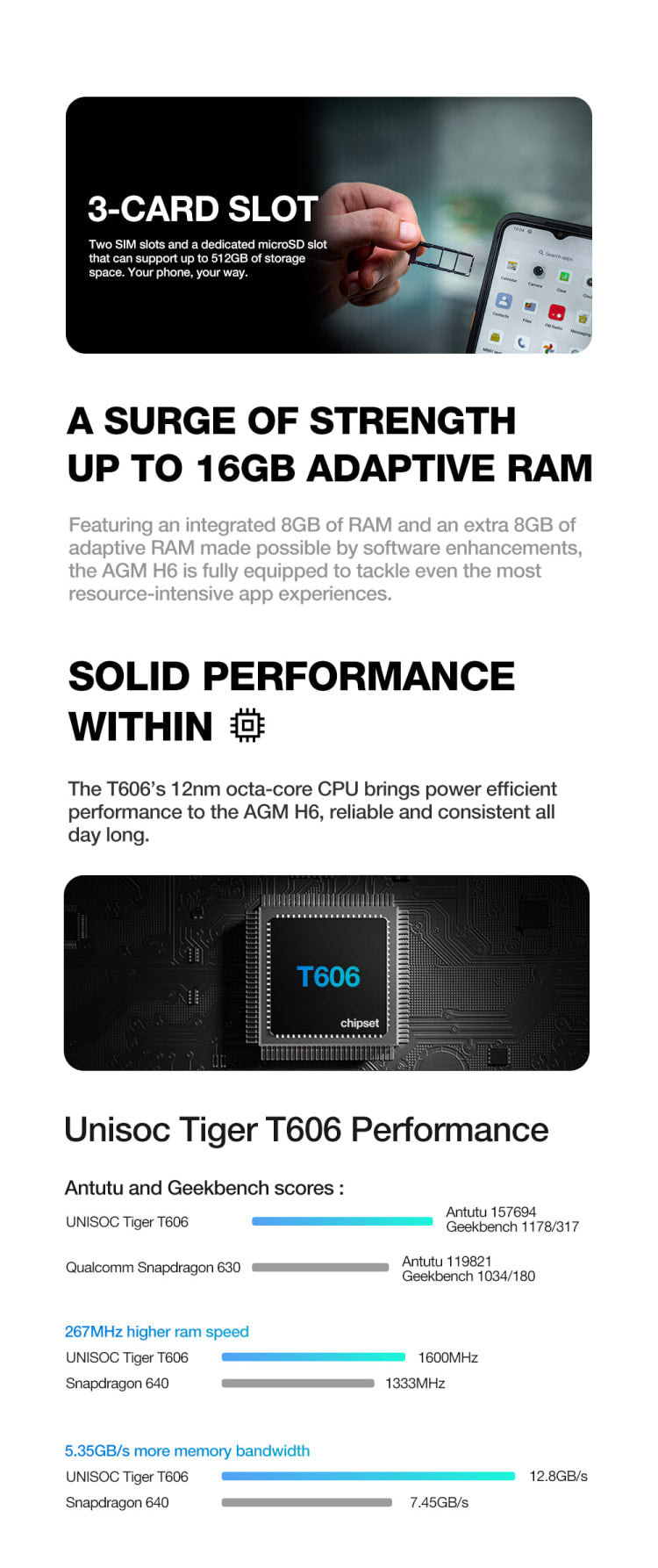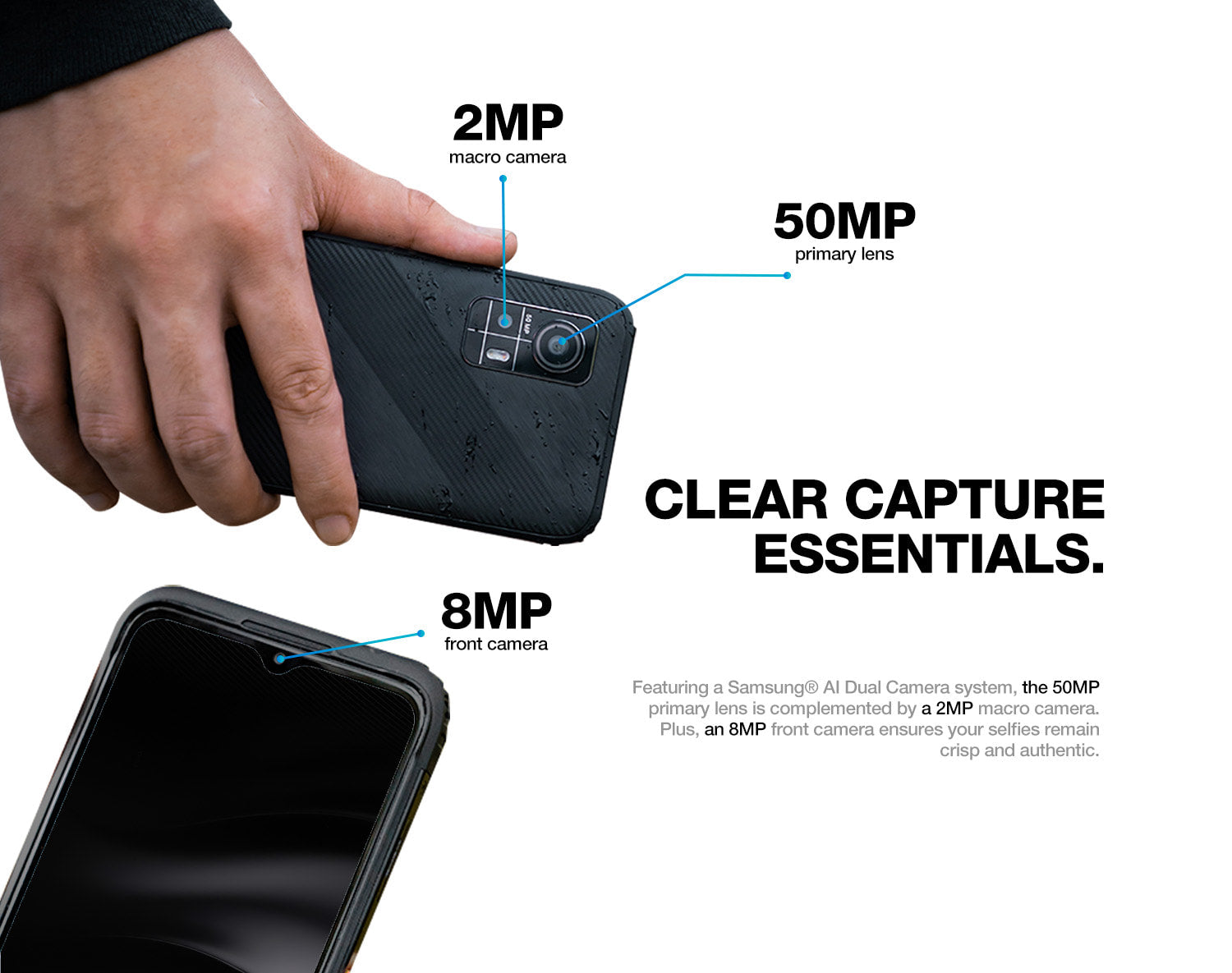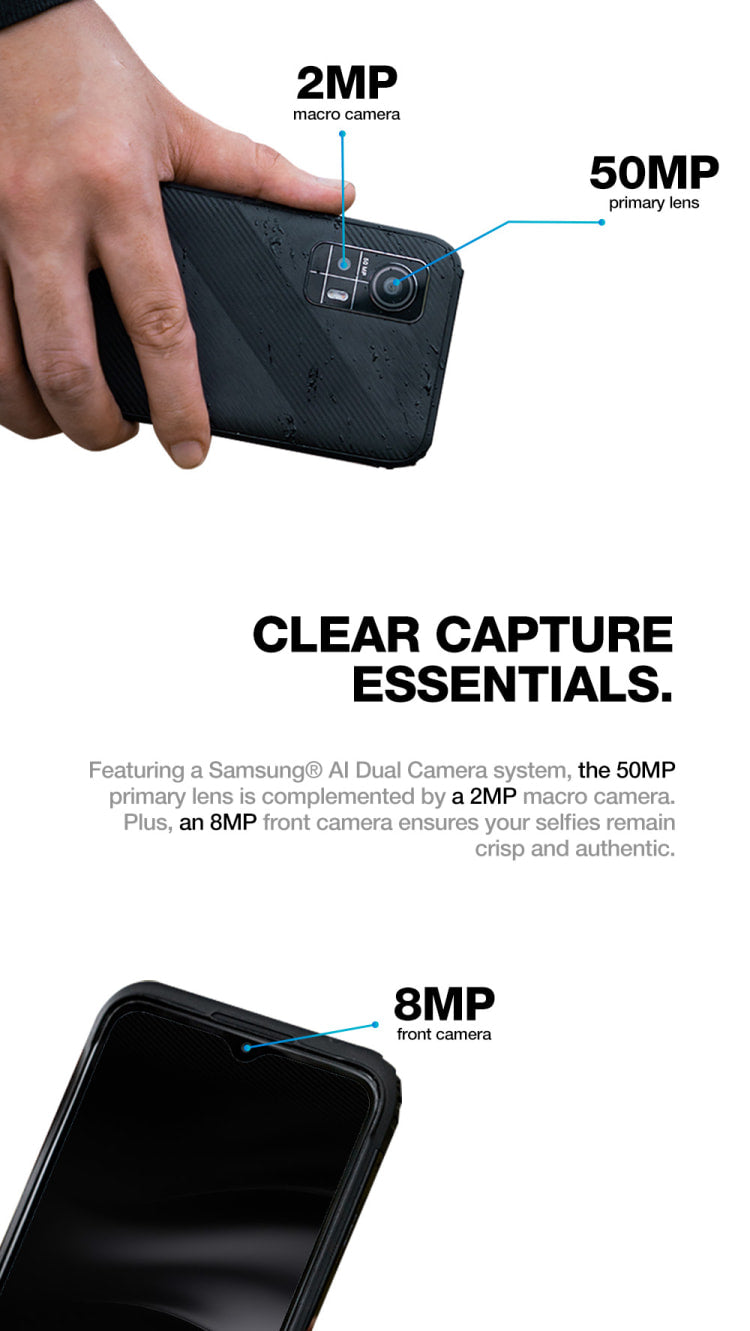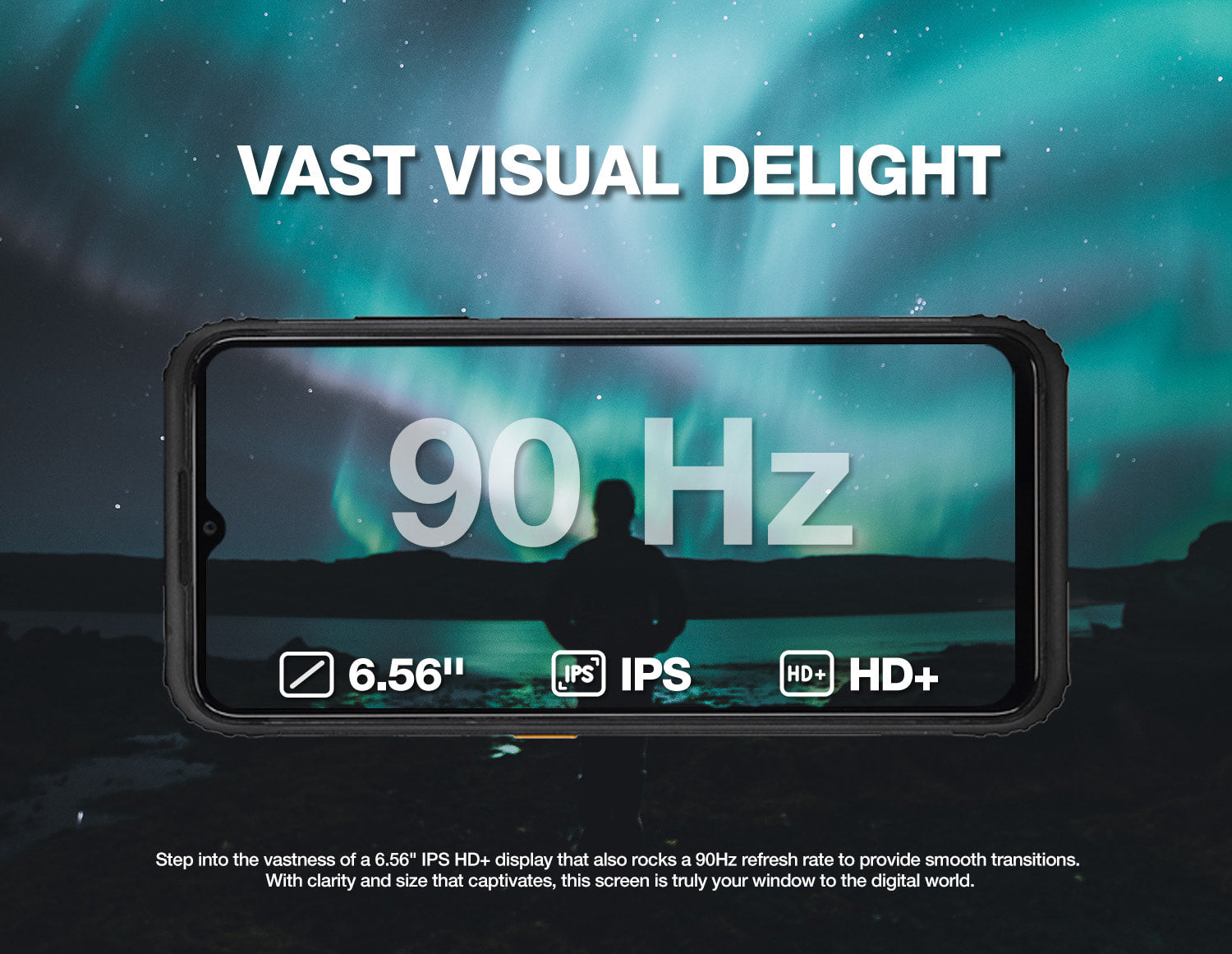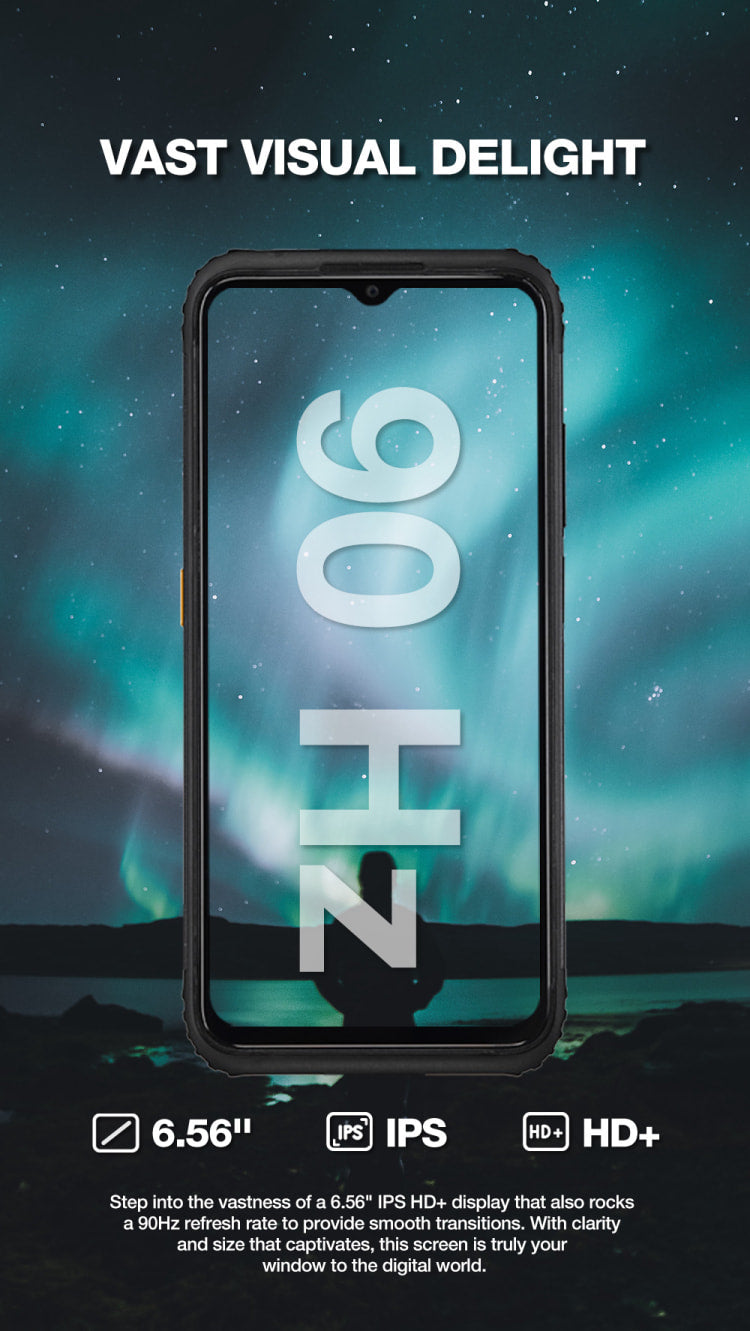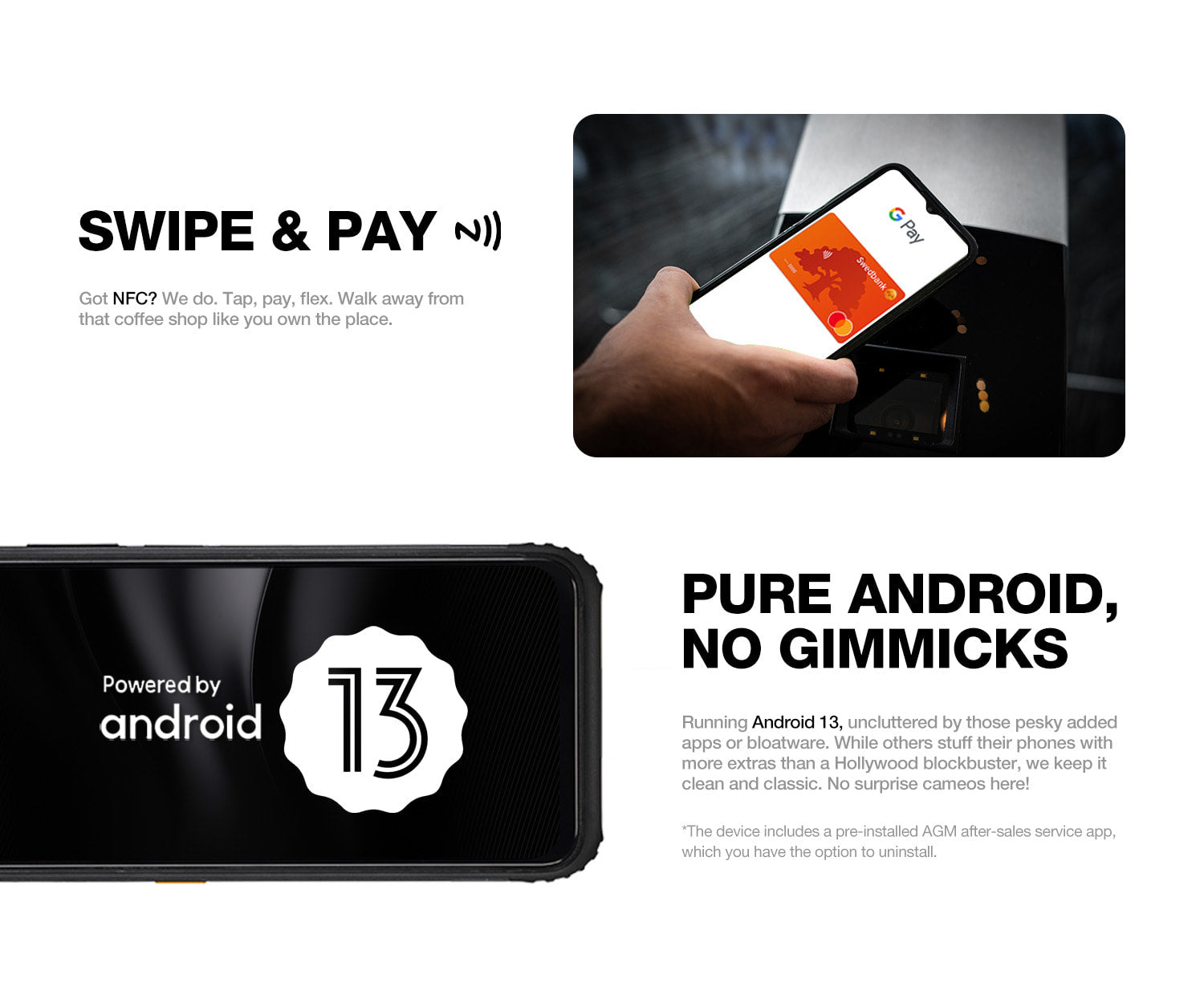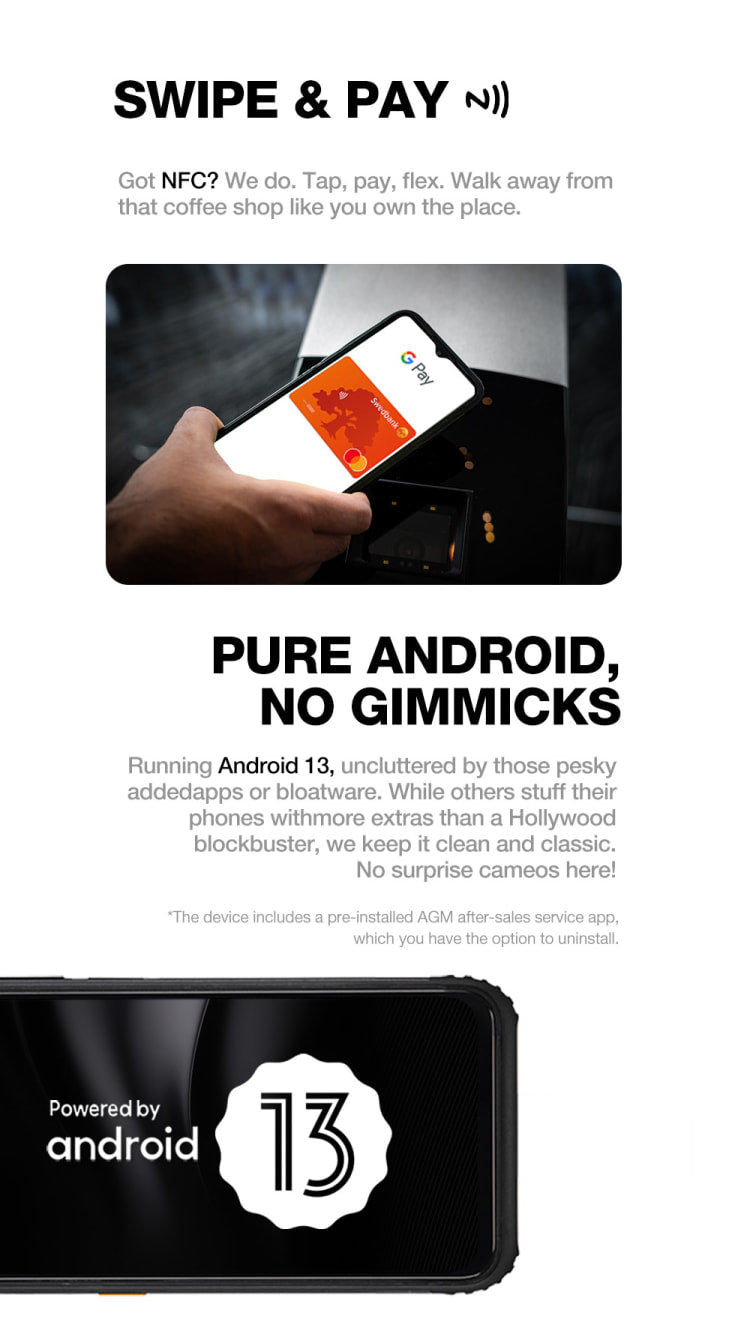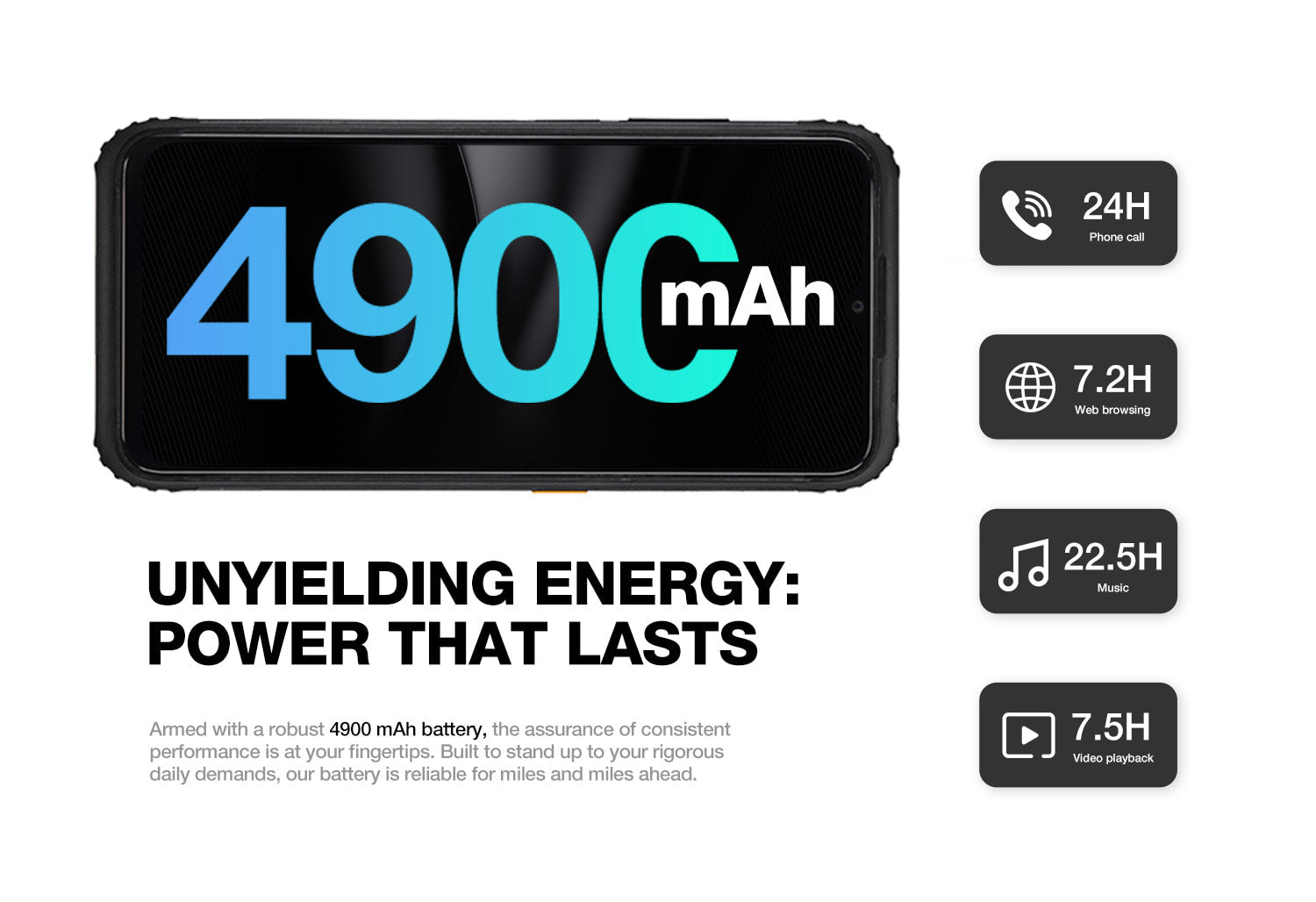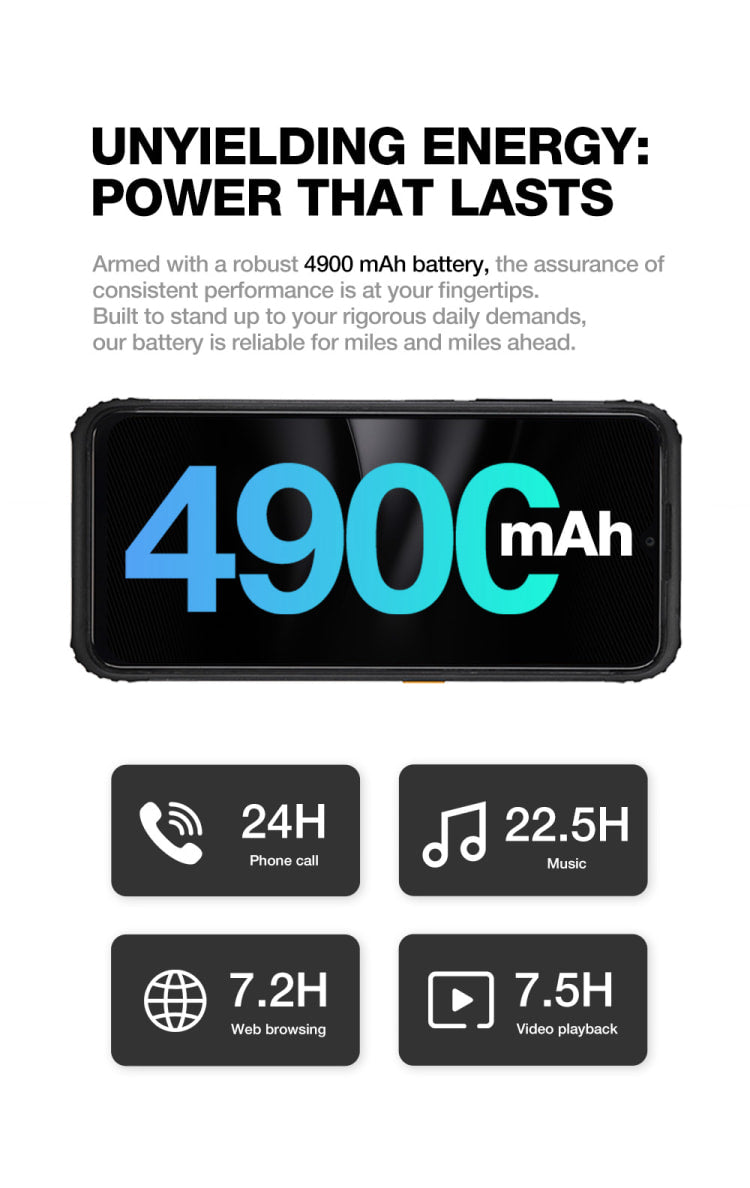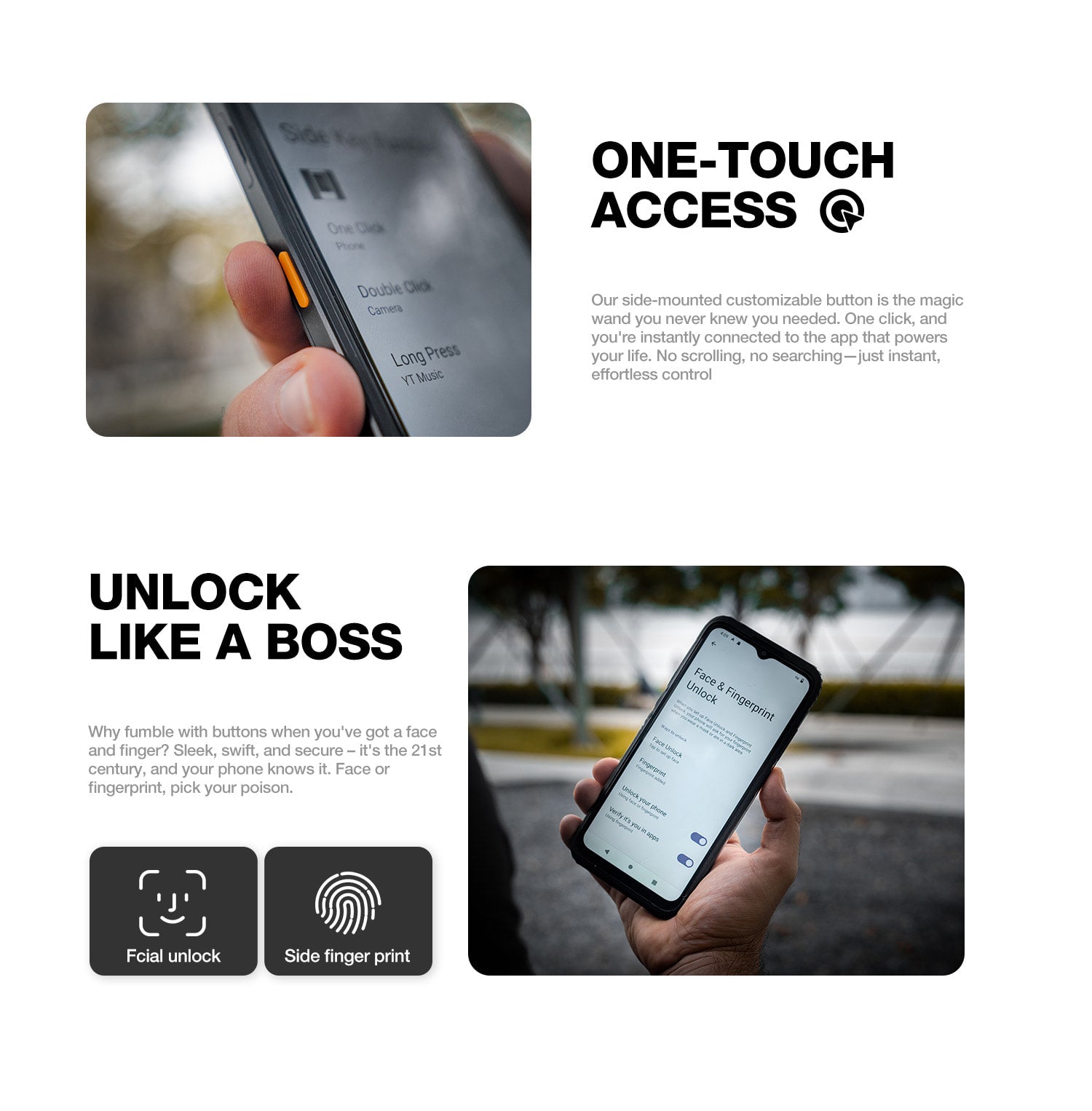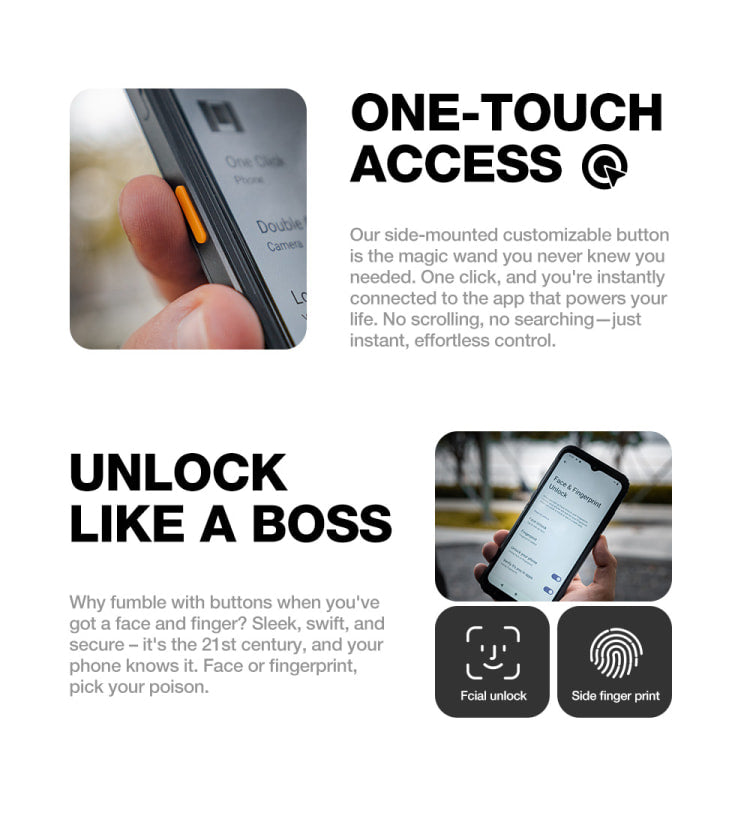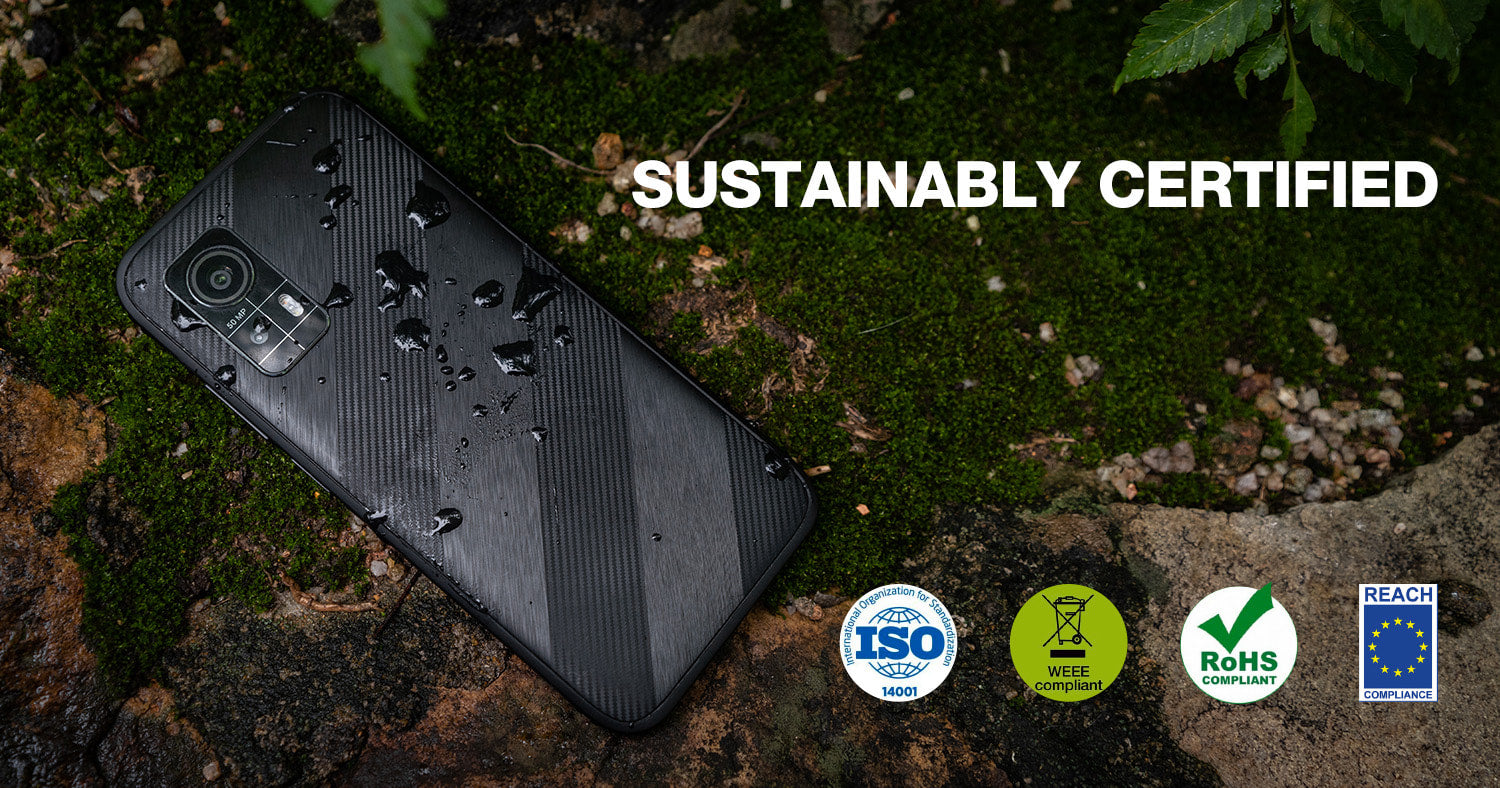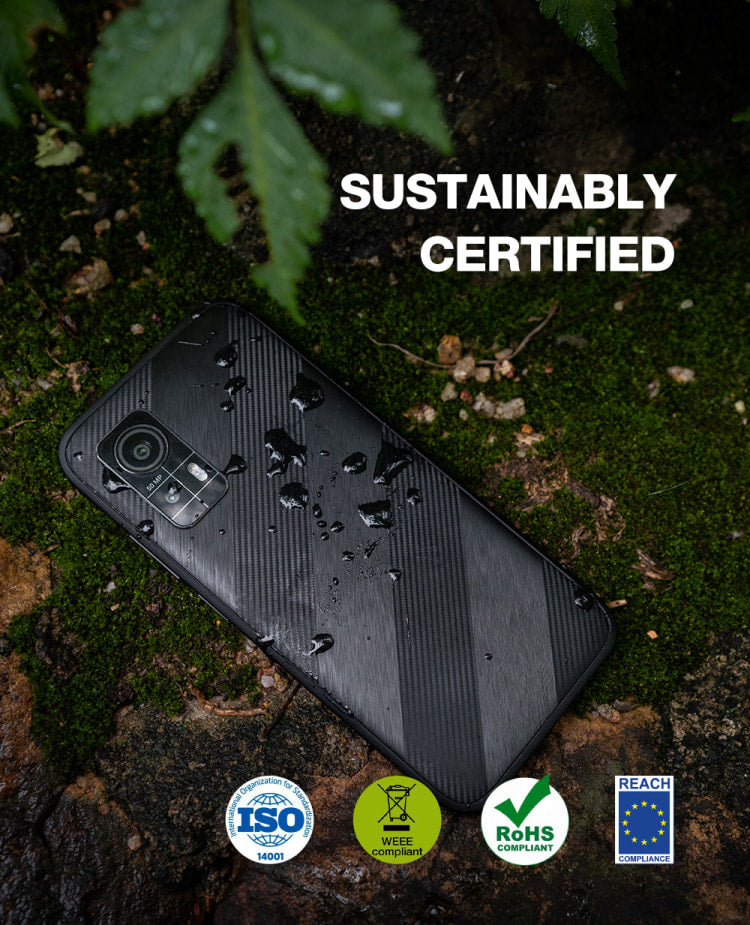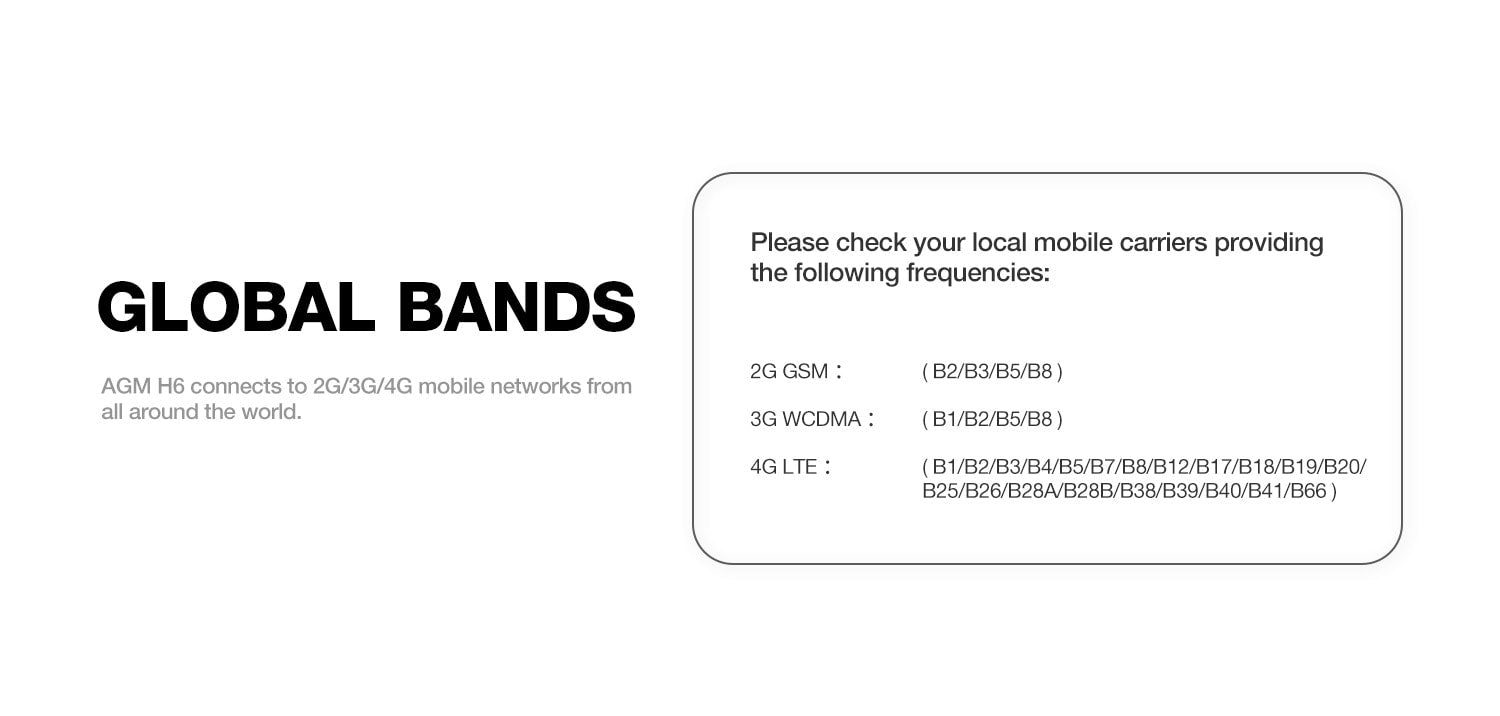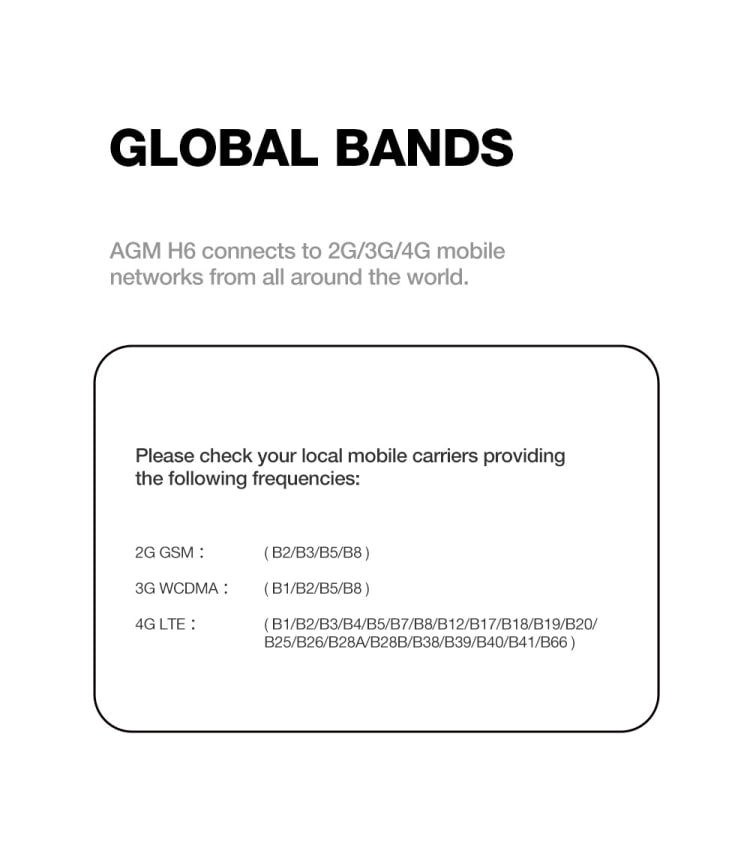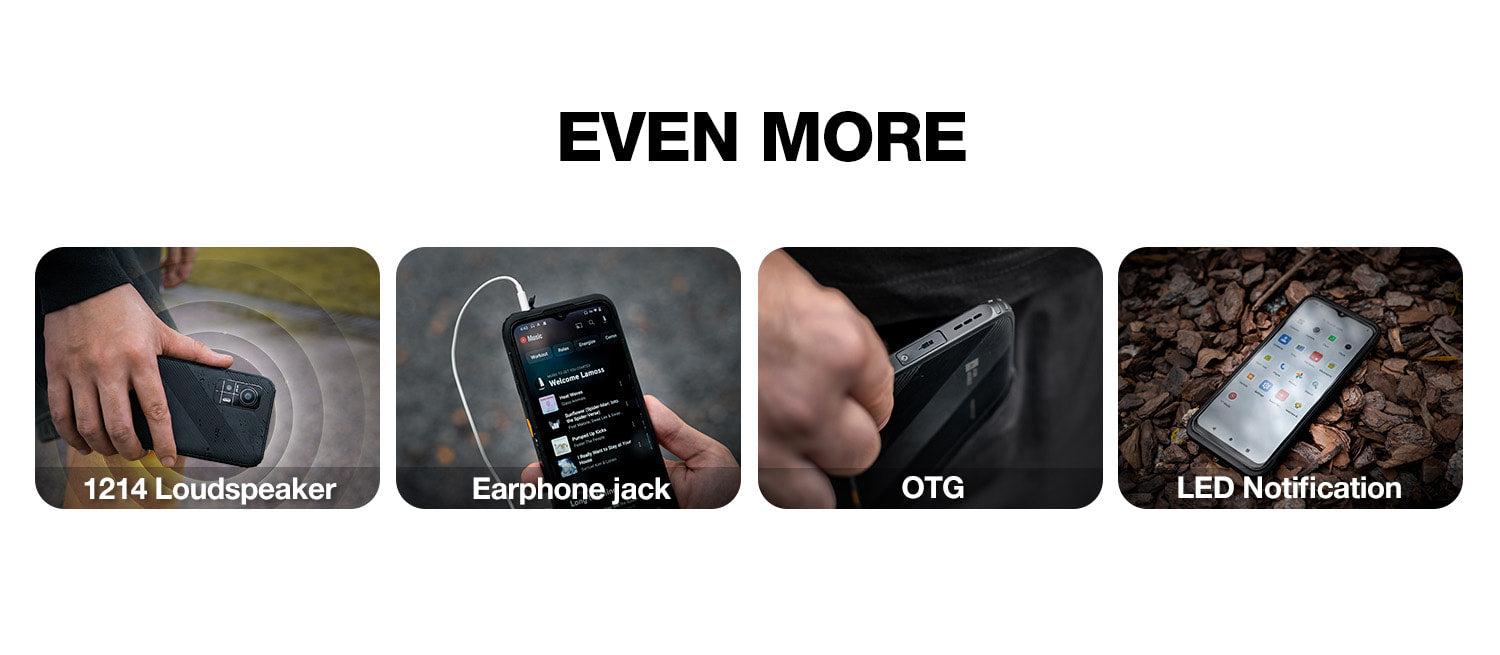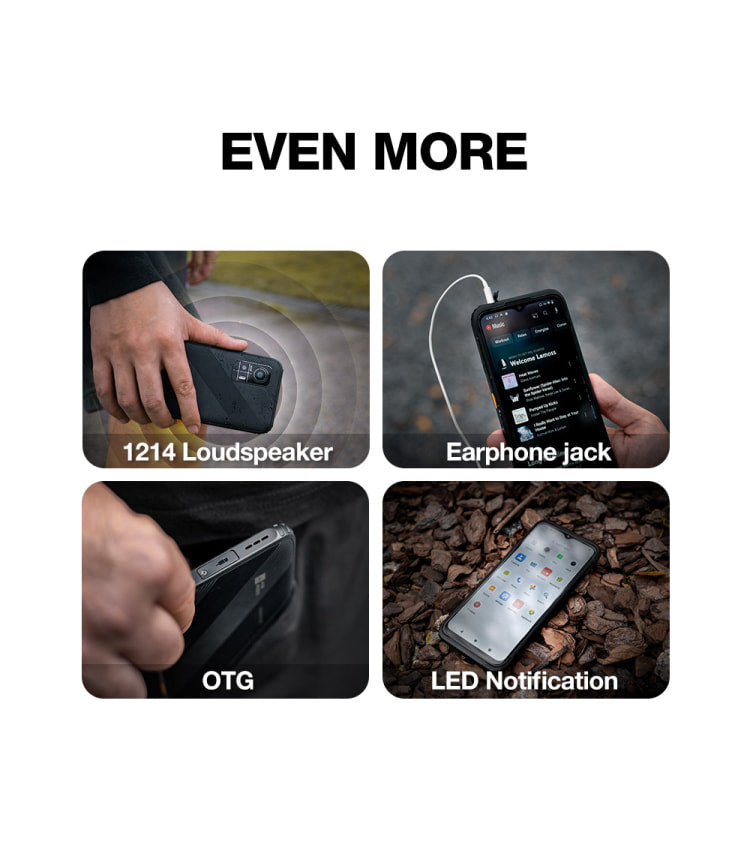 European (domestic) frequency band
GSM:B2/B3/B5/B8 CDMA:NA
WCDMA:B1/B2/B5/B8
LTE:B1/B2/B3/B4/B5/B7/B8/B12/B17/B18/B19/B20/B25/B26/28AB/B38/B39/B40/B41/B66
Carrier storage requirements
FCC/CE/GMS/CTA/Rohs/Reach
Dual nano card slots + TF card (choose two from three)
physical dimension: 171.9 x 79.6 x 10.75mm
Body weight: (including battery) 240
smart button:Customizable button
Overseas operating system version: Android 13 (native)
operating system version: Android 13 (custom)
platform name:Spreadtrum T606 octa-core 2*A75@1.6GHz + 6*A55@1.6GHz
MIL STD 810H, IP68, IP69K
Number of card slots: Dual nano card slots + T card (choose two from three)
capacity: 256GB+8GB/UMCP
Extended storage (T card): 512GB
screen size: 6.56"
resolution: HD+ 20:9
Resolution value: 720*1612
Other characteristic requirements
pixel: 50MP (main camera) + 2MP (macro)
sensor: Samsung JN1+GC02M1
flash: Support 1A*2PCS
other request: none
pixel: 8MP
sensor: Samsung 4H7
flash: none
other request: none
light sensor: support
distance sensor: support
Gravity Acceleration Sensor: support
Geomagnetism: support
side fingerprints: support
other: none
Interface Type:Type-C USB2.0
headphone jack form: 3.5mm headphone jack
Mic: Main MIC (SMD silicon microphone)
amplifier: External audio PA/OCA
trumpet: 1217 Half Box
headphone sound: not support
Sound direction: bottom out
GPS+Beidou+Galileo
Dual Frequency Positioning: not support
differential positioning: not support
WLAN protocol:Support 2.4G (802.11 bgn ac), 5G
Bluetooth: V5.0
NFC: support (13.56MHz)
radio: support
wireless charging: not support
other: none
indicator light: Three-color light
flashlight: There is no separate flashlight, the flash is implemented
Charger: not support
flashlight button: not support
Button backlight: not support
Advertised Capacity (Typical): 4900mAh (typ)
installation method: built-in
charging requirements: Support 5V2A
charging time: Compliant with AGM company standards
Packaging and accessories requirements
box type: Corrugated box with glued sides
charger: with, 5V2A
Battery: bring
USB data cable: Belt, Type-C
manual: bring
leather case: bring
protective film: bring
other: Customized, according to AGM requirements
Q1: How can I extend the battery life of my phone?

A1: To extend the battery life of your phone, you can take the following measures:

Reduce screen brightness.
Close unnecessary background apps.
Use power-saving mode (if available).
Reduce auto-sync and push notifications.
Turn off features like Bluetooth, Wi-Fi, and GPS when not in use.
Q2: Why is my phone slowing down?

A2: Your phone may slow down due to various reasons, including:

Insufficient storage space.
Too many background-running apps.
Need for software updates.
Software or operating system issues.
Solutions include clearing unnecessary files, closing background apps, updating software and the operating system, and restarting the phone.
Q3: How can I back up my phone data?

A3: You can back up your phone data using the following methods:

Use cloud storage services (such as Google Drive or iCloud).
Connect your phone to a computer and manually copy files.
Use backup apps (such as Samsung Smart Switch).
Export data to an SD card or external storage device.
Q4: What should I do if my phone is stolen?

A4: If your phone is stolen, you should take the following steps immediately:

Report the theft to local authorities and file a police report.
Contact your mobile carrier to deactivate the SIM card.
Remotely lock or erase your phone's data if anti-theft features are enabled.
Change your passwords and security settings to prevent personal information leakage.
Q5: How do I set a lock screen password on my phone?

A5: The steps to set a lock screen password depend on your phone's model and operating system. Typically, you can find the "Security" or "Lock Screen" option in settings, then choose to set a password, pattern, or PIN.

Q6: My phone screen is cracked; can it be repaired?

A6: Damaged phone screens can often be repaired, but the repair cost may be expensive and depends on the phone model and the extent of damage. You can contact the phone manufacturer or a third-party repair service center to get a repair quote when you are out of warranty period.

Q7: How can I prevent viruses and malware on my phone?

A7: To prevent viruses and malware on your phone, you can take the following preventive measures:

Only download apps from official app stores.
Avoid clicking on unfamiliar links or attachments.
Install trusted security apps.
Regularly update the operating system and apps.
Enable phone security settings such as screen lock and remote locking features.