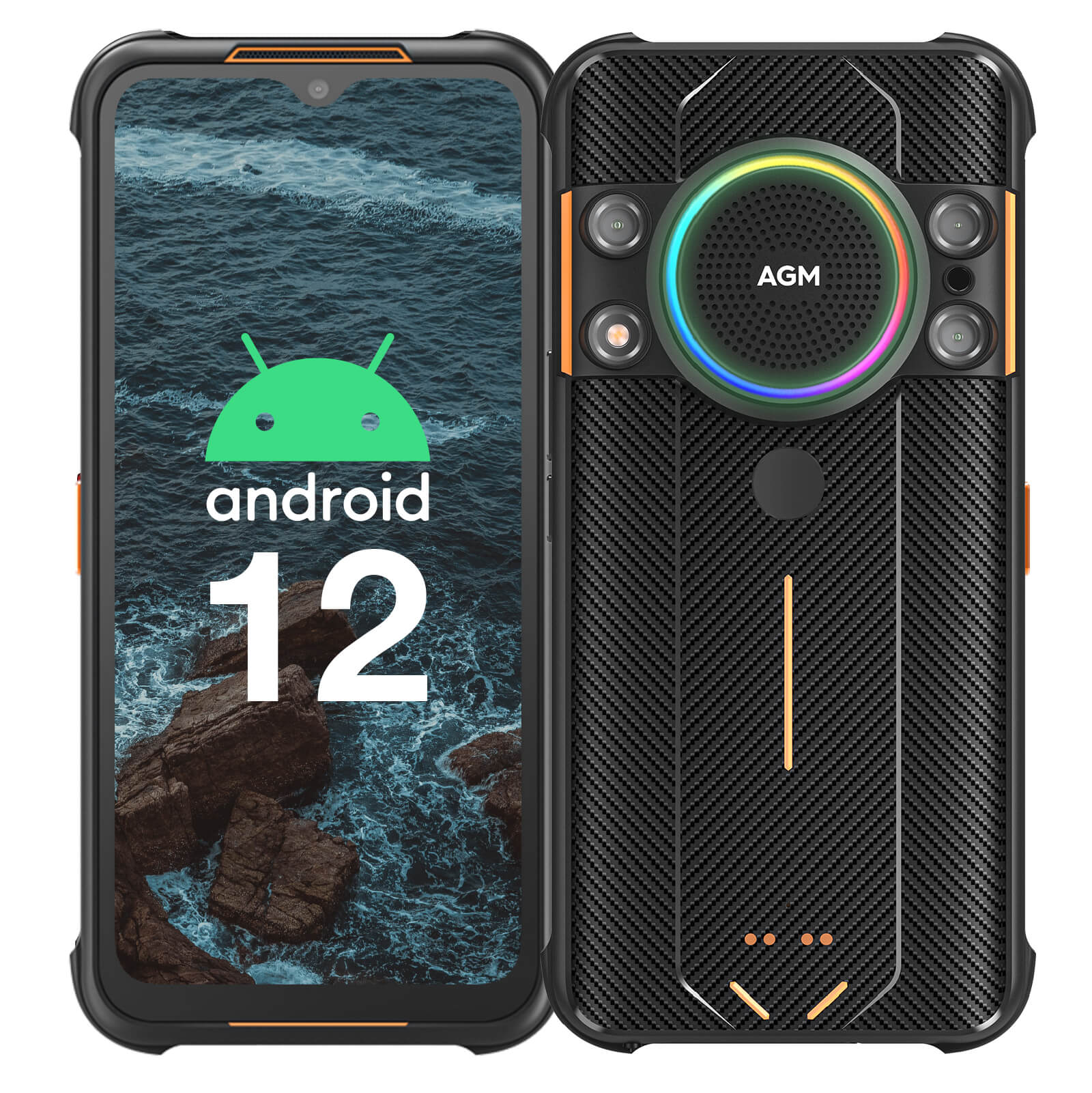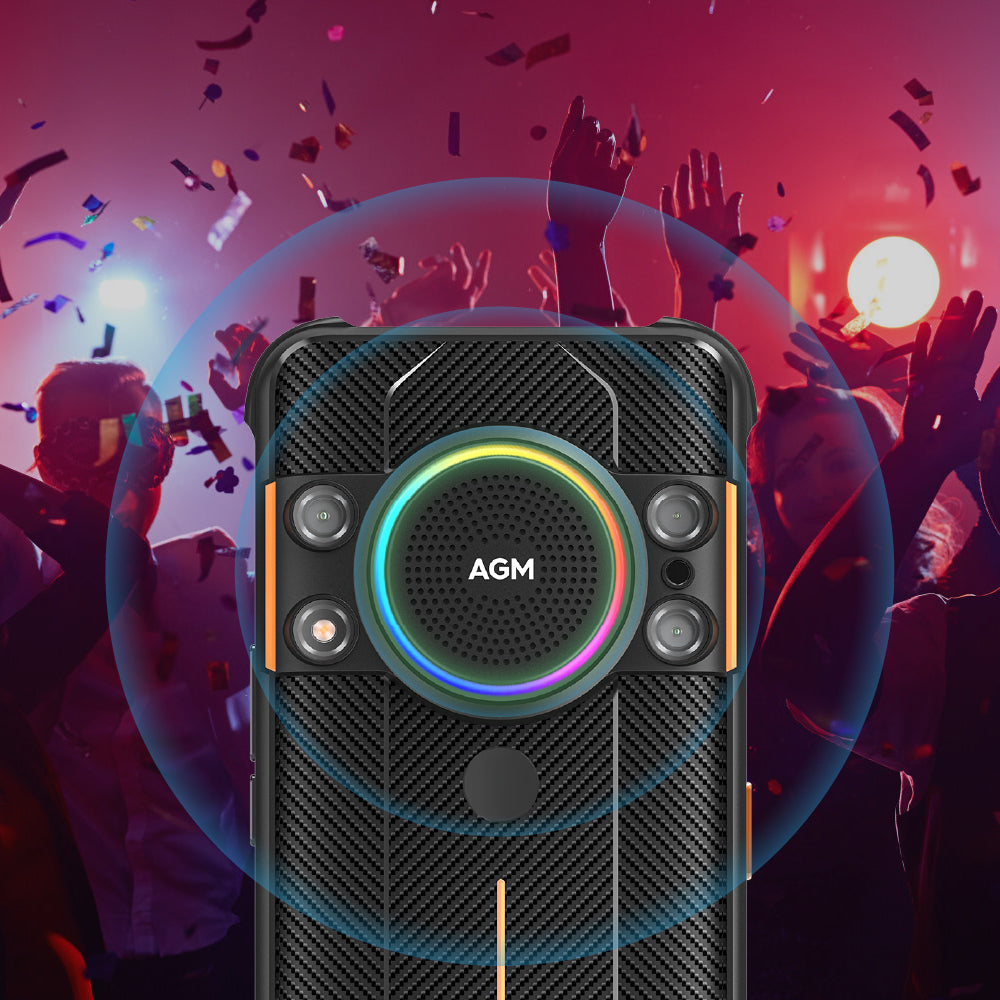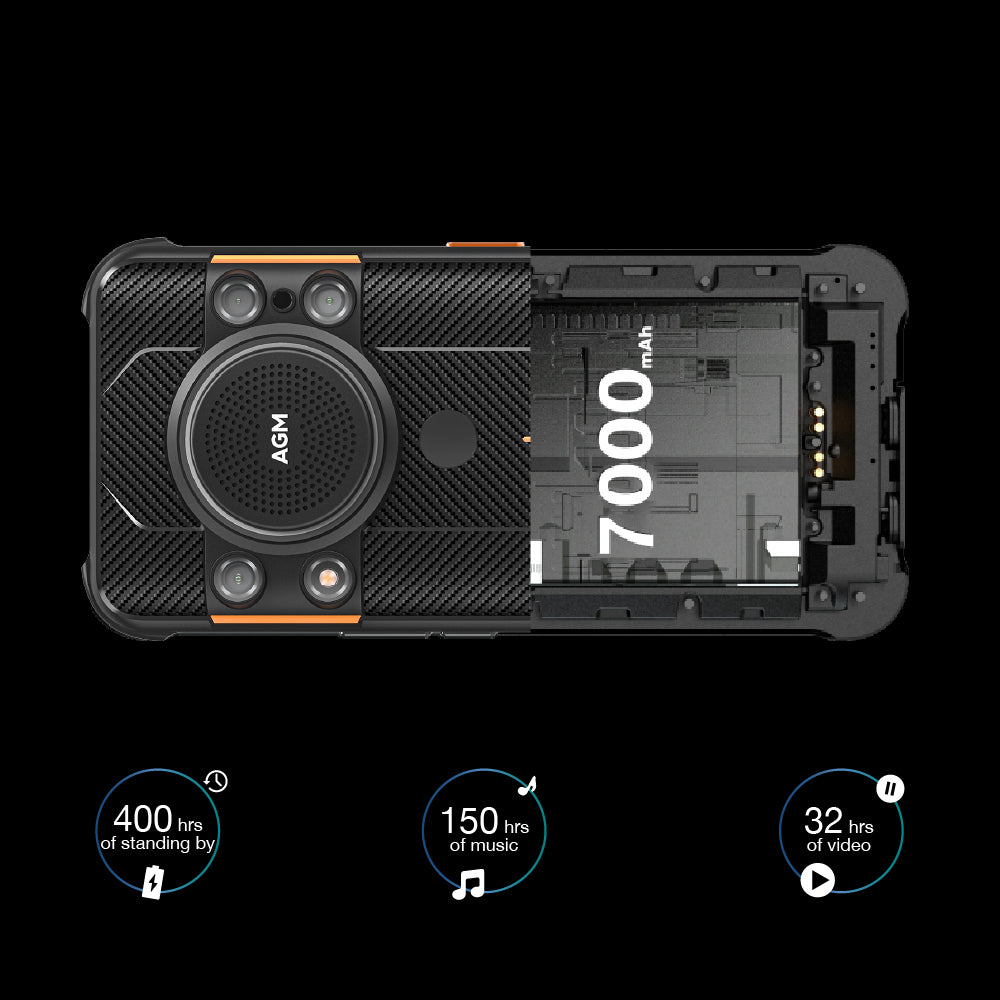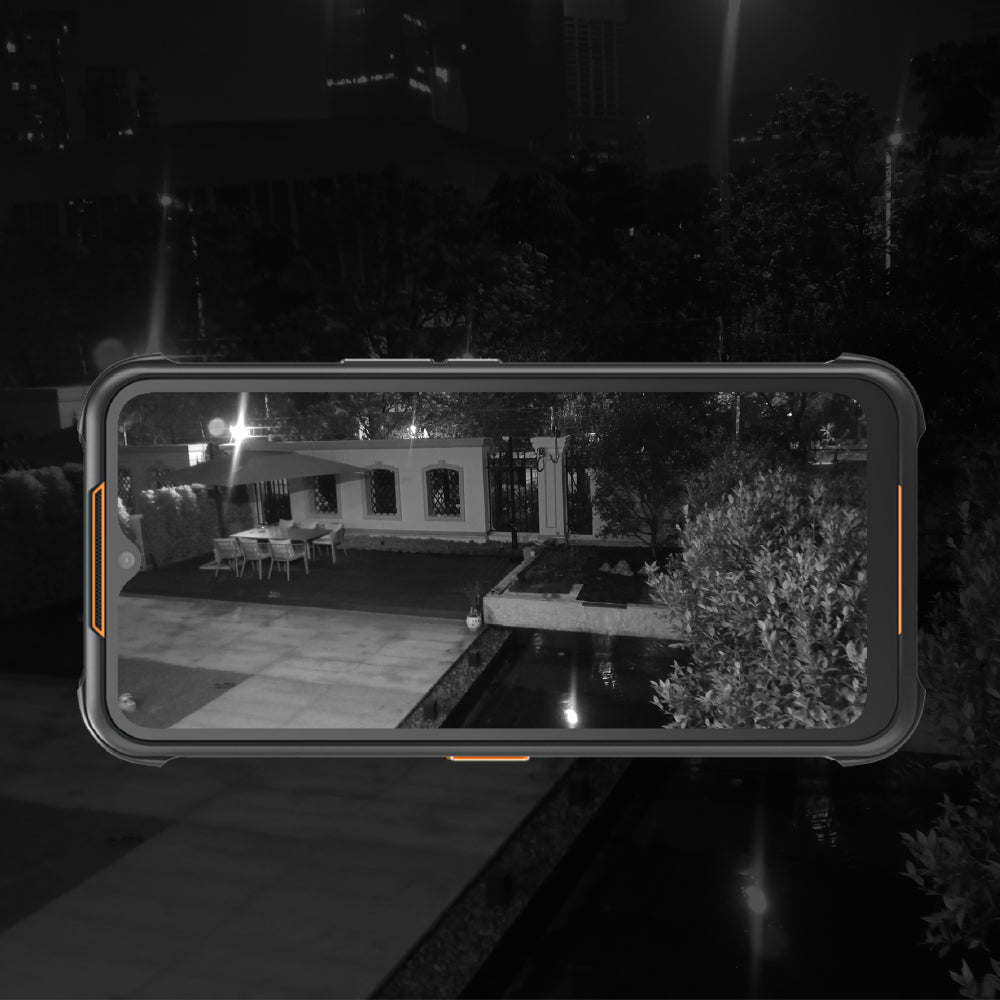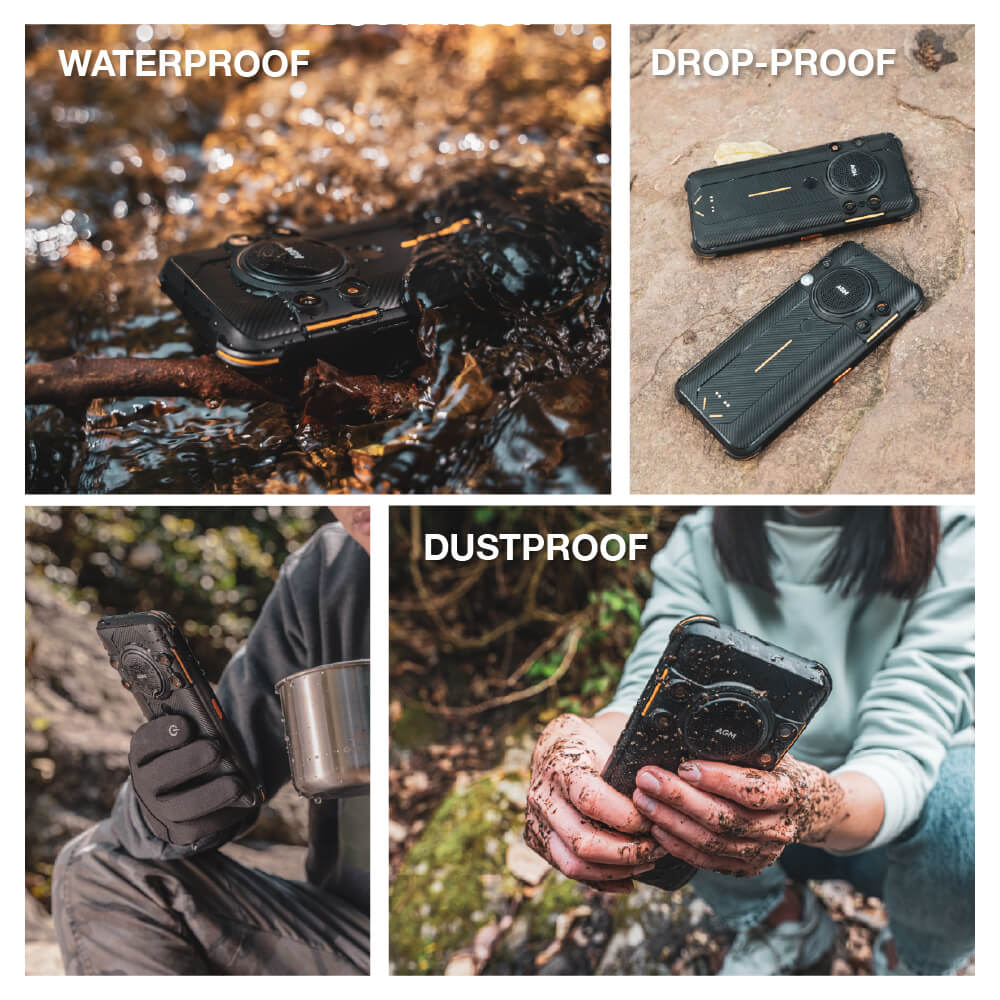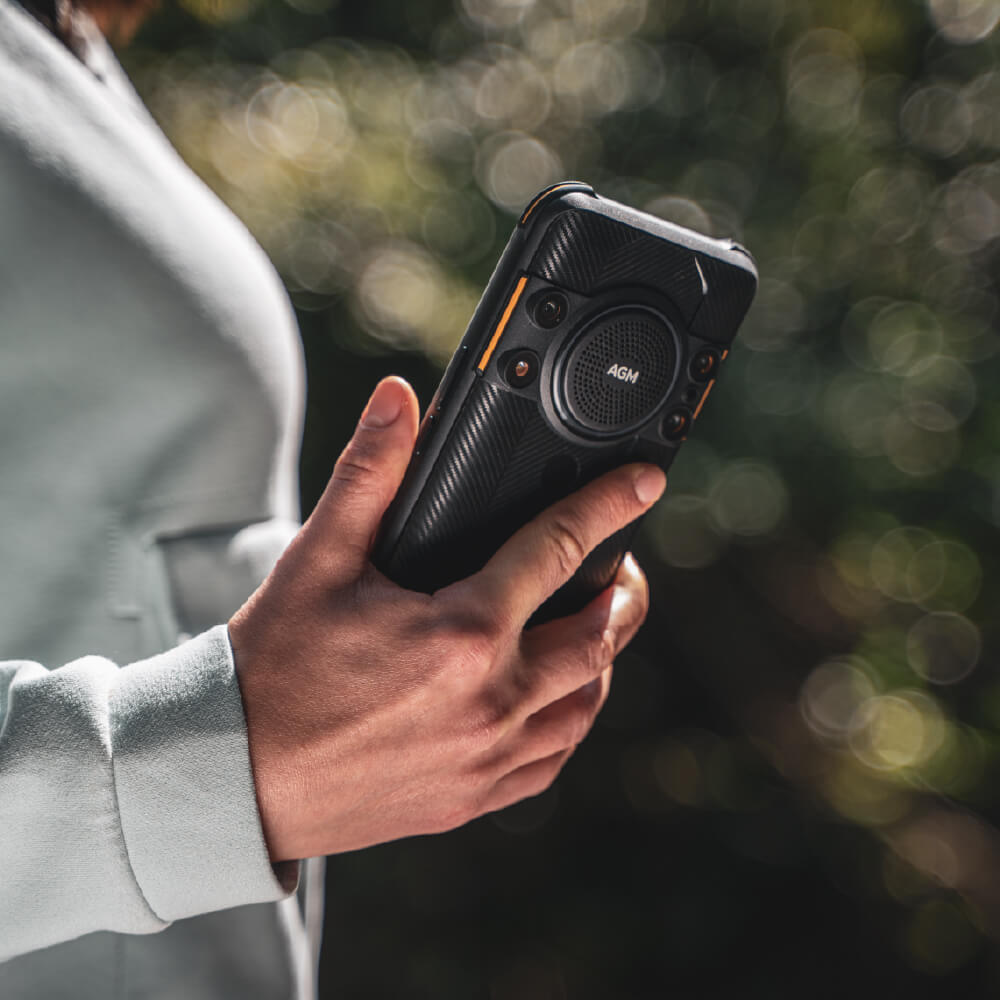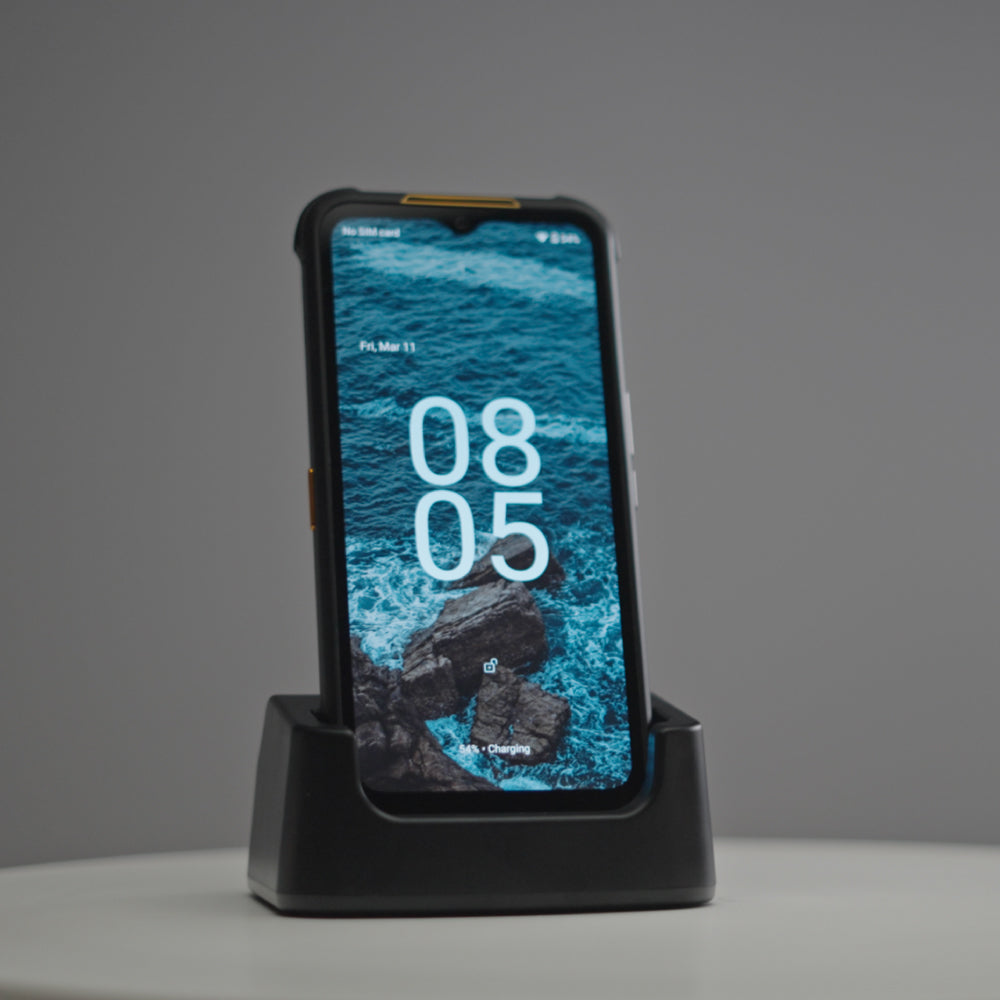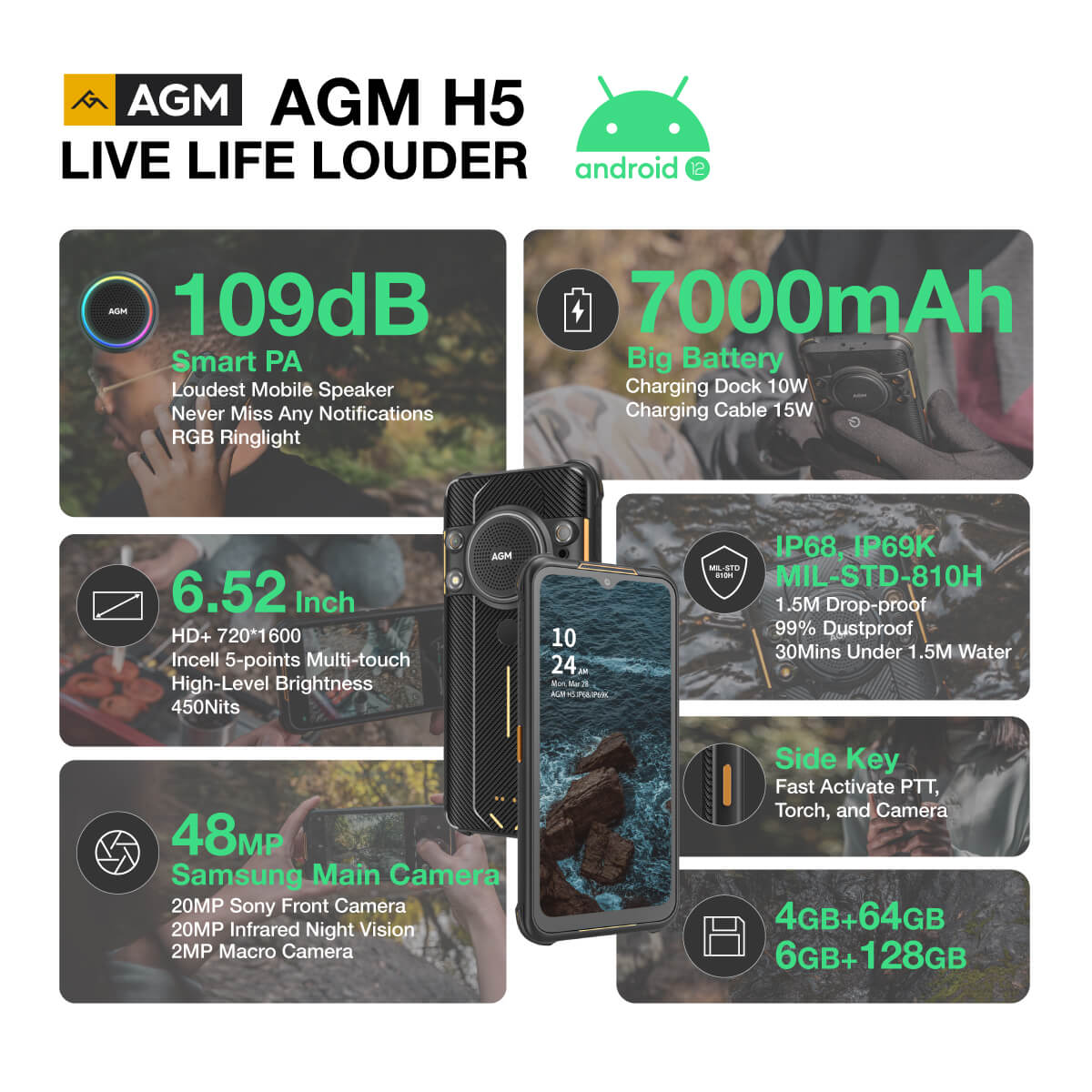 AGM H5 | Android 12 | Rugged Smartphone | 109dB Loudest Speaker
🔊Maximum 109dB World's Loudest Phone Speaker
🔋7000mAh Long Lasting Battery
📱First Android 12 Rugged Smartphone
📷20MP Infrared Night Vision Camera
💪IP68/IP69K/MIL-STD-810H
Accessories:
Without Charging Dock
【The World's Loudest Mobile Speaker】
The AGM H5 has the world's loudest mobile speaker, and its volume can reach 109 dB. It means your phone can be loud like an average house alarm

【The First-ever Stock Android 12 Rugged Smartphone】
The AGM H5 embraces the latest Android 12, bringing it into the world of Rugged Phones. The Android 12 allows you to customize your system like never before, alongside its most advanced privacy protection. Lock up your data in the toughest safe box!

【Tri-Camera Imaging System with a 48MP Main Camera】
Capture the details with H5's tri-camera imaging system. It equips a 48MP main camera, a 20MP infrared night vision camera, and a 2MP macro camera. Don't forget its 20MP front camera.

【An Extensive 7000mAh Battery】
The AGM H5 has the largest battery AGM has ever made. The 7000mAh battery supports the phone for 400 hours standby, 150 hours of non-stop music, and 32 hours of video playback. Keep your party going on and longer. (Charging dock available)

【IP68/IP69K/MIL-STD-810H】
The AGM H5 can survive drops from 1.5 meters, 99% dust, and 30 minutes under 1.5 meters of water. It's not about standards; it is about toughness. While reinforcing the corners to give the entire structure extra toughness.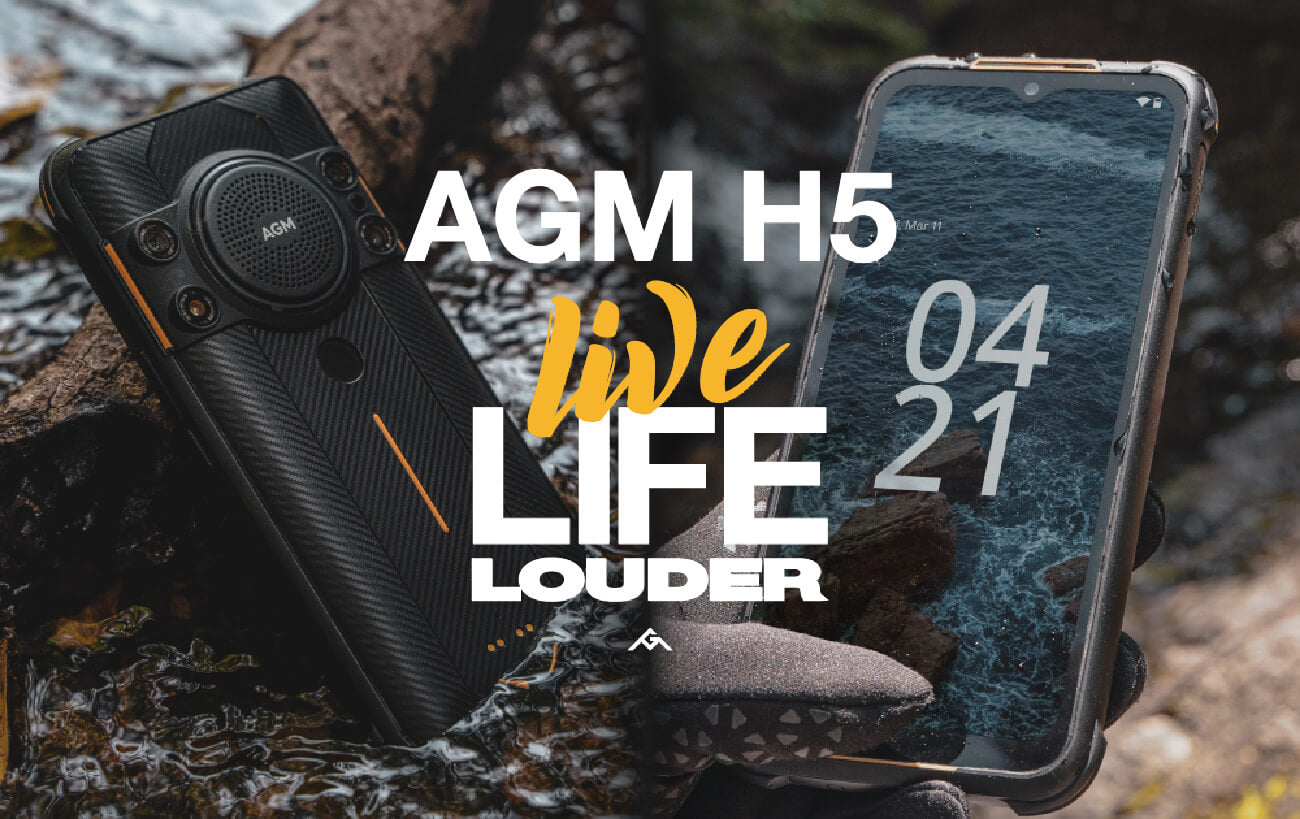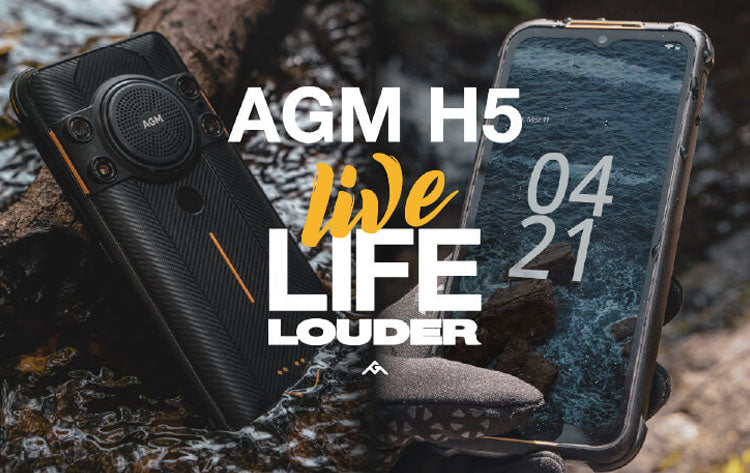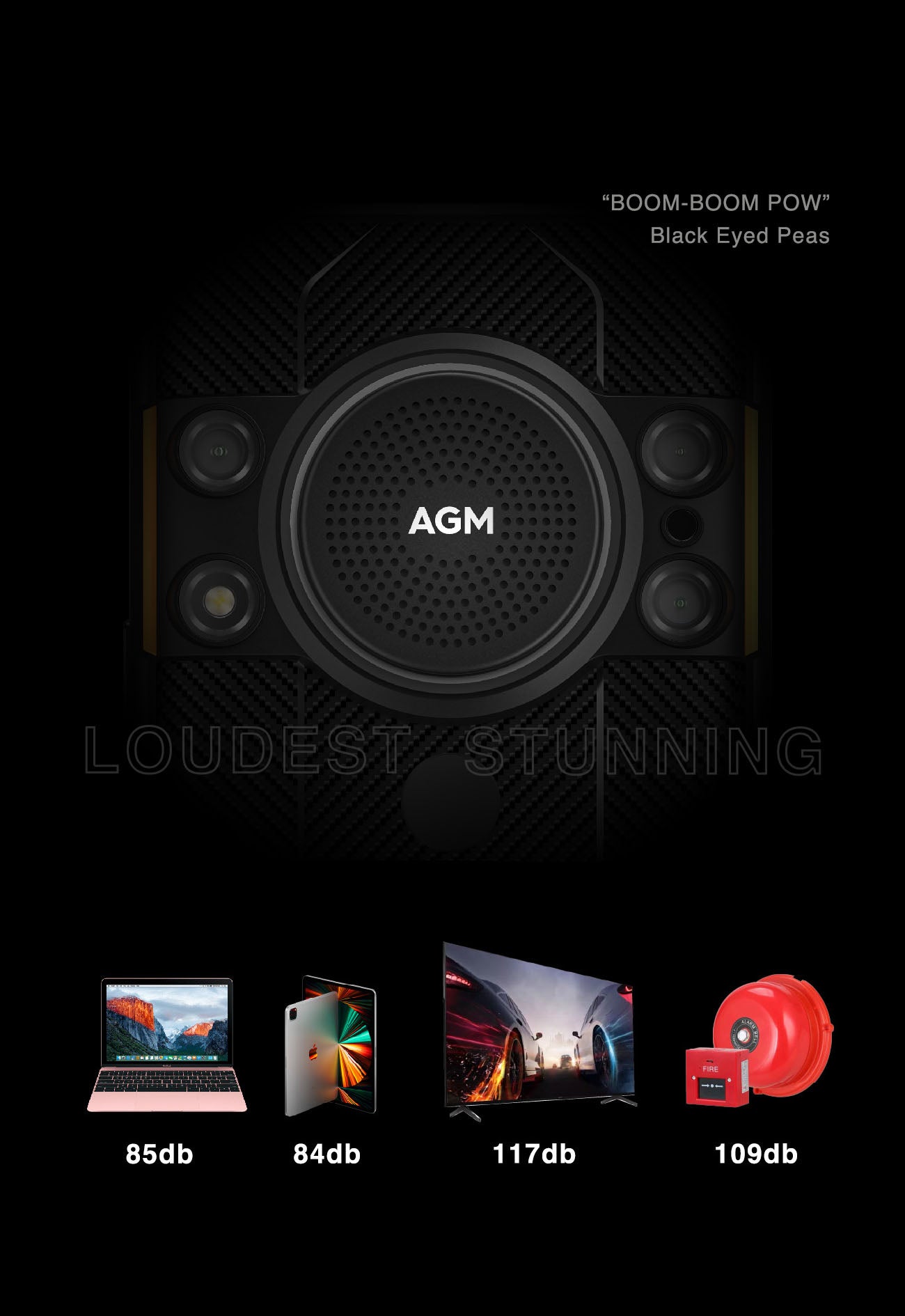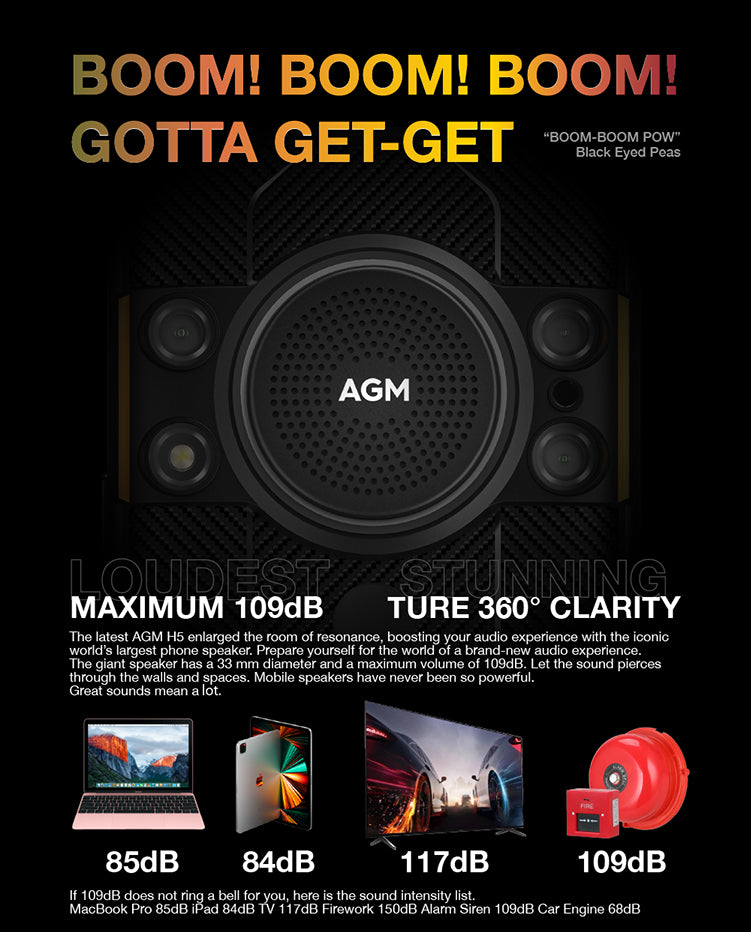 BOOM! BOOM! BOOM! GOTTA GET-GET
MAXIMUM 109dB
TRUE 360° CLARITY
The latest AGM H5 enlarged the room of resonance, boosting your audio experience with the iconic world's loudest phone speaker. Prepare yourself for the world of a brand-new audio experience. The giant speaker has a 33mm diameter and a maximum volume of 109dB. Let the sound pierce through the walls and spaces. Mobile speakers have never been so powerful. Great sounds mean a lot.
If 109dB does not ring a bell for you, here is the sound intensity list. MacBook Pro 85dB iPad 84dB TV 117dB Firework 150dB Alarm Siren 109dB Car Engine 68dB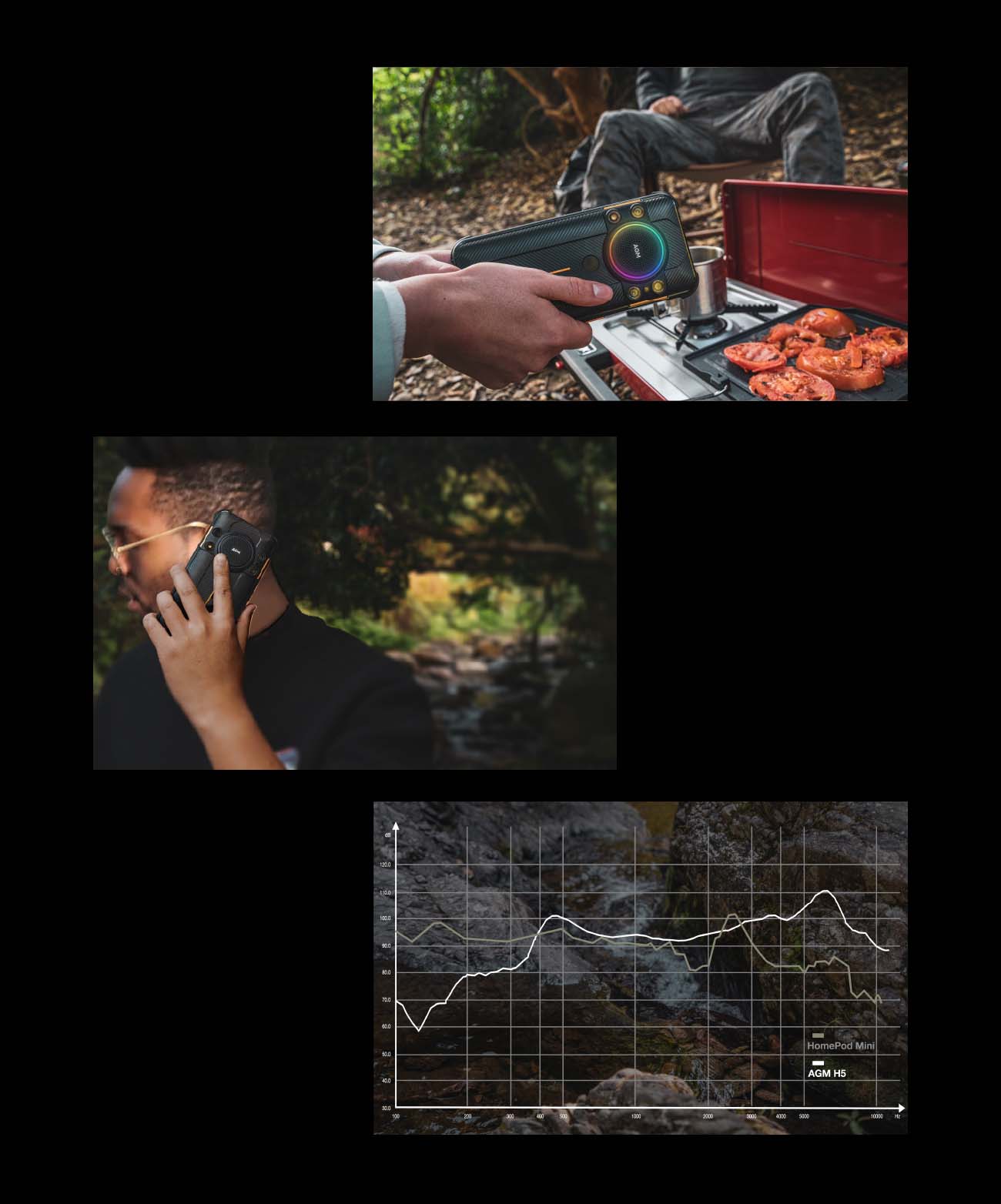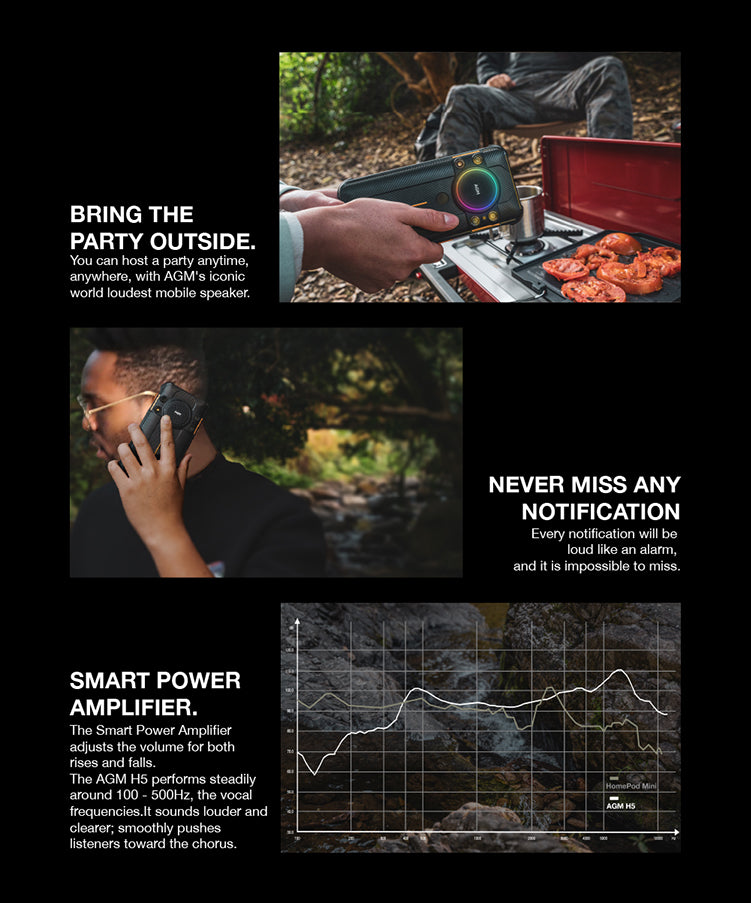 BRING THE PARTY OUTSIDE.
You can host a party anytime, anywhere, with AGM's iconic world's loudest mobile speaker.
NEVER MISS ANY NOTIFICATIONS.
Every notification will be loud like an alarm, and it is impossible to miss.
SMART POWER AMPLIFIER.
The Smart Power Amplifier adjusts the volume for both rises and falls.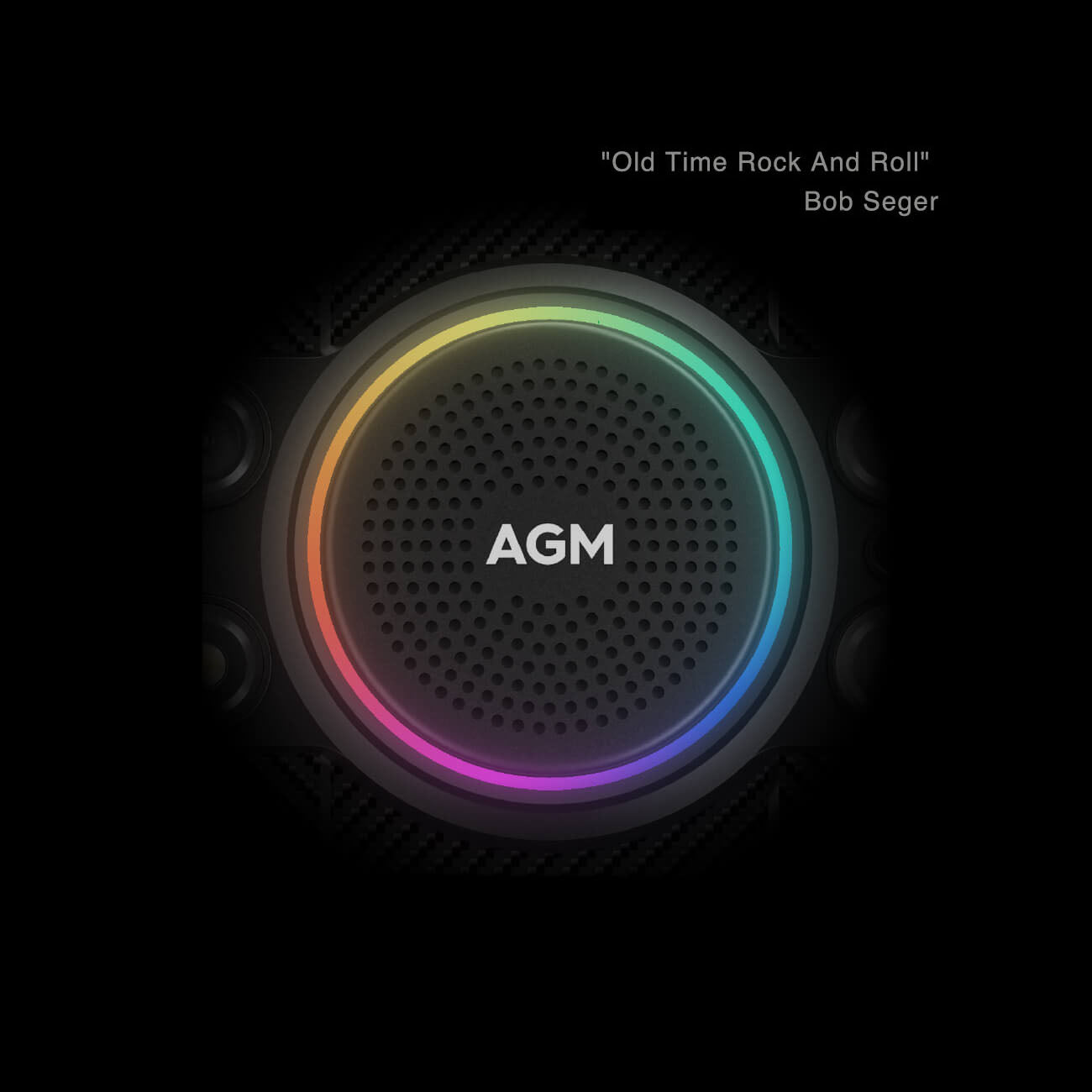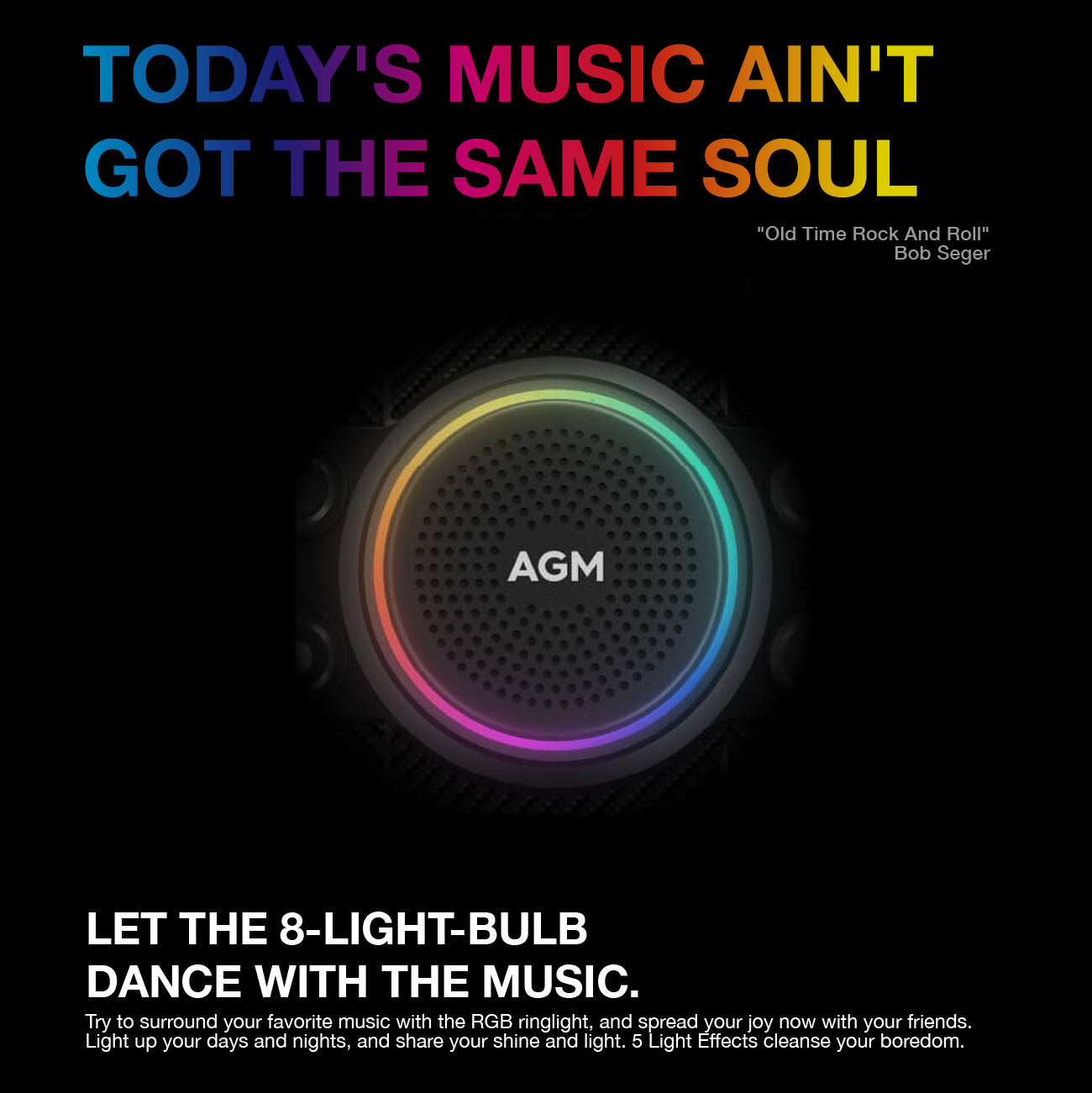 Today's music ain't got the same soul!
Let the 8-light-bulb dance with the music.
Try to surround your favorite music with the RGB ringlight, and spread your joy now with your friends. Light up your days and nights, and share your shine and light. 5 Light Effects cleanse your boredom.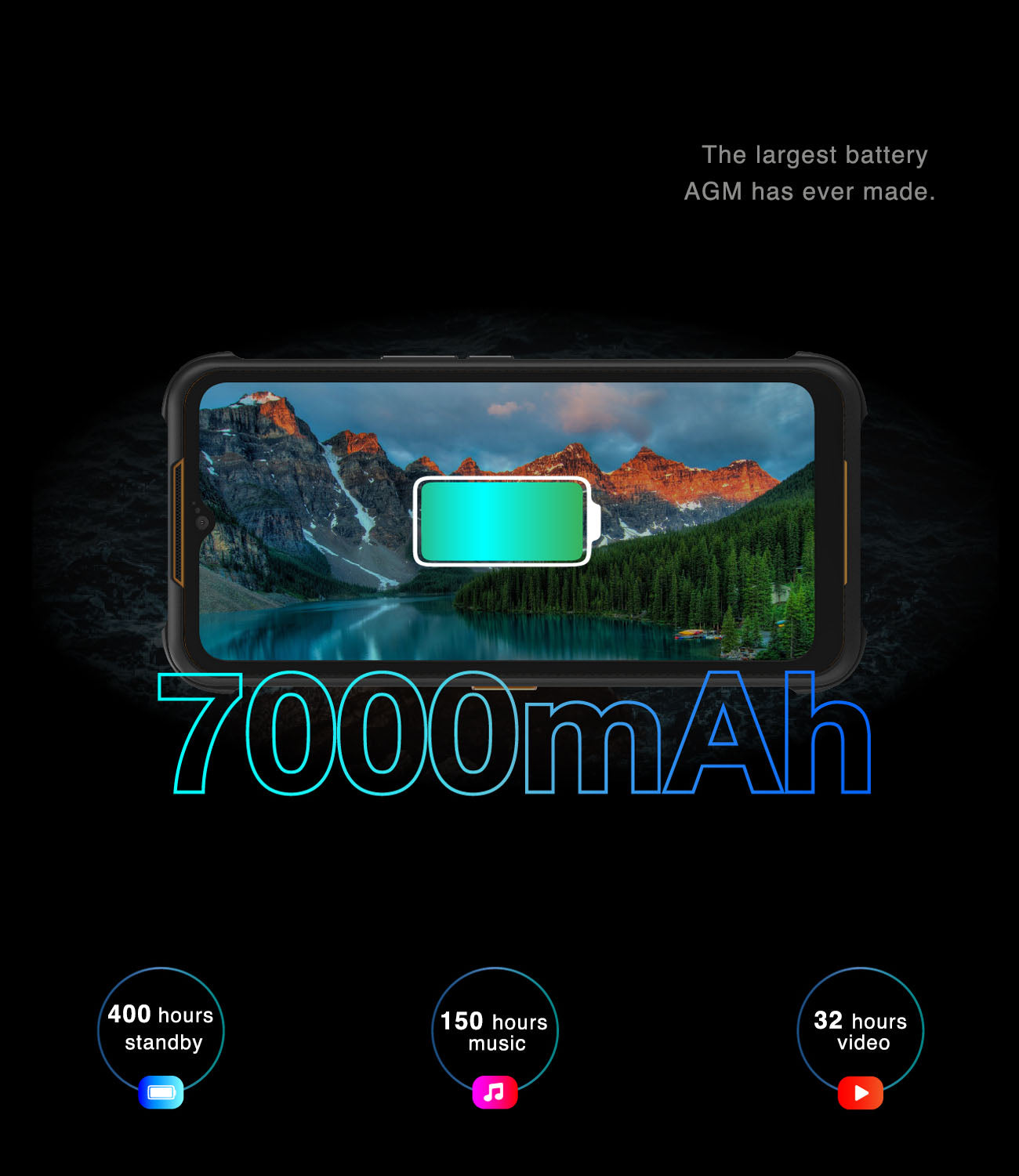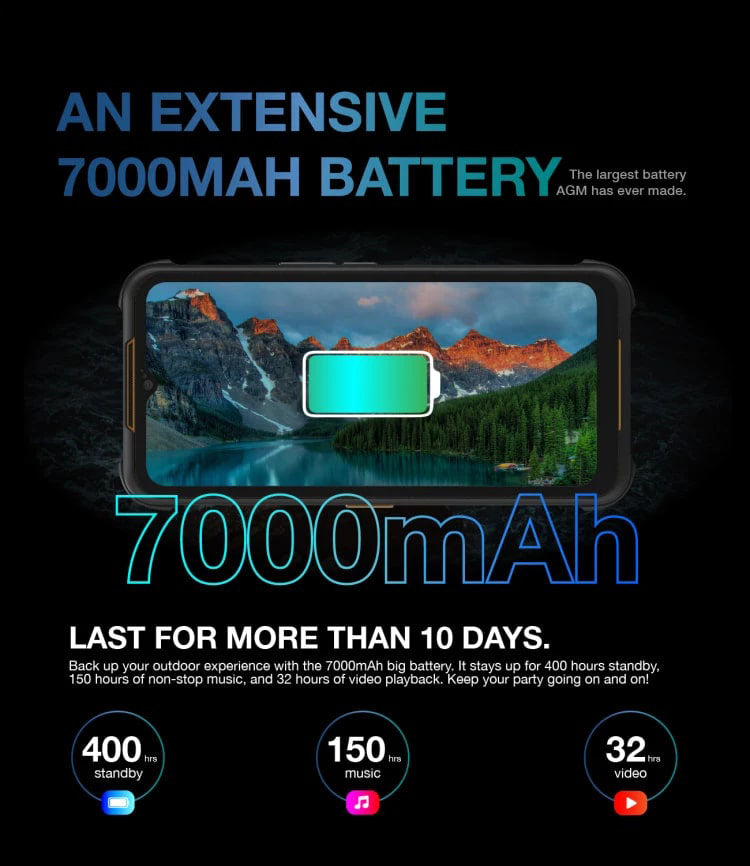 AN EXTENSIVE 7000mAh BATTERY
Last for more than 10 days.
Back up your outdoor experience with the 7000mAh big battery. It stays up for 400 hours standby, 150 hours of non-stop music, and 32 hours of video playback. Keep your party going on and on!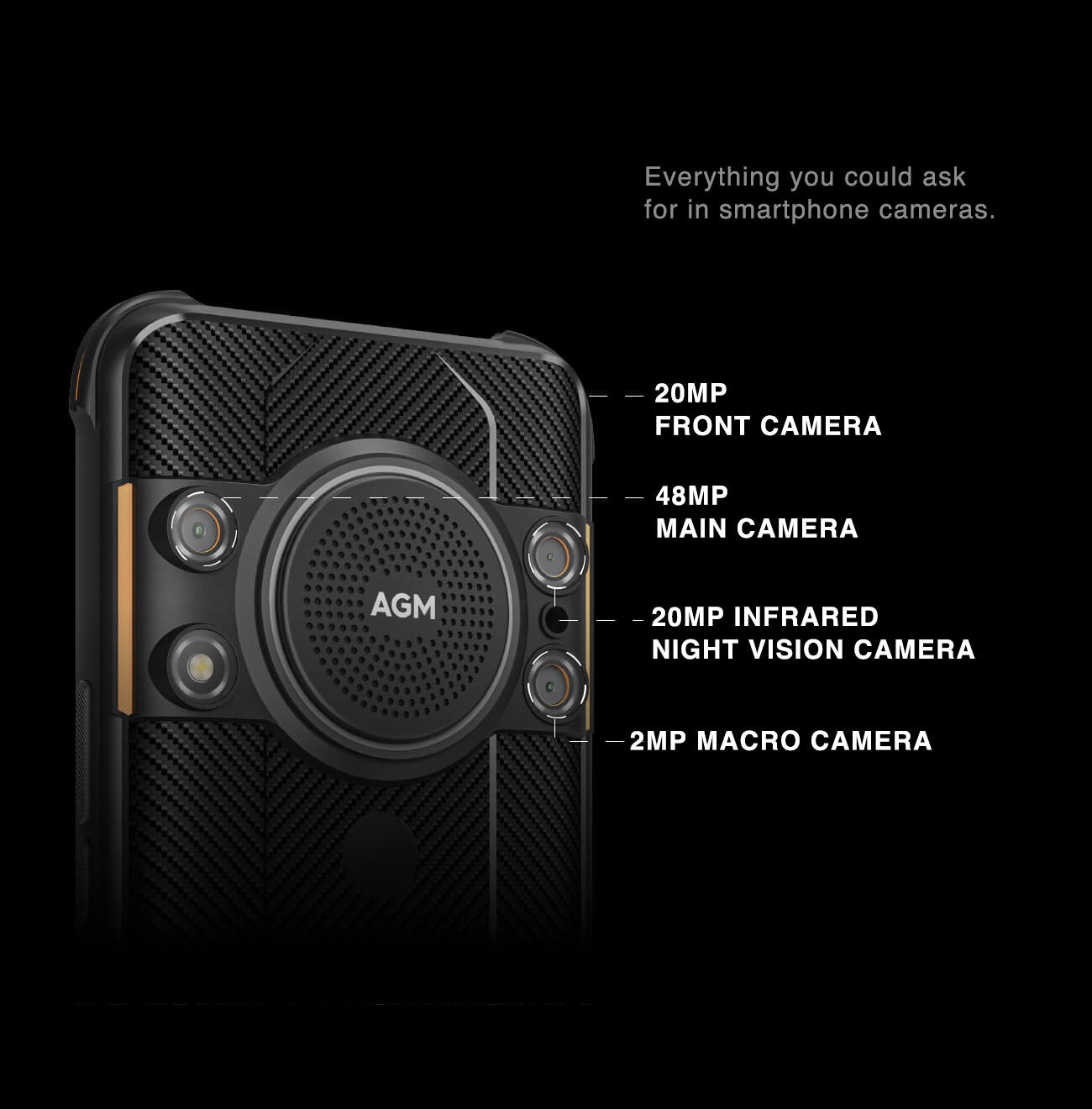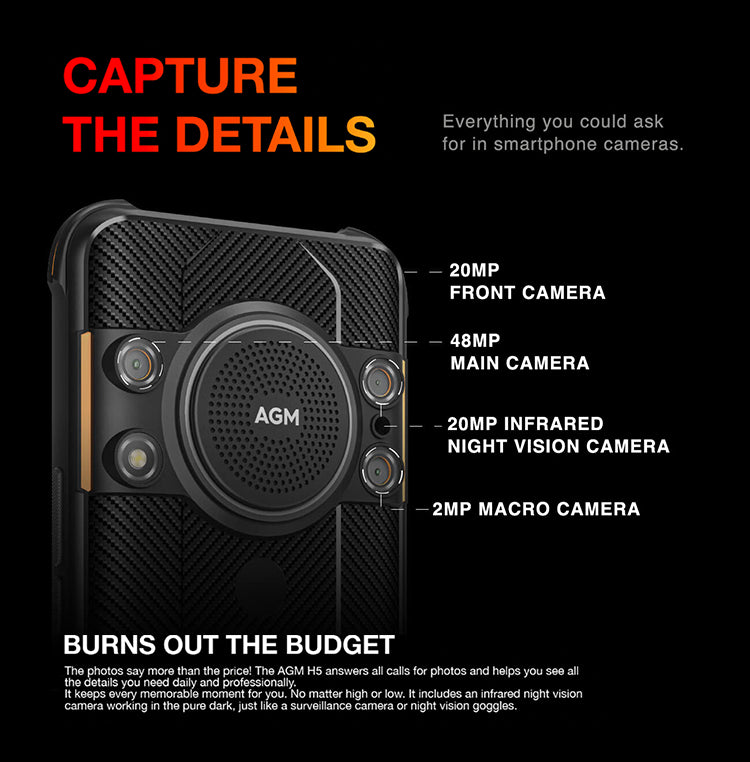 BURNS OUT THE BUDGET
The photos say more than the price! The AGM H5 answers all calls for photos and helps you see all the details you need daily and professionally. It keeps every memorable moment for you. No matter high or low. It includes an infrared night vision camera working in the pure dark, just like a surveillance camera or night vision goggles.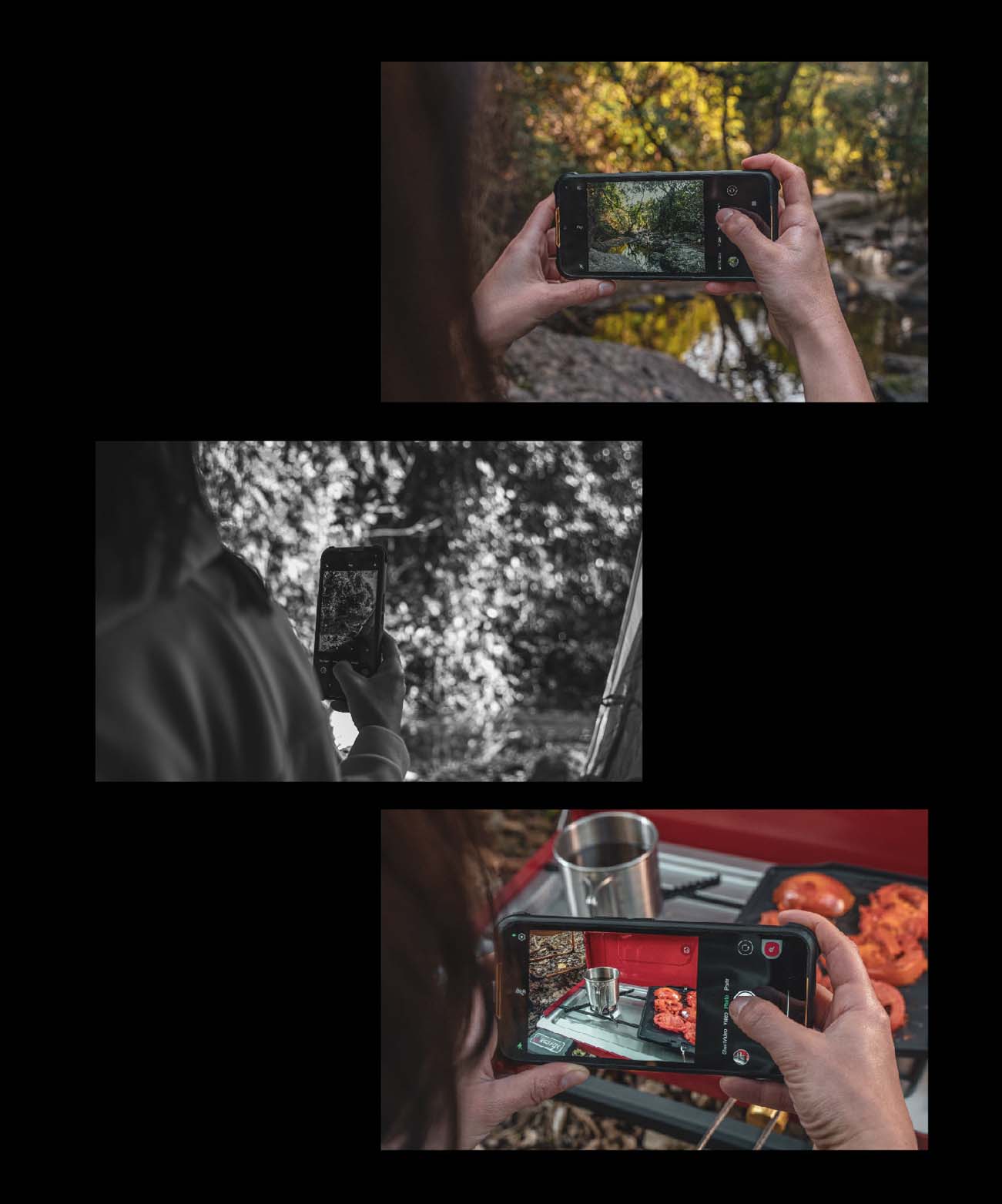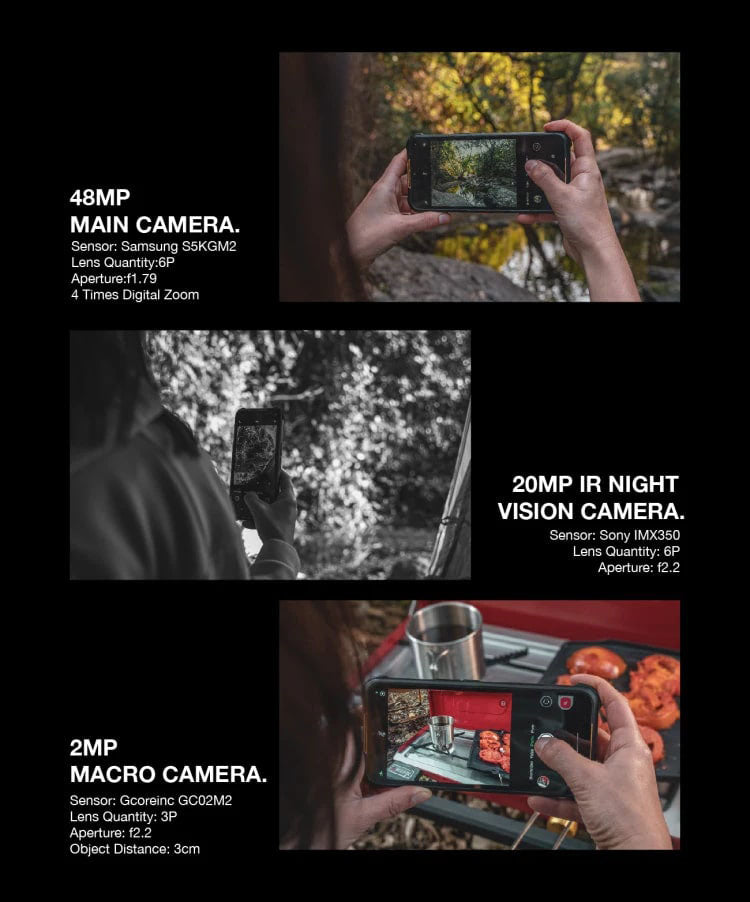 48MP MAIN CAMERA
Sensor: Samsung S5KGM2 Lens Quantity:6P Aperture:f1.79 4 Times Digital Zoom
20MP IR NIGHT VISION CAMERA
Sensor: Sony IMX350 Lens Quantity: 6P Aperture: f2.2
2MP MACRO CAMERA
Sensor: Gcoreinc GC02M2 Lens Quantity: 3P Aperture: f2.2 Object Distance: 3cm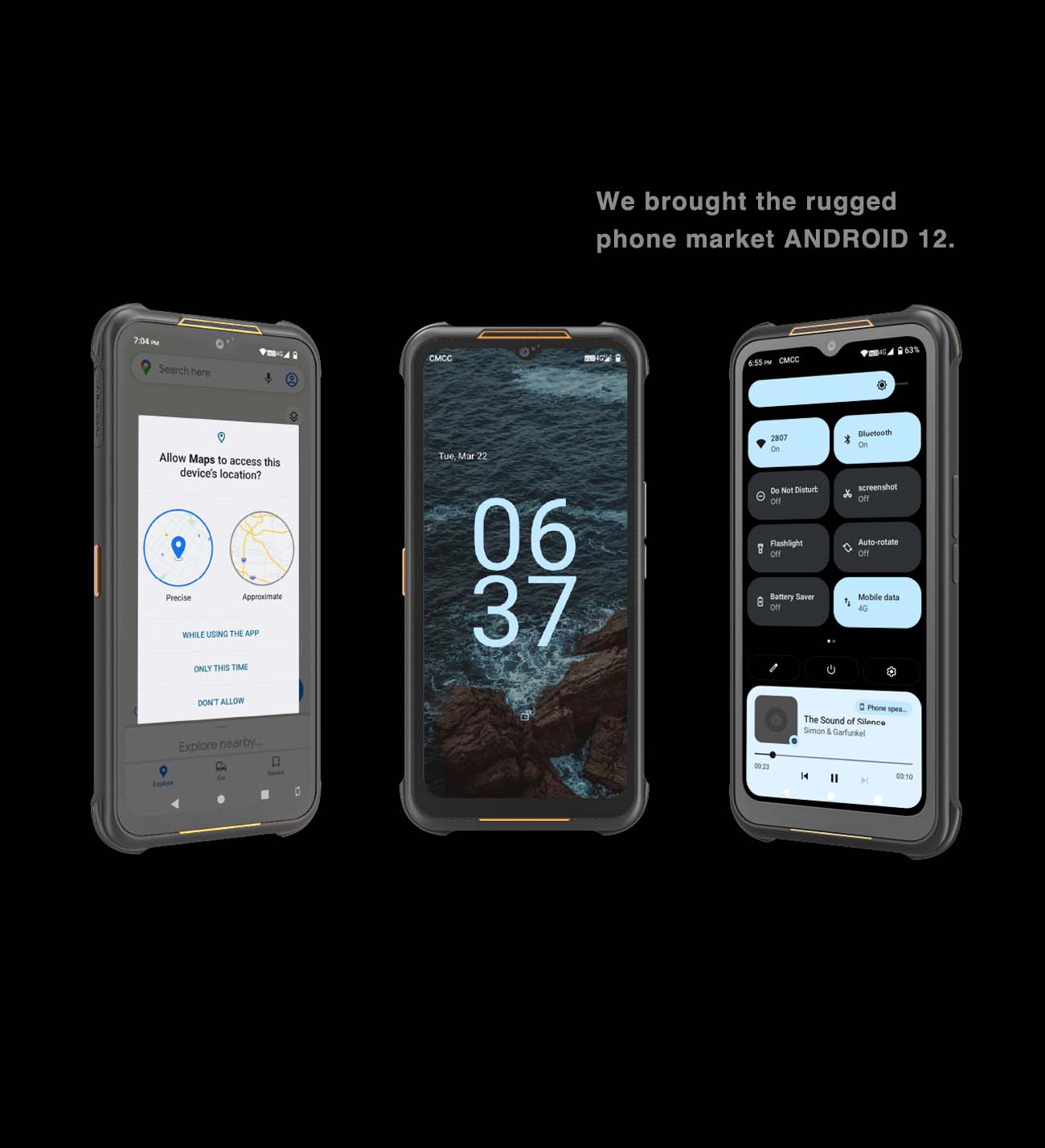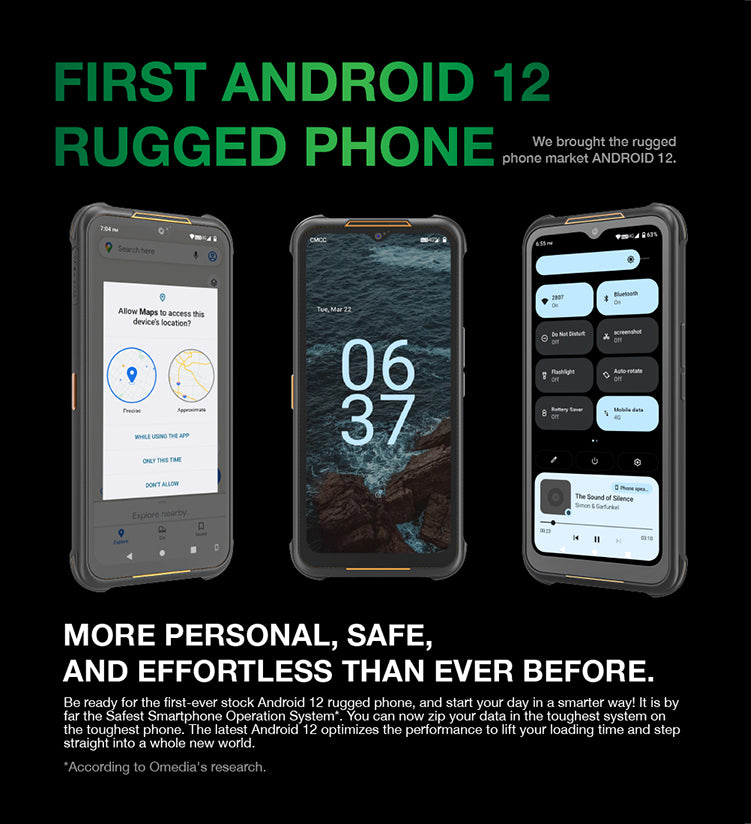 FIRST ANDROID 12 RUGGED PHONE
MORE PERSONAL, SAFE, AND EFFORTLESS THAN EVER BEFORE.
Be ready for the first-ever stock Android 12 rugged phone, and start your day in a smarter way! It is by far the Safest Smartphone Operation System*. You can now zip your data in the toughest system on the toughest phone. The latest Android 12 optimizes the performance to lift your loading time and step straight into a whole new world.
*According to Omedia's research.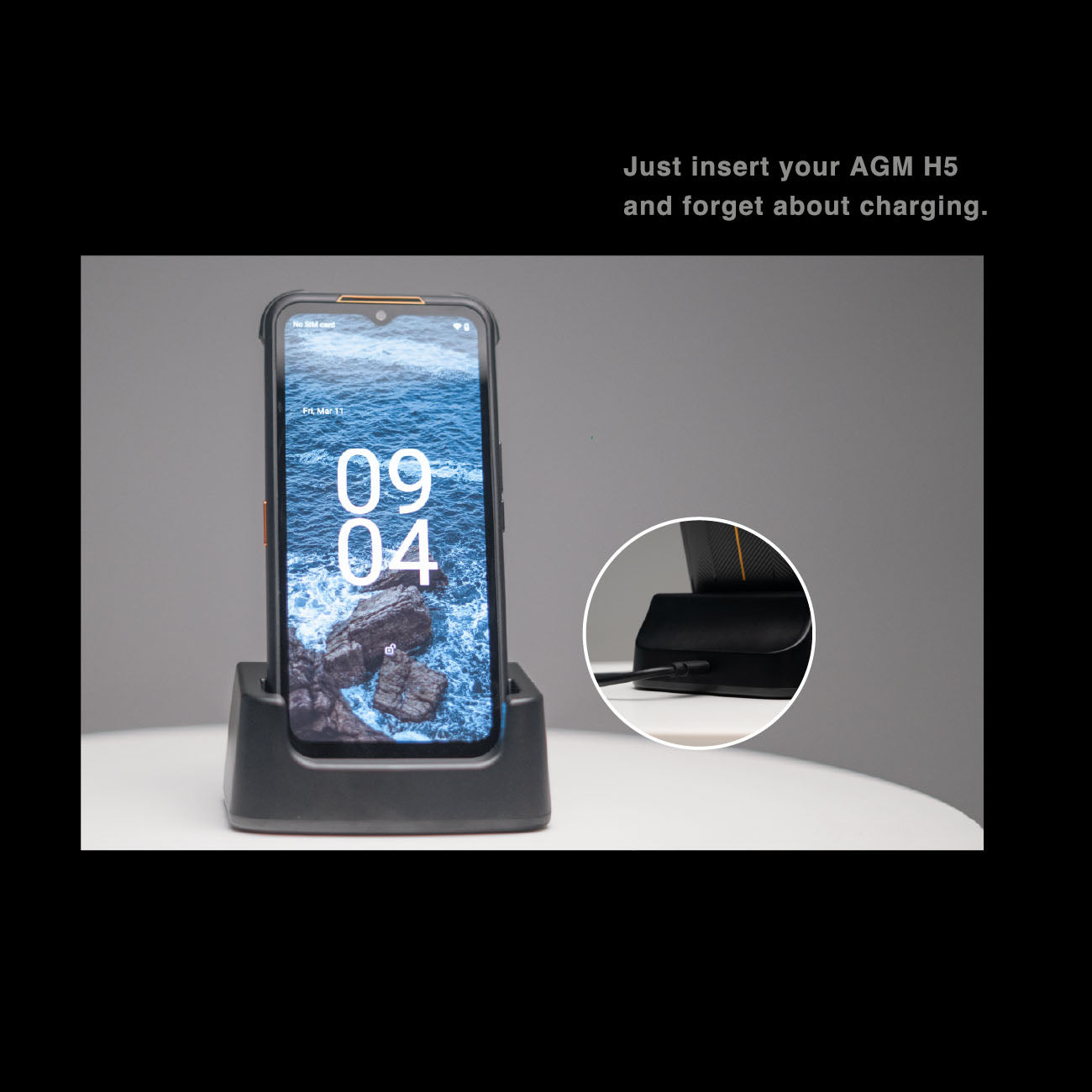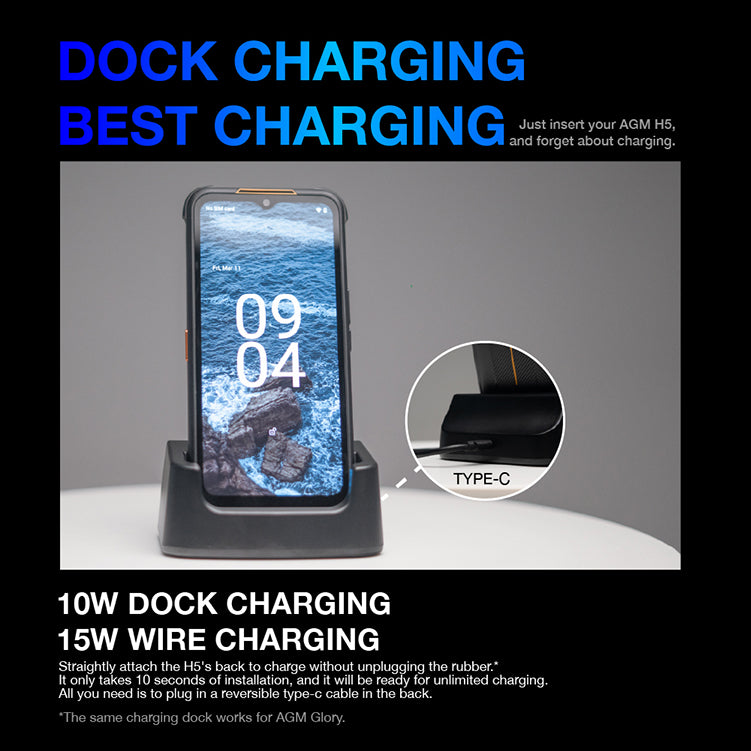 DOCK CHARGING
BEST CHARGING
10W Dock Charging
15W Wire Charging
Straightly attach the H5's back to charge without unplugging the rubber.* It only takes 10 seconds of installation, and it will be ready for unlimited charging! All you need is to plug in a reversible type-c cable in the back.
*The same charging dock works for AGM Glory.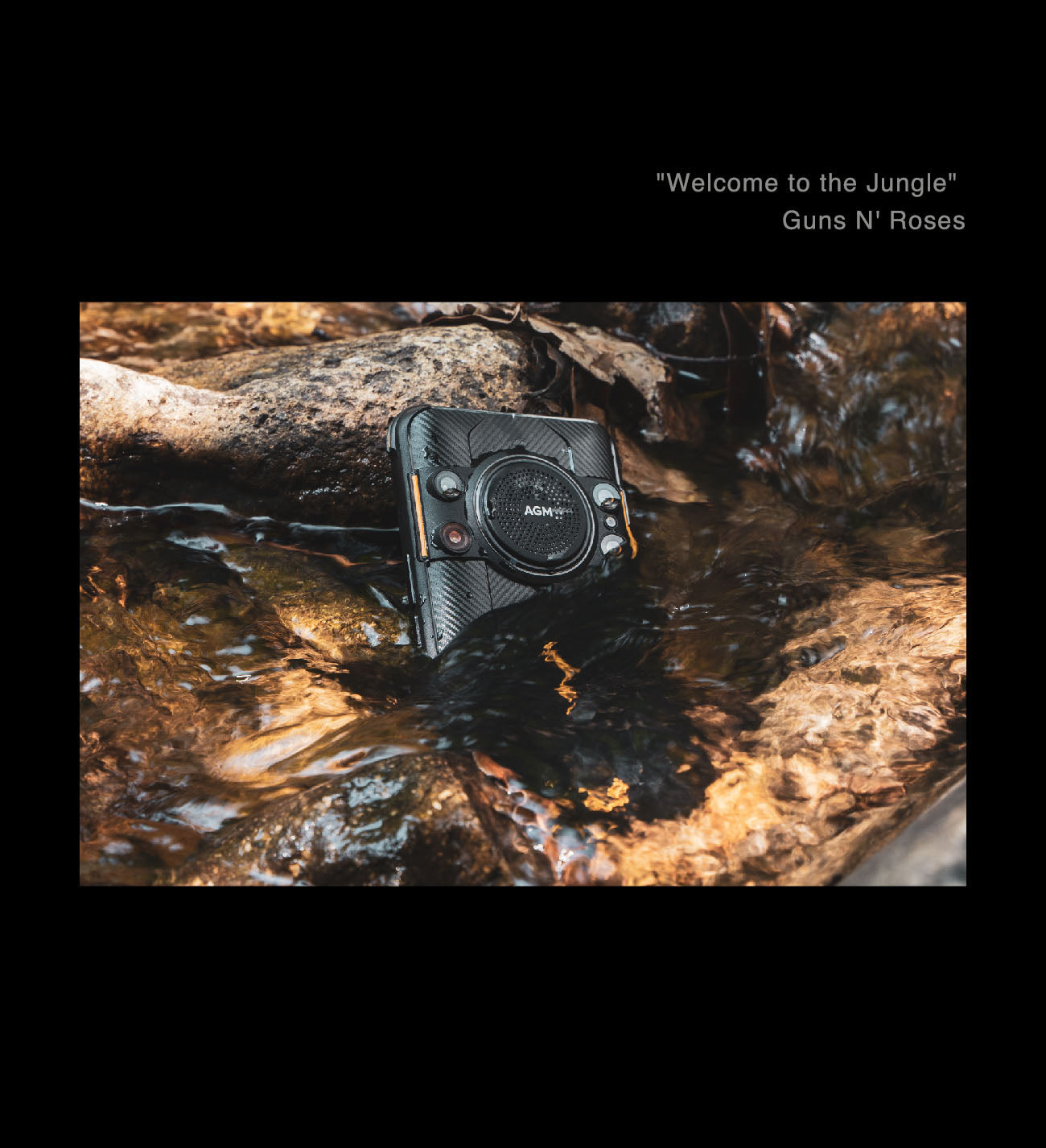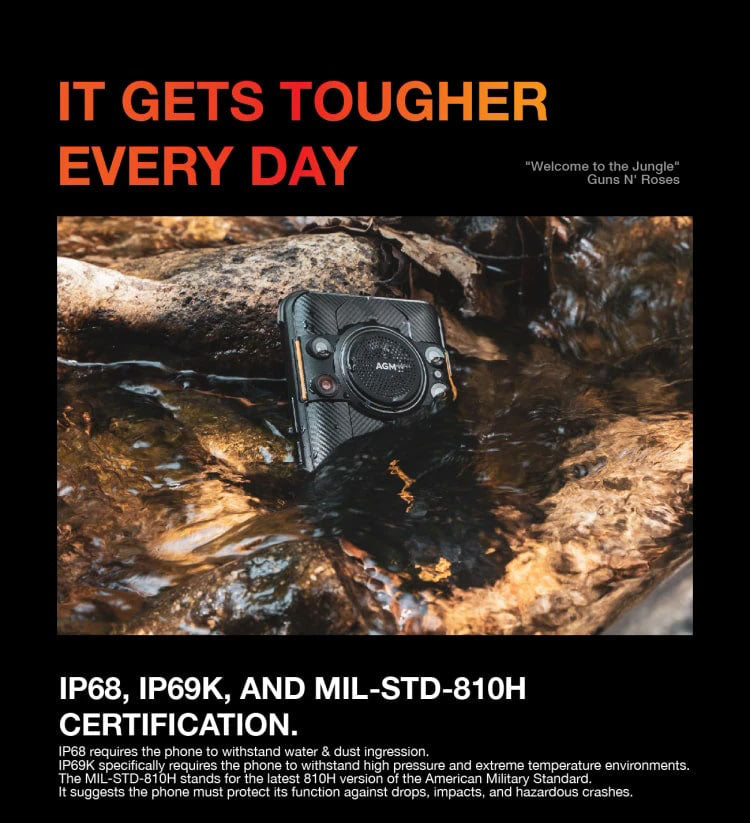 It gets tougher every day
IP68, IP69k, and MIL-STD-810H certification.
IP68 requires the phone to withstand water & dust ingression. IP69K specifically requires the phone to withstand high pressure and extreme temperature environments. The MIL-STD-810H stands for the latest 810H version of the American Military Standard. It suggests the phone must protect its function against drops, impacts, and hazardous crashes.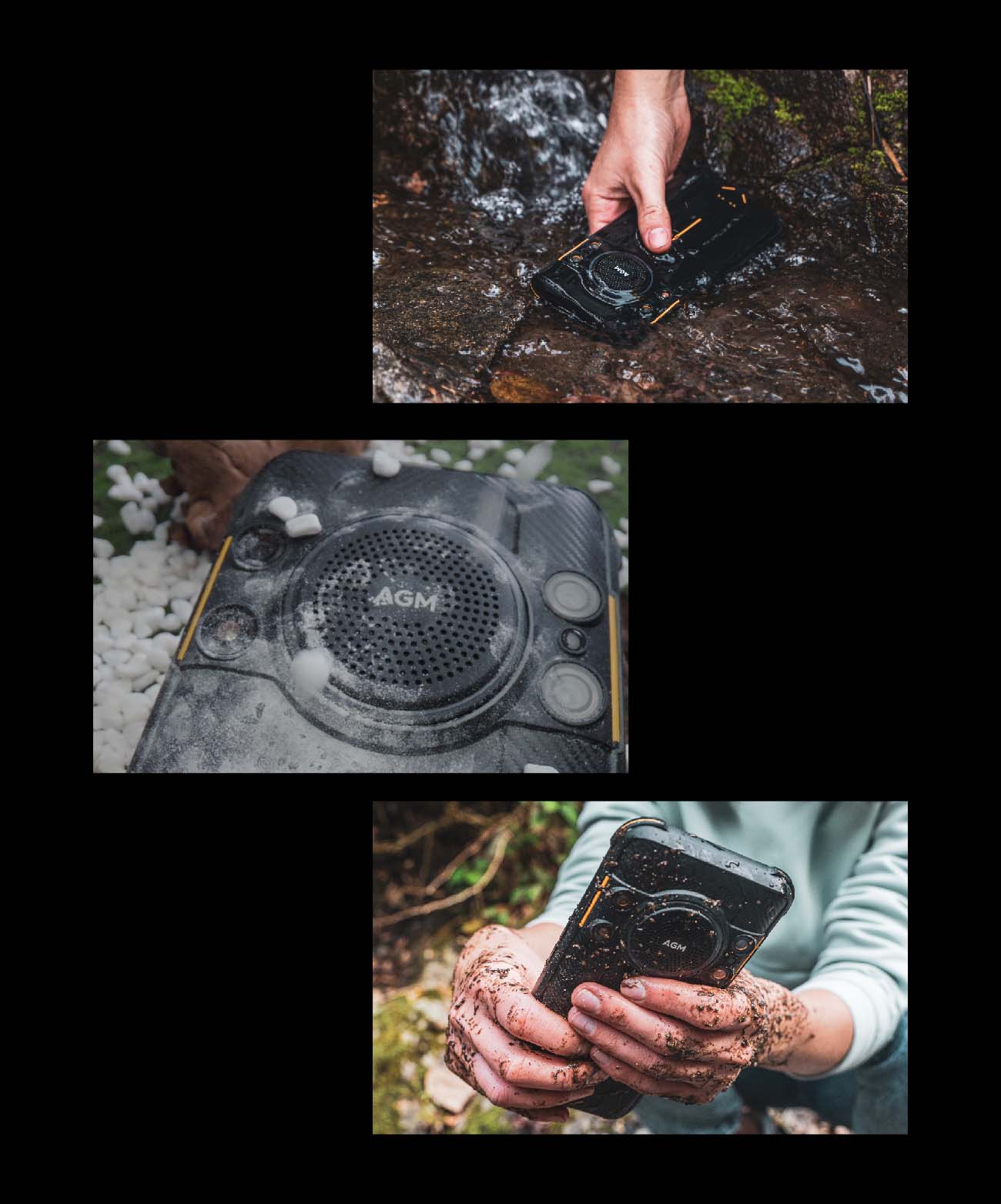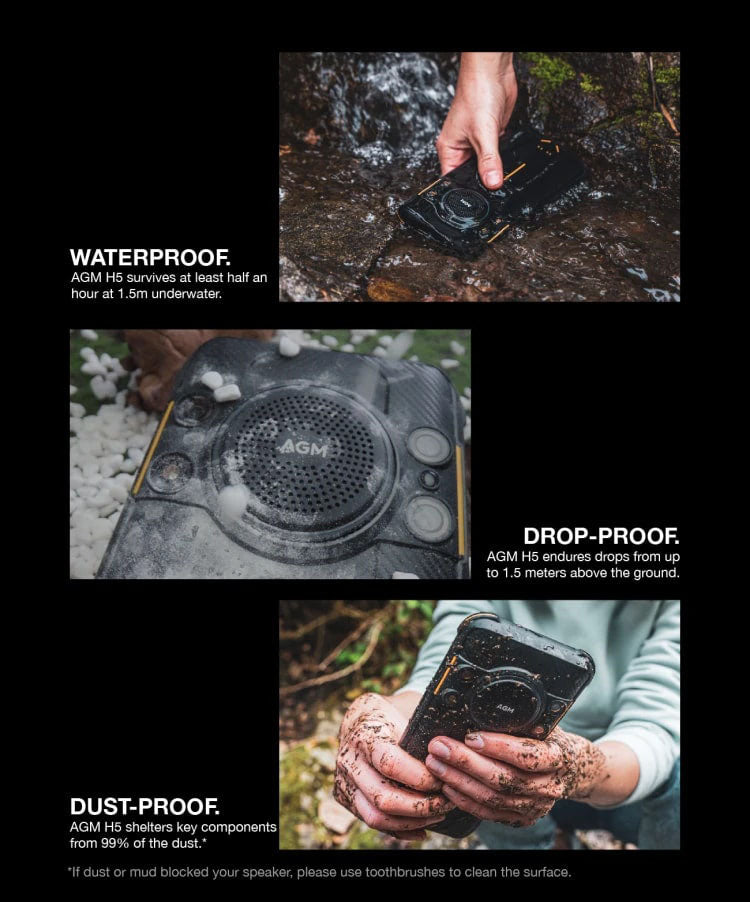 waterproof
AGM H5 survives at least half an hour at 1.5m underwater.
Drop-proof
AGM H5 endures drops from up to 1.5 meters above the ground.
Dust-proof
AGM H5 shelters key components from 99% of the dust.*
*If dust or mud blocked your speaker, please use toothbrushes to clean the surface.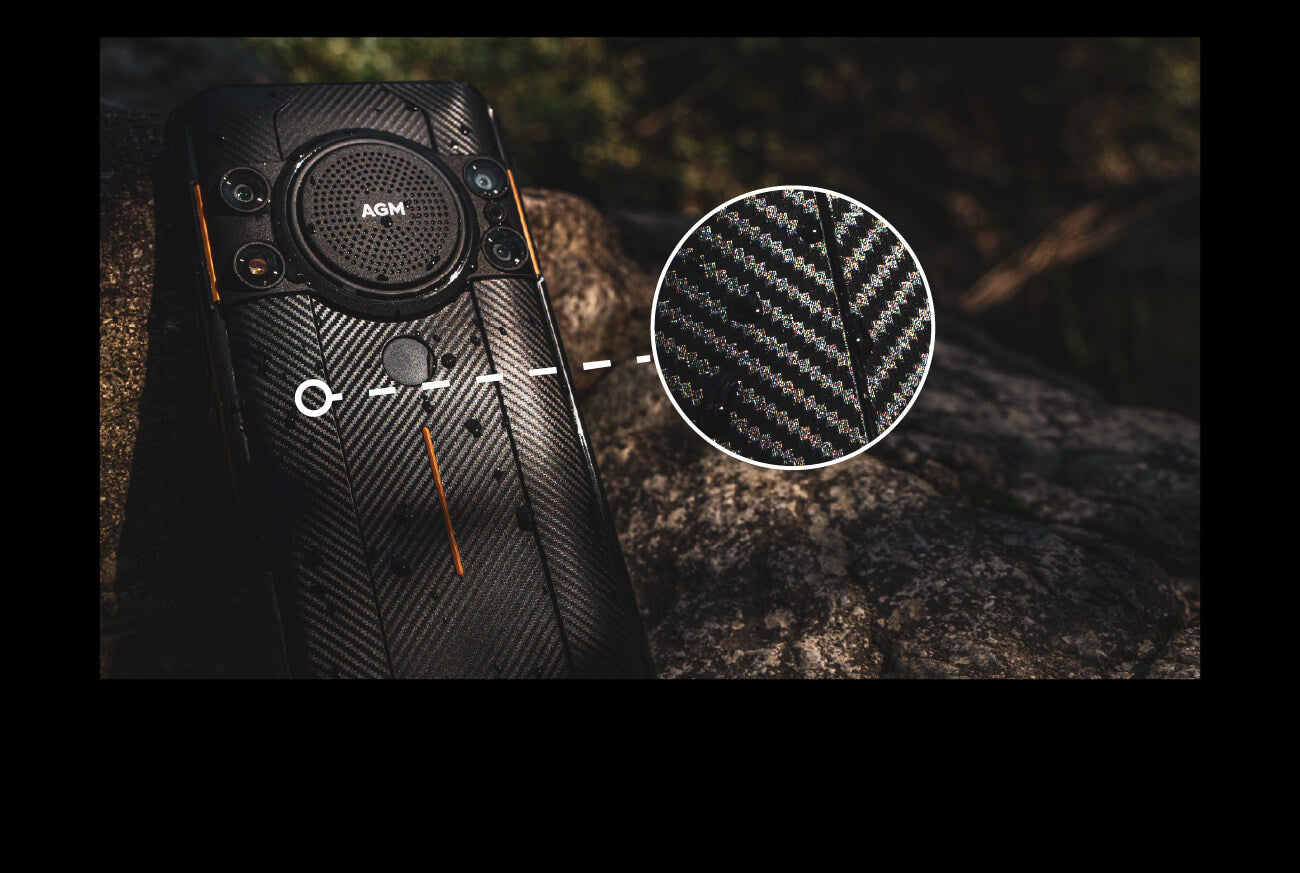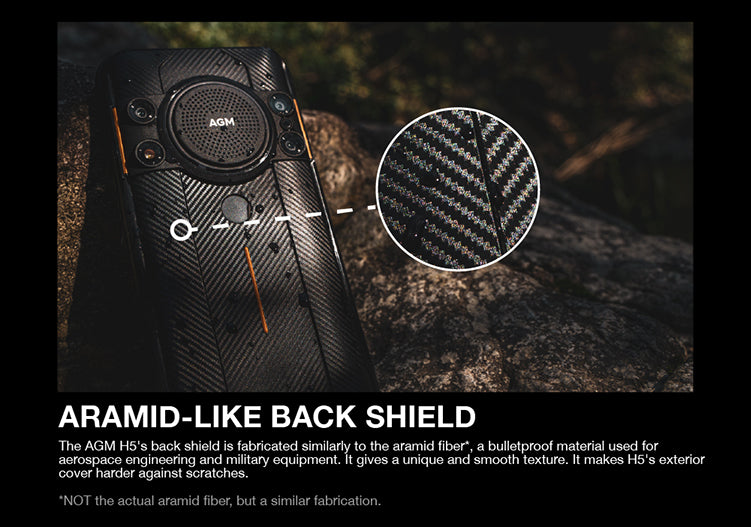 ARAMID-LIKE BACK SHIELD
The AGM H5's back shield is fabricated similarly to the aramid fiber*, a bulletproof material used for aerospace engineering and military equipment. It gives a unique and smooth texture. It makes H5's exterior cover harder against scratches.
*NOT the actual aramid fiber, but a similar fabrication.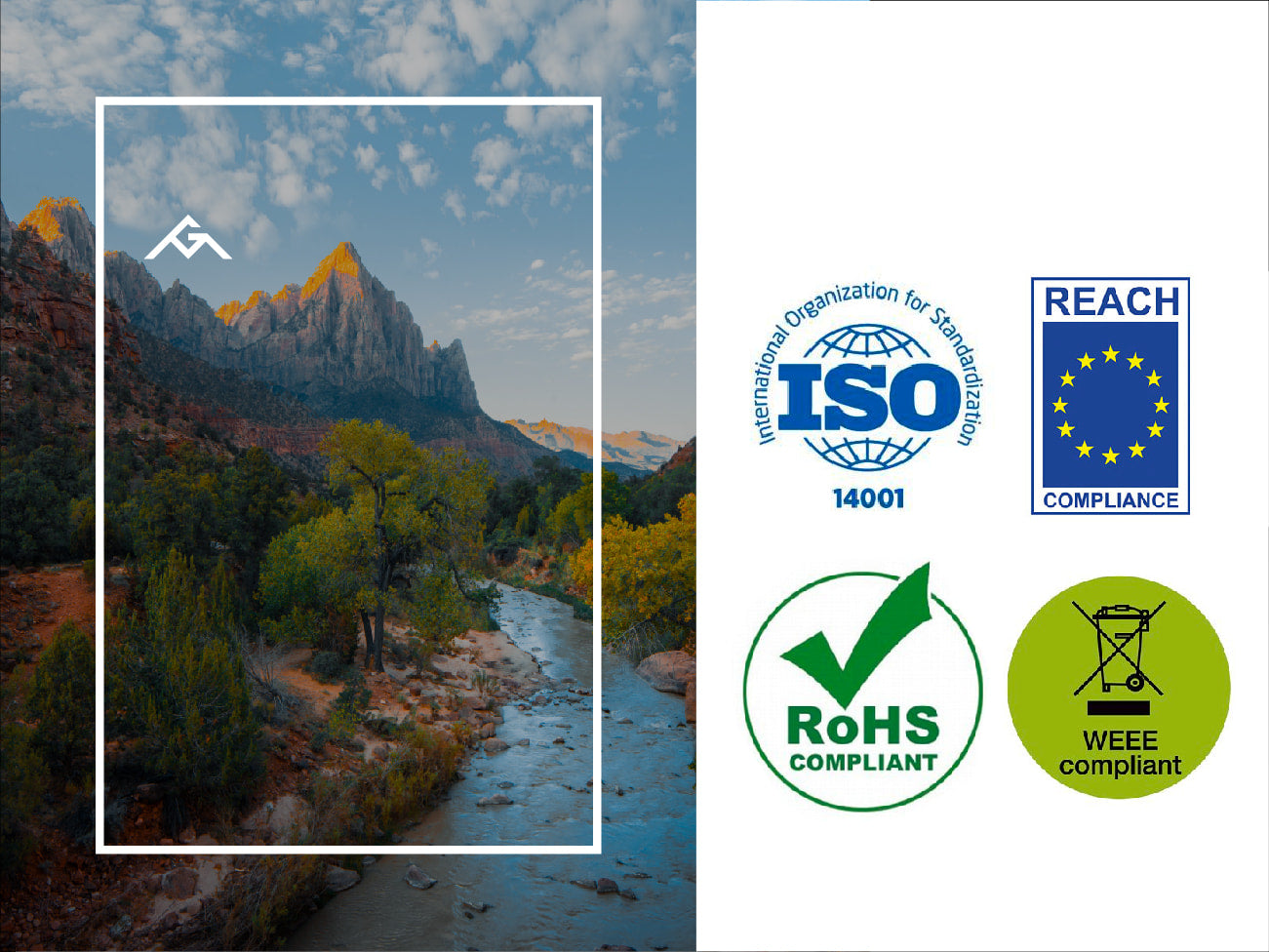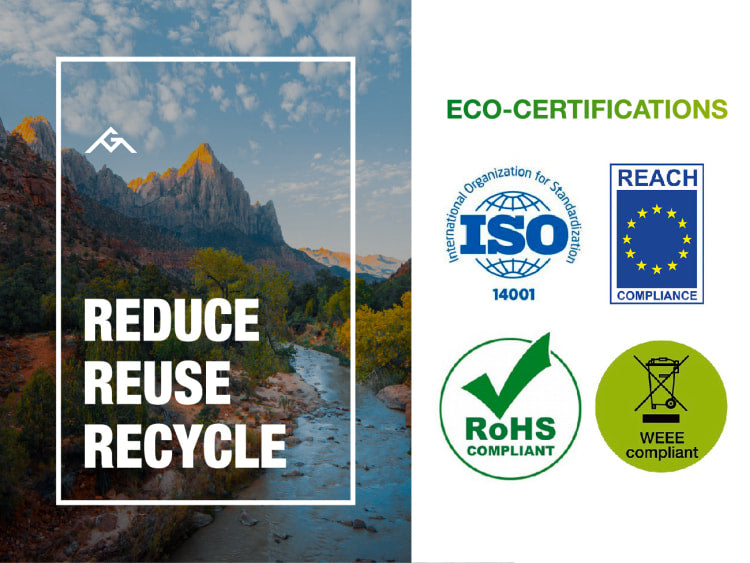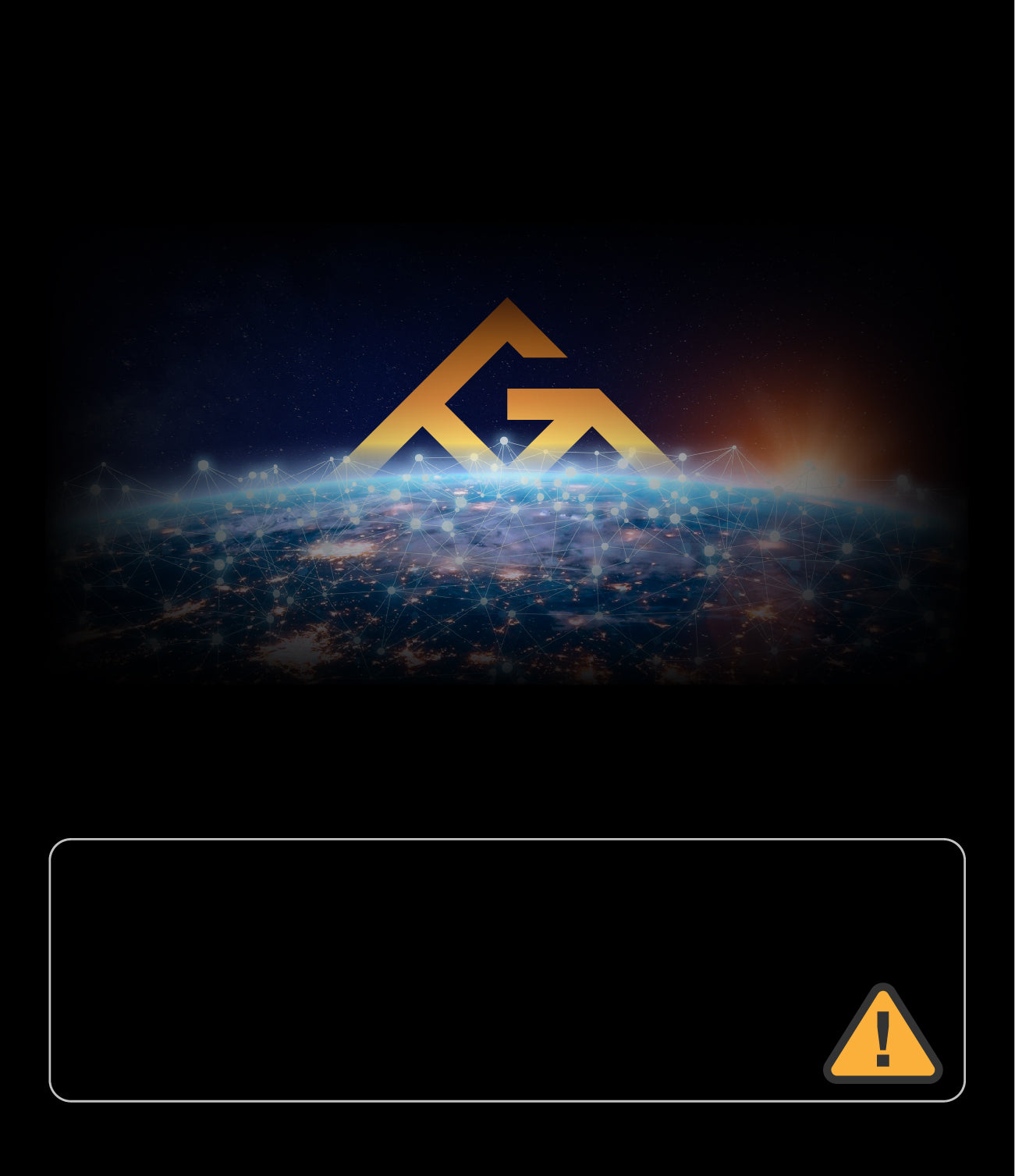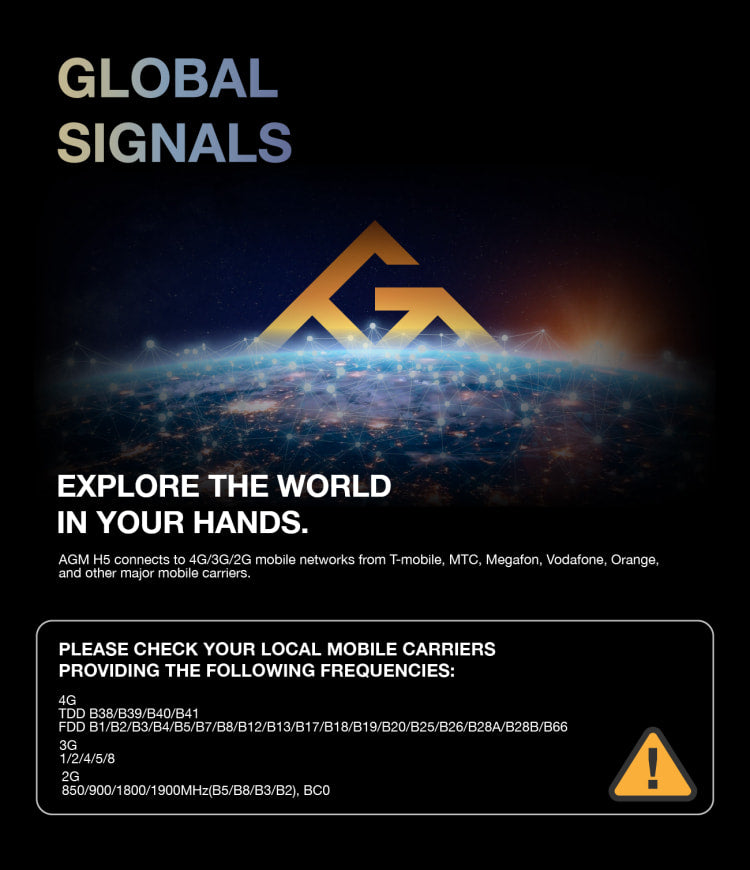 Explore the world in your hands.
AGM H5 connects to 4G/3G/2G mobile networks from T-mobile, MTC, Megafon, Vodafone, Orange, and other major mobile carriers.
Please check your local mobile carriers providing the following frequencies:
4G TDD B38/B39/B40/B41 FDD B1/B2/B3/B4/B5/B7/B8/B12/B13/B17/B18/B19/B20/B25/B26/B28A/B28B/B66
3G 1/2/4/5/8
2G 850/900/1800/1900MHz(B5/B8/B3/B2), BC0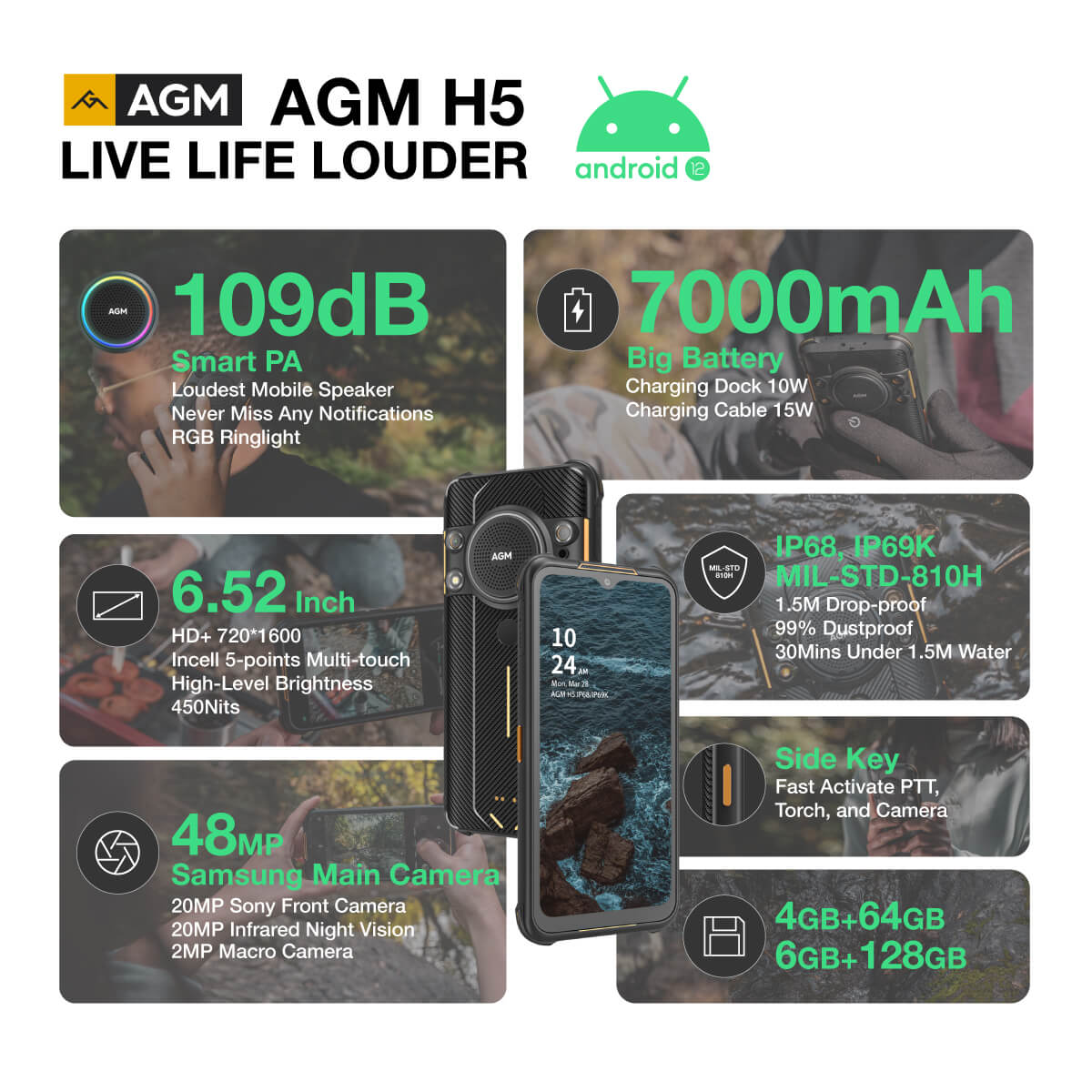 Factor: Waterproof/Rugged Waterproof speaker Touch screen smartphone
Color: Black
Dimensions: 176.15*85.5*23mm
Weight: 360g
Sim card type: Nano SIM
Sim slot: Support Micro SD card share Nano SIM slot
Chipset: 4xA53 2.3GHz+4xA53 1.8GHz MT6765 
ROM: 64GB/128GB (64GB default)
RAM: 4GB/6GB(4GB default)
Storage extension  
Support Micro SD card share Nano SIM slot up to 512GB
2G GSM: 850/900/1800/1900 MHz (B5/B8/B3/B2)
3G WCDMA: 1/2/4/5/8
4G LTE-TDD: B38/B39/B40/B41
4G LTE-FDD: B1/B2/B3/B4/B5/B7/B8/B12/B13/B17/B18/B19/B20/B25/B26/B28A/B28B/B66
HD+ 720*1600
Size: 6.517 inch
Touch Panel: Incel 5points multitouch
Type: Waterproof speaker
GPS: Support
FM: Earphone as antenna
NFC: Support
WiFi: Wi-Fi 802.11a/b/g/n/ac 2.4G/5G
Front Camera(Pixel)
Sensor: Sony IMX376
Lens Quantity:6P
Aperture:f2.2
Megapixels:20M
Back Camera(Pixel)
Sensor: Samsung S5KGM2SP Lens
Quantity: 6P
Aperture: f1.79
Megapixels: 48M
Macro Camera(Pixel)
Sensor: Gcoreinc GC02M2
Lens Quantity: 3P
Aperture: f2.2
Megapixels: 2M
Night Vision camera
Sensor: Sony IMX350 Lens
Quantity: 6P
Aperture: f2.2
Megapixels: 20M
Thermal Camera
NO
Torch: Support
Loudspeaker: Support
Light sensor: Support
Proximity sensor: Support
Fingerprint sensor: Support
IP68 IP69K 810H FCC CE ROHS REACH WEEE certified,rugged
Charging Dock 10w; Wire Charging 15W
Battery capacity 7000mAh (typ)
How can i be sure that AGM phone are really waterproof,dustproof and shockproof?

All AGM phones comply with the IP68 standard which ensures resistance to dust and liquids, for temporary or prolonged periods depending on the terminal and under normal use as recommended by the manufacturer. All of our models have undergone strenuous waterproof and resistance tests to comply with these standards as well as the MIL-STD-810H standard. In addition we have also developed our own standard called OEPT (Outdoor Environments Performance Test) to further protect the devices.

How long is AGM phone guaranteed for?

All AGM devices are guaranteed for one year.

Where can I buy AGM Phone?

AGM Phone can be purchased through this Website Store, AliExpress Store, Amazon Store etc.

How to check if the network frequencies is compatible in my country?
1.Check which network standard and which frequency bands your phone supports
2.Search your local network operator via Google browser to learn more about the latest local network standard and the frequency bands; Click here to check (just for reference):http://maps.mobileworldlive.com
3. If there is a frequency bands which your phone supports matched with the local frequency bands, you can use the phone in your country

How to use OTA to update Android system?

Find the app "update" or "System update". It will show that your system is up-to-date after update package installed.

How if my phone is always too hot?

It is normal that the smartphone device gets hot when playing videos or games on it or charging it, however, you can reduce the hot by following actions:
1.Turn off the function and apps seldom used such as Wi-Fi, GPS etc.;
2.Turn down the brightness of the screen;
3. Turn off the apps running in the background periodically and clear cache periodically to keep enough running space all the time;
4. Uninstall abnormal apps with bugs which may cause much heat during running;
5. Do not use phone during charging unless necessary.

How to get aftersales warranty?

AGM provides authorized aftersales warranty in Europe and Russia.
If you are outside Europe and Russia, please check with the dealer where you buy for service.

Can i use this phone in my country?

We add a link to show you how to check the phone, whether it can be used in your country.
1. All our smartphone is unlocked for worldwide use, but please check if your local area network is compatible with our AGM phones, You can check this link: Willmyphonework.net Or " Maps.mobileworldlive.com " To see the network frequency for your country,
Please confirm with your carriers or suppliers before purchasing this product.
2. Most of the two sim mobile phones have only one sim slot supporting 3G WCDMA / 4G network.

I didn't get my parcel, how to do?

1.No logistic information for a long time: We will send you tracking number after we sending items, if the losgistic information updated normally, hope you can don't worry about it and just wait more days.If you didn't get the parcel more than 90 days, we will refund you full money.If parcel shows delivery, we do not accept refunding request anymore.You may also need to pay customs tax.
2.Parcel was returned by customs office: If it was hold by customs office, hope you can go there to make clearance as soon as possible, we will try our best to help you to get the parcel from customs,we do not refund if parcel returned caused by buyer reasons.